Tender frozen chicken breast in air fryer is so easy to make! Great hack if you forget to defrost your chicken but dinner is just minutes away. Yes air fryer frozen chicken wings are great but to feed hungry kids you'll want more than that. Works great to make Ninja Foodi frozen chicken too.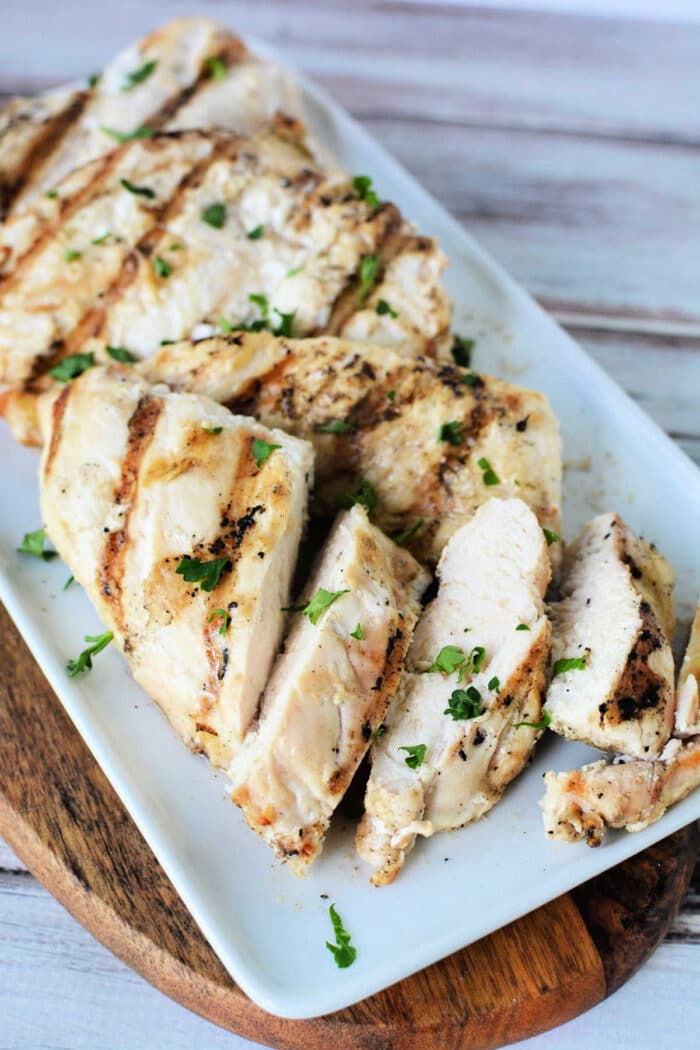 Want to make air fryer chicken breast with no breading but forgot to defrost it?? We'll show you how to make tender frozen chicken breast in air fryer so dinner isn't ruined! (affiliate links present, originally published 9/19)
Frozen Chicken in Air Fryer
First we made a KFC copycat air fryer fried chicken breast recipe. Then the next time I thought about it they were still rock hard! SO I had to figure that one out in order to save dinner for us, and share my findings with all of you too. 😉
Yes, we shared how to cook frozen chicken in the Instant Pot but now it's time to use our other favorite appliance! And yes you can use those instructions for frozen chicken Ninja Foodi style too, they both have the high pressure function.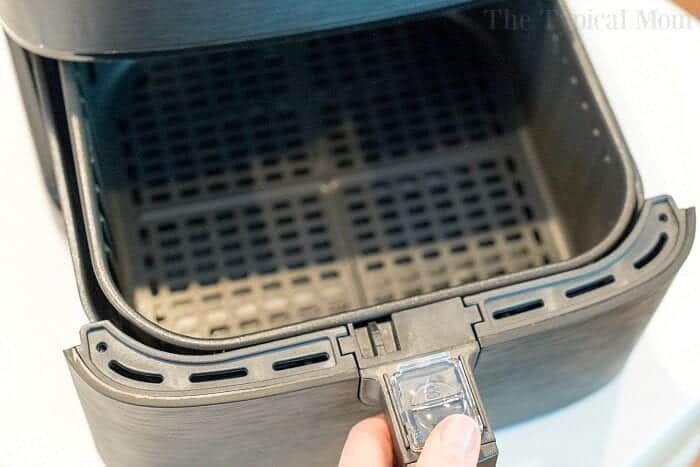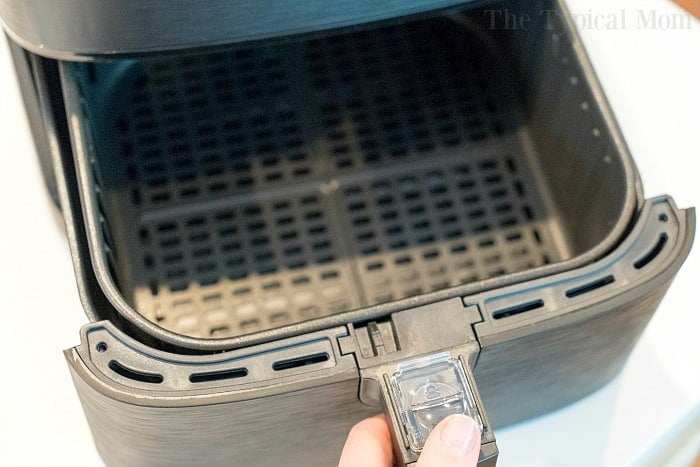 Air Fryer Frozen Chicken Breast
I am far from perfect. I have 3 girls, am homeschooling 2 of them, work full time (here), and sometimes forget to prep dinner. I always have a bag of frozen chicken in the freezer so that is usually my go to.
Yes I have made Crockpot frozen chicken before and that is great for shredded chicken tacos. BUT you have to remember to take that out and put it in the pot in the morning.
I am not always totally together in the morning to do this especially if we have a busy day of work and horseback riding ahead of us. 😉 SO I'm here to share my air fryer hack with you here today.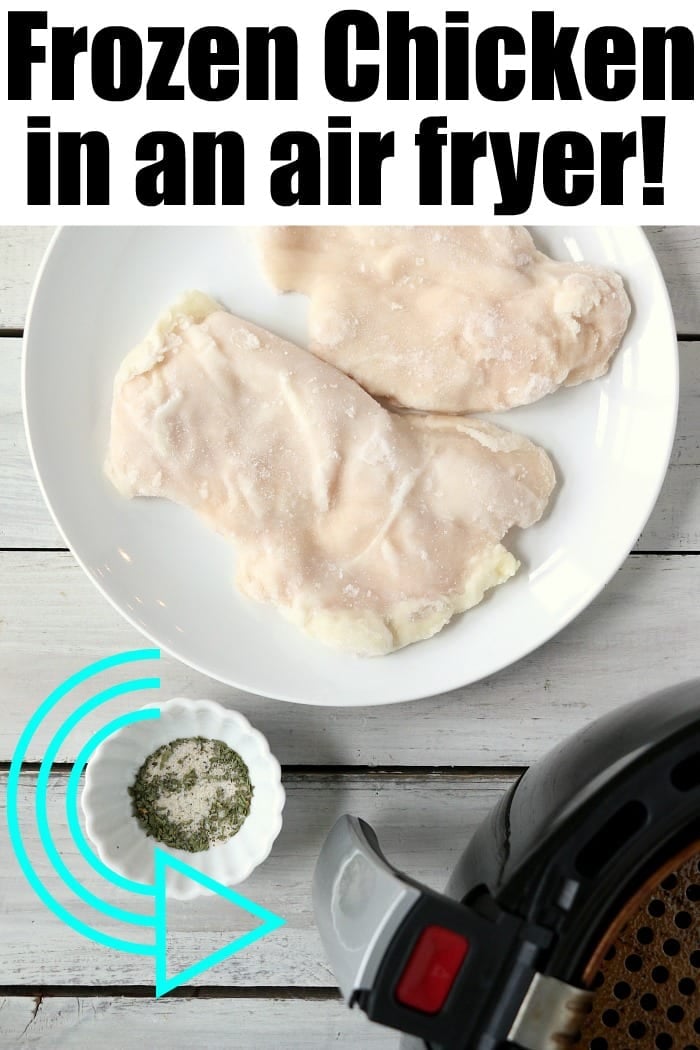 Ninja Foodi Frozen Chicken Breast
Yes this is a healthy air fryer recipe, so if you're following a keto or low fat diet this will be great. We didn't use any bread crumbs this time to keep the calories down, and if they're rock hard nothing is going to stick anyway.
BUT this basic chicken in the air fryer recipe is great for everyone, even my 11 year old loves it. We're using medium to large chicken breasts found in a bag in your local grocery store freezer. Timing is set for the size and thickness you see here, it may vary slightly depending on the size of your chicken pieces.
What temperature should I cook frozen chicken breasts in an air fryer?
360 F – 380 degrees Fahrenheit is the best temperature to air fry frozen chicken keeping the inside tender. You don't want to cook it too high or else the middle won't get done by the time the outside gets crispy.
What seasonings should I use on frozen chicken breasts before cooking them in an air fryer?
Use at least salt and pepper on the outside after spraying with a bit of olive oil so it sticks. You can use any other herbs you normally would use on fresh or defrosted pieces.
How do I know when frozen chicken breasts are cooked through in an air fryer?
The outsides should be golden brown and the insides should be tender. Lift the piece(s) out of the basket and it needs to register a safe 165 degrees in the thickest part before consuming.
Frozen Chicken Breast Air Fryer
Let's start with putting 2 into your air fryer basket. Then you'll want to sprinkle with seasonings like garlic powder and anything else you'd normally use.
Bag of frozen chicken breasts – 2 at a time fit comfortably
Salt and pepper
Garlic powder
This is what we sprinkled on before we began to cook the chicken. Add any other dry seasonings you'd like as well.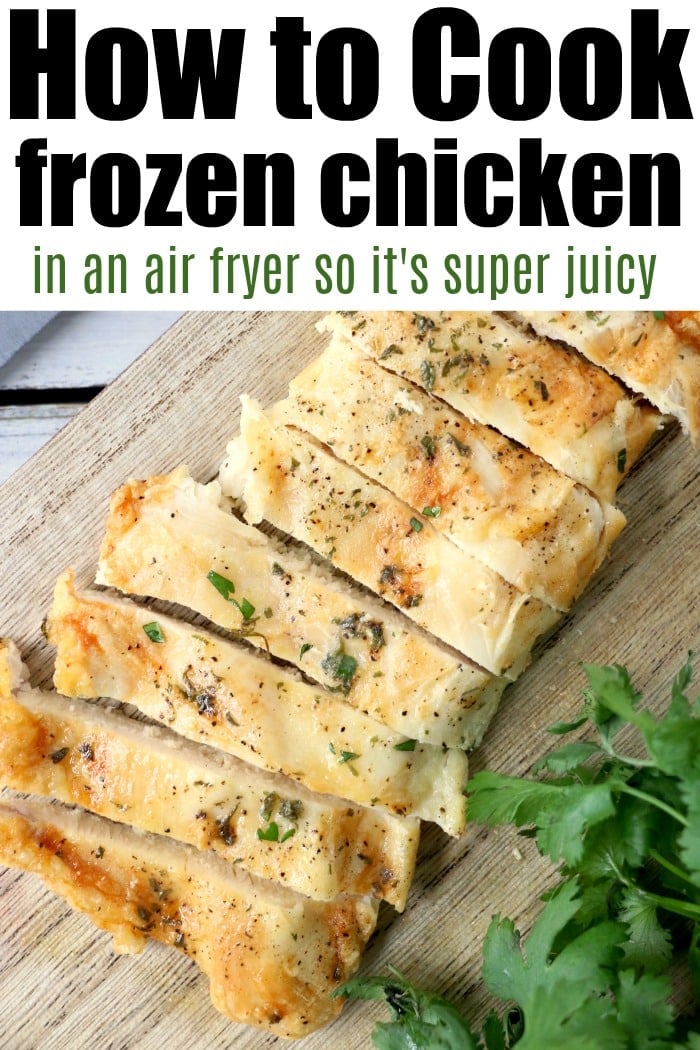 How Long to Cook Frozen Chicken Breast in Air Fryer
Steps to follow: I like to preheat the air fryer but I will admit I don't always remember to. If you forget don't worry, the cooking time won't change a lot. Ideally I do because it creates more of a deep frying crisp on the outsides of my food.
Now place your frozen chicken into your basket, we're talking about previously fresh and not breaded chicken here
Add your seasonings
Close your basket and set to 360 degrees for 15 minutes

if your meat is on the smaller side I would set for 12 minutes and check
always ensure internal temperature of chicken is 165 degrees to be safe
Allow to rest for 5 minutes before slicing to maintain juiciness and enjoy!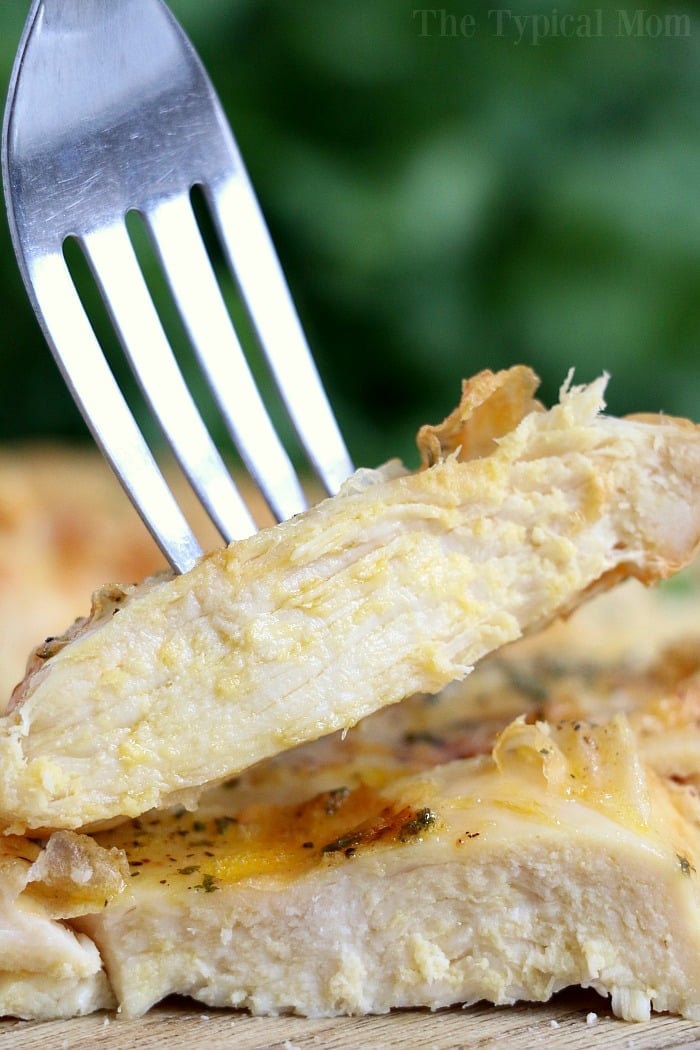 Tyson Frozen Chicken Breast in Air Fryer
Looking for other Ninja Foodi recipes (or any other air fryer brand you own)
If you're wondering how to cook other frozen foods, follow and print out our air fryer cooking times chart (linked above). That's how we knew how long to cook our frozen Ninja Foodi sausages and more.
What goes well with chicken?
I mean a vegetable is usually what we pair with every meal and many times some sort of carb. Rice is an easy one that is cheap and everyone loves it. Since you have the protein covered think outside of the box and grab produce that is on sale at the time.
If you haven't tried our air fryer wings recipe yet, it gets RAVING reviews with it's dry rub and crispy skin.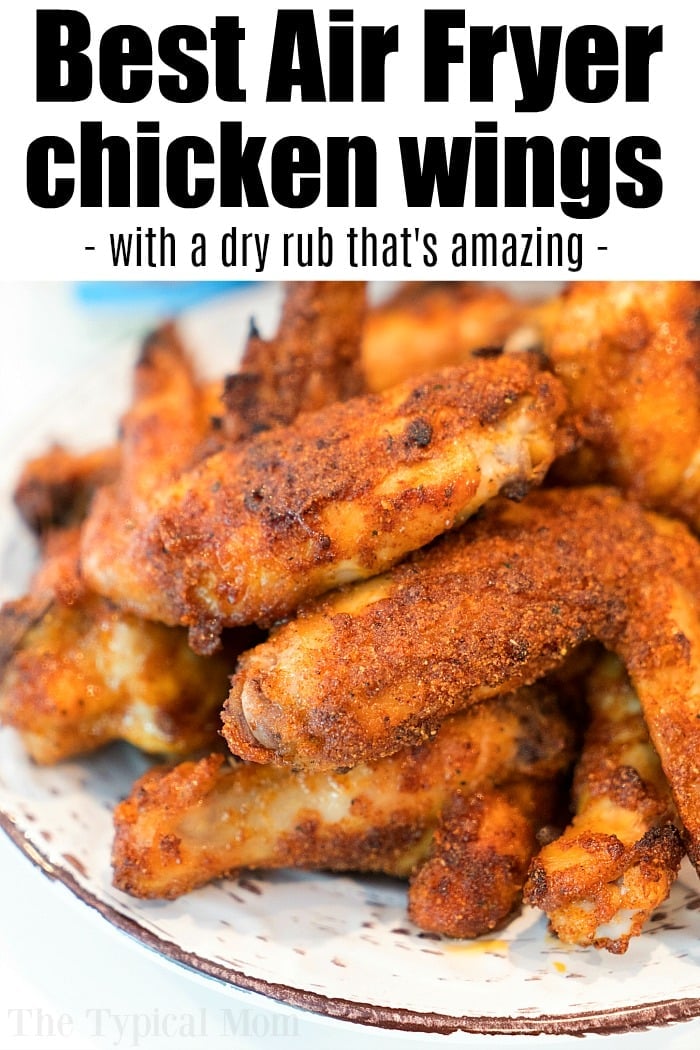 Can you cook frozen meat in an air fryer?
Yes!! It comes out tender and juicy too if you follow the instructions below. Keep a close eye at the end so it doesn't dry out. All pieces are varying thicknesses so timing will vary a bit.
If your kids are a bit pickier, then throw in some air fryer frozen chicken nuggets for them and enjoy a meal together y'all! Our air fryer whole chicken recipe are wonderful too.
Ninja Foodi Frozen Chicken
You can make this with the directions below, OR follow this pressure cooker frozen chicken breast with sauce recipe.
Want to see a few of my favorite things that I am totally obsessed with?? Take a peek and see how many you might already have…twinsies!
Looking for more easy family recipes and tips? LIKE The Typical Mom Facebook page?
Then sign up for my free newsletter, and follow me on Pinterest! 😉
***** If you LOVED this recipe give it 5 Stars below and let everyone know what you thought about it. 😉
Frozen Chicken Breast in Air Fryer
Tender frozen chicken breast in air fryer is so easy to make! Great hack if you forget to defrost your chicken but dinner is just minutes away.
Instructions
Put frozen chicken breasts in your air fryer basket. Sprinkle ingredients on top evenly between the two of them.

Close and cook at 360 degrees for 15 minutes. Remove and check to ensure they are done (some are thicker than others so may need additional time). Allow to sit for 5 minutes to maintain juices before slicing them.
Nutrition Facts
Frozen Chicken Breast in Air Fryer
Amount Per Serving (3 oz)
Calories 260
Calories from Fat 54
% Daily Value*
Fat 6g9%
Cholesterol 145mg48%
Sodium 844mg37%
Potassium 836mg24%
Carbohydrates 1g0%
Protein 48g96%
Vitamin A 68IU1%
Vitamin C 3mg4%
Calcium 11mg1%
Iron 1mg6%
* Percent Daily Values are based on a 2000 calorie diet.