Here is a review and pictures from the Arizona Grand Resort and spa in Phoenix as well as the Oasis waterpark they have right there at the hotel! Such a family friendly vacation spot to visit with lots for the kids to do and very comfortable rooms for large families.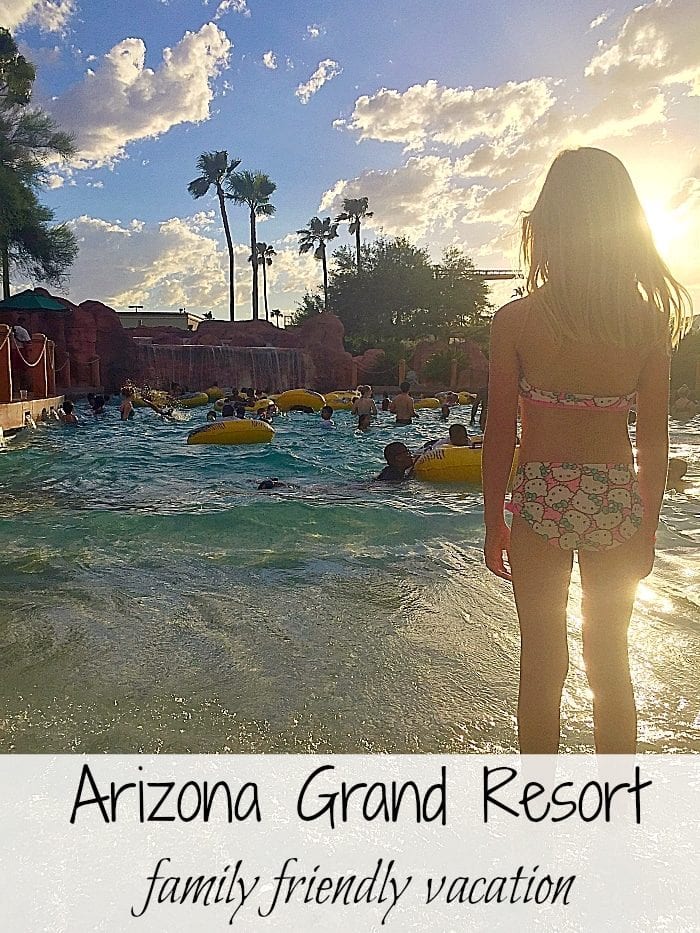 I found this place several years ago when researching just where to go on our Summer road trip. It took a few years for us to get there but it was really worth it! If you haven't heard of the Arizona Grand Resort and Spa, it is a hotel that is perfect for families because it has a waterpark right on the premises….perfect right??!! Special thanks goes out to the Arizona Grand Resort for sponsoring this post so I could share our experience with you, it's one of our favorite places and shared on our road trip blog too. (originally published 5/15)
As far as the rooms go they are quite roomy, we had 5 people staying there and it was nice for the kids to have their own living room, pull out couch area to have a "sleepover" and a separate bedroom as well.
Why we love the Arizona Grand Resort
As you can see there is a little patio area just outside the bedroom door too so you can sit and relax. Our room was directly across the entrance to the Oasis waterpark which was perfect since our kids wanted to spend most of their time there.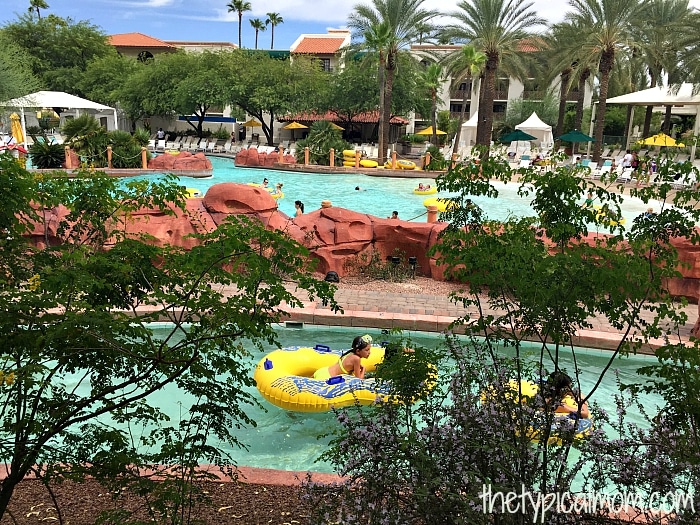 The Oasis water park on the premises of the Arizona Grand Resort has a lazy river as you can see on the bottom, a large wave pool area (at the top here), an area beyond that with a volleyball net that is in the water, a large jacuzzi, two water slides (you can see the large one in the bottom pic), and a bar with drinks and food.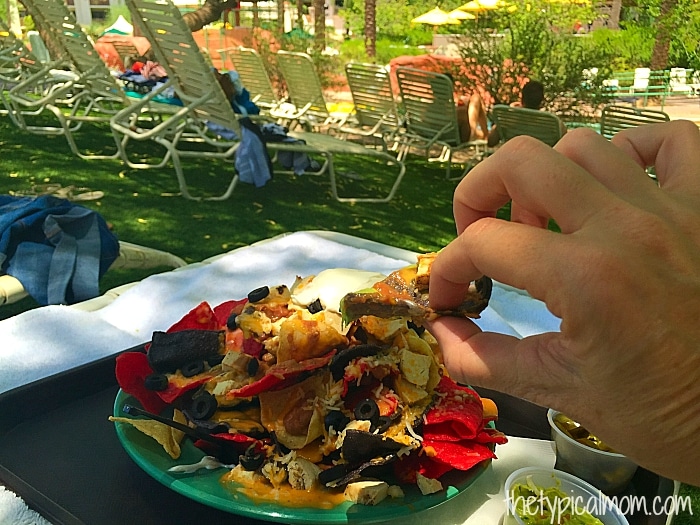 There are large shaded areas where parents can hang out in lounge chairs, like you see here, and a larger area that is completely covered with an awning as well by the slide so there is plenty of shade….which I really appreciated it. They have very attentive waiters that will come take your order and bring food to you while you're at the water park at the Arizona Grand Resort and Spa as well. Both days we ordered this HUGE order of chicken nachos which kept the 5 of us full enough while we were there so we didn't need to leave the fun.
There is a golf course and spa services available at this family friendly hotel as well. If you'd like to book at stay you can take advantage of the Arizona Grand Resort deal here, or contact them directly.
Check out where else we went in Arizona this Summer that was so beautiful, and we will definitely going back. Here are pictures from Sedona and Slide Rock you might enjoy!
For more easy recipes, tips and crafts please LIKE The Typical Mom on Facebook and follow me on Pinterest! You can also sign up for my free weekly newsletter which is packed with goodies I know you'll love. 😉