If you've never visited Sedona Arizona is one of the most amazing places you'll ever visit. Here are pictures of Flagstaff and Slide Rock where you can swim and slide down stones that have been smoothed into slides too. Makes for a great family vacation for all ages.
If you have never been to Sedona Arizona it is probably one of the most beautiful places I've ever seen on the West Coast! I went to school just North of this in Flagstaff, and had visited Sedona several times back then, but this trip we took all 3 of our kids and had the best vacation ever! Even my kids were amazed at how beautiful it was and we all want to go back! It is truly a hidden gem and included on our road trip blog as one of the most beautiful places we've visited. (originally published 12/15)
Grab a fantastic deal for a hotel in Sedona here!
This picture was taken just outside the Slide Rock area which was probably the highlight of our trip. It is just that….a beautiful area with a creek at the bottom and rocks that you can slide down. They've been smoothed out over years and years and create a long slide that adults and kids get a real kick out of….well, you can see here for yourself!
There are areas beyond the slide area where you can jump off a high cliff, not for us, and pools that are shallow to put your feet in as well as others you can swim in. Most people wear their suits. We hadn't planned on stopping off here that day so my little ones just went in with their shorts and tank top and they dried off after we were done….anything goes on vacation right. 😉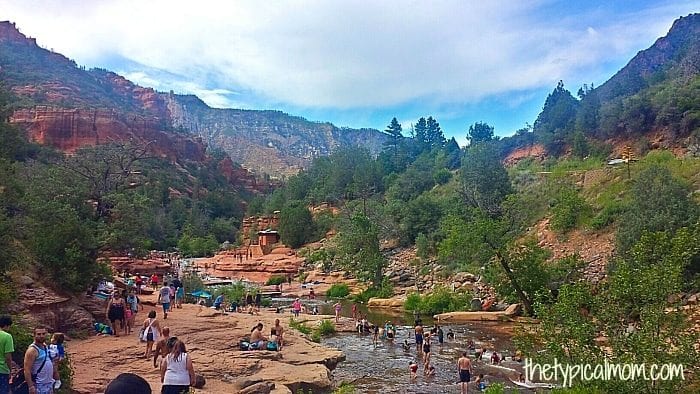 It is quite hard to really capture how beautiful this area is, but this is pretty close! Incredible right??!! This is just part of the beauty and fun Sedona has to offer. If you like to hike there are TONS of areas you can hike, and it is cooler than what you'd expect in Phoenix (which is about 2 hrs. South of this). There are plenty of nice places to stay the night. We found a great Groupon Getaway deal for this trip and stayed at the Super 8 Hotel which was surprisingly nice with a great view!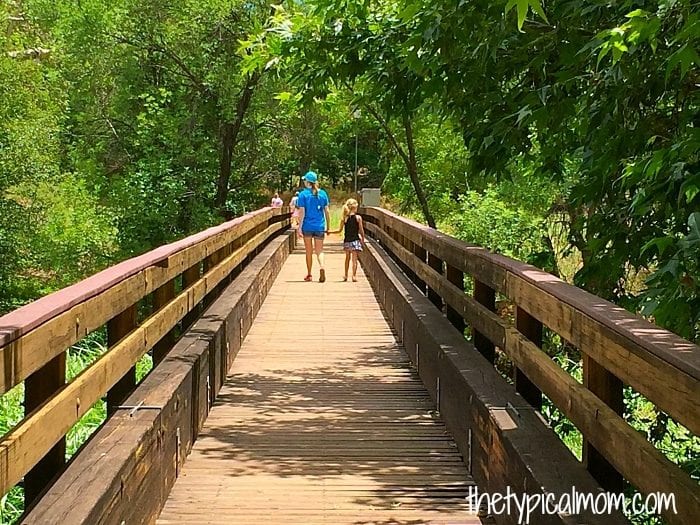 One day we explored things at Red Rock State Park….the kids were in love with this place. Just exploring and finding old houses, adobes, lizards, red rock mountains that you can really only see here in Sedona was all part of the fun.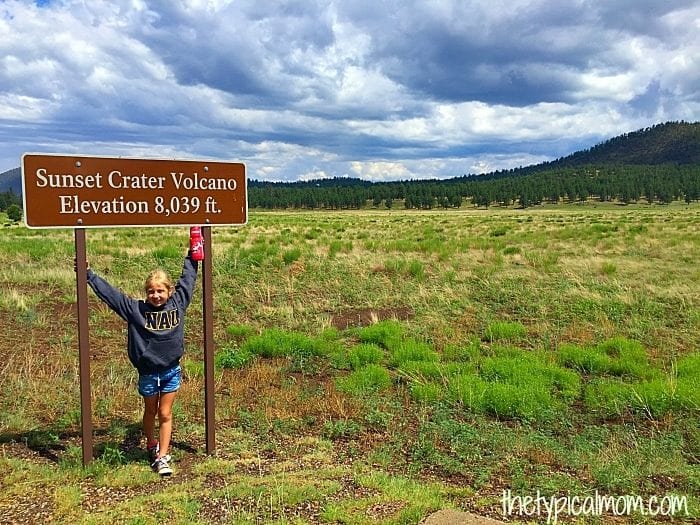 One day we went North about 30 minutes to my college town, Northern Arizona University, to get some fun clothing for my kids and see Flagstaff a little bit. We explored Sunset Crater Volcano for a while. HUGE areas full of lava that had hardened from the eruption years and years ago had a lot of history and great places to hike. Summertime is monsoon season there so we got rained out for a while, but luckily we had bought sweatshirts with hoods so we braved it for a while anyway!
If you've never been to Northern Arizona University it's a great place, of course I'm a bit bias. This football field is entirely indoors inside a dome!! It snows quite a bit in Flagstaff so they created this dome which is quite incredible to see and go inside of so practices of all kind can be held year round (field changes according to the sporting season).
Looking to visit more places in Arizona, near Sedona?
For more easy recipes, tips and free printables please LIKE The Typical Mom on Facebook and follow me on Pinterest! You can also sign up for my free weekly newsletter which is packed with goodies I know you'll love. 😉