Air fryer baked potatoes are so amazing! With crispy skins on the outside and a soft tender inside it's the perfect side dish or dinner stuffed with chili! If you want to make Ninja Foodi baked potatoes these directions work too.
If you've never had air fryer baked potatoes they are SO good!! I dare say the salty crispy potato skins are almost better than the inside. One of our favorite easy air fryer recipes. (originally published 3/19, affiliate links present)
Ninja Foodi Baked Potato
Whether you serve potatoes in the air fryer with dinner or make them your main dish you'll never make them another way again.
Air frying is the way to go!
If you love air fryer recipes too, here are some resources to start with: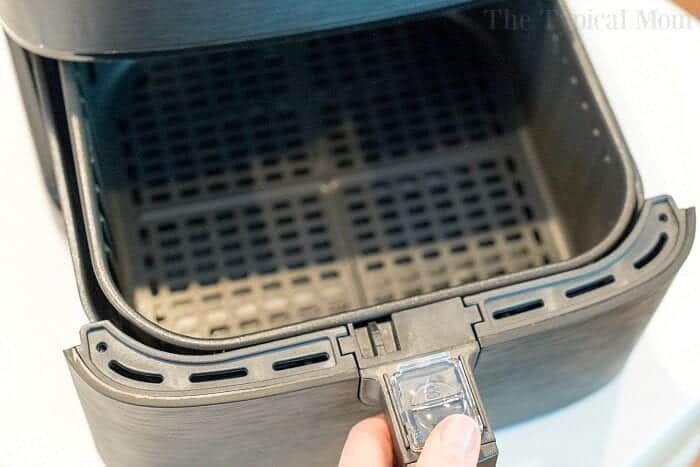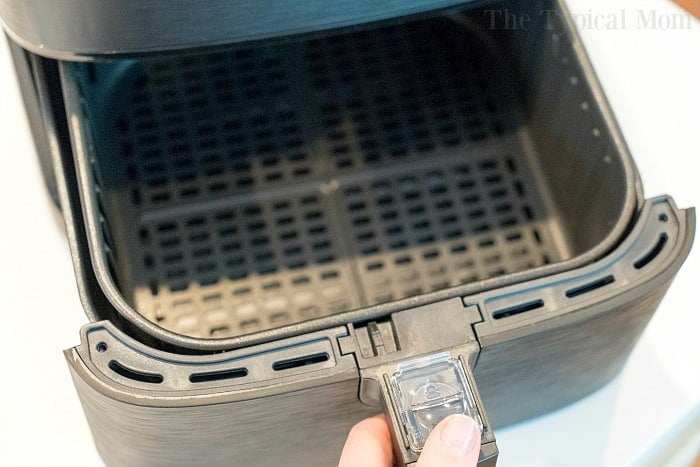 I still love potatoes in a smoker but now you can get that same crispiness in a fraction of the time in your Cosori, Ninja Foodi or other brand. That, I love.
Here are a few questions you might have before you get started;
How do you steam potatoes in Ninja Foodi?
Well, there are 2 different ways. If you want to make mashed potatoes you can do that. But if you want the outsides to be crispy and stay in tact you'll want to use the air crisp function and no water.

We will show you how that is done right here.
Can you make baked potatoes in Ninja Foodi?
YES and they are the best by far! Just like at a steakhouse you will get the crunchy potato skins and fluffy tender insides you love. Air Frying them is the best method vs. pressure cooking.
This is the machine I have, seen below. It's actually a pressure cooker and air fryer so you can do both functions.
This is what you're going to need to pick up in order to get started. You don't need a lot really.
Air fryer baked potatoes
Russet potatoes – all similar sized potatoes so they get done at the same time, medium is best
Coarse sea salt
Olive oil
Air fryer basket
Favorite toppings if you're loading them up

We love pressure cooker chili
Or this mild chili recipe inside
Literally that is it, other than your air fryer. So quick and easy with about a 40 minutes cook time. Any brand will do.
Why do you need to use olive oil to make baked potatoes in the air fryer?
It allows the skins to really crisp up
Using really good EVO adds great flavor to the skins as well
Olive oil allows the salt to really stick to the potato skin
Why use coarse sea salt for air fryer potatoes?
It's larger than table salt, thus not coating the entire skin
Sea salt has a great flavor to it
What is the best potato for baking?
To start, you need to choose the best type of potato. We live in Idaho so a bag of russet potatoes are easy to find, and in fact are the best for baking! They are a high starch potato that will lend a light, mealy texture.
Baked potato toppings
5 ingredient chili

Instructions for pressure cooker and slow cooker above

Pressure cooker broccoli

Pair with this homemade cheese sauce

Sour cream and bacon bits
Pico de gallo salsa for a really low fat and gluten free meal
We have instructions on how to make Instant Pot baked potatoes here too, but they won't come out crispy.
Should baked potatoes be wrapped in foil?
Do not wrap potatoes in aluminum foil for baking in an oven or in an air fryer. Foil holds in moisture and steams the potatoes, resulting in a "boiled" taste and texture.
In an oven you'll need to turn the potatoes over halfway through the baking time, it isn't necessary using this method though.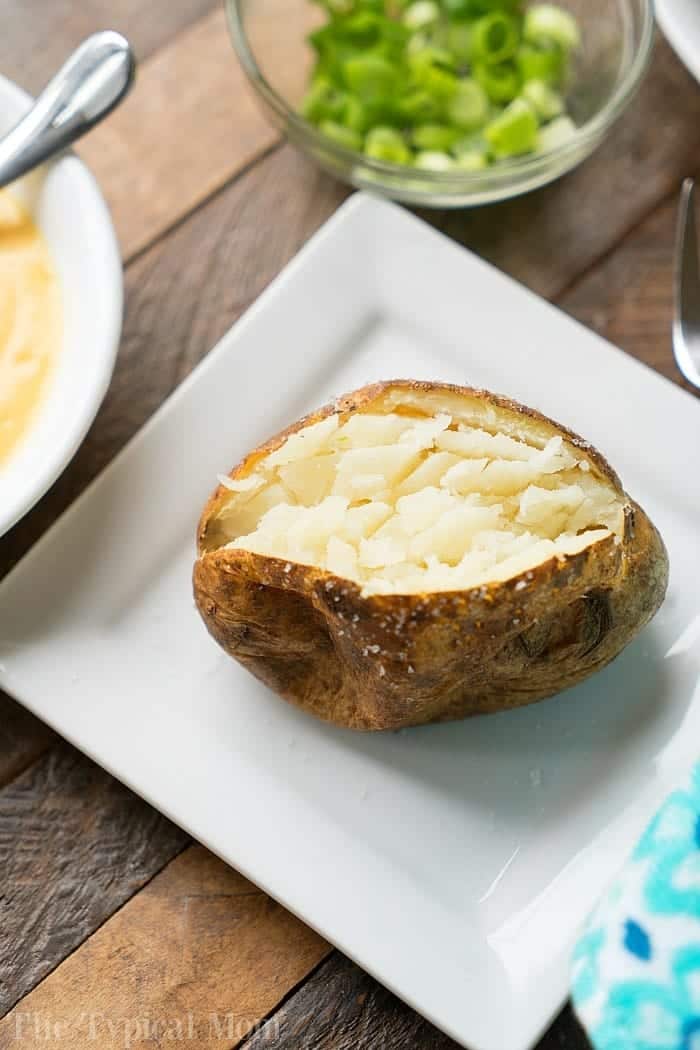 Ninja Foodi Baked Potatoes
You can use any brand machine you have though.
Wash your potatoes and dry them off with a few paper towels.
Poke around each one with a fork.
Liberally rub olive oil on each one (so much that they're kinda' dripping).
Sprinkle coarse salt all over each one.
Then place each one into your air fryer basket so they're not overlapping. This is important so the skins really get nice and crispy all the way around.
Set temperature to 400 degrees for 35 minutes, then check by poking in the middle with a fork or knife.
If they aren't tender enough in the middle, set timer for another 5 minutes and check again.

cook time will vary depending on how large your taters are but 40 minutes is about average.
Note: Make sure you poke holes all around. Depending on the size of your potatoes timing will vary slightly from 30 minutes to 45 for large potatoes. 400 degrees works perfectly for all sizes.
Want to make the best twice baked potatoes or air fryer potato skins once you're done??
Can you put a potato in an air fryer
It just may be a game changer for your family too.
This has been for us and we've varied what is served inside week after week so it doesn't get boring. This is one of our favorite air fryer potato recipes for sure.
Looking for other easy Ninja Foodi air fryer recipes?
We have a bunch of other ideas you will thoroughly enjoy right here, let us know which are your favorites.
Sweet potato in the air fryer are great as is next to some protein or with butter and cinnamon and sugar as a sweet breakfast.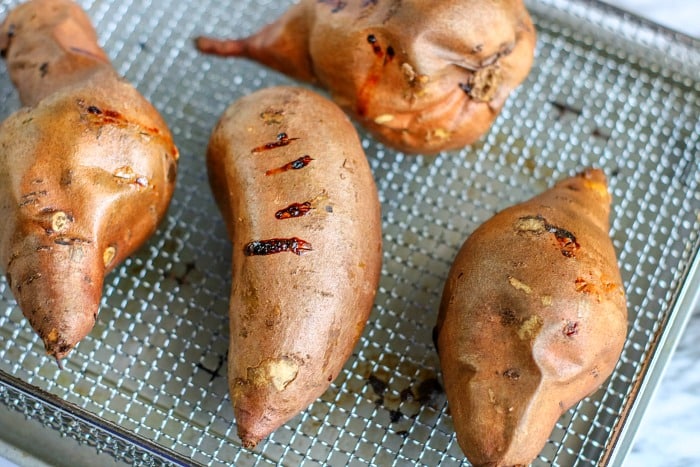 Printable recipe with nutritional information is below to keep on hand.
Let us know what you think of this method of cooking potatoes in an air fryer in the comments below! But wait, there's more to try this week too!
If you have little ones at home, I always loved making everything bite sized! Like that too? Then try our roasted potatoes in air fryer you see here! Mixed with some seasonings, olive oil and diced onions they're full of flavor.
Want to see a few of my favorite things that I am totally obsessed with or visit my Etsy shop?? Take a peek and see how many you might already have…twinsies!
Looking for more easy family recipes and tips? LIKE The Typical Mom Facebook page?
Then sign up for my free newsletter, and follow me on Pinterest! 😉
***** If you LOVED this recipe give it 5 Stars below and let everyone know what you thought about it. 😉
Easy air fryer baked potato recipe is below. You can print recipe and keep it handy in your recipe folder or just come back and see us next time to get the instructions. We love "seeing you".
Air Fryer Baked Potatoes
Air fryer baked potatoes are so amazing! With crispy skins on the outside and a soft tender inside it's the perfect side dish or dinner stuffed with chili!
Instructions
Wash your potatoes, then poke them with a fork all around each one. Pat them dry.

Rub olive oil over each one (generously) and then sprinkle sea salt over the entire outside of each potato.

Place a trivet inside your air fryer if yours uses one (for the Ninja Foodi flip the metal trivet it comes with upside down so it's lower).

Put your potatoes on your trivet so they aren't overlapping.

Close your air fryer lid (on the Ninja Foodi it is the lid that is attached). Set to air crisp, 400 degrees for 35-45 minutes. (timing will depend on size of potatoes, check after 35 min, poke with fork to see if middle is tender)

Take out when time is up, slice and fluff up inside.
Nutrition Facts
Air Fryer Baked Potatoes
Amount Per Serving (3 oz)
Calories 185
Calories from Fat 63
% Daily Value*
Fat 7g11%
Sodium 3509mg153%
Potassium 879mg25%
Carbohydrates 26g9%
Protein 5g10%
Vitamin C 24.3mg29%
Calcium 64mg6%
Iron 6.9mg38%
* Percent Daily Values are based on a 2000 calorie diet.