Perfect Instant Pot Broccoli every single time! Our favorite steamed vegetable side dish can now be cooked in any pressure cooker, Crockpot Express or Ninja Foodi in no time at all.
We're back with more to add to our long list of easy Instant Pot recipes with this Instant Pot broccoli! Yes I have been trying to eat healthier so we cook a lot of vegetables in our pressure cooker. I'm also glad to say my girls LOVE any and all veggies so I need a variety to serve with every meal. (originally published 2/19, participant in the Amazon program, affiliate links present)
Steam Broccoli in the Instant Pot
I think this green vegetable is probably our favorite easy side dish. We have made it this way or as a frozen broccoli Instant Pot recipe. Turns out tender and perfect every day. We don't need to smother it with cheese either to love it (though that is yummy too).
Don't worry if you don't have an IP specifically. All electric pressure cooker brands have the high pressure function and that is all you need. I use my Ninja Foodi a lot to do this too.
FIRST – You should sign up for my free newsletter so you get new posts emailed to you twice a week and never miss out on anything! Now let's start with a few basic tips:
Make sure to Bookmark our InstaPot recipes page. We add new ones each week!
Then PRINT this —–> Instant Pot cooking times cheat sheet that will help you understand how long meat, vegetables and beans take to cook in your pressure cooker.
For reference, this is the pressure cooker I have (a 6 quart) and use for all recipe creations.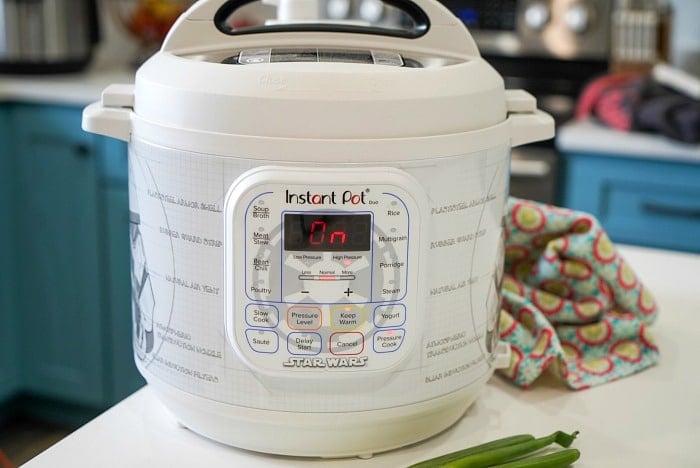 Broccoli in Instant Pot
Of course you can just enjoy it as is with a pinch of salt and pepper or amp it up with other things on top.
Sprinkle a little parmesan cheese on top with a little butter and seriously I think we could eat 3 bunches between the 5 of us. My kids would choose vegetables over eating meat any day!
A wonderful and quick method of getting it really nice and tender if you are making a recipe out of it too. If you love making quiche and soup I will tenderize this way and then add it after. Takes a lot less time since it doesn't have to cook down in your broth or cheese soup pot.
I don't like a lot of the steams so I typically trim those off but leave 2″ or so on it. They are firmer than the top florets for sure. Do what you wish as far as that goes.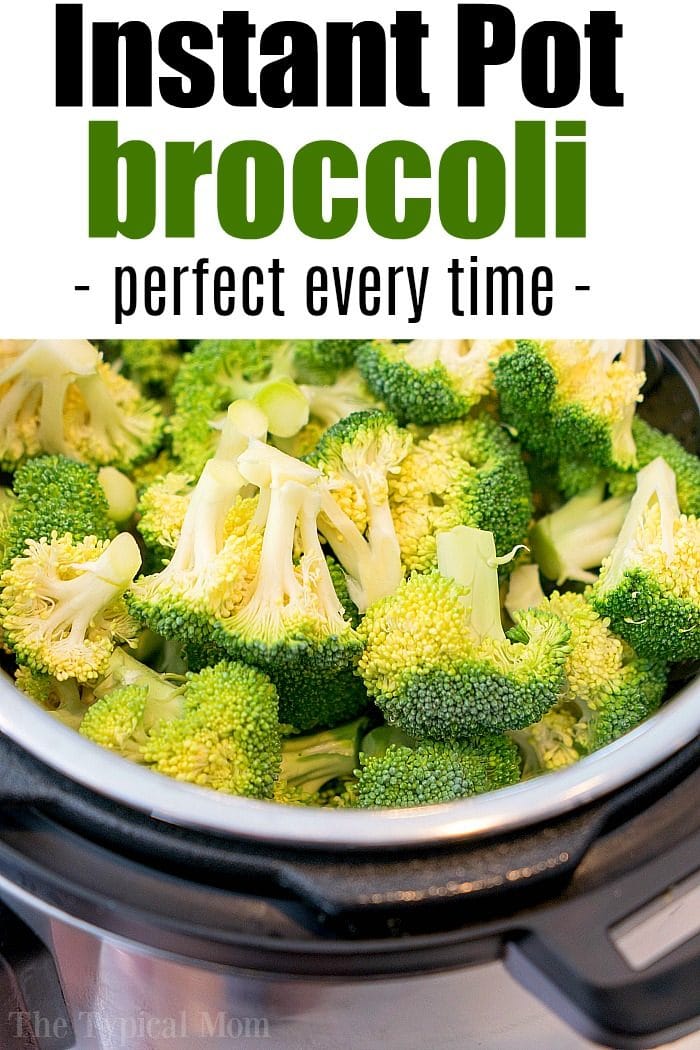 Ninja Foodi Broccoli
Why is pressure cooker broccoli better than using the stovetop? There is NO need to constantly check on it to make sure it doesn't overcook when using a pressure cooker (1 min. too long for broccoli can mean a mushy mess and no veggies for that night).
It won't make your entire house smell like broccoli

It doesn't particularly bother me but using a pot and steamer basket on the stovetop seems to emit the smell while it's cooking and it isn't always pleasant for everyone

Cooking broccoli in a pressure cooker is just EASY once you know how long it takes, which I'm going to share with you below.
Steam Broccoli Instant Pot
You just throw it all in and walk away knowing your Instant Pot steamed broccoli will be perfect when the beeper goes off.
I use this Instant Pot vegetable cook times sheet to remind me of approximately how long each vegetable takes to cook/steam. Feel free to print it out yourself so you can keep it handy too!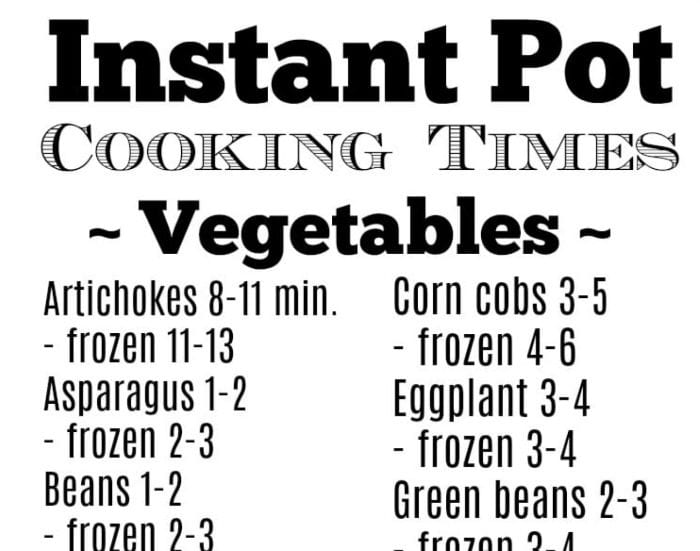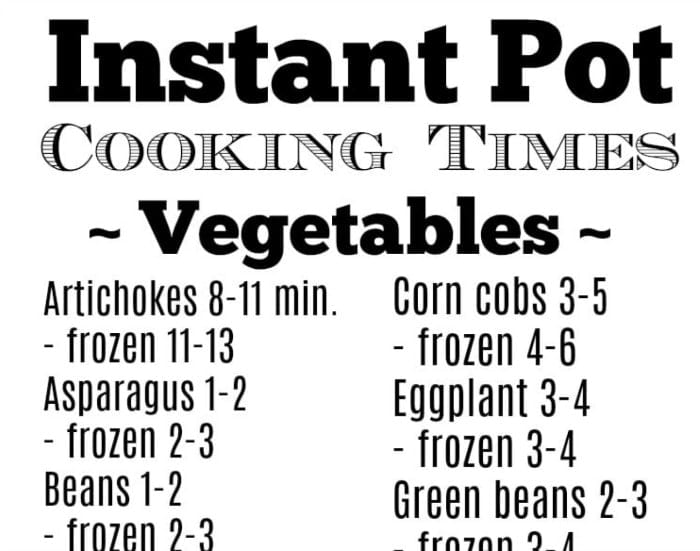 How long does Instant Pot broccoli take to cook perfectly?
Just like Instant Pot shrimp it is quick and easy. 1 minute is perfection for me but my daughters prefer 2 minutes so it's VERY soft.

Yes it takes a few minutes until the pot comes to pressure too

If you like it cooked but not super duper soft then 1 minute will do it

But if you love soft (but not mushy) steamed broccoli then set for 2 minutes
This comes down to personal preference and if it is your first go around I would set for 1 minute and test it out, if you want it a bit softer then you know 2 minutes is your time.
0 minutes works well if you still like it firmer but cooked, totally up to you but 1 minute is perfect for us.Timing below is for 1 head of broccoli with the stalk removed and cut into florets (med. size pcs.)
Crockpot Express Broccoli
If you have 2 larger sized heads I'd increase the time by 1 minute. So if you cook for 1 min. normally I'd set for 2 min. for double the broccoli just remember as a general rule you shouldn't fill your pot more than 3/4 of the way full. Make sure to immediately release the pressure or it will over soften quickly.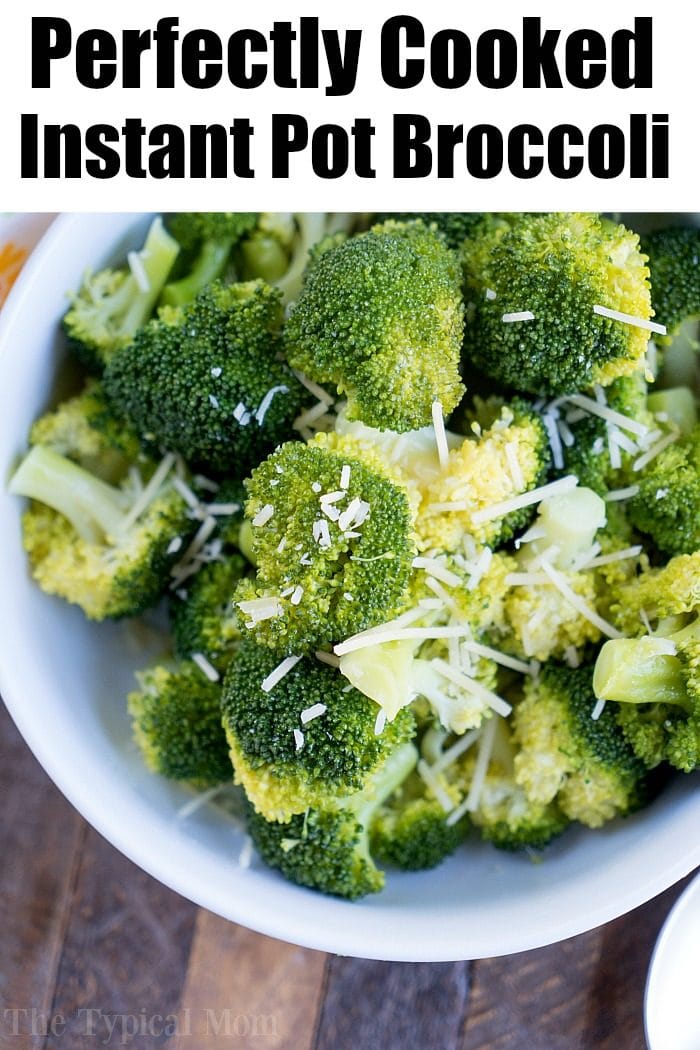 Broccoli in pressure cooker
These are the basics, I am not going to go all in to all the different things you could add to the top. I actually like the natural flavor of this produce so I don't want to smother it with all the things to tone that down. If you have picky kids though you might want to drizzle on some cheese sauce too.
Head of broccoli
Butter
Parmesan cheese
Salt and pepper to taste
Cup of water
Olive oil if you just want to drizzle that on the top vs. butter
Ninja Foodi Steamed Broccoli
Easy Instant Pot brussel sprouts will get you to LOVE this underrated veggie
Instant Pot cauliflower with a cheese sauce is fabulous
If you don't have a pressure cooker you can try this easy air fryer broccoli recipe
Pressure cooker broccoli cheese soup should be next!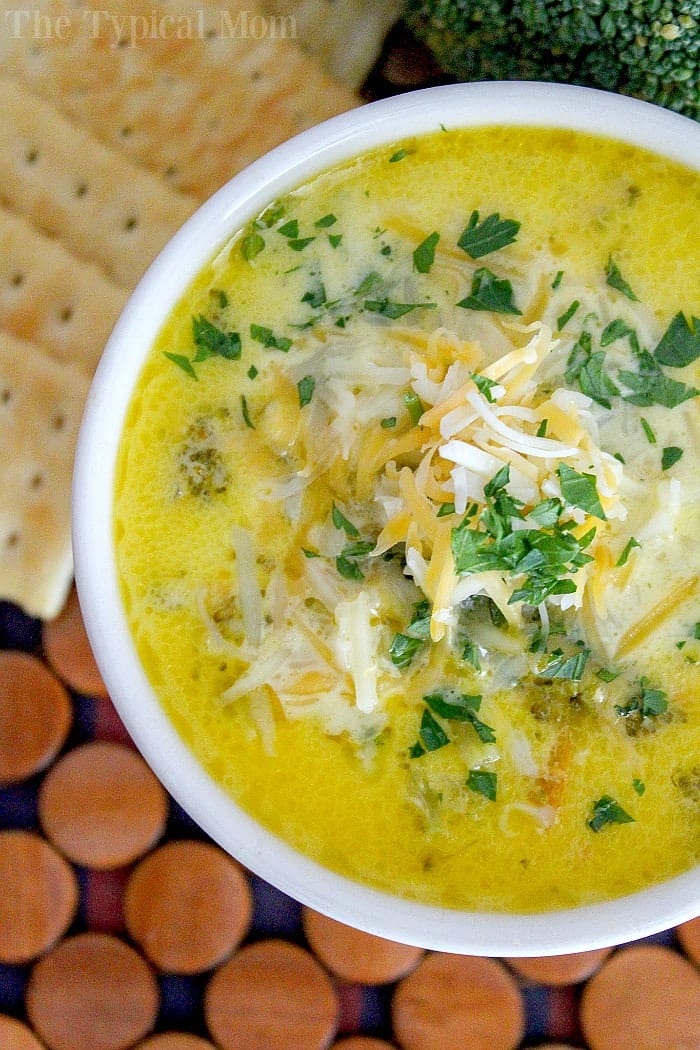 How to Cook Broccoli in Pressure Cooker
If you need to make this steamed broccoli recipe in this pot you will follow the same instructions below. Use your pressure cooker lid (the one that isn't attached), press the pressure cook button high for 1 minute then quick release!
BUT you can go a step further with this machine too!
You can add parmesan to the top when done and close air crisp lid to melt.
OR use your air fryer separately at the end.
Crockpot Express works the same as an Instant Pot pressure cooker. Follow same instructions below for that brand or any other.
How long do I cook broccoli in an Instant Pot?
It only takes 1 minute, 0 minutes if you want to get tender but still remain a bit firm. 1 is perfect for us with a bit of liquid underneath and steamer basket like we will explain here.
Should I use the steamer basket or cook broccoli directly in the Instant Pot?
That is best. If you don't have a vegetable steamer you could use a trivet. You just need to keep it out of the boiling water so it doesn't get mushy.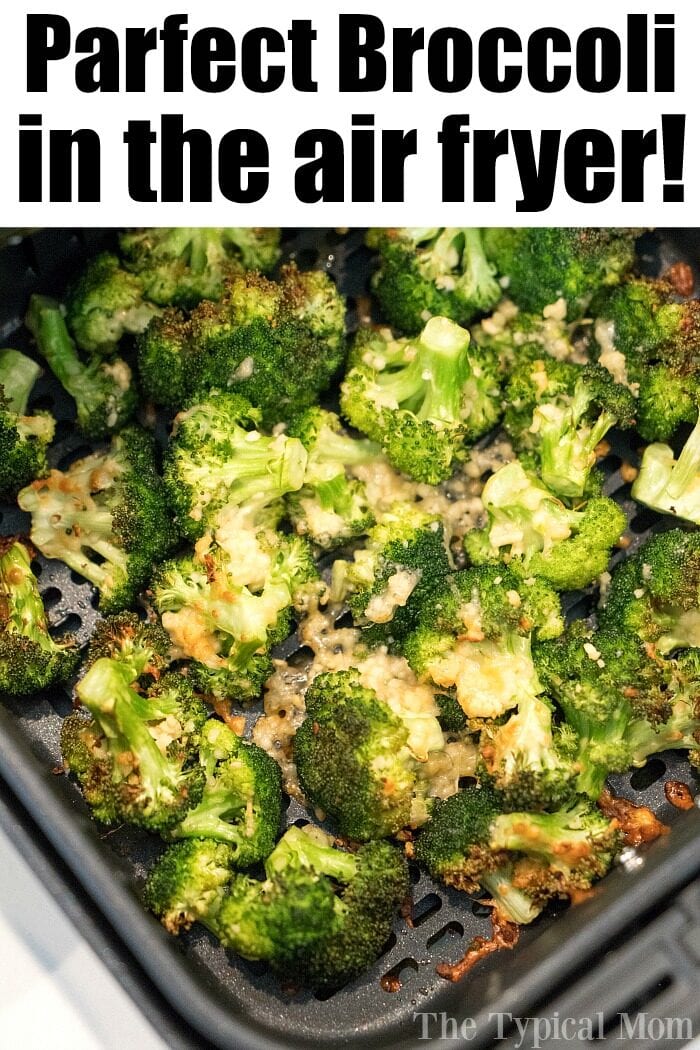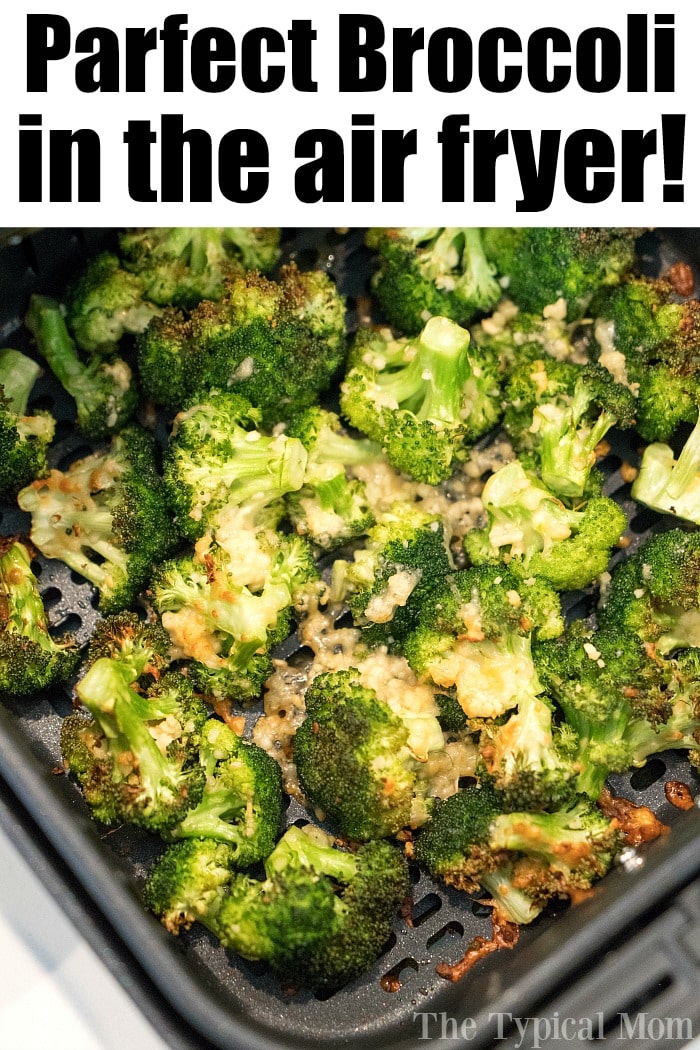 Want to see a few of my favorite things that I am totally obsessed with?? Take a peek and see how many you might already have…twinsies!
Looking for more easy family recipes and tips? LIKE The Typical Mom Facebook page?
Then sign up for my free newsletter, and follow me on Pinterest! 😉
***** If you LOVED this recipe give it 5 Stars below and let everyone know what you thought about it. 😉
Instant Pot Broccoli
Perfect Instant Pot Broccoli every single time! Our favorite steamed vegetable side dish can now be cooked in a pressure cooker in no time at all.
Instructions
Pour 1.5 c of water into your Instant Pot and put your vegetable steamer basket inside.

Wash your broccoli and cut off stalk, into smaller pieces.

Put into steamer basket, close lid and steam valve and set to high pressure for 1 minute. *alternatives* Set for 0 minutes if you still like a bit of crunch to it, or 2 minutes if you like your broccoli VERY soft or you have more than 2 heads cooking at one time. Do not overfill pot past 3/4 mark inside pot.

Do a quick release and lift out basket, pour florets into a bowl.

Pour melted butter on top and sprinkle parmesan cheese on and serve.
Nutrition Facts
Instant Pot Broccoli
Amount Per Serving (3 oz)
Calories 172
Calories from Fat 72
% Daily Value*
Fat 8g12%
Cholesterol 19mg6%
Sodium 224mg10%
Potassium 974mg28%
Carbohydrates 20g7%
Protein 9g18%
Vitamin A 2110IU42%
Vitamin C 271.2mg329%
Calcium 171mg17%
Iron 2.2mg12%
* Percent Daily Values are based on a 2000 calorie diet.