Cooking broccoli in air fryer is quite easy. Toss it in parmesan and olive oil for a crispy cheesy taste that's a great side dish with any meal.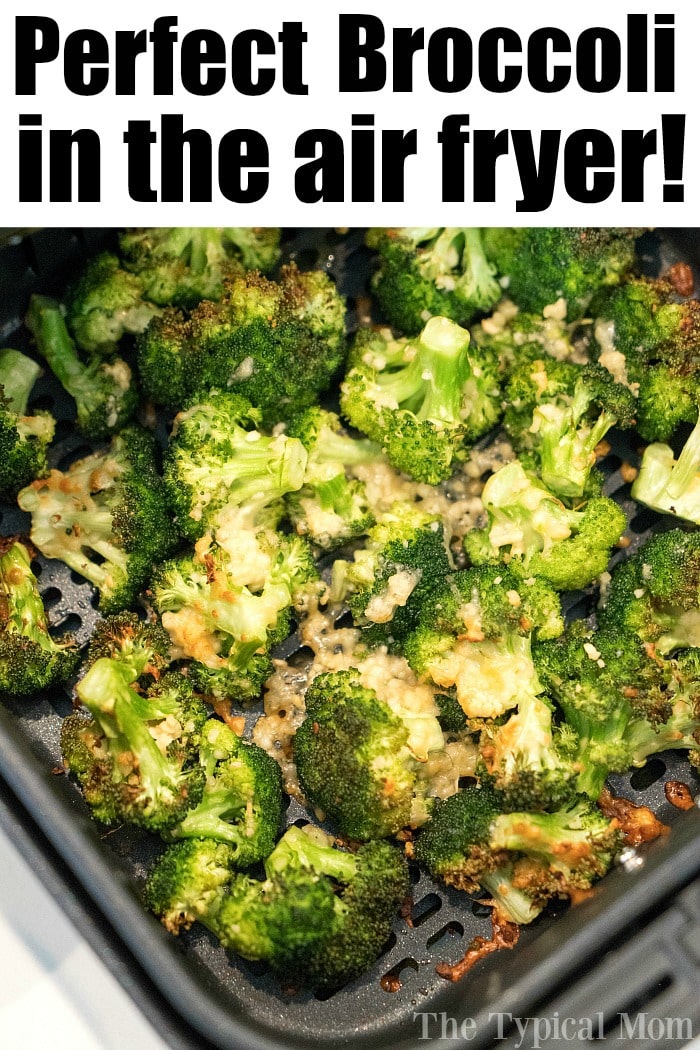 Air fryer broccoli seemed simple enough. I didn't want it plain though, I'm all about the cheese when making vegetables. Try our olive oil and parmesan air fryer broccoli yourself and let us know what you think! Find this and many more instructions on our air fryer recipes page. (originally published 1/20, affiliate links present)
Ninja Foodi Broccoli
Did you just get a Ninja Foodi or other air fryer this year? We did and how it has changed the way I cook lately. Not only can you now cook fresh produce, but frozen broccoli in air fryer too.
You may be looking for a few air fryer vegetables recipes. We have quite a few! This is just the beginning y'all and if you live in a hot climate especially during the summertime I bet you'll use it daily too. NO need to heat up your house for a small dish ever again and it comes out crispy like deep fried (but way less fat).
FIRST – You should sign up for my free newsletter so you get new posts emailed to you twice a week and never miss out on anything! If you love air fryer recipes too, here are some resources to start with: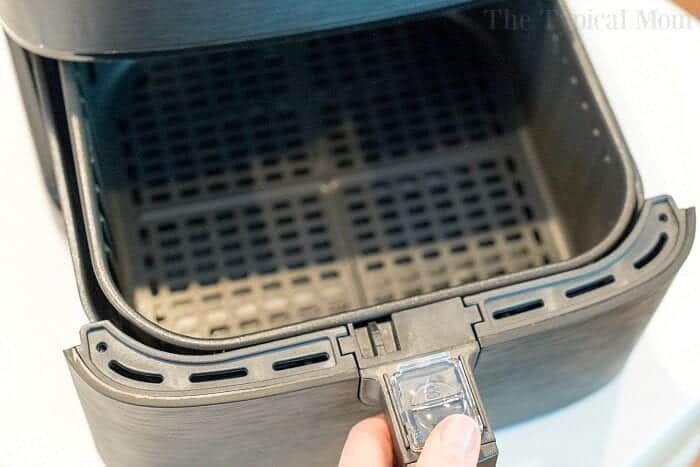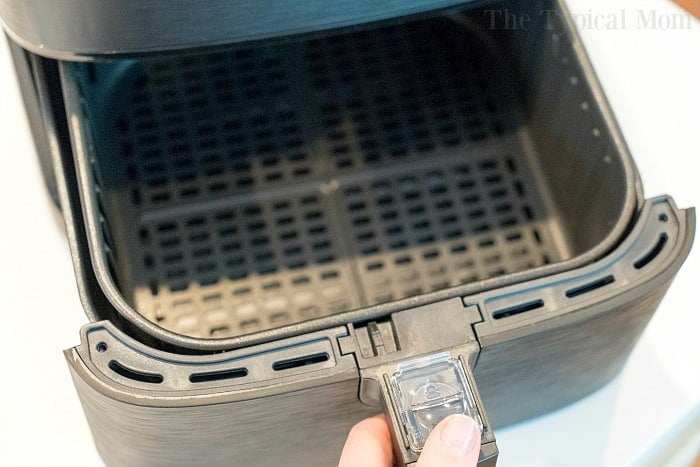 Air Fryer Broccoli
I will admit, it took me a few years to tackle this new machine but once I did I was in love! First I found it's longer counterpart and made some air fryer broccolini. OMG if you haven't tried this one either it is a game changer, seriously even my kids asked me to cook it the next night.
I should've started using this SO much sooner because air fryer vegetable recipes turn out great. With a tender feel on the inside but on the outside you get this nice slightly crispy feel, it's like baked but way faster.
If you haven't tried air fryer roasted broccoli, it's different than any other. Broccoli in the Instant Pot comes out very tender but without any crisp.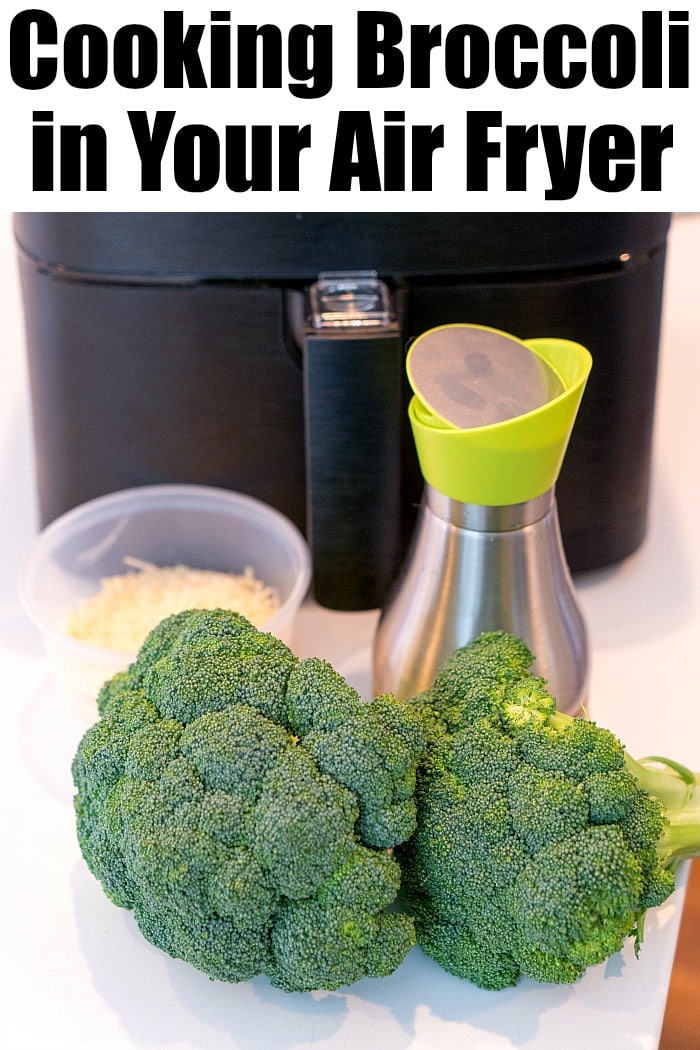 Parmesan Air Fryer Broccoli
Cooking broccoli florets in an air fryer basket is kinda' the opposite. It won't get super soft, but it will make it quite crispy on the outside pieces.
I add a simple mixture of salt and pepper with a sprinkle of parmesan cheese for flavor. You could include any seasonings you love and they will stay on quite well.
With any other air frying recipe you need to ensure that there is no overlapping. In case you are new and don't understand the concept.
This works because hot air circulates around the food. If it's in more than one layer it won't work properly.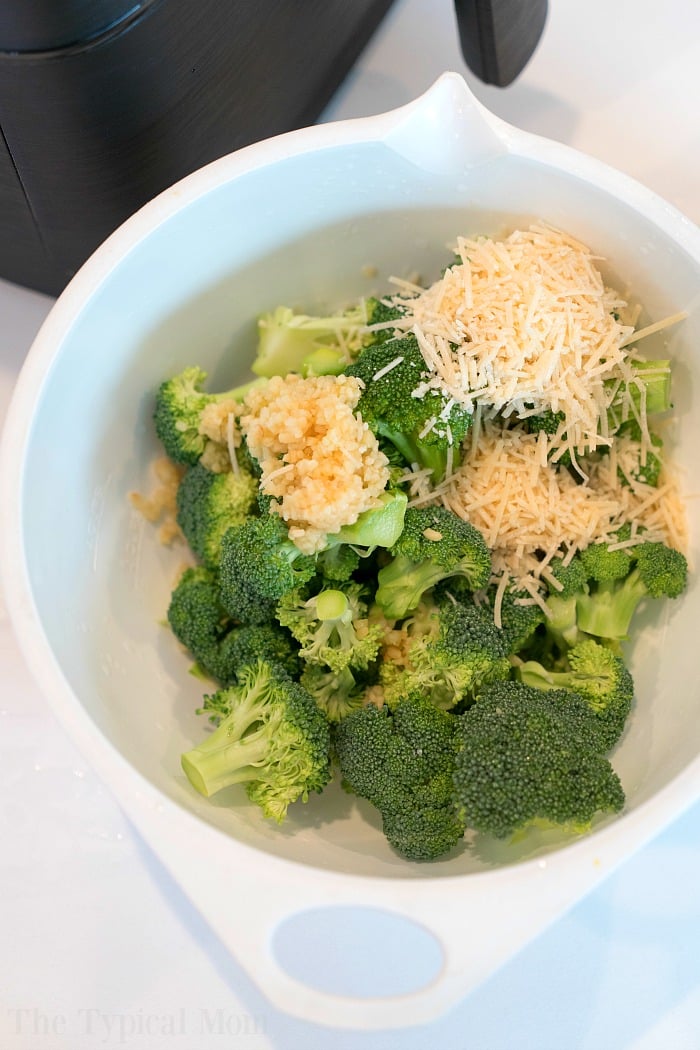 Broccoli in Air Fryer Not Frozen
Similar to our brussel sprouts in the air fryer recipe, you'll get a nice char on the outer leaves or pieces. Increase the cooking time to brown them further, but the timing below works well for us.
Want to know the biggest tip to cooking broccoli in an air fryer (or any other extra firm veggie)?
You need to add a bit of water into the bottom of your air fryer basket!
I know, weird right? If you've never done this before you might not understand but here's the gist of it.
For firmer vegetables like broccoli stems and cabbage you need to steam it a bit as well as air fry it so it softens nicely. Here's what I mean by adding water into the bottom, see the photos below for reference: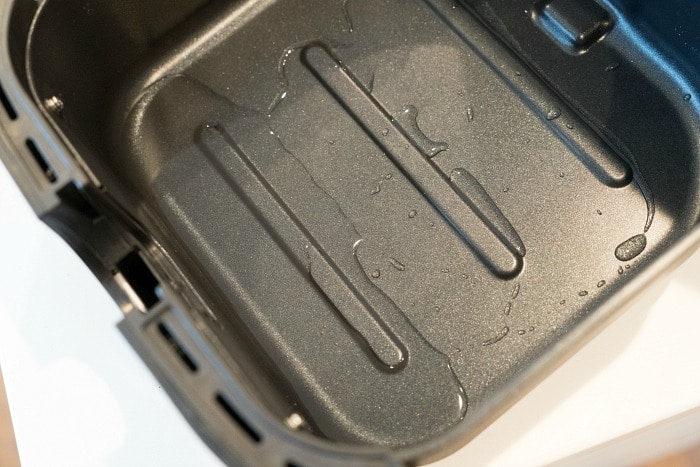 Can you steam veggies in an air fryer?
For this electric air fryer the basket sits on top of this solid basket/drawer. Many look the same way but just may be a different shape.
If you want your florets to be really tender follow these steps:
Add 1/4 c water into the bottom of your air fryer (under the basket where the food goes)
Preheat air fryer to 400 degrees.
Prep florets by chopping them to the size you want, keep them all the same size though.
Drizzle with olive oil and cook for about 8-10 minutes
Move pieces around in the basket a few times during cooking time. Add salt and pepper to the top during and/or after they're done for a low calorie broccoli recipe. Or smother in homemade Velveeta cheese sauce for a kid loving side.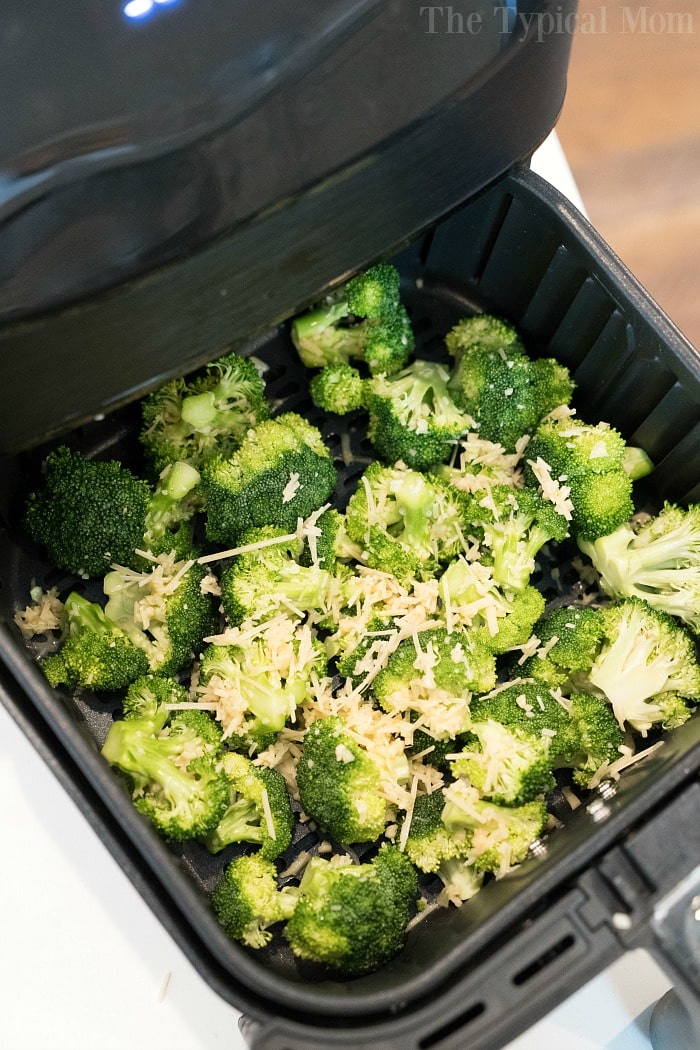 Ninja Air Fryer Broccoli
Why would you add water to an air fryer? For certain foods that are low in water content, it may cause your machine to smoke. It has a hard time softening such items because there isn't enough moisture inside the cooking compartment.
I am sure there is a more technical way to explain this, but you know what I mean by this. You could leave out the water but your vegetables will be a bit firm. Some prefer it this way so by all means do it to your preference.
Is frying broccoli healthy?
Broccoli is a green powerhouse of a vegetable with a ton of nutrients. This easy side dish benefits your digestion, the cardiovascular system and the immune system.
It's said to have anti-inflammatory and even cancer preventing properties. Naturally low in sodium and calories, it's also a fat free vegetable.
Frying broccoli in the traditional method with oil will reduce or take away all of these positive aspects. Air frying however will maintain it's integrity as it just uses hot air to cook.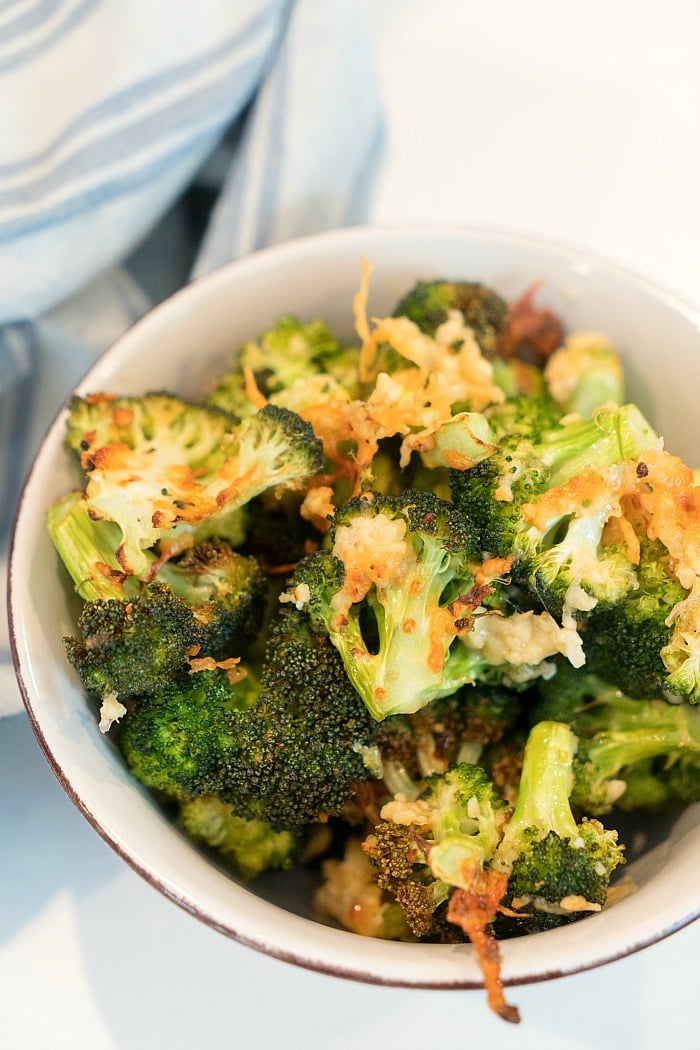 Fresh Vegetables in Air Fryer
That's where this air fryer broccoli and cheese recipe comes into play. I kid you not, my 3 girls would now rather eat a plate full of veggies vs. meat. It wasn't always the case though. Year after year I'd try something new.
As they grew up the deal was they had to try one bite, and that they did. Some took longer than others but eventually they gained a love for cauliflower, broccoli and even my spinach quiche recipe!
Air frying vegetables brought their love to a whole new level though! I can't get enough of them this way either.
I kid you not, I air fry "all the things" now because it makes everything so good! I get the crunchy crispy outsides I love without the laden calories you get with deep fried foods.
Speaking of this, you should try our air fryer zucchini chips next!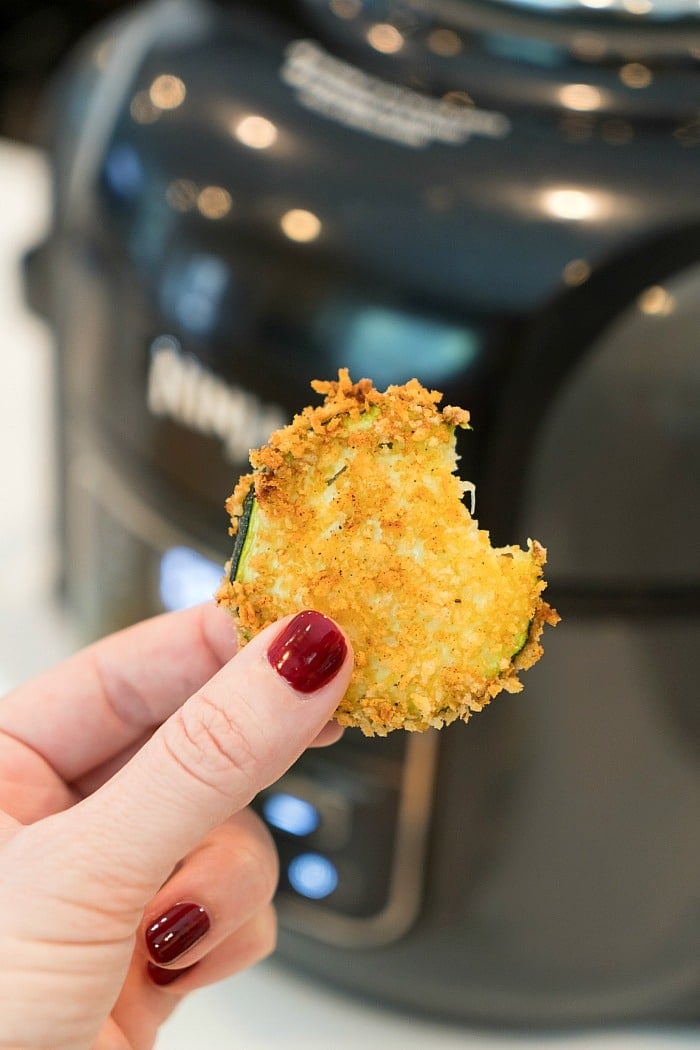 How to get broccoli tender in air fryer
If you want a copy cat Carl's Jr fried zucchini recipe, this is it!! I actually love it better than theirs because sometimes they use dirty oil and the after taste is horrible.
Homemade is always best anyway, we all know that. Here are a few other Ninja Foodi air fryer recipes to try. You can use any brand of machine to make them though.
Crispy eggplant air fryer recipe is one of our faves
Chicken fried steak in an air fryer is a fun finger food
Printable instructions and nutritional information listed below in recipe card. You can keep it handy in your book or just come back time and time again, or else we'll miss you.
Want to see a few of my favorite things that I am totally obsessed with?? Take a peek and see how many you might already have…twinsies!
Looking for more easy family recipes and tips? LIKE The Typical Mom Facebook page?
Then sign up for my free newsletter, and follow me on Pinterest! 😉
***** If you LOVED this recipe give it 5 Stars below and let everyone know what you thought about it. 😉
Broccoli in Air Fryer
Cooking broccoli in air fryer is quite easy. Toss it in parmesan and olive oil for a crispy cheesy taste that's a great side dish with any meal.
Instructions
Pour 1/4 c water in the bottom portion of your air fryer, below the basket itself. Preheat your air fryer to 400 degrees.

In a bowl put your small broccoli florets with all other ingredients and toss well so they are good and coated.

Once air fryer is done preheating, pour florets into basket making sure they don't overlap. May have to do 2 rounds if your basket is small. Can sprinkle with a bit of salt, pepper, and/or chili flakes now if you'd like.

Cook at 400 degrees for 8 – 10 minutes or until they're as done/tender/crispy as you'd like them to be. Start at 8 minutes, check, and add additional minutes if they aren't as tender as you'd want.
Nutrition Facts
Broccoli in Air Fryer
Amount Per Serving (3 oz)
Calories 256
Calories from Fat 144
% Daily Value*
Fat 16g25%
Cholesterol 13mg4%
Sodium 627mg27%
Potassium 1004mg29%
Carbohydrates 21g7%
Protein 12g24%
Vitamin A 2023IU40%
Vitamin C 271mg328%
Calcium 232mg23%
Iron 2mg11%
* Percent Daily Values are based on a 2000 calorie diet.