Ninja Foodi french fries are easy to make in your new air fryer and pressure cooker machine! Healthy and homemade potato wedges done in no time for dinner.
Ok so I am loving my new air fryer and pressure cooker! Have you seen this??!! This 3 in 1 cooker has the ability to do it all and get dinner on the table in no time at all…and crisp it before it gets there too. We will begin with this easy Ninja Foodi french fries recipe because well, everyone loves anything potato (especially here in Idaho). 😉 This and more are now on our Ninja Foodi recipes page. (affiliate links present)
This is the Ninja Cooking system we got (there is a 2nd lid not seen here, yes there are 2 different lids so it can do it all). I wasn't sure it was something I really need when my husband brought it home since I already had a singular model but after a month or so I was hooked!
If you're new to this machine and how to air fry food you're in for a real treat here. Fries are just the beginning but something that everyone loves so it is a good place to start.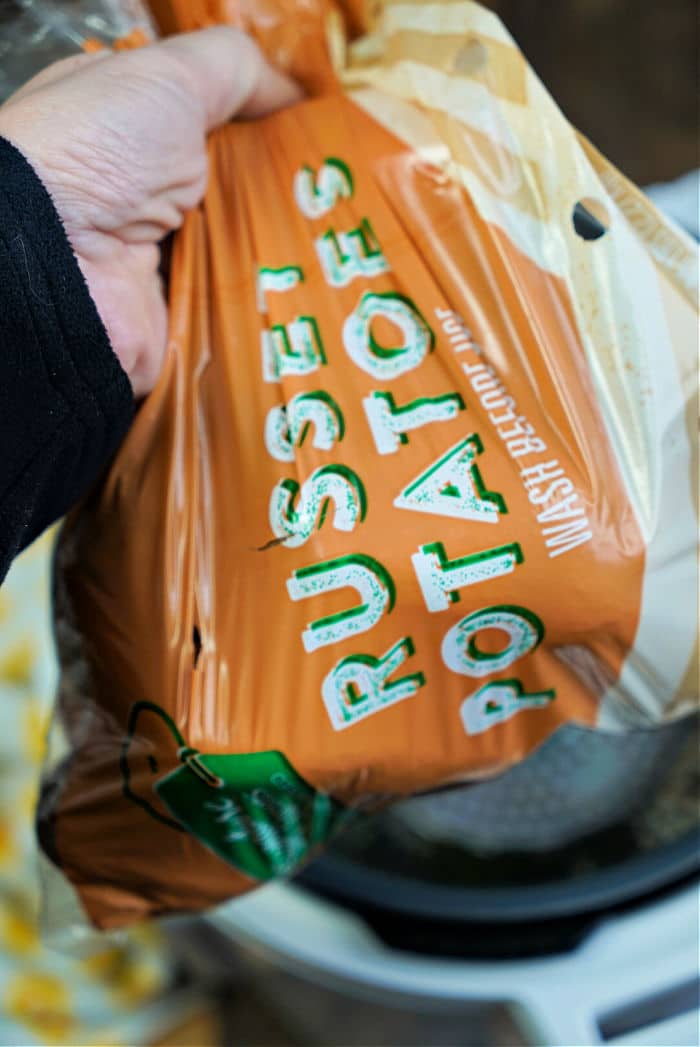 You kinda' can't go wrong with them and even the kids will want you to use it every single day after this. You'll find more air fryer dinner recipes to make after that.
Excited to get going and anxious to see what all the hype is about? I was too, and always like to share easy step by step directions in case you're a little anxious at the beginning. 😉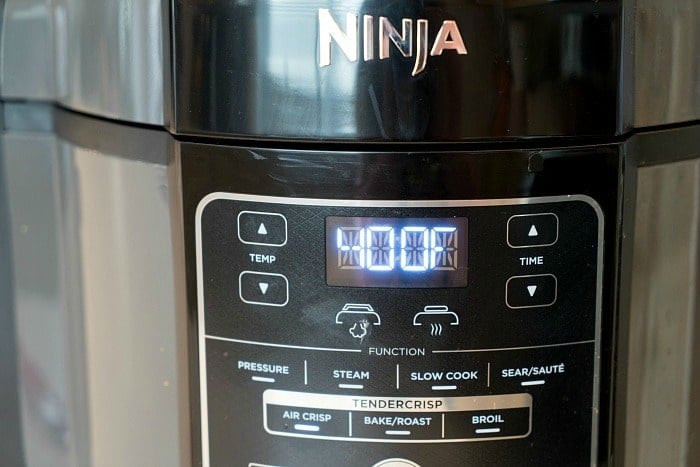 If you need to know how to cook frozen meat in a pressure cooker, we have information on that. NO, you aren't the only forgetful one. 😉 It sure does come in handy when it's an hour before dinner and everyone is starving. You can save the day still with this handy device.
You know me…I wouldn't recommend anything I wasn't totally in love with. Seriously, this machine will change the way you cook meals for good.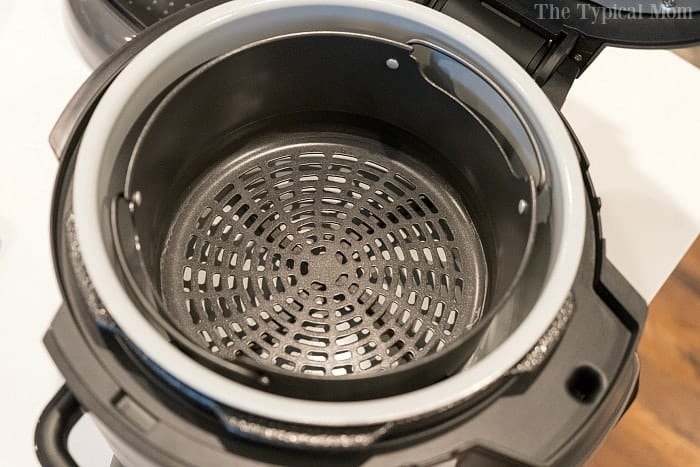 I will tell you that this new stainless steel electric pressure cooker is a game changer! You won't need that particular function on this go around because air crisp is the only function necessary.
To begin with let's chat about what lid you're going to use. It came with 2 right, so which is which? The one attached is for air frying foods of all kinds.
Ninja Foodi French Fries Recipe
Ok enough of me convincing you because you may have already jumped on the new Ninja machine train and have one sitting in front of you. So here was our first creation in the best air fryer we've used thus far.
This is what you'll need to make fries in the Ninja Foodi
Potatoes – let's go with russet shall we (Leave skins on which make them even healthier. Sliced pretty thin.) You could use fingerling potatoes if you wanted and slice into sticks too.
Olive oil – again, healthier than vegetable oil – we considered using avocado oil too but will try that next time
The pot has a ceramic coating which is great but for this you're going to use the air fryer basket it comes with.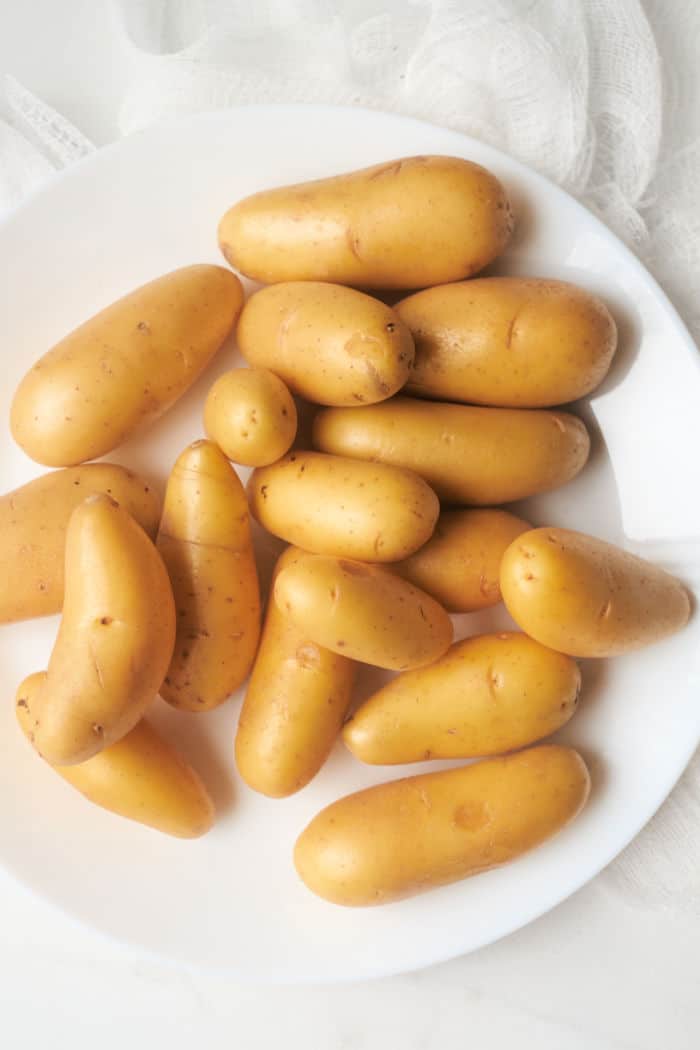 I'd highly suggest you leave the skins on so they can hold the pieces together better and provide texture. Larger pieces are easier to hold and typically cheaper but use what you like.
Seasonings – use what you would typically like on your fries, we are all about Lawry's over here – it's the bomb
We share how to make air fryer baked potatoes here if you want to leave them whole too.
Let's hear it for air crisp french fries. I'm telling you, you'll never go back to frozen again after you try these. What is really nice is you can season them as you wish, and even add a bit of heat to them just for fun too.
What are the benefits of using an electric air fryer?
There is NO need for oil

Saves you a ton of money cutting out that ingredient
Much healthier for you. Food absorbs quite a bit of oil and no matter what type you use and consuming oil isn't great
Safer since oil splatters. I especially never liked frying when my kids were around, made me nervous

Your food comes out crispy

The texture of food is important in the overall taste. Nobody likes limp fries or chicken strips

There's no need to turn on your oven or stovetop
When it is the summertime and you live in 90/100 degree weather that is the last thing you want to do. We lived in the desert for a long time where it was over 100 for weeks at a time, it was miserable. There was NO way I was going to bake anything which made it hard to figure out what to have for dinner.
I sure wish I had one of these babies back then, it would have saved us many nights of just having cereal or sandwiches. Not only does it save you money on your overall energy bill but cooks faster too. Using a small device rather than your oven to crisp something small up is so great.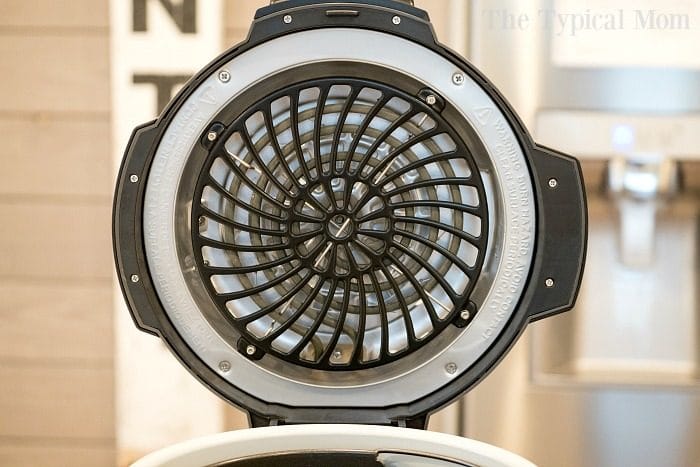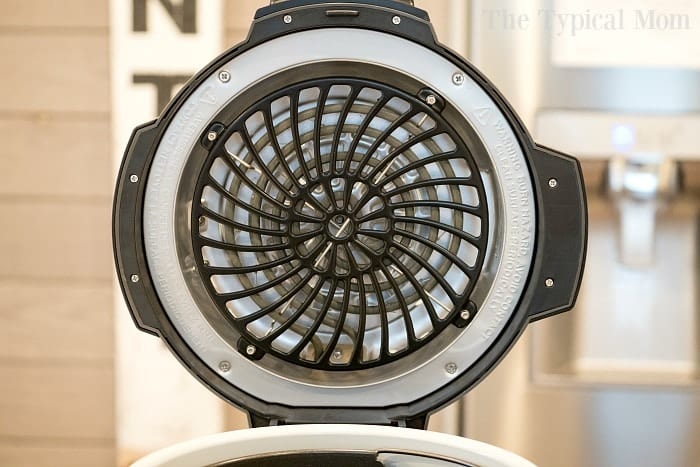 Why is Ninja Foodi the best air fryer?
Ninja Foodi air fryer is a multi function machine with a pressure cooker in it as well

means one machine can serve two purposes which saves space in my kitchen = major win

It is easy to clean, enough said

inner pressure cooker pot and air fryer bin have a Teflon coating
The air fryer lid is attached (photo above) which means it's less likely to get lost.
It comes with an additional pressure cooking lid that is separate and works great for that function
Air fryer bin is wide and doubles as a pressure cooker accessory

again, dual functions in the kitchen are the best
wide bin enables you to spread food out and make sure everything gets nice and cripsy
The air fryer cook crisp basket doubles as a great Ninja Foodi accessory for pressure cooking a chicken. Holes at bottom allow juices to drip away from the bird, and then finish with a crisp using the air frying function.
Air Fryer French Fries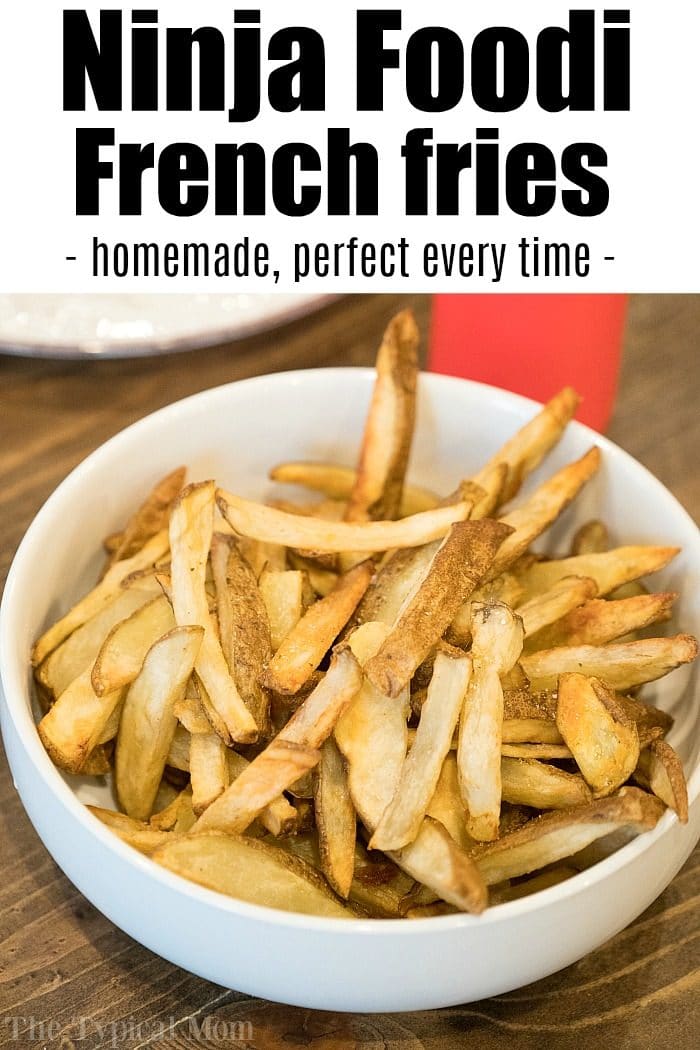 Next we made this amazing air fryer steak and many others below! There are only a few here. You should bookmark our pages above in the menu bar so you can refer back to them often. Each week I add at least 2 new recipes you can make in this machine so you will never run out of ideas y'all.
For now you can enjoy instructions for these Ninja Foodi air fryer recipes below, let us know which is your favorite.
Overall cook time will vary depending on how thick your potato slices are. Check the last few minutes until they're golden brown to your liking.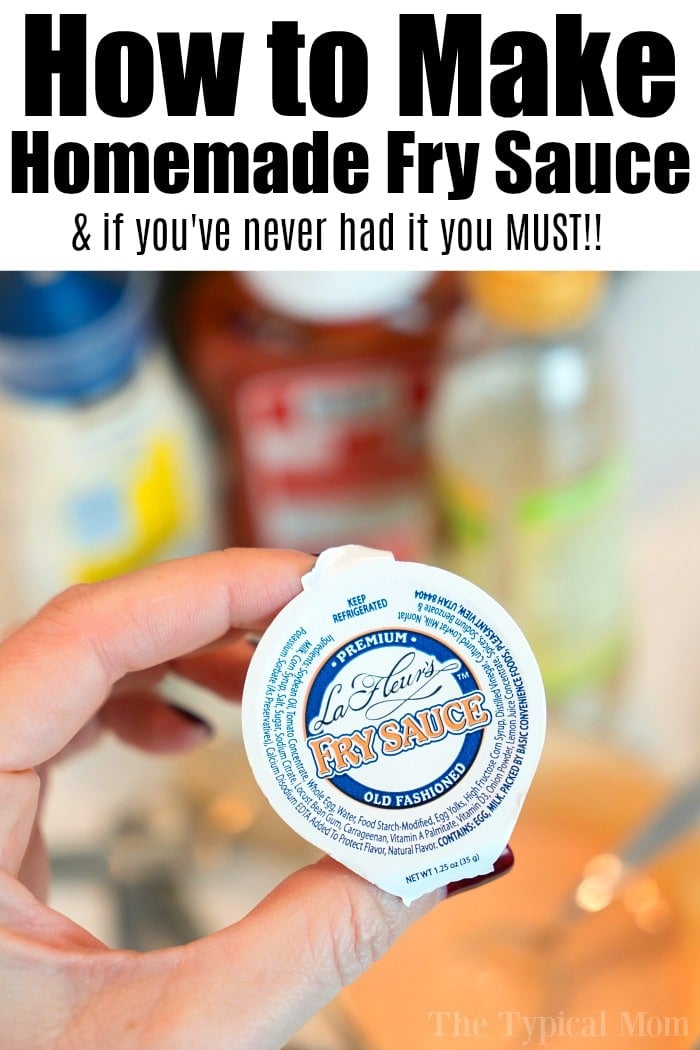 Want to make thicker air fryer potato wedges?? We have a recipe for those too that are crusted with parmesan cheese and all the extra goodness.
Need frozen french fries air fryer instructions?? We have those too. You'll love these air fryer carrot fries or how to make homemade french fries are here too! Try them all.
They are all great served with a frozen chicken wings for lunch.
They're better than cooking them in the oven.
We are totally obsessed with both of these as side dishes or an after school snack!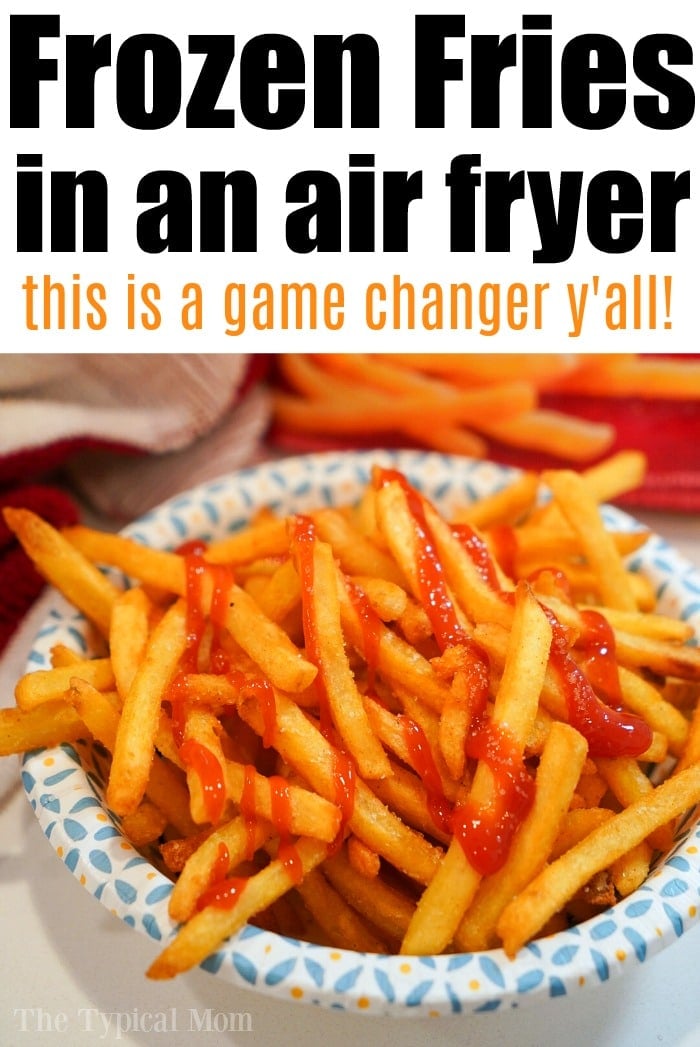 Want to see a few of my favorite things that I am totally obsessed with?? Take a peek and see how many you might already have…twinsies!
Looking for more easy family recipes and tips? LIKE The Typical Mom Facebook page?
Then sign up for my free newsletter, and follow me on Pinterest! 😉
***** If you LOVED this recipe give it 5 Stars below and let everyone know what you thought about it. 😉
Ninja Foodi French Fries
Ninja Foodi french fries are easy to make in your new air fryer and pressure cooker machine! Healthy and homemade potato wedges done in no time for dinner.
Instructions
Wash, dry, and slice potatoes into strips (like french fries), leave skins on. Lay them on paper towels and wrap up so you remove as much moisture on the outside as possible.

Put them in a bowl and rub olive oil on them.

Place them into the air fryer basket in your Ninja Foodi or other air fryer machine. (can add some seasoning at this time, we prefer to season at the end)

Close lid (one that is attached), turn machine on.

Press the air crisp button. Set temp. to 390 for 20-23 minutes. Flip 3 times during total cook time (so every 7 minutes or so).

Add a few minutes extra if you want them browner/crispier or take out earlier if you want them very lightly browned. Remove immediately when done for best results.
Nutrition Facts
Ninja Foodi French Fries
Amount Per Serving (3 oz)
Calories 164
Calories from Fat 63
% Daily Value*
Fat 7g11%
Sodium 211mg9%
Potassium 733mg21%
Carbohydrates 22g7%
Protein 4g8%
Vitamin C 20.2mg24%
Calcium 53mg5%
Iron 5.8mg32%
* Percent Daily Values are based on a 2000 calorie diet.