Air fryer fried pickles are the bomb! Paired with dill dip they're the best low carb crunchy snack or appetizer you will ever try. These are truly addicting!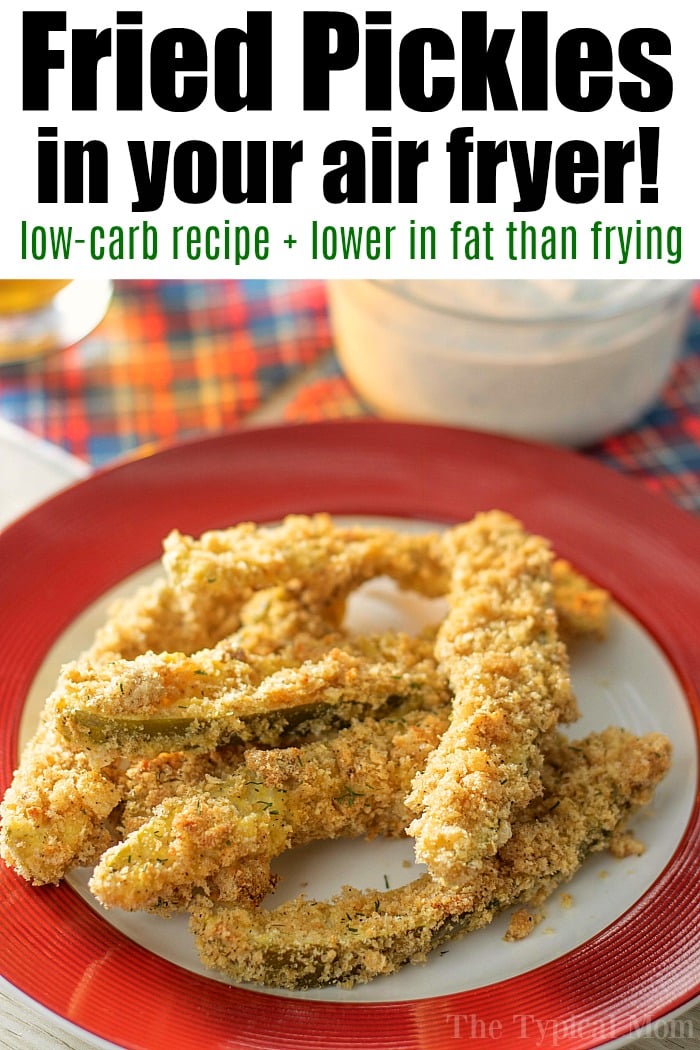 You MUST try these air fryer fried pickles!! If you are curious, they're super yummy. Maybe you've tried them and know how incredible they are. This is a great low carb fried pickles recipe you can make in your Ninja Foodi or other machine at home. (affiliate links present)
You don't need a lot of ingredients to make fried pickles.
Just start with a small bowl, paper towels, and this simple coconut flour mixture. You'll need an electric air fryer too of course. Any brand will do.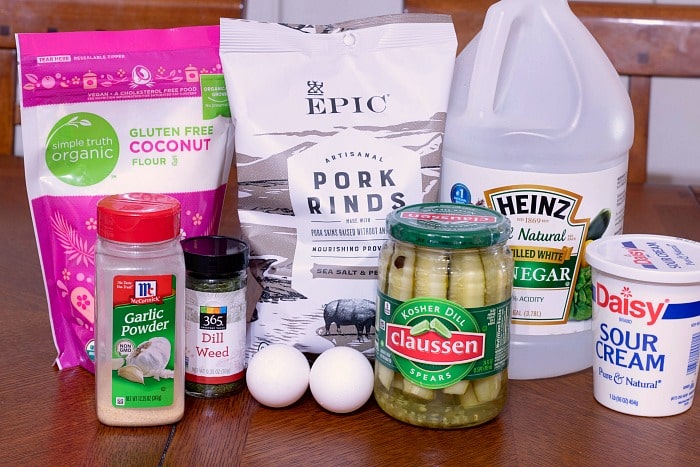 To make your low carb fried pickle batter this is what we used.
Coconut flour
Eggs
Pickles

We used spears
You could use slices
Refrigerated Claussen are better than those stored and sold on a shelf, they're crispier
Panko bread crumbs can also be used alternatively, but isn't as good.
Dill dip ingredients are:
Sour cream
Dill
Vinegar
Garlic powder
Salt and pepper
You could use ranch dressing or fry sauce as a dipping sauce too.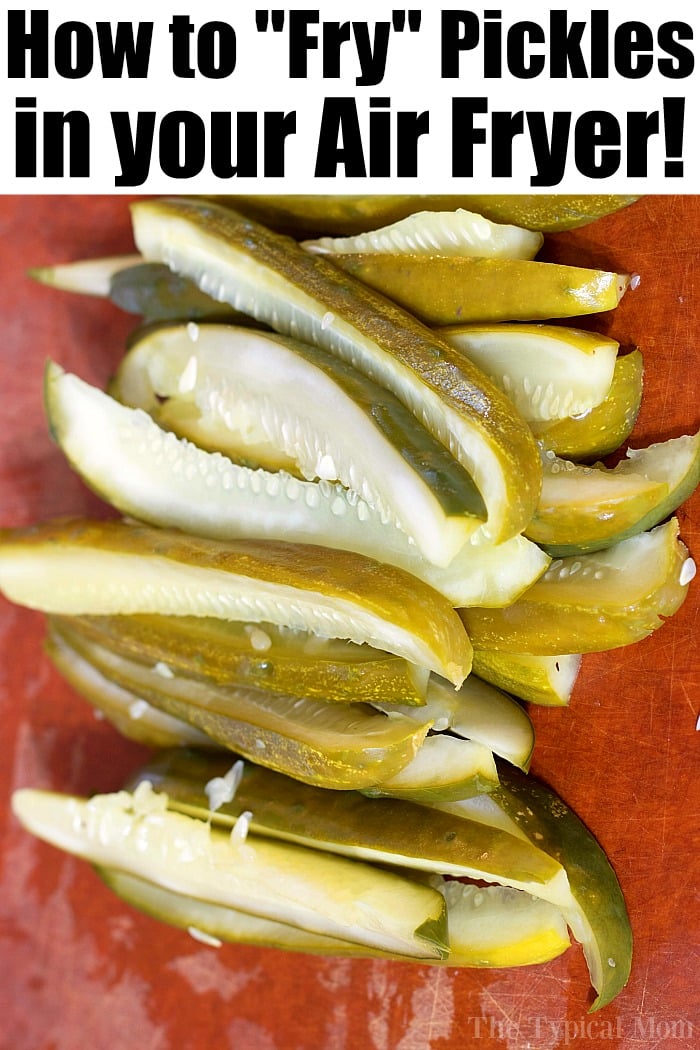 There are several sizes and ways to prepare your pickles.
Tip 1 – Buy whole pickles and slice them yourself for a crisper outcome. If you use already sliced pickle spears just note there is a difference. The latter will save time though.
Tip 2 – Make this with dill pickles vs. sweet, that's our preference. The thicker the spears the better. Timing may vary a bit if you use slices instead since they are smaller.
Tip 3 – Buy jars that are sold cold in the store, near the deli meats. I prefer this because the pickles will be a bit firmer to start with. They are just a bit more expensive but SO worth it in the end.
These taste like deep fried pickles but way healthier with NO oil required.
You need to pat dry the dill pickle slices or dials with paper towels to remove the moisture
Combine flour and dip pieces in
In a bowl whisk eggs and dip in egg mixture
Then press crushed pork rinds all over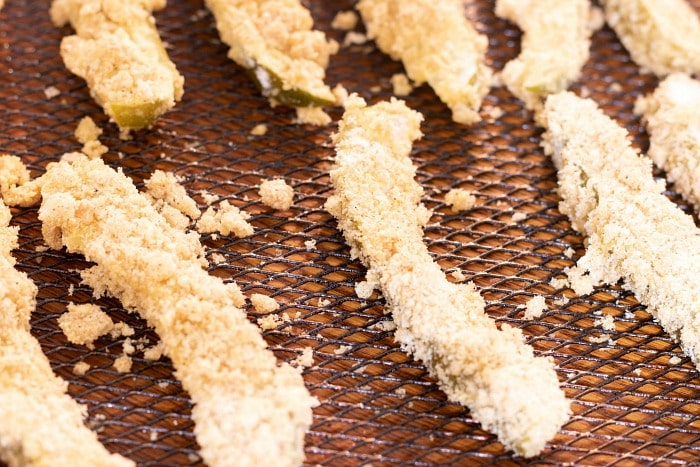 Lay in air fryer basket in a single layer
Close lid and set to 400 degrees for 7 minutes or until golden brown
Pat the pickle dry with paper towels if any moisture is left, usually not
In a bowl combine dip ingredients and enjoy!
I prefer Claussen pickles personally, they have a great texture. You can find them near the lunch meat in the fridge section of your grocery store.
Why are Claussen pickles refrigerated?
They are not pasteurized, nor are they heat processed like pickles on non-refrigerated shelves.
Slightly more expensive they are well worth it!
They're also Kosher if that is important to you.
Like I said, we used our Ninja Foodi to make our air fryer pickles.
Looking for other easy air fryer recipes?
If you're new to using an air fryer you will surely get addicted like I have!
I love it because I don't have to turn on the oven when it is HOT during the summertime. It also gets foods much crispier than the "traditional" method of throwing it on a sheet pan.
Food gets super crispy in no time at all and it's a lot healthier than frying for sure.
After this try our air fryer dinner recipes!
For more easy recipes, tips and free printables please LIKE The Typical Mom on Facebook and follow me on Pinterest! You can also sign up for my free weekly newsletter which is packed with goodies I know you'll love
Air Fryer Fried Pickles
Air fryer fried pickles are the bomb! Paired with dill dip they're the best crunchy snack or appetizer you will ever try. These are truly addicting!
Instructions
Slice pickle spears in half lengthwise and use paper towels to dry them off.

In a bowl beat eggs. In another bowl put in coconut flour.

Use food processor or put in baggie and use rolling pin to crush pork rinds into fine crumbs. Add this to a 3rd bowl.

Dip pickle in flour, then dredge in egg, then cover in pork rinds. Spray inside of air fryer basket with non stick spray.

Lay coated pickle spears in air fryer basket making sure to not overlap them.

Set to 400 degrees for 7 minutes.

Now whisk together ingredients for dipping sauce in a bowl so that will be ready.

Take out or check and see if you want them crunchier when time is up. Dip in sauce and enjoy!
Nutrition Facts
Air Fryer Fried Pickles
Amount Per Serving (2 oz)
Calories 252
Calories from Fat 153
% Daily Value*
Fat 17g26%
Cholesterol 79mg26%
Sodium 1400mg61%
Potassium 194mg6%
Carbohydrates 13g4%
Protein 11g22%
Vitamin A 590IU12%
Vitamin C 1.3mg2%
Calcium 112mg11%
Iron 1.2mg7%
* Percent Daily Values are based on a 2000 calorie diet.