Here's an easy pressure cooker beef and broccoli recipe you'll love! Made in an Instant Pot, Crockpot Express or Ninja Foodi it has a thick flavorful sauce and tender beef cooked together in one pot.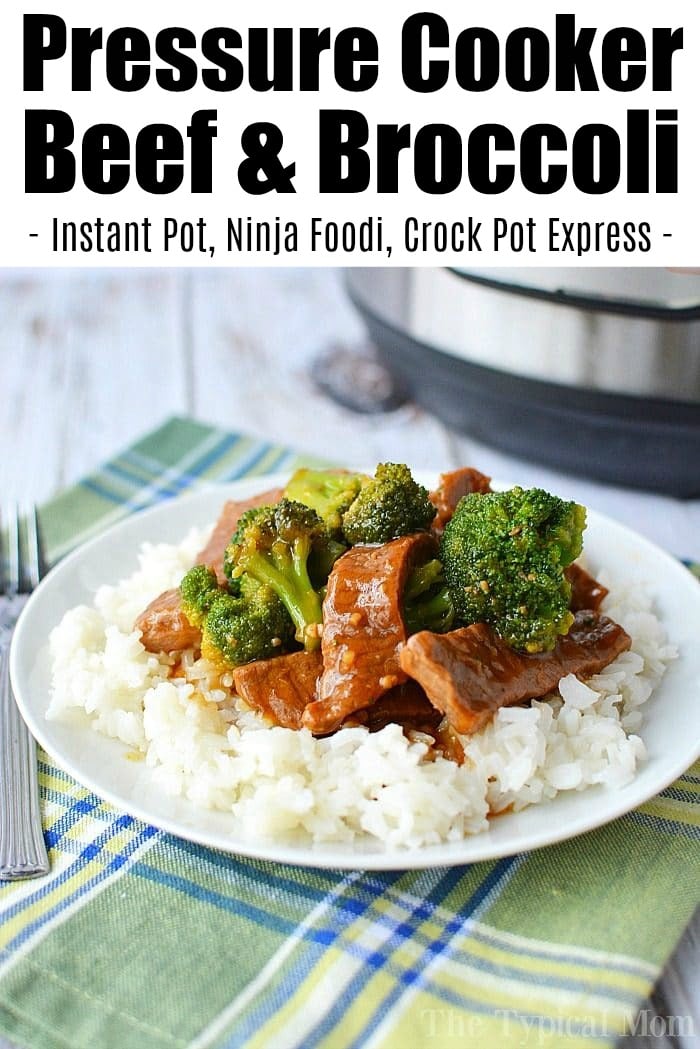 I'm nearing my 80th pressure cooker recipe with this easy Instant Pot beef and broccoli dinner! If you love easy and copycat dishes you love eating when you go out to dinner, you and your kids will appreciate this flavorful meal. Tender beef smothered in sauce and vegetables cooked to perfection. This pressure cooker beef and broccoli recipe one of my kids favorite meals. It's one of many healthy Instant Pot recipes here on The Typical Mom. Let us know what you think when you make it! (originally published 3/18, affiliate links present)
With just a few ingredients you too can make this pressure cooker beef and broccoli in less than 15 minutes!
Using frozen broccoli is a winner because it's available year round and doesn't get mushy. No need to cook the broccoli first.
If you're looking for a low carb pressure cooker recipe this is a great one. Just omit the rice and you're set. We love it atop a bed of Jasmine rice but that's your choice.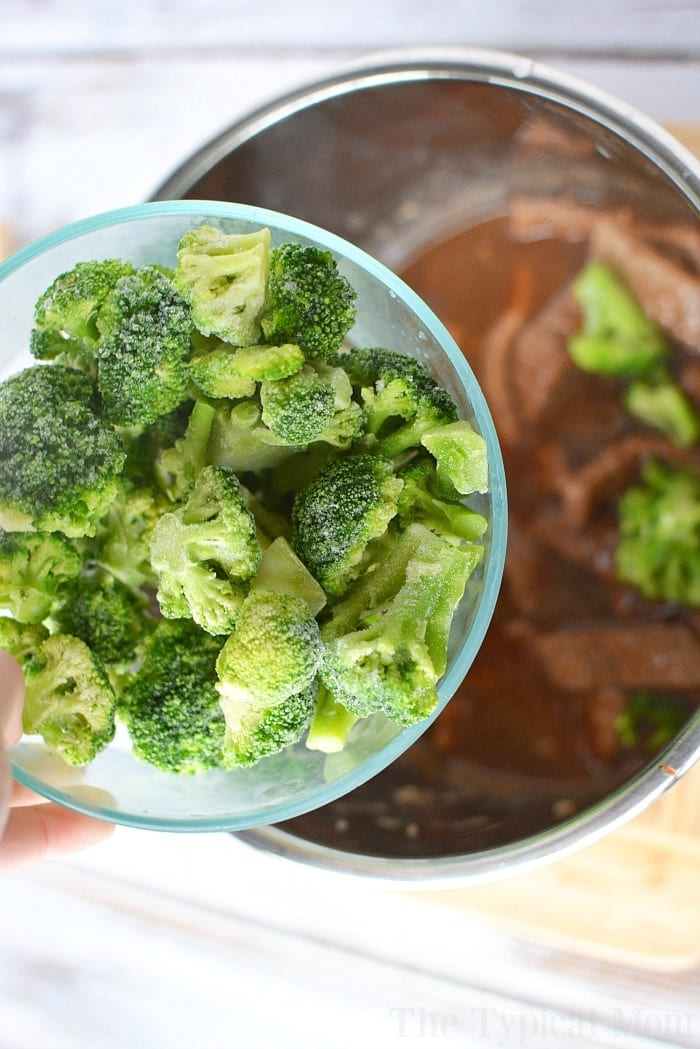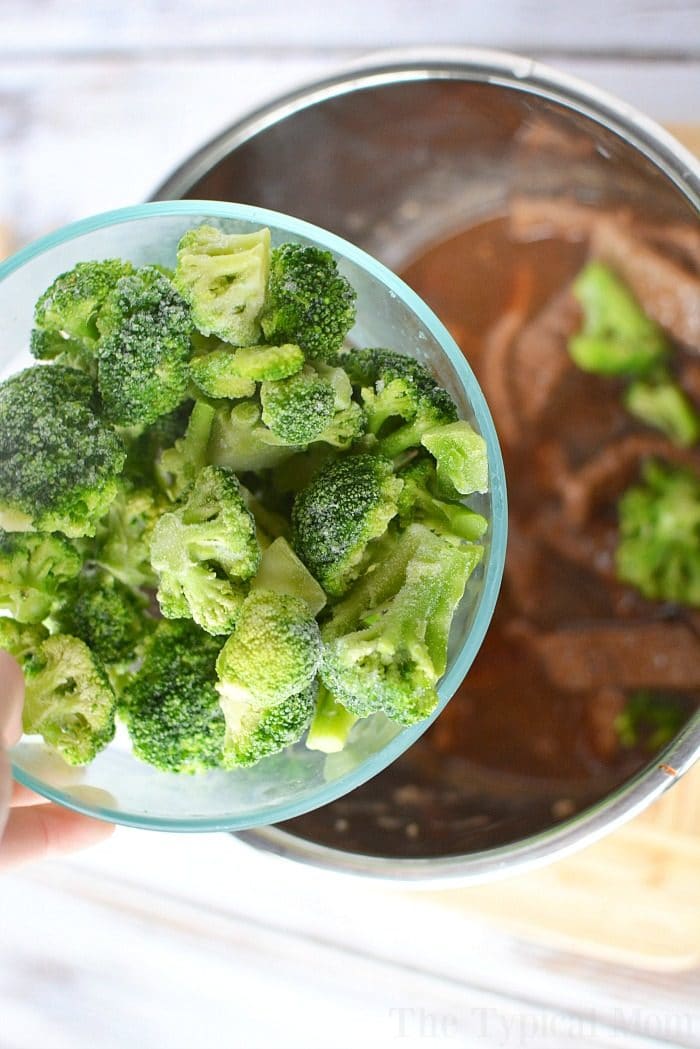 If you have a large family you could double this easy Instant Pot beef and broccoli recipe. This tends to be enough to feed the 5 of us with rice on the side.
Many times I buy a bag of edamame and boil those while this is cooking. Then everything is ready at the same time. With a little salt on top they're inexpensive and a great new vegetable you can introduce to your kids.
Most of what you need for pressure cooker beef and broccoli is probably in your fridge.
We cook a lot of Asian style dishes so these ingredients are typically staples in our house, but a few may be needed in yours. If you love dinners like this you should try our Instant Pot spicy teriyaki chicken thighs and our easy Instant Pot butter chicken has been really popular too!
Whether you have an Instant Pot, Ninja Foodi pressure cooker and airfryer, or Crock Pot Express this recipe will work well.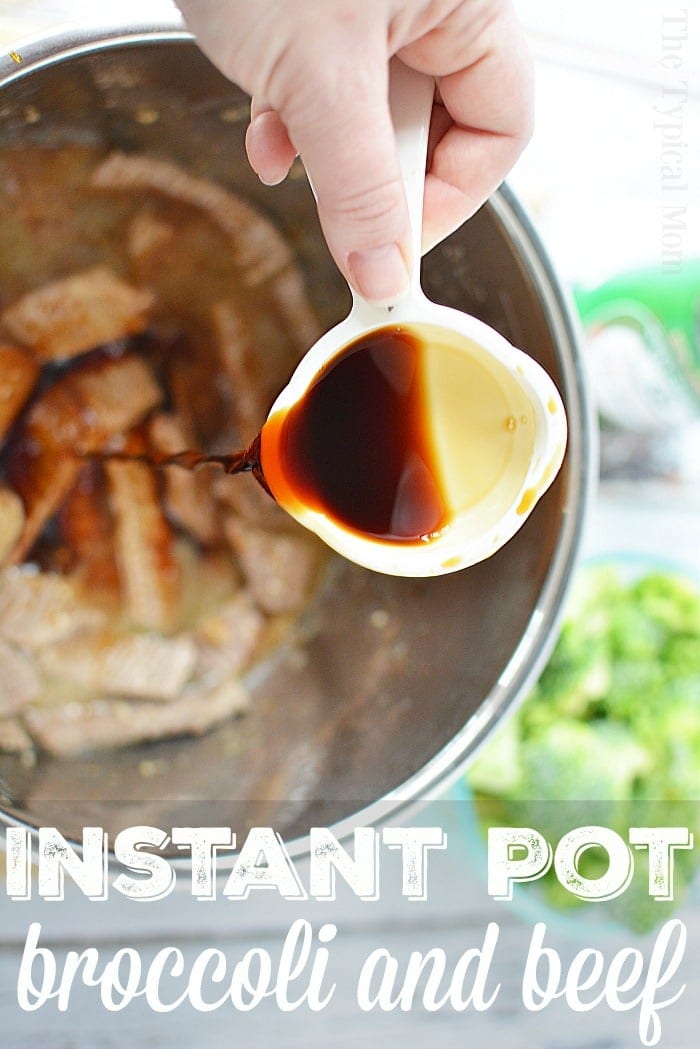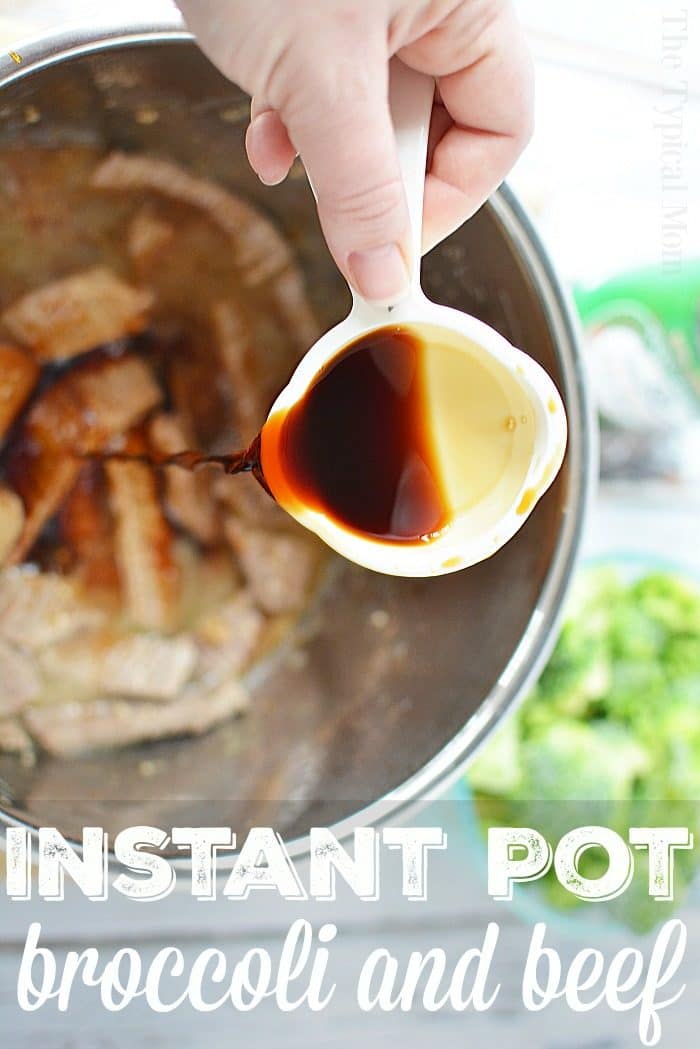 Here's what you'll need to make our easy pressure cooker beef and broccoli
Pressure cooker

Flank steak – cut into strips
Ginger – I used minced in a jar
Garlic – minced in a jar
Soy sauce
Brown sugar
Broccoli – frozen florettes
Cornstarch – to thicken sauce if desired
1/2 cup of water – or beef broth is better in my opinion
Olive oil
Serve over pressure cooker rice if desired
A sprinkle of sesame seeds for top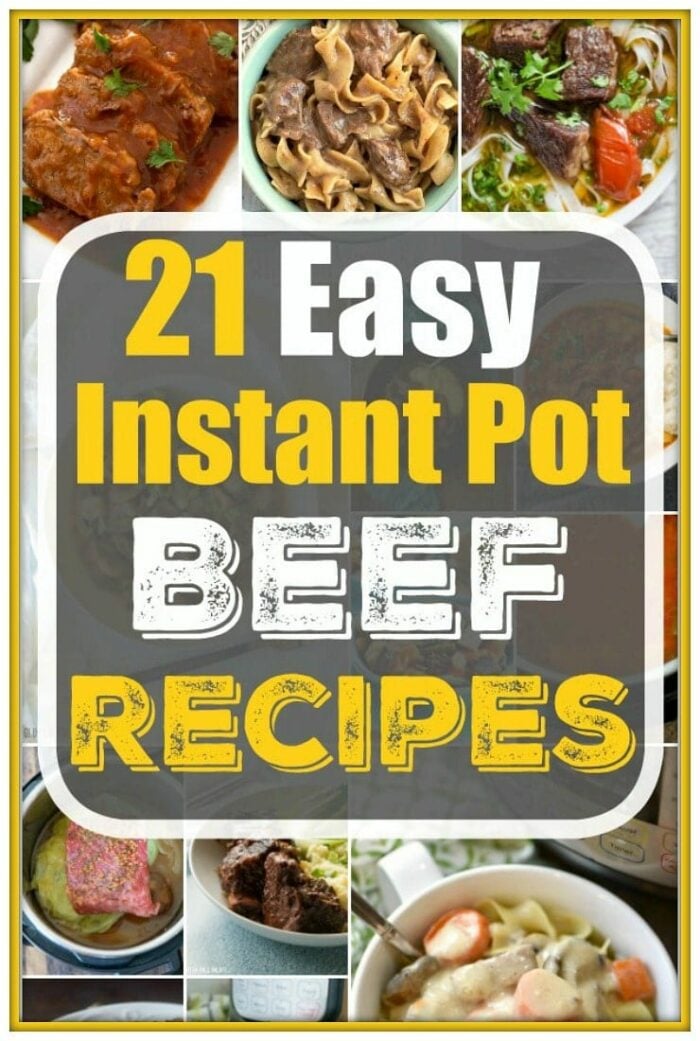 Looking for other easy pressure cooker recipes?
Of course you could make this in a slow cooker but believe me using electric pressure cookers are so much easier, and cooking time is much faster. Pressure cooking rocks! Our family loved it!
Pressure Cooker Beef and Broccoli
Here's an easy pressure cooker beef and broccoli recipe you'll love. Made in my Instant Pot the other night it has a thick flavorful sauce and tender beef with vegetables cooked together in one pot. Served on top of rice or alone for dinner it is a simple but tasty meal my kids really loved too.

Ingredients
1

lb

flank steak

sliced thin

1

tsp

ginger

minced or fresh and grated

2

tsp

minced garlic

2

tsp

olive oil

1/2

c

soy sauce

1/2

c

beef broth

or water

1/4

c

rice wine vinegar

2

tbsp

brown sugar

1

bag

broccoli

frozen, florets, 10 oz.

2

tbsp

cornstarch

dissolved into 1/4 c water
Instructions
Place steak, ginger, garlic, and oil into the bottom of your your pressure cooker.

Turn Instant Pot or Ninja foodi on saute, use brown/sear on Crock Pot Express. Cook until the meat is no longer pink. Turn pot off.

Stir in soy sauce, broth, vinegar and brown sugar.

Close lid and steam valve and set to pressure high for 5 minutes.

Do a quick release and lift lid.

Add frozen broccoli into your pot and set to saute again (with lid open).

For Crock Pot express use sear/brown button for this step.

Stir slowly until broccoli is cooked.

In a small bowl whisk together cornstarch and about 5 tbsp of hot liquid from pot until mixture is smooth. Dump into pot and stir to thicken the sauce.

Turn pot off.

Serve alone or on a bed of rice!