Steak in the Instant Pot is great with potatoes cooked all at the same time! Tender sirloin and vegetables for dinner have never been easier to make.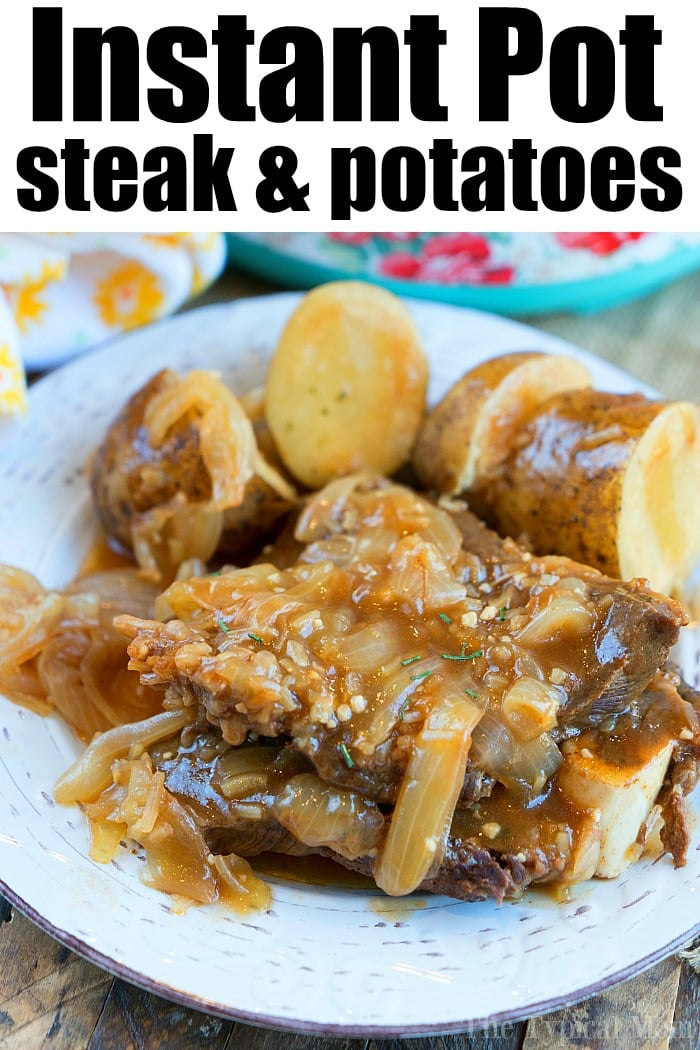 Steak in the Instant Pot works great! Throw in some potatoes with a thick onion gravy and dinner is ready. Listed as one of the 101+ Instant Pot recipes I'm sure you'll love it too. (originally published 10/19, affiliate links present)
Ninja Foodi Steak
You can use any brand of pressure cooker you might have to make this. If you do want to use this as an easy Ninja Foodi recipe though you can air fry it at the end to crisp it if you prefer. Both can cook potatoes with it at the same time so it's really a one pot meal.
We've also done a specific Ninja Foodi steak post for that pot in particular. Now let's get going….
FIRST – You should sign up for my free newsletter so you get new posts emailed to you twice a week and never miss out on anything! Now let's start with a few basic tips:
Make sure to Bookmark our InstaPot recipes page. We add new ones each week!
Then PRINT this —–> Instant Pot cooking times cheat sheet that will help you understand how long meat, vegetables and beans take to cook in your pressure cooker.
For reference, this is the pressure cooker I have (a 6 quart) and use for all recipe creations.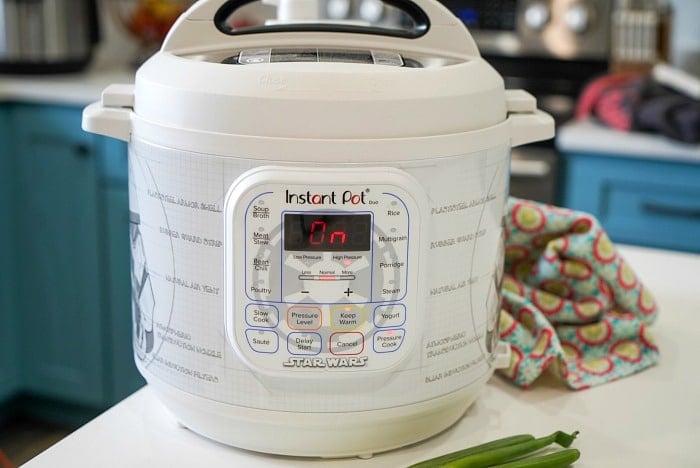 Instant Pot Steak
Instant Pot beef recipes are great when you're in a rush. Ok they're excellent when you need a few ideas for your weekly meal rotation too! I'm all about new pressure cooker recipes.
If you love cooking beef but need it ready lickety split without a grill in the house this is a great idea.
Instant Pot Steak and Potatoes
Potatoes are great trivets. We use them in the slow cooker and pressure cooker instead of a metal object. Then it gets tender and adds to your overall meal.
How do I cook steak in an Instant Pot?
It's quite easy once you prep all of the ingredients. You will sorta' use the potatoes as trivets to keep the meat off of the bottom of the pot. That is important so you don't trigger the burn notice. We use thawed meat for this but this is how to cook frozen steak if you have been forgetful and it's still stiff.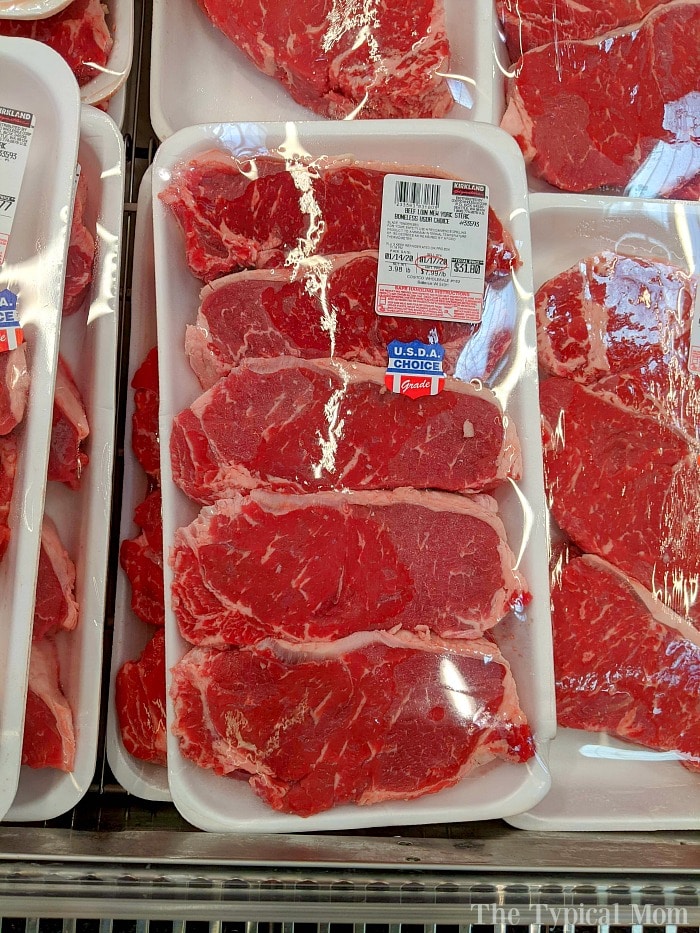 How long does it take to cook steak in an Instant Pot?
Of course cook time will depend on how well done you like the inside. If you follow the recipe below it will get you to a medium cook, BUT that's assuming your pieces are the same thickness. Use our steak doneness temperatures chart for reference.
We bought an entire cow a while back and have our little buddy all wrapped up in the freezer. Needless to say we have A LOT of beef to use. These sirloin steaks were on the list of needing to be prepared.
I thought some onions and russet potatoes would be a great add in our meal too.
Now let's' talk Instant Pot steak. There are a lot of differences obviously.
What are all the different types of steak?
Tenderloin: Filet mignon, Chateaubriand, filet
New York Strip: NY strip, Manhattan, Kansas City strip, top sirloin, top loin
Porterhouse: T-bone, date steak
Ribeye: Entrecote, Delmonico, Scotch fillet, Spencer, market, beauty
Flank steak
Skirt steak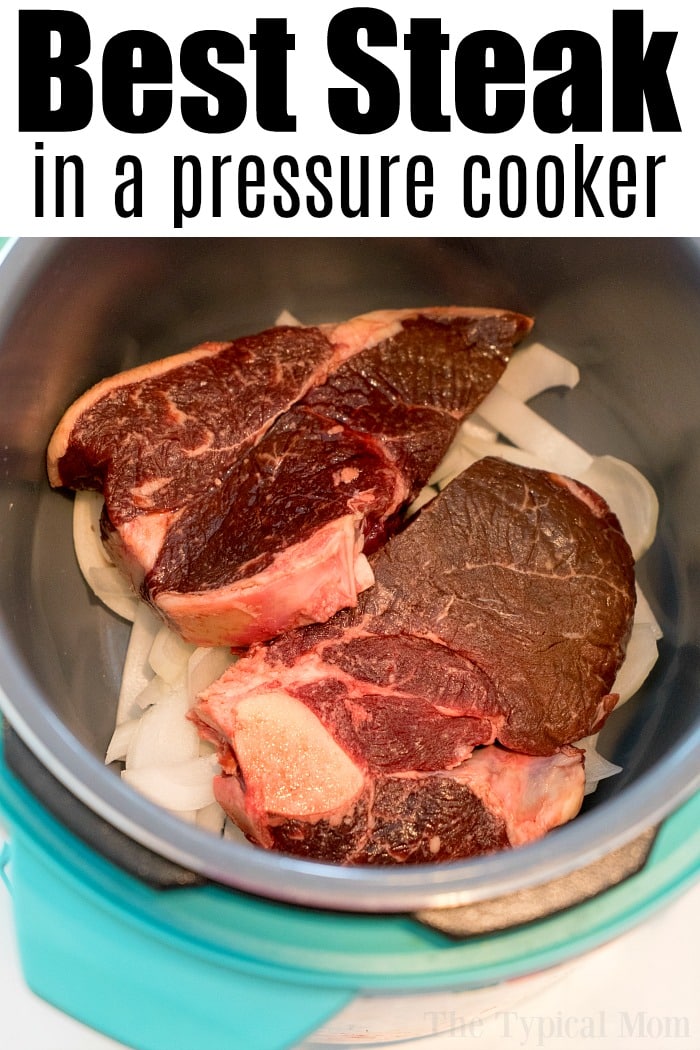 The list is long and they all have different textures and prices. The more tender they are the more expensive they tend to be.
I will say I am a filet woman myself, but am too cheap to buy that all the time. It's a treat really. 😉
What is the most flavorful steak?
Tenderloin is the most tender cut of steak. Also known as a filet or filet mignon. The taste and texture is by far the tenderest cut of beef. It's buttery and mild in flavor.
If using this cut it would take far less time to pressure cook since most want it medium.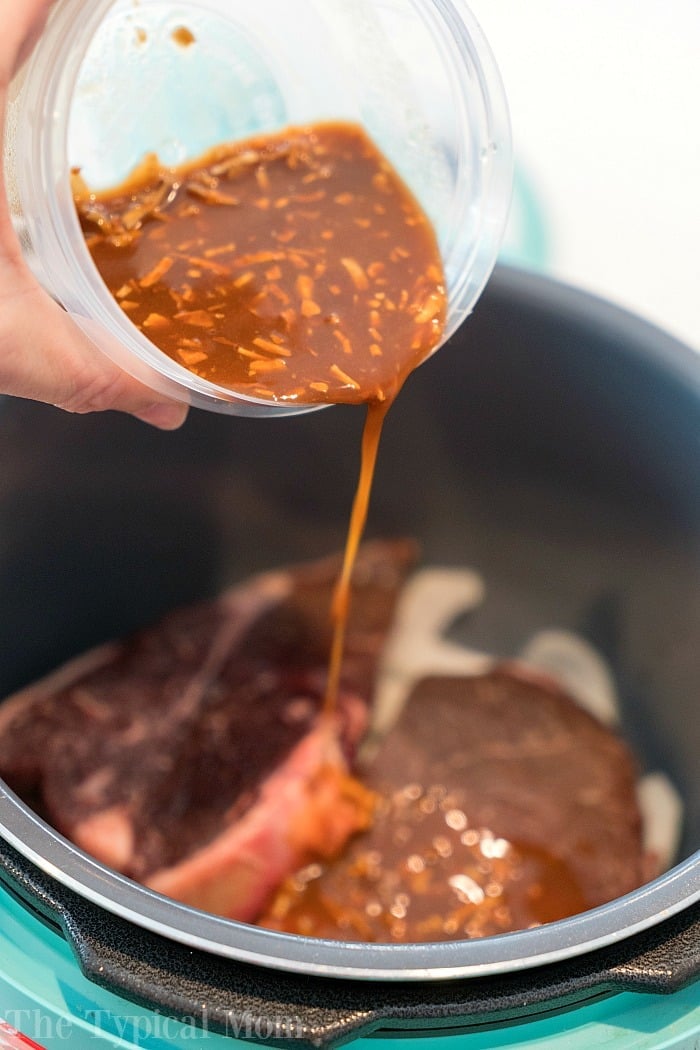 Of course you always need liquid when cooking anything in an Instant Pot. I chose to use a mixture of beef broth and onion soup! Yes, it adds a ton of flavor all in one little packet.
How much water do I put in pressure cooker for meat?
Most vegetables are cooked with a 1/2 cup of water in the bottom of the pressure cooker when the vegetable only needs to cook for 5 minutes. Use 1 cup of water if the cooking time is 5 to 10 minutes. Use 1 1/2 – 2 cups of water if the cooking time is 10 to 20 minutes.
Keep in mind that other thin sauces count as liquid when accounting for this amount. Such as in our Instant Pot beef and broccoli there was a fair amount of soy sauce used, that adds into the total amount.
Steak in the Instant Pot
Steak – sirloin was used this time, timing reflects that

can use our steak dry rub on the meat beforehand if you want

Potatoes – I've used 2 russet potatoes with skins on, or 3 red potatoes
Onion – this is just something I add to almost every recipe
French onion soup mix or a packet of dry gravy mix
Beef broth
Steak sauce
Salt and pepper
Cornstarch – to thicken broth at the end if you desire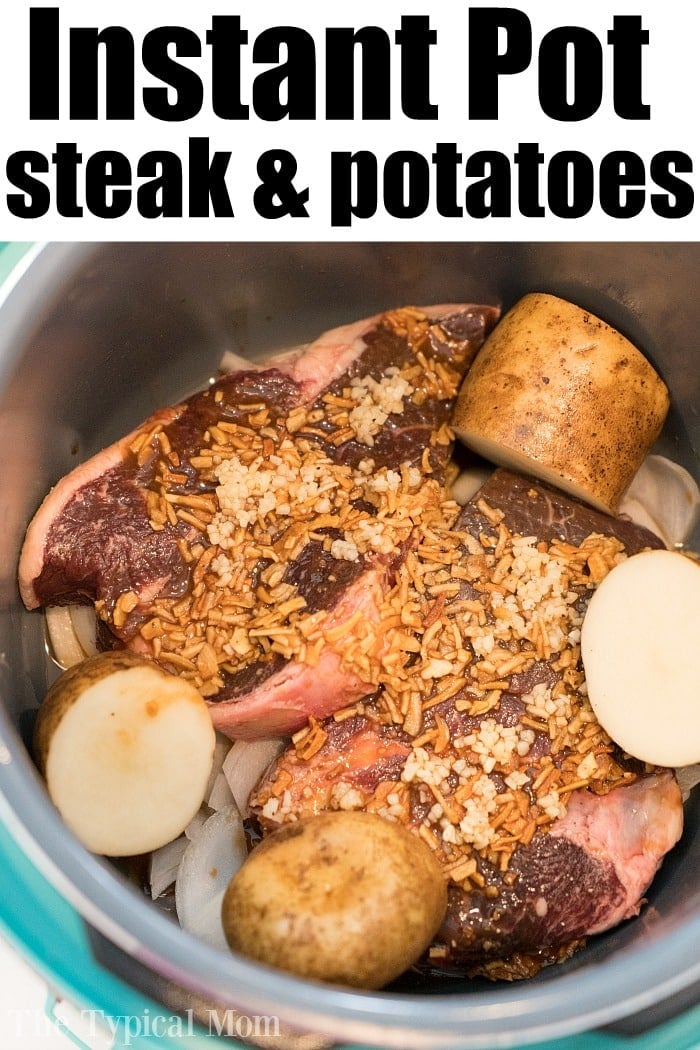 Instant Pot steak
This is what it looked like once I threw it all in. Yes you could sear the outsides on the saute function with some olive oil but I didn't do that. Your choice.
Brown steak on saute with olive oil first. If you do so deglaze pot after they're done.
Pour 1/4 c of your beef stock or both into your pot with sliced onions sprinkled on top.
Lay seasoned steaks on top of those overlapping the least amount possible.
Whisk together the rest of your broth with onion soup mix, steak sauce and minced garlic. Pour that on top.
Place quartered potatoes on sides of meat and sprinkle with salt and pepper.
Close lid and cook on high pressure for 3-5 minutes (depending on how done you want it).
Allow a natural pressure release before doing a quick release.
This timing is great for 2 sirloins and tender potatoes.

cutting potatoes smaller will result in fall apart needing to be mashed potatoes

Remove and thicken broth inside with a bit of cornstarch and serve.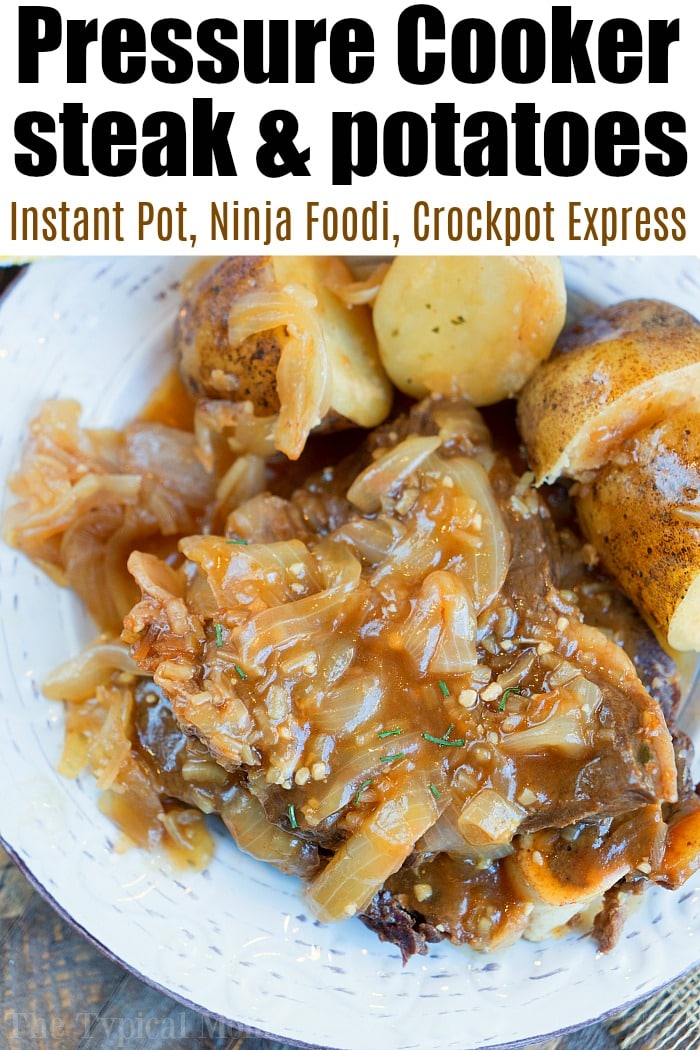 Taste gravy and add up to an additional 1/2 tsp seasonings to your liking.
What to serve with steak in the Instant Pot:
A batch of mixed Instant Pot steamed vegetables
1/4 cup of applesauce is my kids' favorite – sounds silly and more for pork chops but whatever works right?
Broccoli
Dinner rolls
We cook different cuts all the time so here are a few other methods you should try if you're on a red meat kick.
Next should be our air fryer steak wrapped with bacon next! It's not an Instant Pot recipe, but it's the next favorite appliance in my kitchen and I HIGHLY recommend getting one. Next to my Crock pot these three items are the ONLY methods of cooking for me.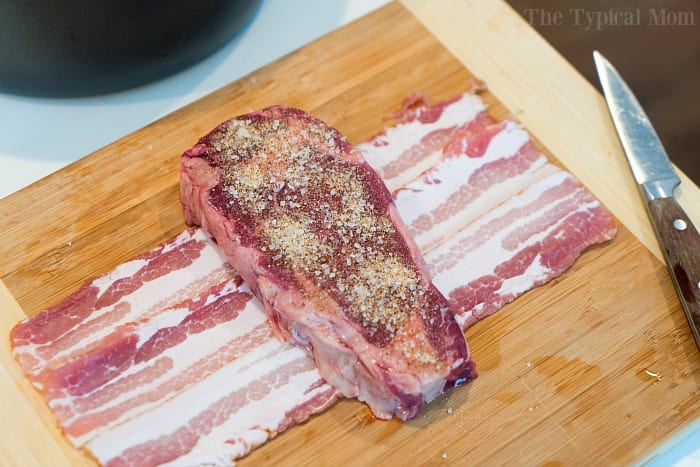 Instant Pot Sirloin Steak
We've also made Instant Pot Salisbury steak which uses ground beef but still along the lines of our favorite comfort foods.
OR if you're super forgetful and need instructions on how to cook frozen steak in an air fryer we have that too!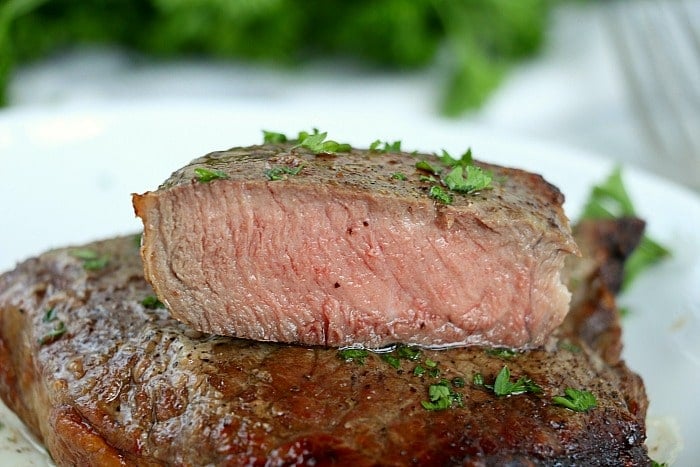 We aren't stopping there though because we have had a lot of beef to use up lately y'all!
There are so many great ways to make them that we wanted to try them all.
We will continue to add other methods as we create them but here is another one below too. 😉
Want to make slow cooker steak and potatoes too? We have a recipe that people go crazy over using that method too.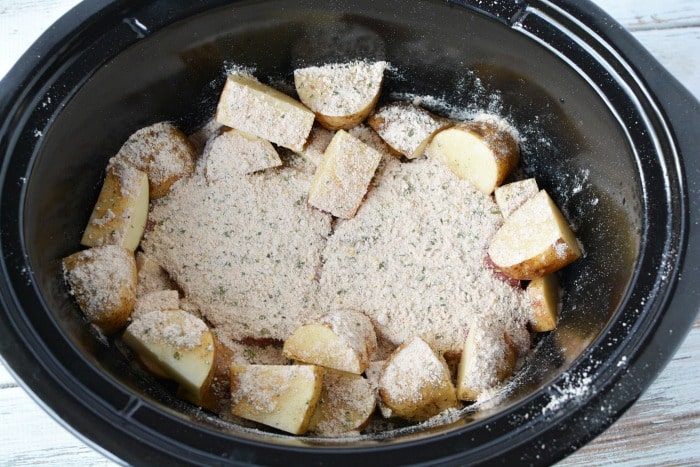 Crockpot Express Steak
Of course using a Crockpot vs. a pressure cooker has a huge cook time difference but I would try them both and see which one your family prefers.
I used russet potatoes in both recipes so they would be similar in many ways. One thing I would not scrimp on are the onions. They're cheap and add a lot of flavor overall.
Of course you can always make baked potatoes on the side but these are out of this world cooked together!! I guarantee you'll all fight over them. 😉
You can print the recipe below and let us know what you think!
Want to see a few of my favorite things that I am totally obsessed with?? Take a peek and see how many you might already have…twinsies!
Looking for more easy family recipes and tips? LIKE The Typical Mom Facebook page?
Then sign up for my free newsletter, and follow me on Pinterest! 😉
***** If you LOVED this recipe give it 5 Stars below and let everyone know what you thought about it. 😉
Steak in the Instant Pot
Steak in the Instant Pot is great with potatoes cooked all at the same time! Tender sirloin and vegetables for dinner have never been easier to make.
Instructions
Put pot on saute and add olive oil with steaks. Sear on outsides. Remove and deglaze the pot using 1/4 c of broth. Slice onion and put on bottom of pot.

Season steak with salt, pepper and anything else you desire and place on top of onions. Try to overlap the least possible.

In a bowl whisk together rest of your broth, onion soup mix/or package of dry gravy mix, steak sauce and minced garlic. Pour this over your steak.

Cut potatoes into quarters and place inside pot on sides of steak. Sprinkle salt and pepper on potatoes.

Close lid and steam valve and set to high pressure for 5 minutes. (NOTE: timing will vary depending on how thick and large your pieces are and how well done you like them but this has been perfect for us)

Allow to naturally release steam when done, this will take about 15 minutes.

Remove steak, potatoes and onions and set pot to saute if you want to thicken sauce.

In a bowl whisk together cornstarch and water until smooth. Once it is boiling add this in and stir for 1-2 minutes so it thickens. Turn pot off and pour this sauce over potatoes and steak.
Nutrition Facts
Steak in the Instant Pot
Amount Per Serving (3 oz)
Calories 337
Calories from Fat 144
% Daily Value*
Fat 16g25%
Cholesterol 69mg23%
Sodium 454mg20%
Potassium 843mg24%
Carbohydrates 22g7%
Protein 27g54%
Vitamin A 42IU1%
Vitamin C 15mg18%
Calcium 50mg5%
Iron 6mg33%
* Percent Daily Values are based on a 2000 calorie diet.