Crockpot steak and potatoes is a great dinner idea that cooks all day by itself! Tender and delicious every time, slow cooker meals are the way to go.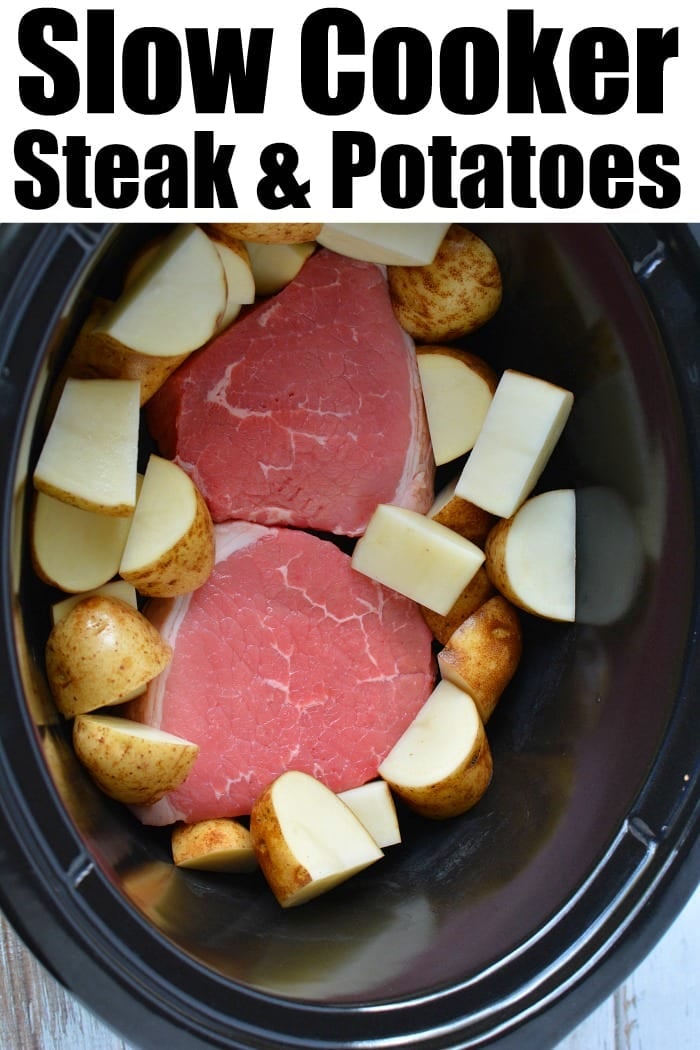 Has Crockpot steak and potatoes just been a dream but you never thought it was really possible. Like, actually coming out tender and flavorful? It is! If you're ready to try a new slow cooker recipe this week, this should be the one y'all.
Yes we do love our Instant Pot but quite frankly the slow cooker function does NOT work well on it. Just use your good ol' fashioned machine for all of your favorite Crockpot recipes.
When you want meat n potatoes for dinner, this is how you should do it!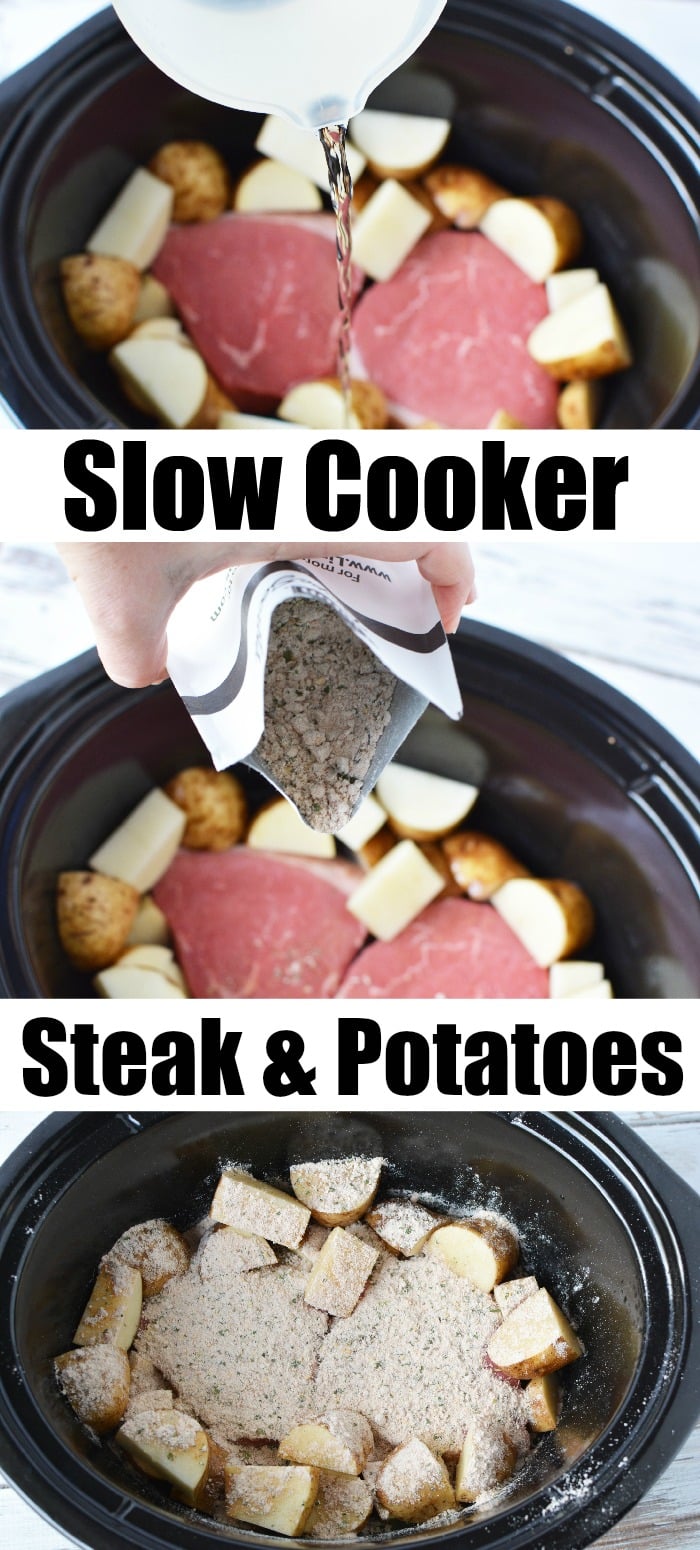 First you're going to choose your cut of choice. There are tons of possibilities and everyone has their preference regarding which style is best.
When asked what is the best beef to use in a slow cooker you will get many answers.
Most would say though that these are the best cuts of beef for slow cooking; chuck steak, round steak, blade steak, topside, silverside, skirt steak, or (gravy) beef for results you'll love.
We used eye of round for this batch.
Can you cook steak from frozen in a slow cooker?
It's not recommended to cook frozen meat in a slow cooker. There's the risk of harmful bacteria contaminating the meat before it reaches a safe temperature using this method. The best place to thaw your meat is in the refrigerator before cooking it in a Crockpot.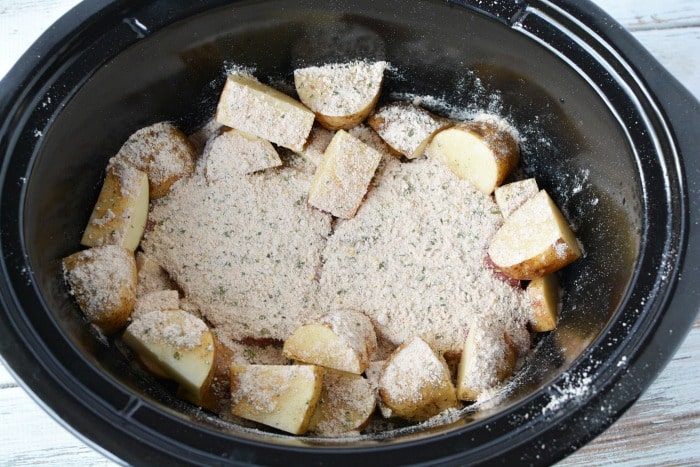 SO, how do you cook meat and vegetables in a slow cooker?
Firm vegetables like potatoes and carrots work well. Place them on top of the meat inside your crock and sprinkle on the seasonings. It is best to cook on the low setting (170 degrees F for most models) the cook time will be twice as long as cooking on high but will yield a better result.
Yes you could cook just your meat inside your pot but when it's time to sit down and eat you're going to look for some carbs, so just go ahead and cook everything together!
It just makes a lot more sense to do it that way. One pot meals are the way to go you know.
PLUS, potatoes soak up all the flavorful juices from the meat and seasonings which makes them one of the best parts of the meal.
We follow this same method to cook a whole chicken in a Crockpot. They're fought over at dinnertime I tell you.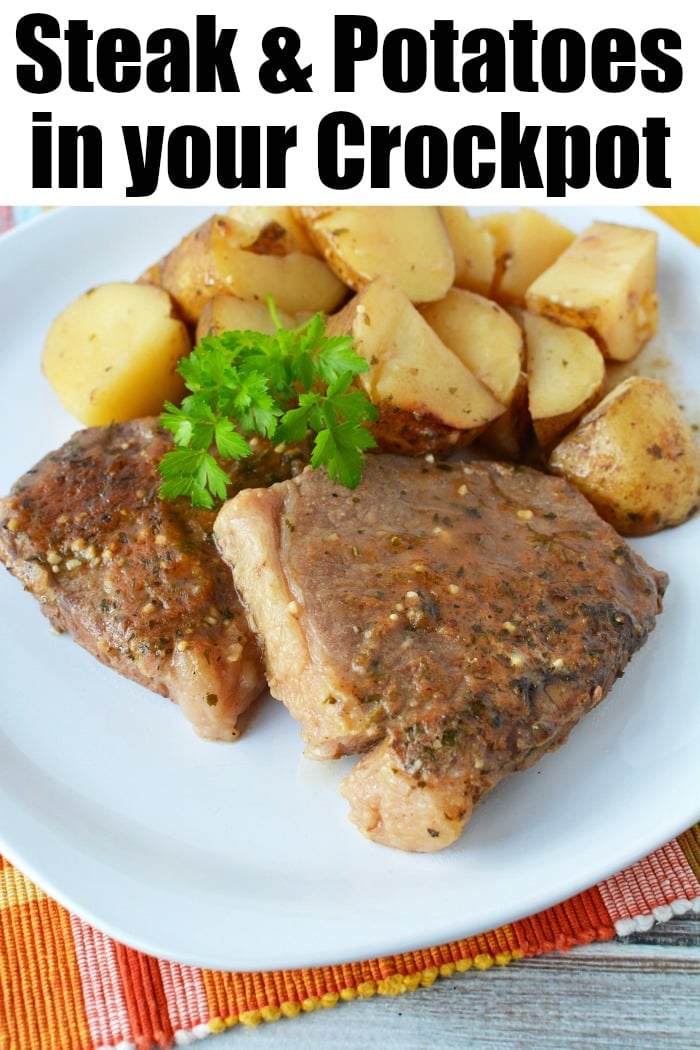 Ingredients you need to make Crock pot steak
Steak

cut of meat we chose was eye of round

Potatoes
Onion soup mix
Beef broth
Additional seasonings you could rub on your meat

salt and pepper
See??!! If this is your type of meal you should try Crockpot steak and potatoes this week. It's a great recipe your whole family will love with less than a 15 minute prep time at the start.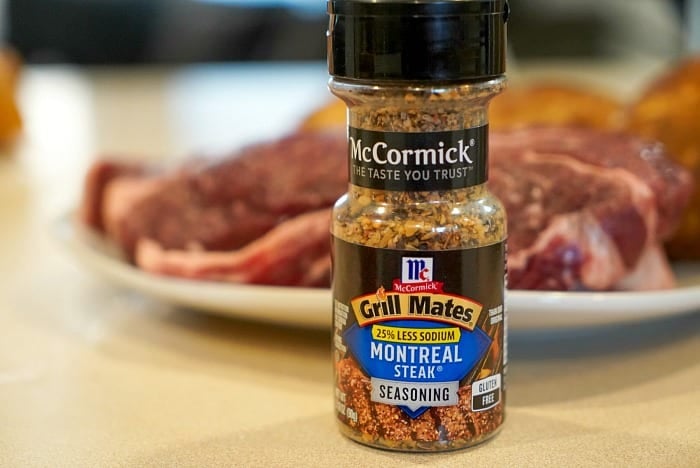 If you're looking for a faster method you can cook steak in an Instant Pot as well. We've enjoyed that too. Looking for even more steak recipes? Here are a few other things you can make with it.
Can you overcook in a slow cooker?
Slow cookers gradually bring your food up to a simmer point. You can't overcook it up to that point, but it can happen if you cook it too long after it reaches this stage. It will begin to dry out regardless of how much liquid you've included in your pot.
I haven't ever had this issue with really any Crockpot recipe I've made, but I tend to always cook on low and never more than 8 hours. As long as you follow directions accordingly, and add enough liquid you should be just fine.
Crockpot Steak and Potatoes
Crockpot steak and potatoes is a great dinner idea that cooks all day by itself! Tender and delicious every time. Slow cooker meals are the way to go.
Instructions
Spray inside of crock with non stick spray and lay steaks on the bottom.

Wash and cut potatoes into 1" cubes with skins in tact and put around steak. Add broth or water until half of steak is sitting in the liquid (will vary depending on how large your pot is)

Sprinkle everything with dry soup mix. Cover and cook on high for 3-4 hours or low for 6-8 hours until steak and potatoes are tender to your liking.
Nutrition Facts
Crockpot Steak and Potatoes
Amount Per Serving (3 oz)
Calories 366
Calories from Fat 144
% Daily Value*
Fat 16g25%
Cholesterol 69mg23%
Sodium 435mg19%
Potassium 1231mg35%
Carbohydrates 27g9%
Protein 29g58%
Vitamin A 17IU0%
Vitamin C 24mg29%
Calcium 77mg8%
Iron 9mg50%
* Percent Daily Values are based on a 2000 calorie diet.