Tender slow cooker cube steak is a great dinner smothered with rich mushroom gravy and onions. Served with rice or noodles it's a yummy family friendly meal.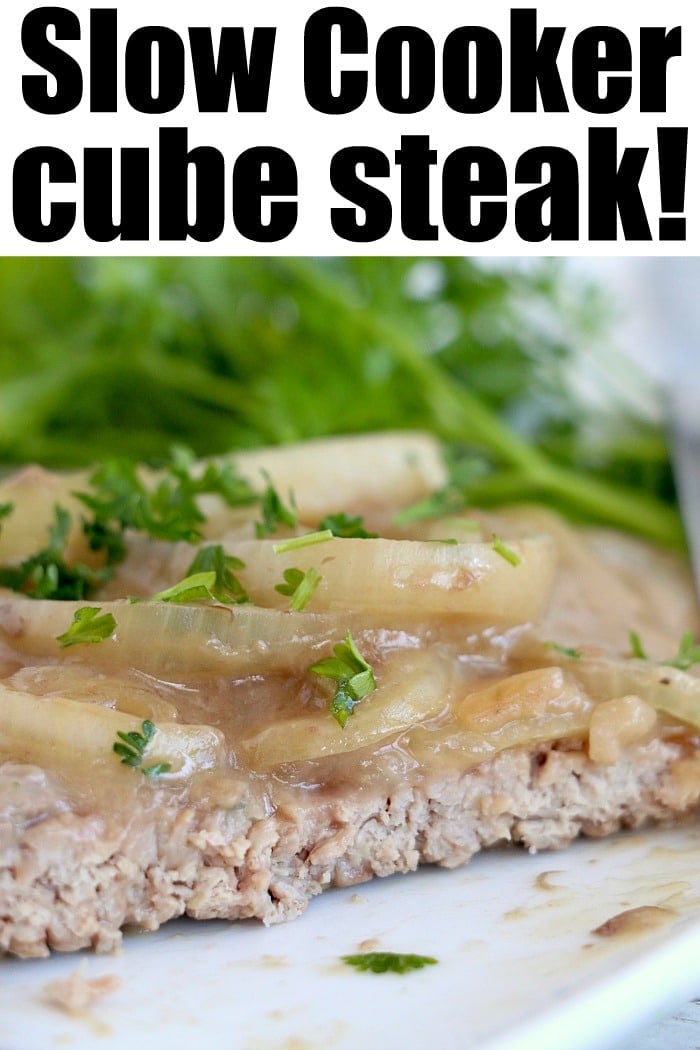 Looking for a new family friendly meal? Try our slow cooker cube steak with mushroom gravy this week, let us know what all of you think of this comfort food! It's one of our newest easy Crockpot recipes here on The Typical Mom blog.
If you too love slow cooker recipes of all kinds, you're going to go crazy over this one. First let's go over a few resources: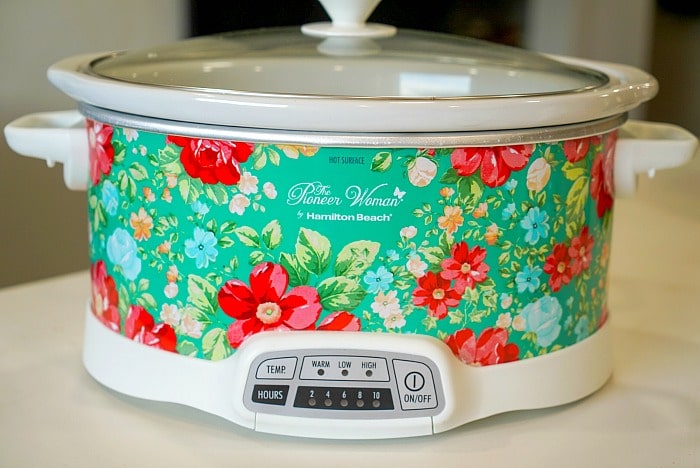 Crockpot Cube Steak Recipe
What is cube steak made of?
It is a cut of beef, usually top round or top sirloin. It's tenderized and flattened by pounding with a meat tenderizer as you see here. You can also use an electric tenderizer.
The name refers to the shape of the indentations left by that process, called cubing.
I've found it already pound out in the grocery store, but it just takes a few minutes to do yourself at home.
Either way it comes out incredibly tender, especially if you make it in your slow cooker.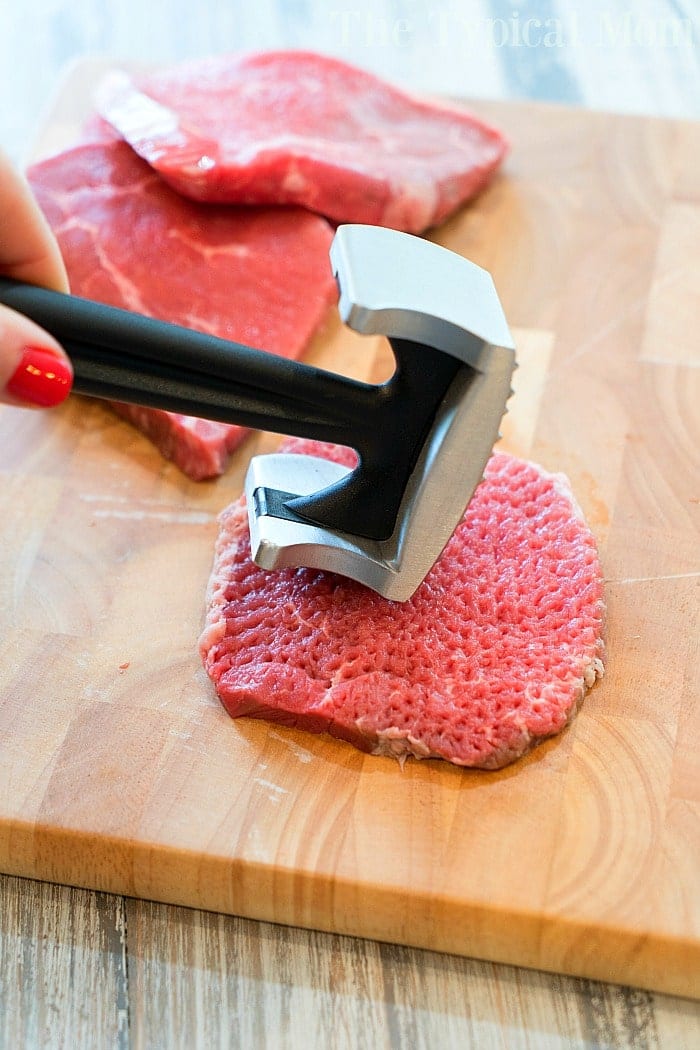 How do you tenderize cube steak?
If you want to tenderize and make cubed steak at home you'll just need a metal meat tenderizer like you see here. Lay your meat on a cutting board and start pounding away.
Do you wash cube steak before cooking?
Just no! Do not rinse your raw beef, pork, lamb, chicken, turkey, or veal before cooking. 
Slow cooker cube steak
Cube steak – usually top round or top sirloin pounded
Cream of mushroom soup
Can of cream of chicken soup
Onion
French onion soup mix packet

some use a gravy packet instead but I feel this has more flavor

Beef broth

or mix beef bouillon with water to make broth

Cornstarch to thicken sauce
You could slice mushrooms in half and add at the end once you pour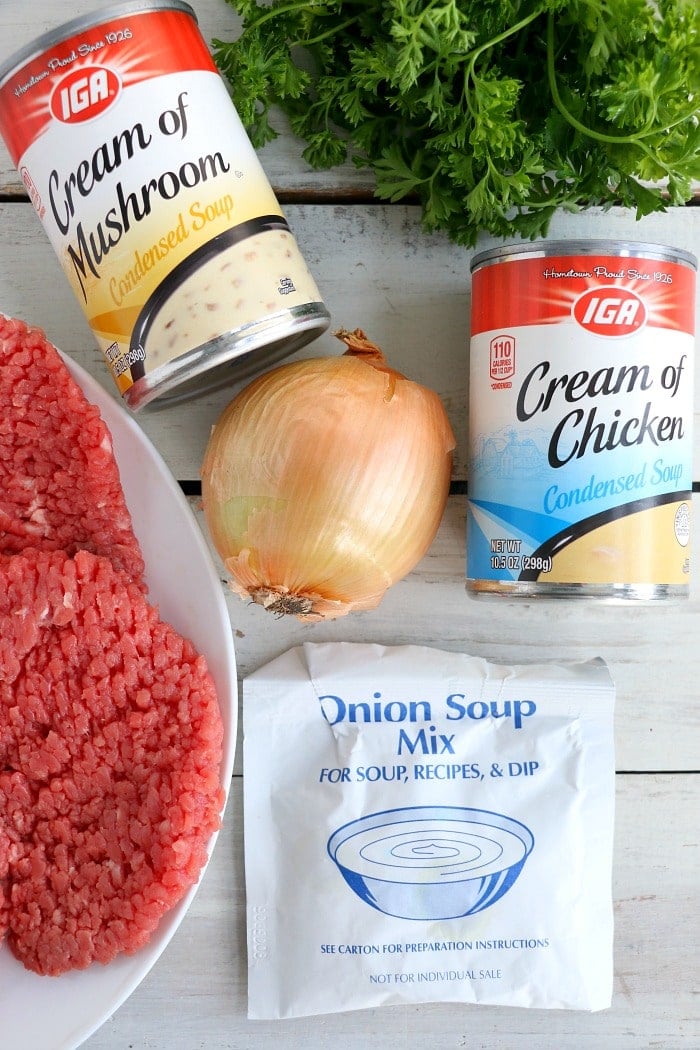 Unlike our steak in the Instant Pot, this meat is so tender when it's done that you can cut it with the side of your fork! As for the seasonings you can add as many or few as you wish. I tend to under-season while cooking, and add to the top once it's done.
Is Minute steak and cube steak the same thing?
While cube steak is sometimes referred to as minute steak, the latter is actually a different cut of meat.
Cube steak is cut from the round steak or chuck steak and then tenderized, while Minute steak is thinly cut from the sirloin or round steak and pounded as well.
Sometimes people refer to them as the same, and honestly they are quite similar.
Take a peek at our cube steak and gravy recipe inside our Crockpot here.
It's really all about layering and throwing it all in so it can cook all day by itself until you're ready to eat. There is no need to brown or sear your meat beforehand but you can if you really want. It would have a slightly different color if you did.
Because this cut is supposed to be SUPER tender I don't bother with the initial sear the way I might if I were making our Instant Pot cube steak recipe.
Crock pot cubed steak with gravy
Pour your 2 cans of condensed soups into your pot with 1 c. of your broth and onion soup mix, whisk together.

you can do this in a bowl and whisk together too if you'd prefer

Lay your cubed steak pieces on top and gently press down so they're submerged.
Sprinkle onions on top, sprinkle with salt and pepper, and close lid.
Slow cook on low for 6 hours cooking time, then you'll want to thicken your gravy mix.
In a small bowl whisk together remaining 1/4 c broth + cornstarch until smooth. Pour this into your pot and stir gently. Continue cooking for 30 more minutes.

You could add halved mushrooms at this time if you wanted to also, optional add in.

When done serve with mashed potatoes with mushroom sauce poured on top. May want to re season with salt and pepper when serving too.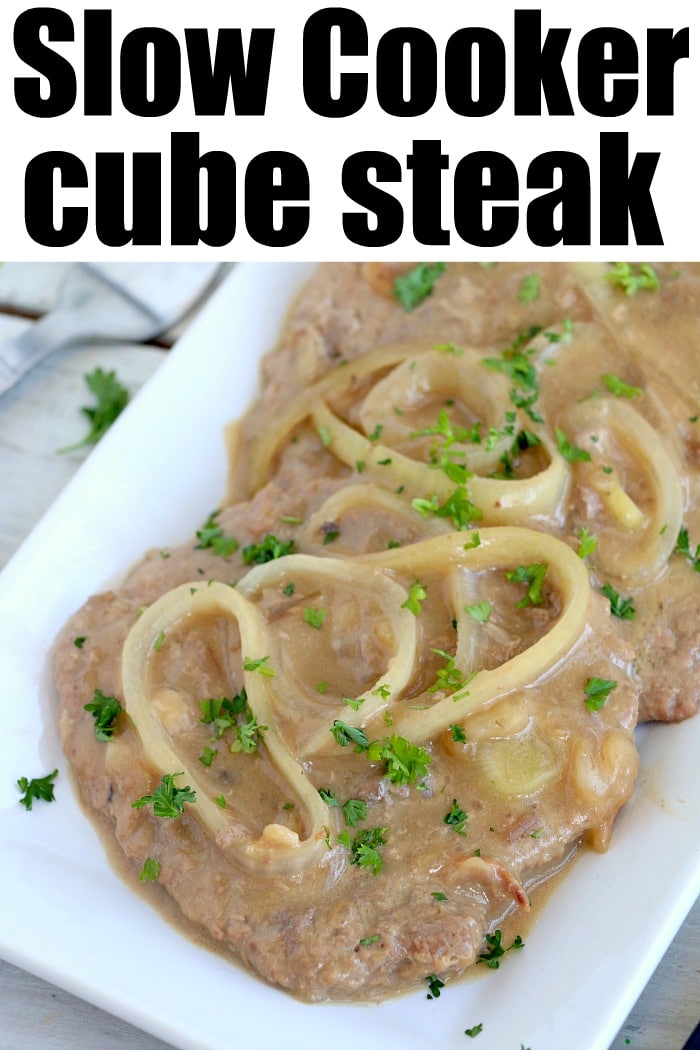 I've yet to make this in a large skillet over medium high heat until tender but I suppose you could. I imagine it wouldn't turn out quite as tender as slow cooking but it's an option if that's all you have.
What should you serve with cube steak?
Well the options are endless really but personally I always pair it with a side of egg noodles or potatoes of some kind. A side of vegetables are always a good addition too.
Other slow cooker recipes to try next:
Want to cook steak some other way? Here's how to make bacon wrapped air fryer steak too.
Want more easy recipes and tips from The Typical Mom blog? Sign up for my free newsletter, and follow me on Pinterest!
***** If you LOVED this recipe give it 5 Stars below and let everyone know what you thought about it. 😉
Slow Cooker Cube Steak
Tender slow cooker cube steak is a great dinner smothered with rich mushroom gravy and onions. Served with rice or noodles it's a yummy family friendly meal.
Instructions
In Crockpot whisk together cream of mushroom and chicken soup, onion soup mix and 1 cup of beef broth.

Place cube steak inside and gently submerge inside, then and onions on top. Sprinkle with salt and pepper.

Cover and cook on low for 6 hours.

In a bowl combine 1/4 c remaining broth with cornstarch until smooth. 30 minutes before serving lift lid and pour this into slow cooker for an additional 30 minutes or until gravy thickens to your liking.

Serve over mashed potatoes garnished with fresh parsley.
Nutrition Facts
Slow Cooker Cube Steak
Amount Per Serving (3 oz)
Calories 473
Calories from Fat 225
% Daily Value*
Fat 25g38%
Cholesterol 132mg44%
Sodium 1479mg64%
Potassium 784mg22%
Carbohydrates 18g6%
Protein 42g84%
Vitamin A 139IU3%
Vitamin C 2mg2%
Calcium 64mg6%
Iron 4mg22%
* Percent Daily Values are based on a 2000 calorie diet.