Fluffy crockpot baked potatoes are the best side dish or loaded up as dinner tonight! If you're wondering how to make potatoes in a slow cooker this is it!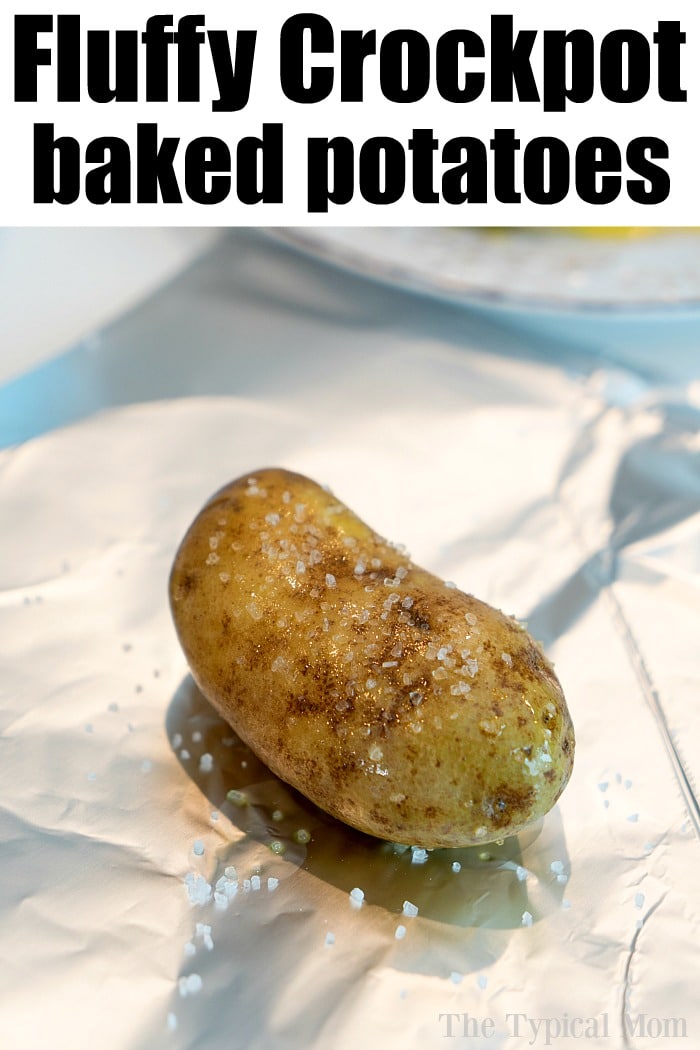 Here is a great recipe for crockpot baked potatoes! It is literally no work and they are the fluffiest potatoes you will ever eat, seriously! Try them for dinner to see how fork tender they become. Just add some toppings and you're set for a really easy meal idea. A great idea listed on our crock pot recipe page. (originally published 3/15, affiliate links present)
What you need to make slow cooker baked potatoes
4-6 potatoes – russet works the best I think
Aluminum foil
Olive oil
Kosher salt
Crockpot – the more potatoes you need the larger the slow cooker you'll need obviously
Of course there are tons of easy potato recipe ideas out there but this is probably the easiest. Unlike a potato in the oven you don't have to check on them. It's actually better if you don't! Leave the lid closed and after the time is up you should have tender fluffy potatoes ready to stuff.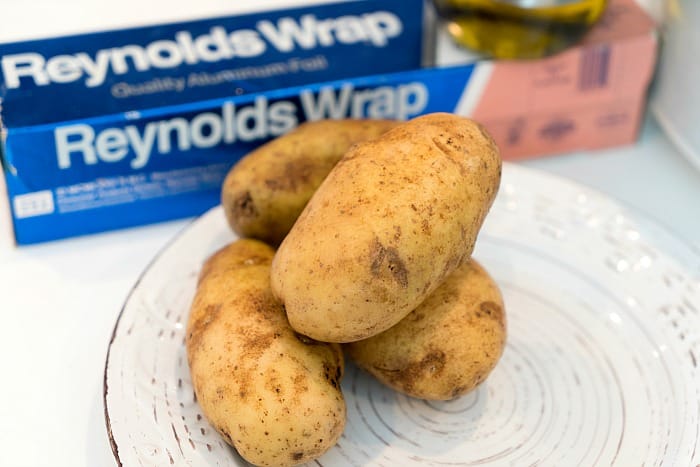 Some may ask can you use aluminum foil in a slow cooker?
Yes!!
Some people actually line the inside of their crockpot with tin foil to make it easier to clean.
Others choose to use crockpot liners for the same reason.
We aren't using it that way here, we're just wrapping our potatoes individually.
What if you don't want to use foil?
I would try one of other other methods I share below instead then, like our air fryer potatoes.
If you don't use foil in the crockpot for these the skins will get really moist and yucky from the condensation.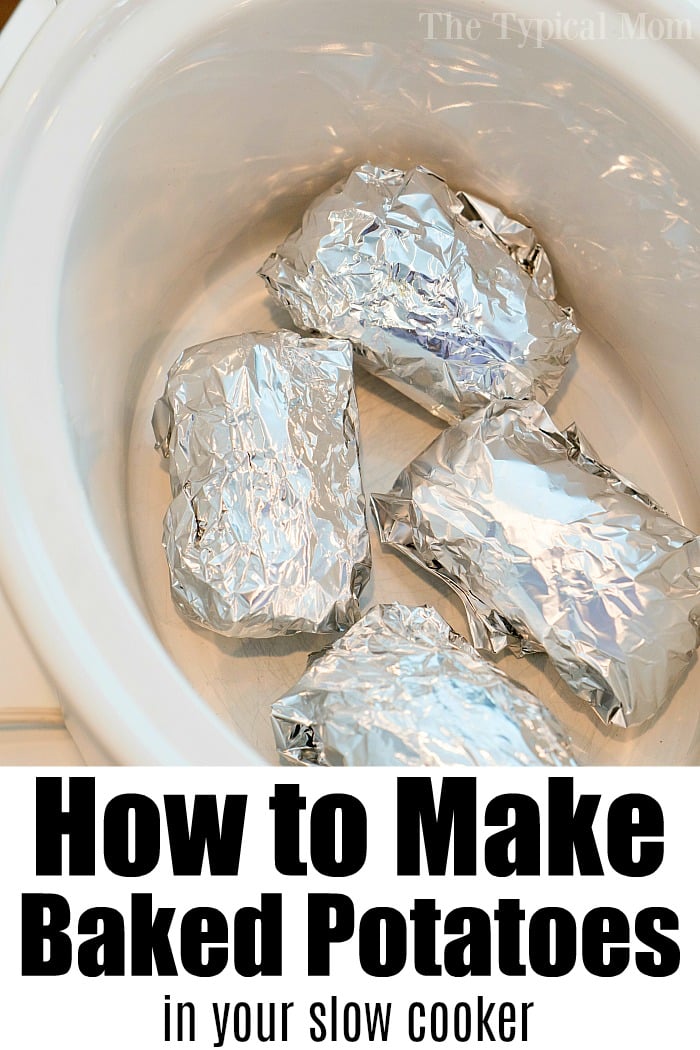 Steps for making crock pot baked potatoes
Step 1 – Wash and dry your potatoes.
Then – Get out as many pieces of aluminum foil as you will need to wrap each one.
Next step – Generously rub each potato with olive oil and then sprinkle with sea salt all over.
Now – Wrap each one so ends are closed and oil cannot leak out. Place them into your slow cooker trying to not overlap them. If you must put largest ones on the bottom.
Finally – Set on low for 8 hours (ideal), or cook on high for 5 hours. (of course large potatoes will take a bit longer, this is based on the size of ours which were med. russets)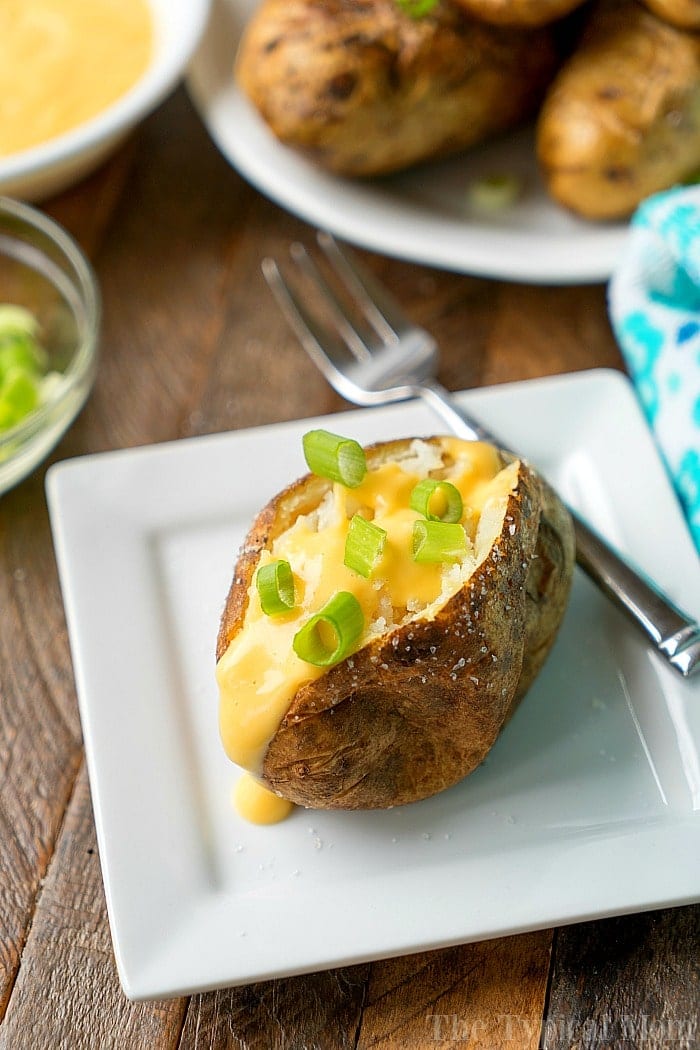 3 other ways to make baked potatoes
Pressure cooker potatoes – the quickest way to get them cooked (seen below)
Smoked baked potatoes – the taste of these is amazing
Oven baked potatoes – so the skins are crispy, insides are fluffy

This is what goes with a baked potato bar!
Best toppings for baked potatoes in the crock
There is lots you can put on baked potatoes besides butter!
How do you keep baked potatoes warm in a crock pot?
There is a warm setting on all new models, use that.
Do not unwrap from the foil until you're ready to eat.
Can I reheat baked potatoes in a crockpot?
Yes!!
Just prick the potatoes with a fork, place inside with a paper towel under the lid to catch the condensation.
(original photo from 2015 below, images revised 2019)
Can you prepare crockpot baked potatoes the night before?
Absolutely!
This is a great way to do it if you're having people over and you're trying to get some prep. out of the way.
Nutrition information and printable recipe is below.
Crockpot Baked Potatoes
Instructions
Wash and dry potatoes. Rub a generous amount of olive oil on each one and place in the middle of a piece of aluminum foil. Sprinkle sea salt on top and bottom. Wrap up.

Put them into your slow cooker with the largest potatoes on bottom of crockpot. Stack the rest of them so they are overlapping the least amount.

Set slow cooker to low for 8 hours or high for 5 hours.

Unwrap and enjoy stuffed with fixings.
Nutrition Facts
Crockpot Baked Potatoes
Amount Per Serving
Calories 206
Calories from Fat 126
% Daily Value*
Fat 14g22%
Sodium 3503mg152%
Potassium 586mg17%
Carbohydrates 18g6%
Protein 4g8%
Vitamin C 16.2mg20%
Calcium 45mg5%
Iron 4.7mg26%
* Percent Daily Values are based on a 2000 calorie diet.
For more easy recipes, tips and crafts please LIKE The Typical Mom on Facebook and follow me on Pinterest! You can also sign up for my free weekly newsletter which is packed with goodies I know you'll love. 😉