If you want to feel like a superhero in your kitchen by cooking an entire meal in less than 20 minutes, this Instant Pot cube steak will do just that! Tender bites of meat smothered in a creamy mushroom gravy, a total winner.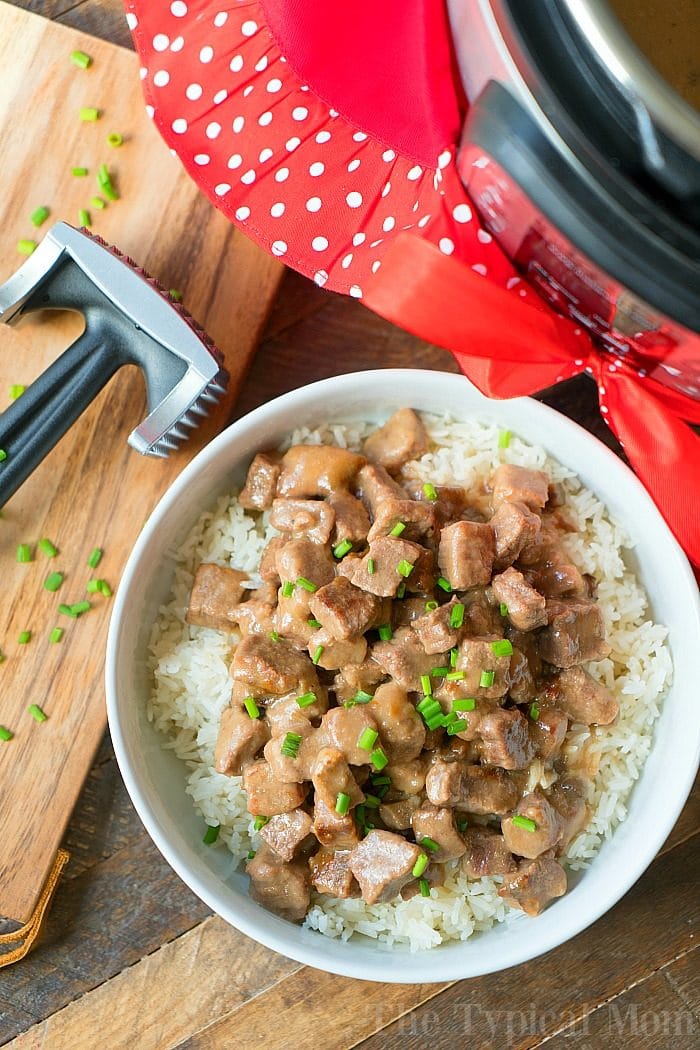 I know you're busy, aren't we all??!! It's hard to find time to cook a complete meal, and find time to spend together. BUT…..I have 2 good reasons to sit down as a family for the whole evening tonight! First I'm here to share this easy Instant Pot cube steak recipe that even my non steak loving children thought was amazing, AND today Thor: Rangnarok is being released so you can all sit together and have movie night while you're enjoying this meal! Definitely one of our favorite comfort food Instant Pot recipes here on The Typical Mom.
Ok so I knew this digital release was coming as I am lucky enough to partner and participate in this Thor: Ragnarok Contest of Champions (who generously sponsored this post), and created this meal that was inspired by….you guessed it, Thor!
Ok so it's a mom version of Thor, but seriously….moms ARE the superheroes of today too right?!! 😉 I've got my red cape y'all…..okay so it's an apron but whatever…..and I can do magic with my mallet as you can see here. Magic I tell you.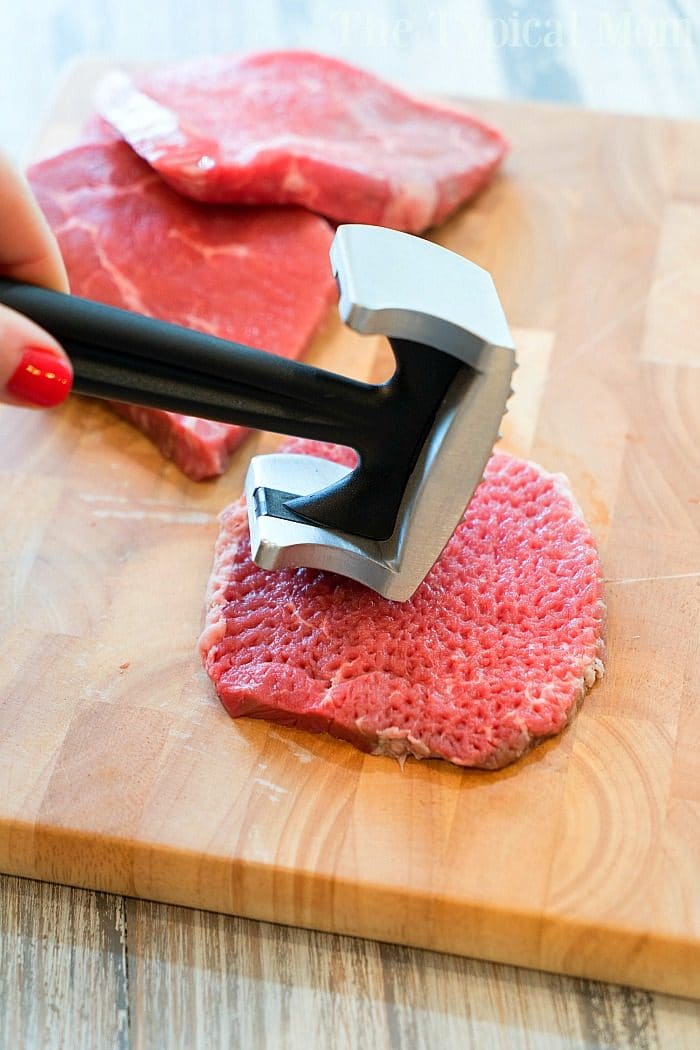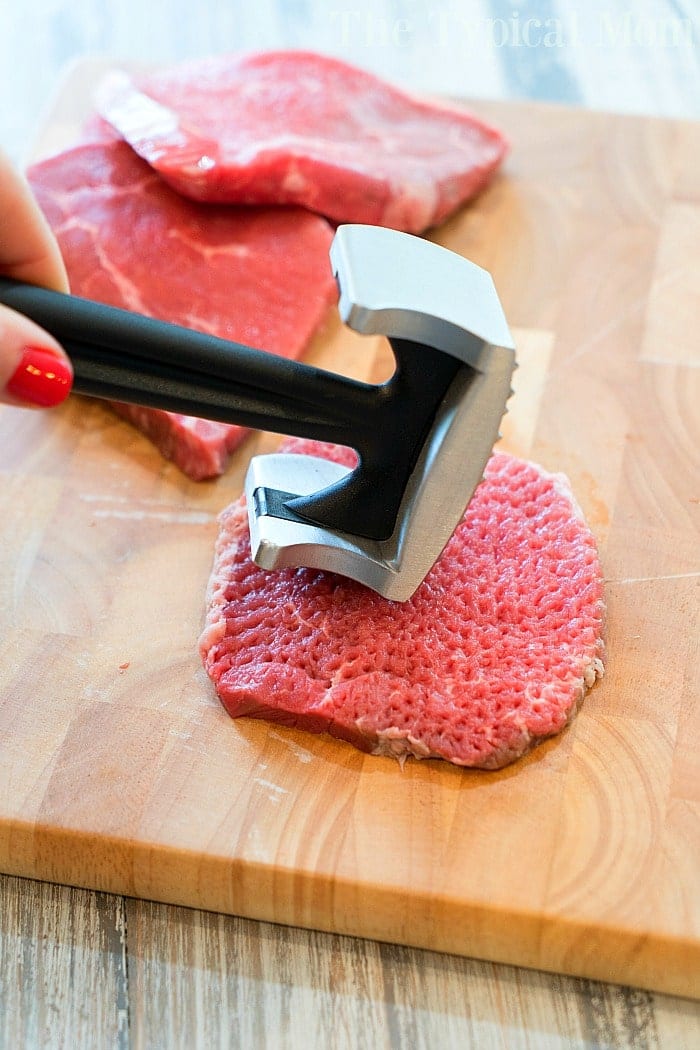 Have you ever actually made cube steak? Yes you can buy it already pounded out but oh the satisfaction of doing it yourself. 😉 You can leave the pieces whole but as with many of my other recipes I prefer to cut my meat into bite size pieces before adding them in for a few reasons. It makes it easier for me in the end because I am not cutting everyone's meat at the table, it makes it easier for the kids to serve themselves and eat, and it makes the meat more tender I feel because it is in smaller pieces initially.
But…as with any recipe it comes down to personal preference.
If you prefer the look of larger pieces when served then do that. Incorporate your own personality into the meal…channel your inner superhero! If you love strong seasonings then amp it up with your fave.
We prefer subtle seasonings and I actually prefer to season more when the meal is done so everyone can salt to their liking. Since my husband has high blood pressure I tend to under season for him, and add a bit of garlic salt to my plate to my liking.
Make it your own I say!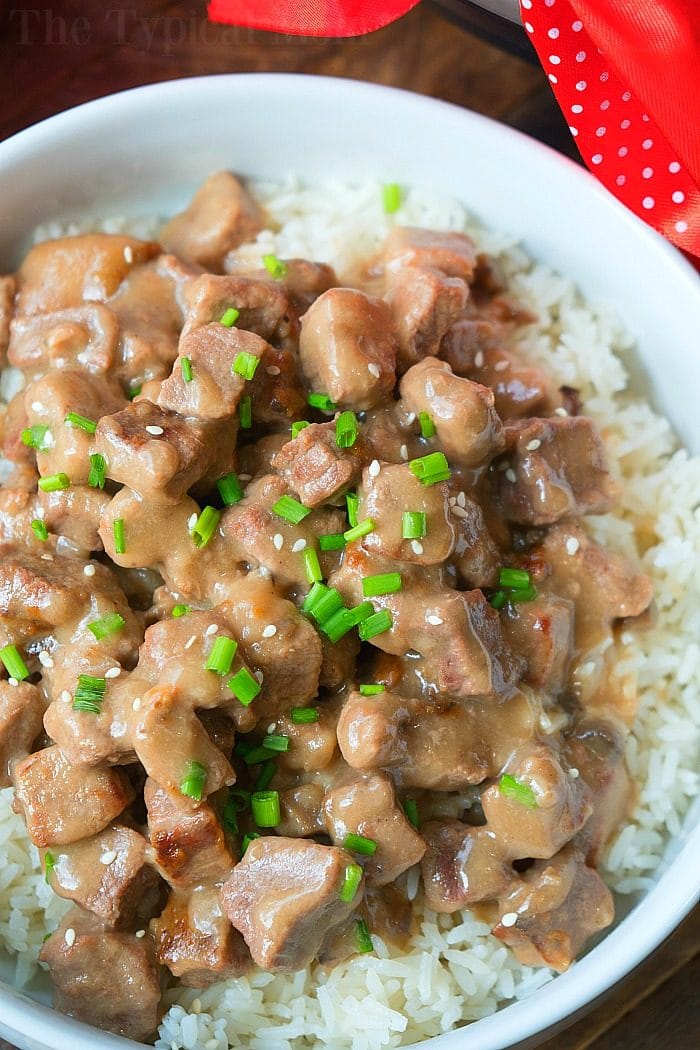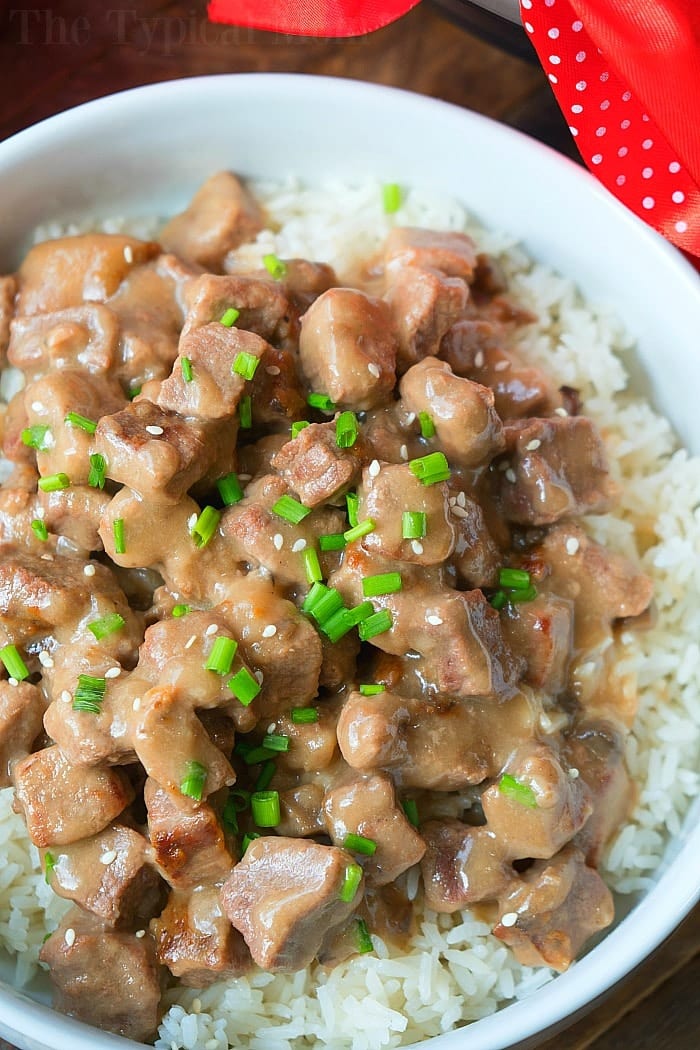 Now I will explain below how to make this Instant Pot cube steak that we serve over a bed of rice, but you could spoon it over egg noodles as well and that would be fabulous.
When it's done give it a few minutes to rest in the pot.
Just like any other steak it tends to become more tender when it has a few minutes to rest (like us after a busy day I guess). During this time get everyone set with their t.v. trays and que up your movie!
The action, humor, drama and spectacle, bursts into homes Digitally in HD and 4K Ultra HD™, and Movies Anywhere, on Feb. 20 and on 4K Ultra HD™, Blu-ray™, DVD and On-Demand on March 6. You can learn more and follow along at the Marvel Studios Facebook page for future announcements too!
This was my Thor inspired recipe, but you can submit your own Thor: Ragnarok-related recipe creation too for a chance to win a Blu-ray and Thor hammer/Hulk fist set!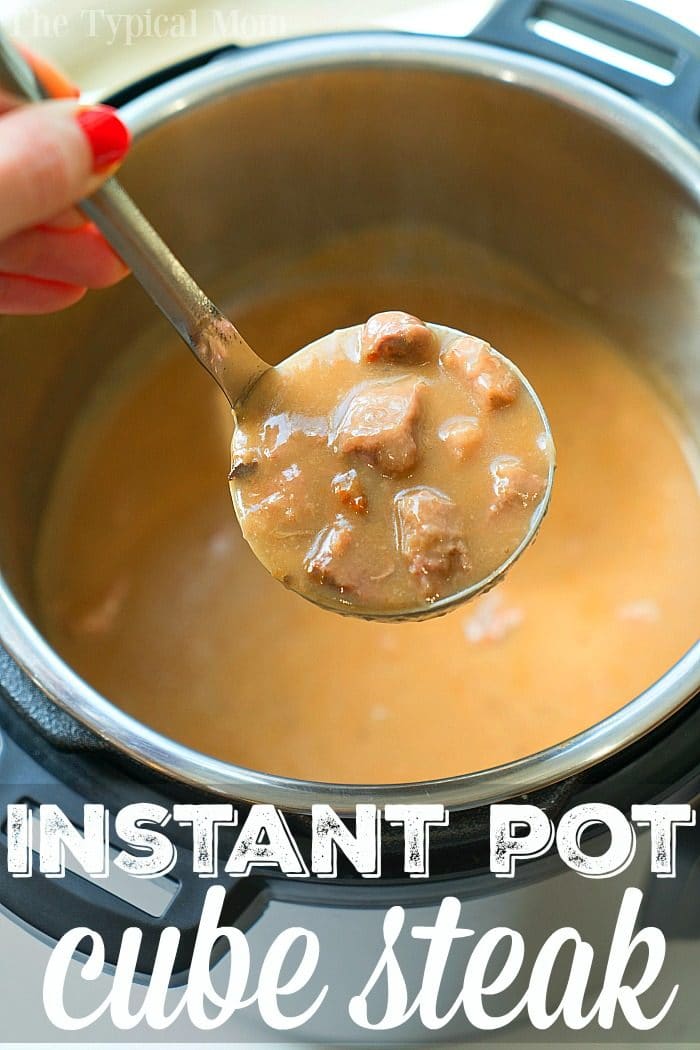 This is what you'll need to make this easy Instant Pot cube steak and have a movie night together with your family too!
Cube steak
Olive oil
Flour
Garlic salt
Cream of mushroom soup
Beef broth
Rice + water or egg noodles to serve on the side
Instant Pot Cube Steak
If you want to feel like a superhero in your kitchen by cooking an entire meal in less than 30 minutes, this Instant Pot cube steak will do just that! Channel your inner Thor by strapping on your red cape / apron, pound out your steak and create tender bites of meat smothered in a creamy mushroom sauce. A total winner.

Ingredients
1 - 1.5

lbs

cube steak

I used eye of round steak pounded flat, cut into bite size pieces

2

tbsp

olive oil

1/3

c

flour

1

tbsp

garlic salt

pinch

pepper

optional

1

pkg.

mushroom gravy

.75 oz. package

1

can

cream of mushroom soup

1

c

beef broth

or a bit more if you want it thinner
Instructions
Pound your eye of round steak with a meat tenderizer/mallet on both sides (helps make meat tender, can buy it at store already tenderized too).

Cut into bite size pieces.

Fill a gallon size storage bag with flour, garlic salt and pepper. Shake to combine.

Set Instant Pot to saute medium and add olive oil.

Put steak pieces inside baggie, zip closed and shake to coat pieces.

When Instant Pot is hot use your fingers to take pieces of floured meat out of bag shaking off excess flour before putting it into the pot.

Stir meat often and cook all pieces until they are lightly browned on both sides, then turn pot OFF/Cancel button - Important step!

In a bowl whisk together cream of mushroom, mushroom gravy packet and beef broth.

Use a wooden spoon to scrape the bottom of the Instant Pot where the beef has been cooked to remove pieces (helps so it doesn't come up with a burn message when you turn it back on, I typically wait 3-4 minutes after turning it off before turning it back on again to allow it to cool as well to avoid this message).

Pour soup mixture into your pot, stir together gently, put lid on, and close steam valve.

Set to pressure high for 4 minutes.

Do a quick release. Serve over rice or as is. I usually sprinkle with a bit of salt when serving because everyone prefers a different amt. of salt. (this is the perfect "doneness" for us as far as our steak is concerned, if you want it more done set for a few more minutes)
Nutrition Facts
Instant Pot Cube Steak
Amount Per Serving (4 oz)
Calories 414
Calories from Fat 207
% Daily Value*
Total Fat 23g 35%
Cholesterol 104mg 35%
Sodium 2654mg 111%
Potassium 663mg 19%
Total Carbohydrates 12g 4%
Protein 35g 70%
* Percent Daily Values are based on a 2000 calorie diet.
For more easy recipes, tips and free printables please LIKE The Typical Mom on Facebook and follow me on Pinterest! You can also sign up for my free weekly newsletter which is packed with goodies I know you'll love. 😉