This Instant Pot cube steak will make you feel like a superhero in your own kitchen! Tender bites of meat smothered in a creamy mushroom gravy in under 30 minutes = a total winner of a dinner.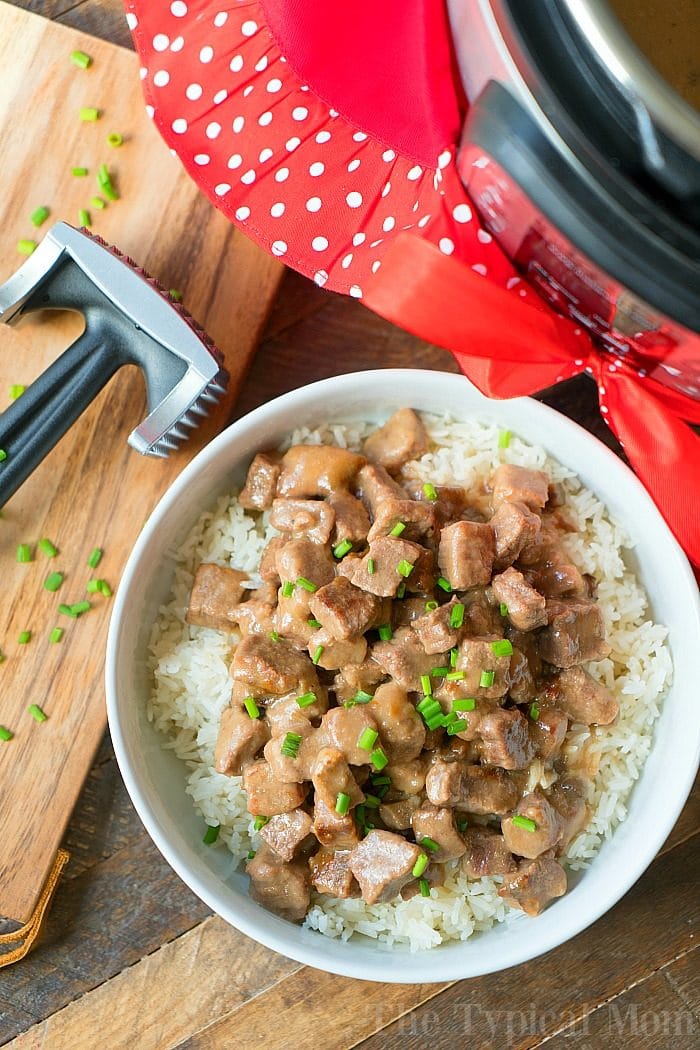 I know you're busy, aren't we all??!! It's hard to find time to cook a complete meal, and find time to spend together. I have 2 good reasons to sit down as a family for the whole evening tonight! I'm here to share this easy Instant Pot cube steak recipe that even my non steak loving children thought was amazing. Definitely one of our favorite under 20 minutes comfort food Instant Pot recipes on The Typical Mom. (originally published 2/18, affiliate links present)
Ready to try some Instant Pot cube steak with a mushroom gravy??
Here is where you start. It's kinda' fun pounding your beef out with this guy!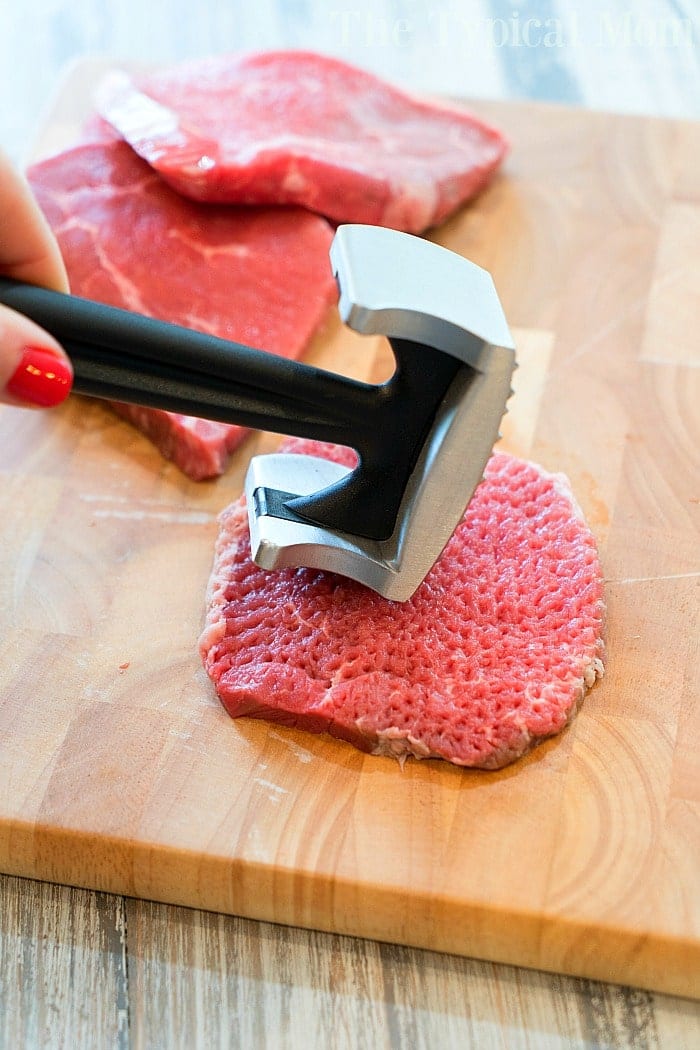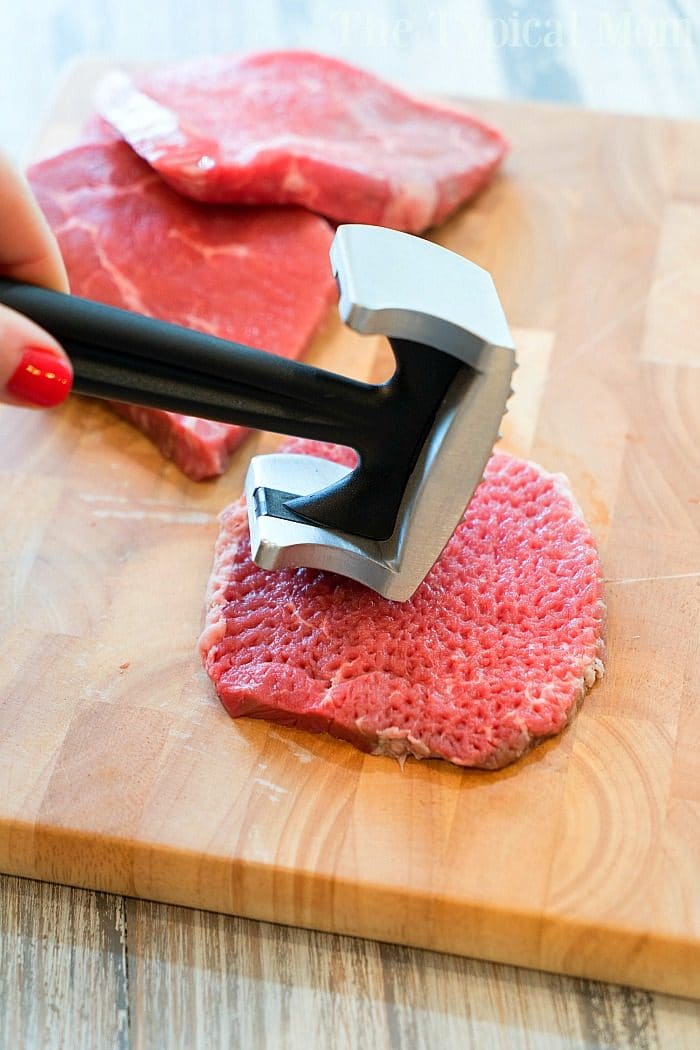 Have you ever actually made cube steak? Yes you can buy it already pounded out but oh the satisfaction of doing it yourself. 😉 You can leave the pieces whole but as with many of my other recipes I prefer to cut my meat into bite size pieces. It makes the meat more tender and easier for the kids to eat.
But…as with any recipe it comes down to personal preference.
We prefer subtle seasonings when it comes to our pressure cooker cube steak.
With a bit of seasoning but the mushroom gravy of sorts, it makes for a yummy meal. Make it your own I say!
Is cube steak bad for you?
Actually, it doesn't include a whole lot of fat or marbling. Cube steak is a very lean cut so you won't get a lot of fat from the meat by itself.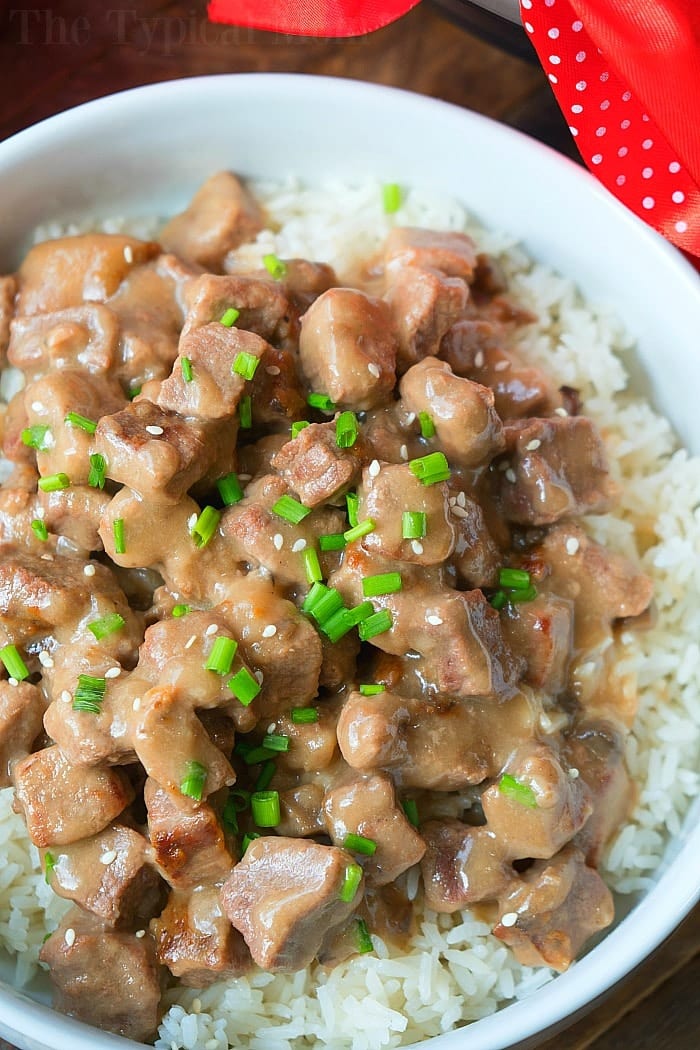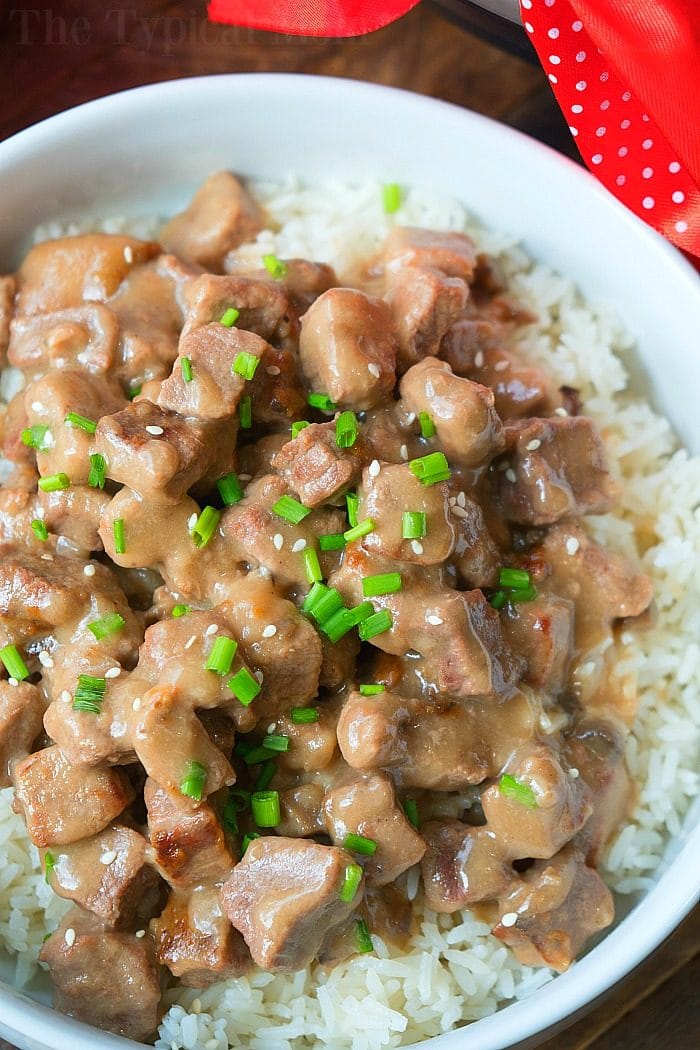 Now I will explain below how to make this Instant Pot cubed steak we serve over a bed of rice.
First you want to tenderize your meat and cut it into bite size pieces. This is the way we prefer it.
Then add olive oil to your pressure cooker and set to saute.
Add flour and seasonings into a gallon baggie and shake.
Add meat pieces and shake again.
Use fingers to take meat out, shake off excess flour and put into your pot.
Brown outsides and turn pot off! Then deglaze your Instant Pot with a bit of your broth.
Whisk rest of ingredients together in a bowl.
Add onions into pot, then cooked meat, then pour mushroom soup mixture.
Close lid, steam valve and set to high pressure for 5 minutes.
Allow to naturally release steam for 5 minutes.
Rest for 5-10 minutes so sauce can thicken.
Serve over butter noodles or rice.
It is important to give it a few minutes to rest in the pot once it's done. Like any other steak it become more tender and maintains juiciness when it has a few minutes to rest.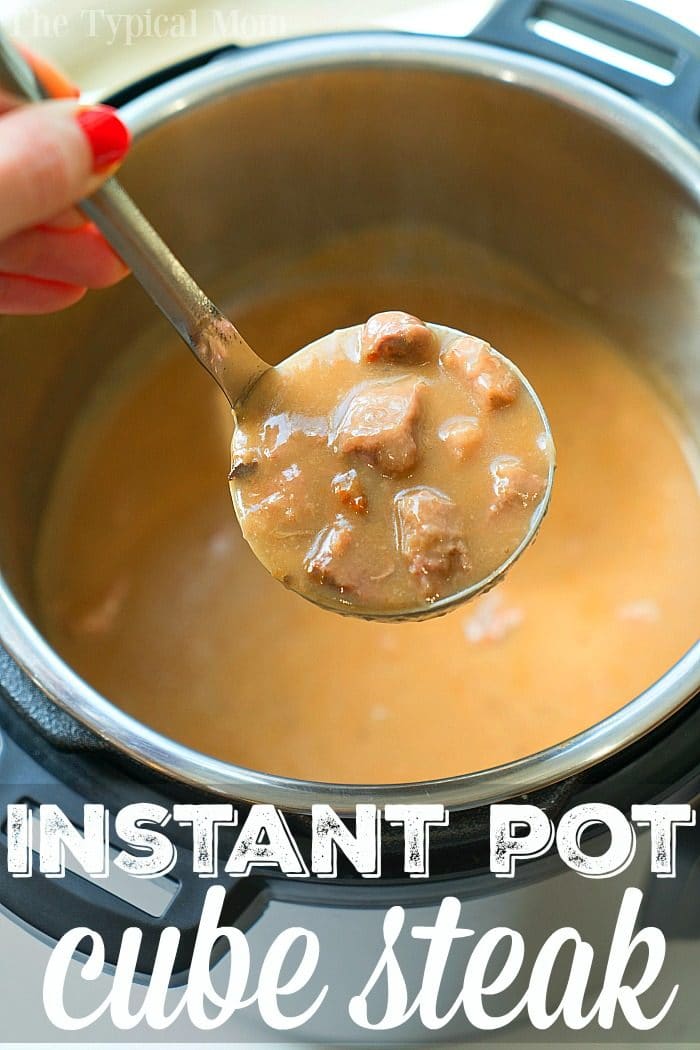 This is what you'll need to make this easy Instant Pot cubed steak and gravy
Pressure cooker

If you have an Instant Pot I HIGHLY suggest getting this non stick pot

Cube steak
Olive oil
Flour

coats meat and thickens the gravy

Garlic salt
Cream of mushroom soup
1 packet onion soup mix
Onion
Beef broth

could use half cup of water and rest broth

Instant Pot white rice, egg noodles, or mashed potatoes to serve on the side
Cook time is under 15 minutes. Much faster than a slow cooker version. If you're looking for a hearty meal smothered with brown gravy here it is. Pressure cooking is definitely not going away!
Find more Instant Pot beef recipes and more Instant Pot steak recipes here!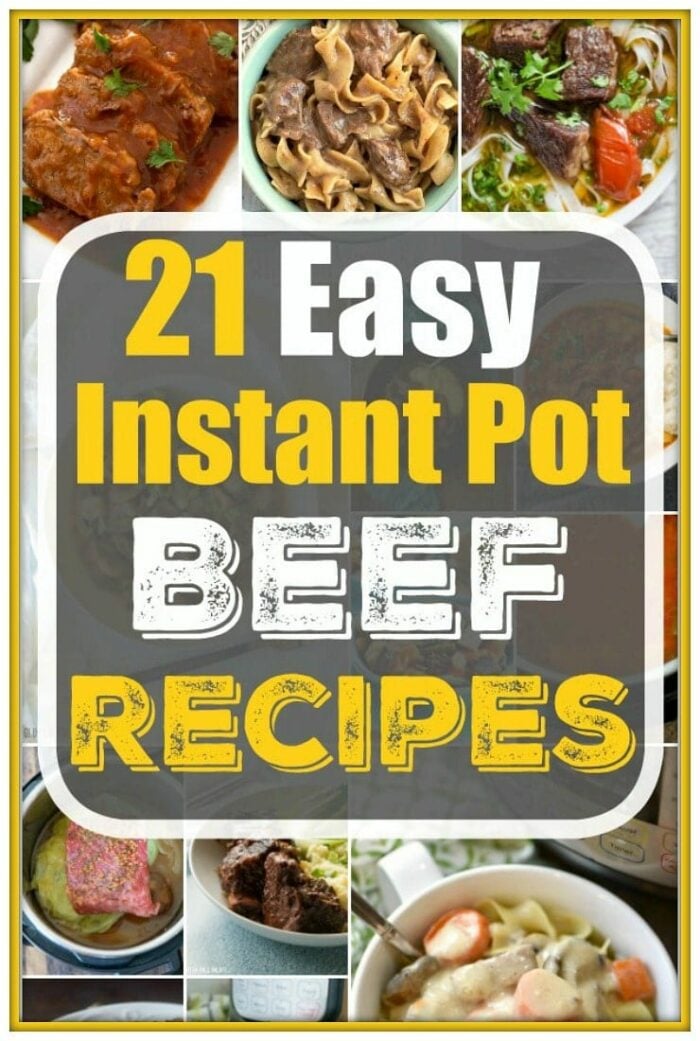 What kind of meat is cube steak?
It's usually top round or top sirloin, used in our air fryer chicken fried steak too
It is tenderized and flattened by pounding with a meat tenderizer, or an electric tenderizer.
What cut is pork cube steak?
This is a cut of meat from the sirloin of the pig.
It too is pressed by a special machine to break up the fibers in the meat to tenderize it.
Is cube steak the same as minute steak?
Cube steak is sometimes referred to as minute steak, but it is actually a different cut of beef.
It is cut from the round steak or chuck steak and then tenderized
Can you make Crock pot cube steak too? <—- YES, here is the recipe.
For more easy recipes, tips and free printables please LIKE The Typical Mom on Facebook and follow me on Pinterest! You can also sign up for my free weekly newsletter which is packed with goodies I know you'll love. 😉
Instant Pot Cube Steak
This Instant Pot cube steak will make you feel like a superhero in your kitchen! Tender bites of meat smothered in a creamy mushroom sauce. A total winner. 

Instructions
Pound your eye of round steak with a meat tenderizer/mallet on both sides (helps make meat tender, can buy it at store already tenderized too).

Cut into bite size pieces. Or could cut in half if preferred.

Fill a gallon size storage bag with flour, garlic salt and pepper. Shake to combine.

Set Instant Pot to saute medium and add olive oil.

Put steak pieces inside baggie, zip closed and shake to coat pieces.

When Instant Pot is hot use your fingers to take pieces of floured meat out of bag shaking off excess flour before putting it into the pot.

Cook all pieces until they are lightly browned on both sides, then turn pot OFF/Cancel button - Important step! Remove meat from pan and pour some beef broth in to deglaze the pot (get stuck on food off bottom).

In a bowl whisk together cream of mushroom, onion soup mix packet. Worcestershire sauce, and remaining beef broth.

Add diced onions on bottom of the pot. Then put browned meat on top of that followed by soup mixture into your pot. Put lid on and close steam valve.

Set to pressure high for 5 minutes followed by a natural release for 5 minutes. Then let out rest of steam.

Lift lid and allow to sit for 5-10 minutes so sauce thickens more. Serve over rice or as is. I usually sprinkle with a bit of salt when serving because everyone prefers a different amt. of salt.
Nutrition Facts
Instant Pot Cube Steak
Amount Per Serving (4 oz)
Calories 383
Calories from Fat 198
% Daily Value*
Fat 22g34%
Cholesterol 101mg34%
Sodium 2317mg101%
Potassium 644mg18%
Carbohydrates 11g4%
Protein 33g66%
Vitamin C 2mg2%
Calcium 48mg5%
Iron 3mg17%
* Percent Daily Values are based on a 2000 calorie diet.