Air fryer chicken fried steak is a yummy comfort food that's great for dinner or an appetizer. Crunchy finger food that's tender inside and a gravy dip!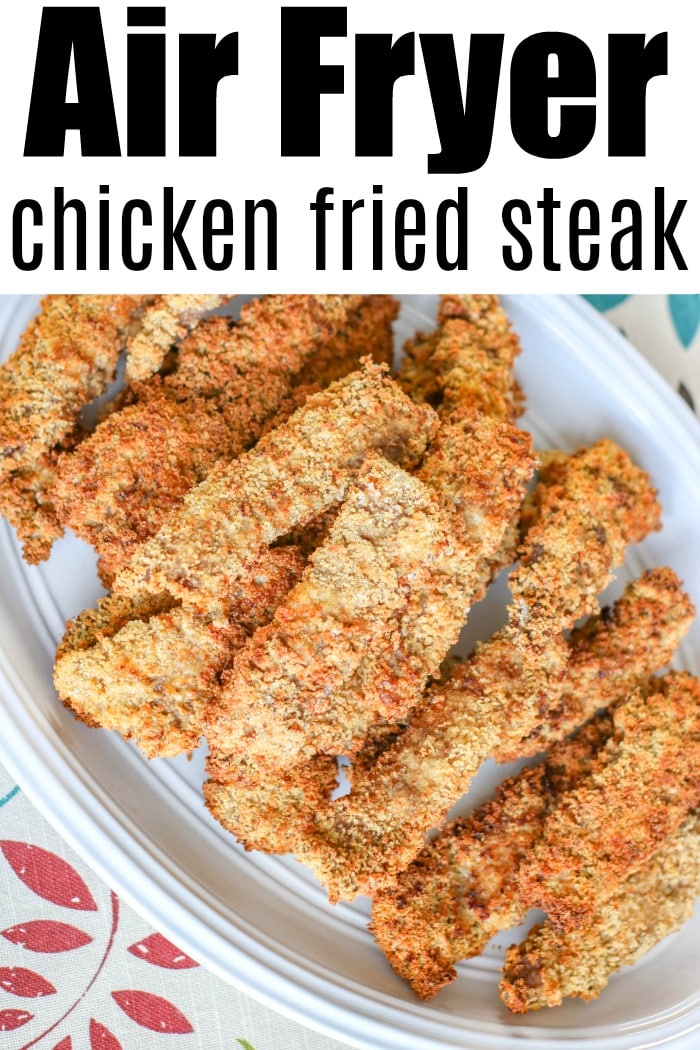 Who doesn't love this southern fried food??!! Well if you're looking for the same great taste with a fraction of the fat intake, try our air fryer chicken fried steak recipe! It's one of our favorite air fryer recipes here on The Typical Mom.
Here are a few resources to start with:
Whenever I come up with an idea, I refer to my air fryer cooking times chart here to determine how long it will take to cook.
Of course you may need to adjust it slightly, but it is a great reference to start with. Just like my meatballs in an air fryer it eliminated the guess work once I got to that step and they were done perfectly.
This is what you'll need to make our air fryer chicken fried steak bites!
Cubed steak
Salt and pepper
Flour
Egg
Milk
You'll need 3 bowls too.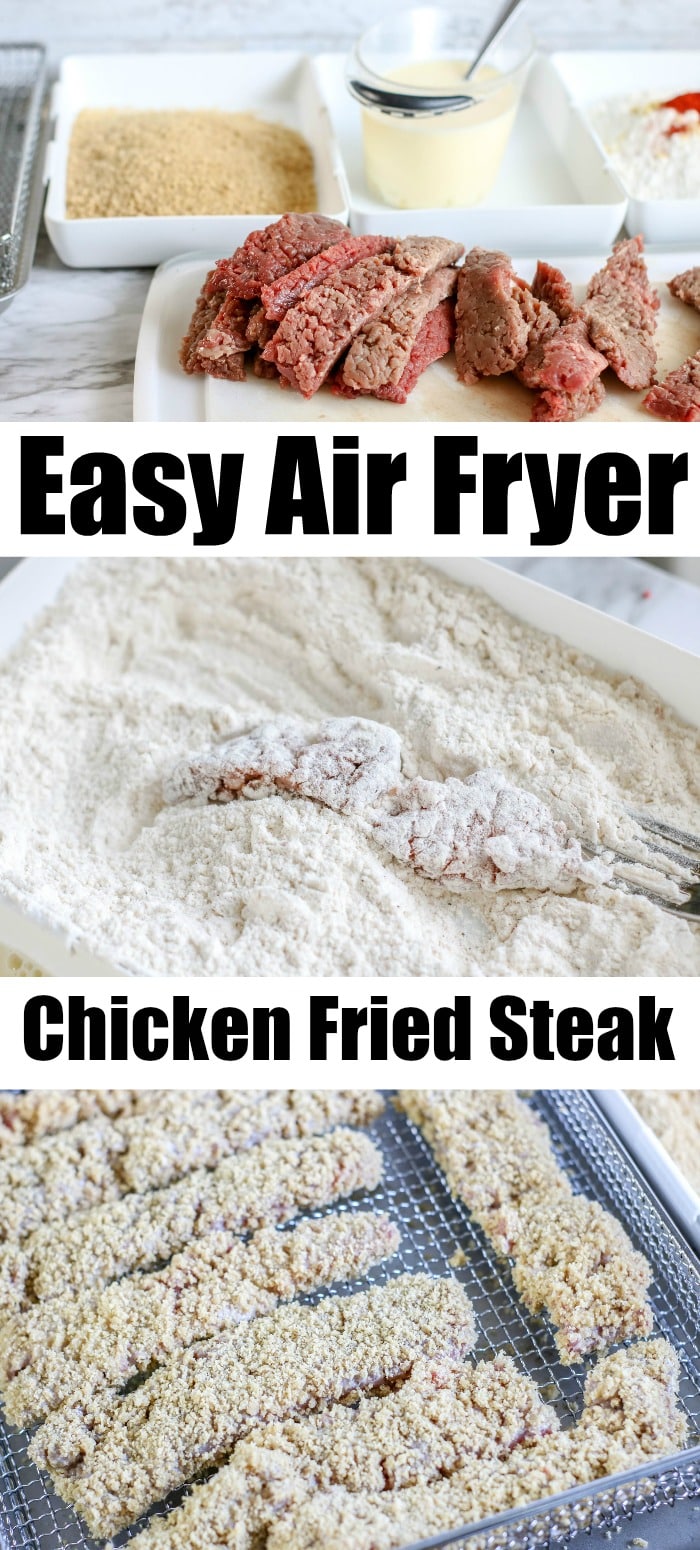 What cut of meat is cube steak?
Cube steak is the name of a cut of beef. It's usually top round or top sirloin that's been tenderized and flattened by pounding with a meat tenderizer. You can use an electric tenderizer to do this too.
What's the best way to tenderize cube steak?
Use a meat mallet that is either metal or wooden. Cover your steak in a plastic bag or plastic wrap, and pound it thoroughly until the entire steak is covered with marks from the mallet.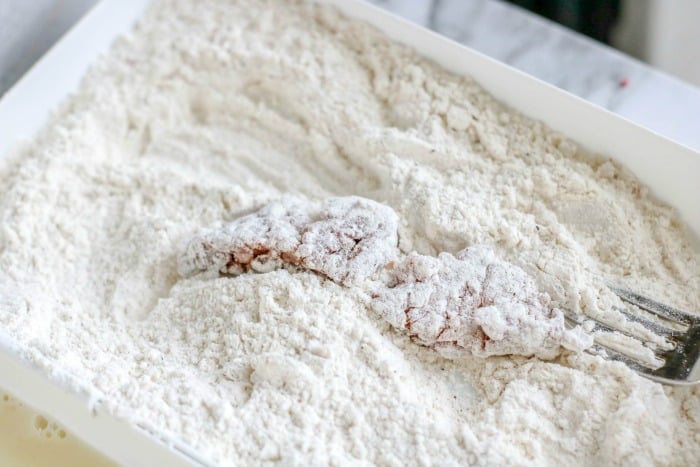 Here are the steps to follow when making bite size cubed air fryer steak:
First get out 3 shallow bowls or you could use 2 plates and 1 bowl.
Once your meat is tenderized, dip it into the seasoned flour mixture so it's completely coated. Shake off excess.

you can add anything you really like, onion powder is a great add in too

Dip into your egg and milk mixture
Then press into your Panko breadcrumbs.
Place into your preheated air fryer basket that's been sprayed with olive oil spray.

I tested at 400 degrees but think 360 did a much better job of keeping the insides tender

Flip after 7 minutes, and continue cooking for about 4 more minutes until golden brown on both sides.
Wrap in a paper towel while you put in another batch to keep warm.
You want to make sure to give them space inside the air fryer basket. Hot air is what will cook them and create a crispy outer layer you want. If you crowd the strips the chicken fried steak strips won't get as crispy as you'd like.
Why is it called chicken fried steak?
It is prepared in the same manner as traditional fried chicken, but it's made out of steak. Makes sense I guess right??!!
Some people would call this country fried steak. What's the difference? Not much. One flour dusted and the other uses bread crumbs. Since we used both I just called it this. 😉
Looking for other Ninja Foodi recipes for your air fryer?
What side goes with chicken fried steak?
Traditionally you'd serve it with mashed potatoes if it's served as a dinner. If it's a finger food appetizer then I'd have a bowl of gravy to dip them into.
Another option is vegetables!
Air Fryer Chicken Fried Steak
Instructions
Spray air fryer basket with non stick spray and preheat to 360 degrees.

Slice cubed steak into strips and season each piece with salt and pepper

In a bowl or plate mix together your flour, dry mustard, 1 tsp salt, 1/2 tsp pepper, and smoked paprika.

In a different bowl whisk together your milk and egg. On a third plate spread our your Panko bread crumbs.

Use a fork and press into flour mixture, shaking off excess. Then dip into egg mixture and finally press into breadcrumbs on both sides. Shake off a bit of excess and put into air fryer basket.

Do this with enough pieces to fill basket without overlapping and leaving a bit of space in between them so they crisp up properly. Spray with olive oil spray lightly.

Close and continue cooking at 360 degrees for 7 minutes. Open and flip. Continue cooking for 4 minutes and then check to see if you want them to crisp up more. If so add a few more minutes until they're done to your liking.
Nutrition Facts
Air Fryer Chicken Fried Steak
Amount Per Serving (3 oz)
Calories 554
Calories from Fat 261
% Daily Value*
Fat 29g45%
Cholesterol 167mg56%
Sodium 858mg37%
Potassium 767mg22%
Carbohydrates 28g9%
Protein 43g86%
Vitamin A 497IU10%
Calcium 179mg18%
Iron 5mg28%
* Percent Daily Values are based on a 2000 calorie diet.