This is how to make Instant Pot popcorn that tastes great and is ready in just 5 minutes!! Easy to do and tastes way better than microwave popcorn too. It's fun to make at home and a great pressure cooker snack your whole family will surely love!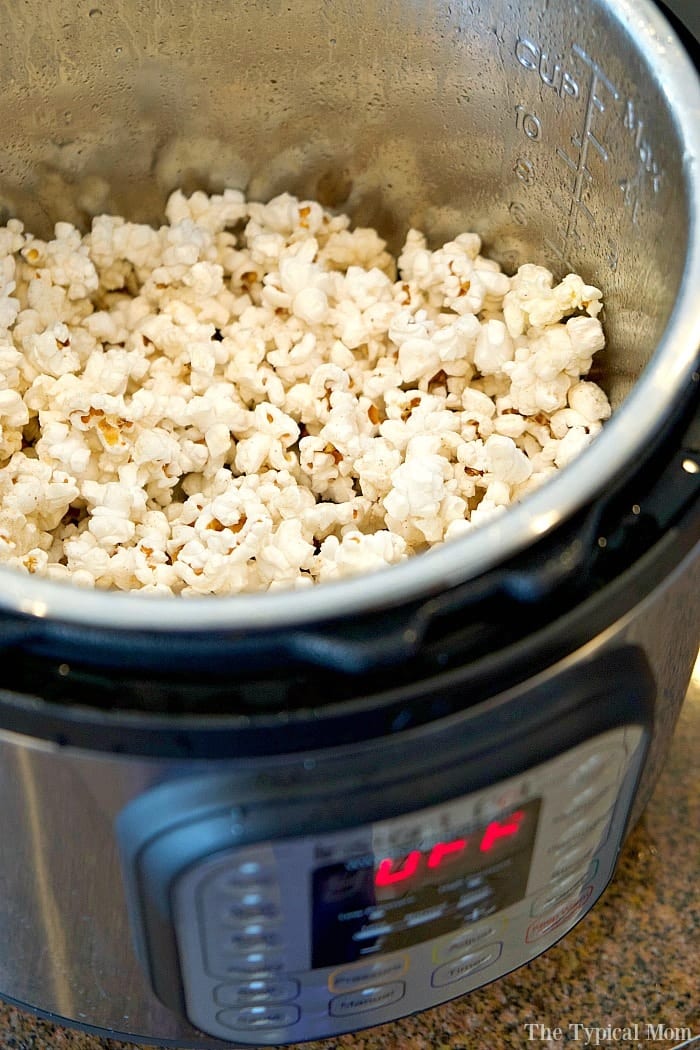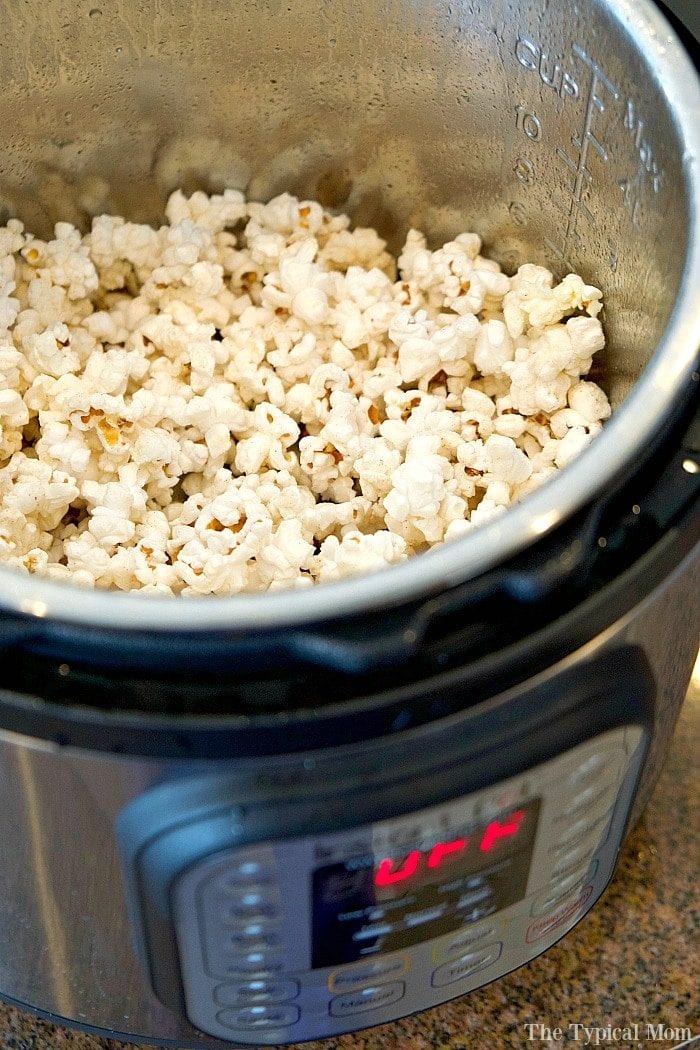 If you haven't caught the bug yet to try the Instant Pot I'm telling you that you MUST! I am addicted because it makes my life so much easier, and meals SO much faster! I am working to create lots of new Instant Pot recipes and this is the latest one I tried. How to make Instant Pot popcorn! We have made it on the stovetop and in an air popper but this way is really easier and I think a bit quicker than the stovetop version. Here's the directions. (originally posted 1/17)
The way you make popcorn in your Instant Pot is similar to the stove top version and how we've made it in the past.
I have been tinkering with mine since I got it and worked with what settings are best for meats, soups, and now popcorn and saute is what works for this recipe (and many others).
These are the things you will need to make Instant Pot popcorn and a video showing you how I make it.
Popcorn kernels
Butter
Salt
This is how ours looked when we lifted the lid.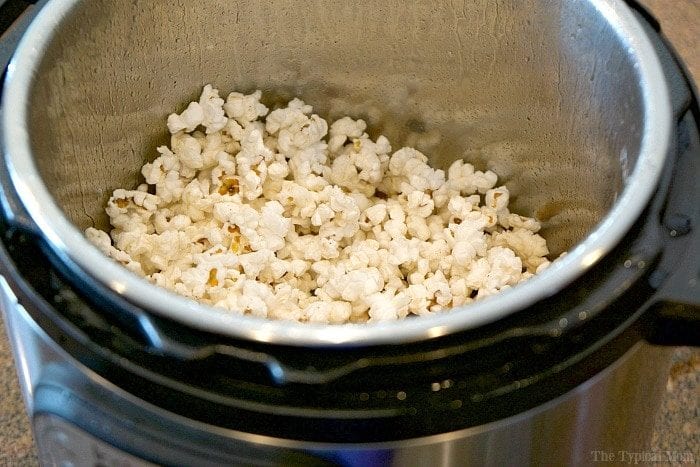 Like I said, you're going to use the saute function for this recipe and it's done in about 5 minutes or so…and tastes WAY better than microwave popcorn.
First thing first you MUST use coconut oil or it will not work, you cannot substitute vegetable oil as it won't get hot enough.
I use coconut oil for lots of other things like melting chocolate (used it in this recipe) so it will not go to waste other than using for this recipe.
Here is a video showing you how we make it and the instructions: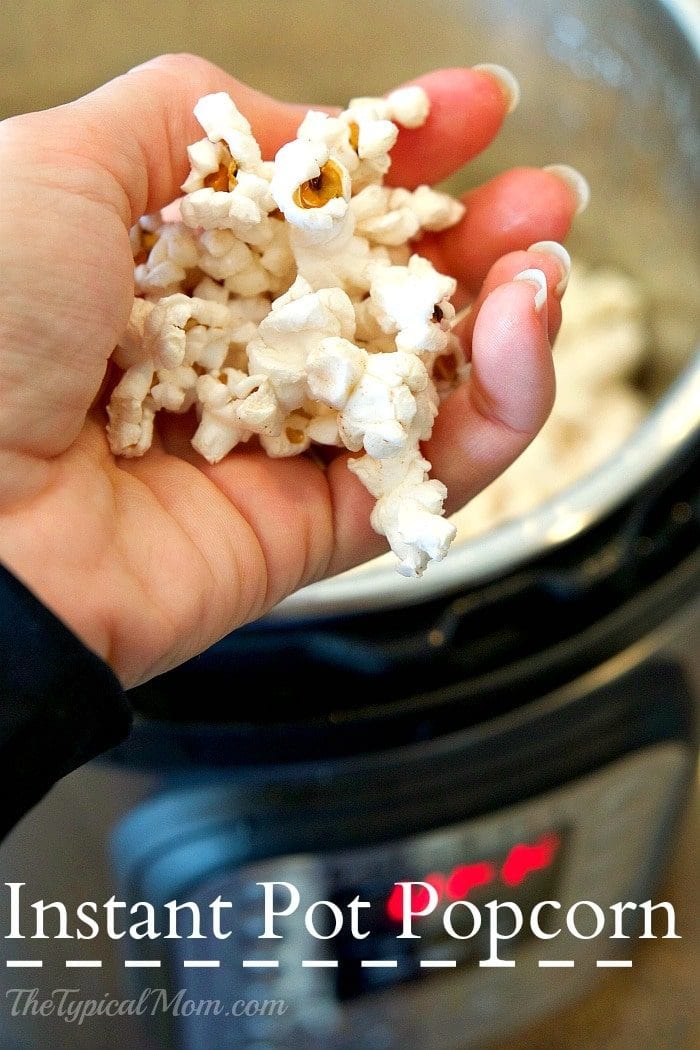 I'm new to the Instant Pot so I didn't have a lid, it is on it's way now, so I used a glass lid from my large cooking pot that worked just fine but one that fit properly would be better so it didn't slide around at all.
The kids loved watching it pop and it tastes really delicious!
If you love this, try out other easy Instant Pot recipes like:
Here is your printable recipe, please watch the video first as it helps so you succeed your first time around and make sure to use coconut oil and kernels that are fresh and not old.
Instant Pot Popcorn
Instant Pot popcorn tastes so good and is ready in just 5 minutes!! Easy to do and tastes WAY better than microwave popcorn. Here's the easy pressure cooker popcorn recipe.
Ingredients
2

tbsp

butter

3

tbsp

coconut oil

1/2

c

popcorn kernels

salt
Instructions
Set Instant Pot to saute, more (or high) setting.

Add coconut oil and butter and allow to melt completely and start to sizzle (important step - watch video in this post for an example).

Add popcorn kernels and stir so all kernels are coated with oil.

Place glass lid on top and hold, popcorn will begin popping in about 2-3 minutes, turn off when 2/3 of kernels have popped and they will continue to pop but not burn.

Carefully remove lid. Pour out of pot when done so they don't continue to cook. Salt and you're done!
Video
Nutrition Facts
Instant Pot Popcorn
Amount Per Serving (2 oz)
Calories 215
Calories from Fat 144
% Daily Value*
Total Fat 16g 25%
Cholesterol 15mg 5%
Sodium 52mg 2%
Potassium 56mg 2%
Total Carbohydrates 15g 5%
Protein 2g 4%
* Percent Daily Values are based on a 2000 calorie diet.