This Instant Pot apple crisp recipe is amazing! Tastes like copycat Cracker Barrel baked apples we love but made in less than 10 minutes total. Warm cinnamon apples coated with a ooey gooey brown sugar glaze your family will go crazy over for sure. Try this homemade pressure cooker fruit dessert this week!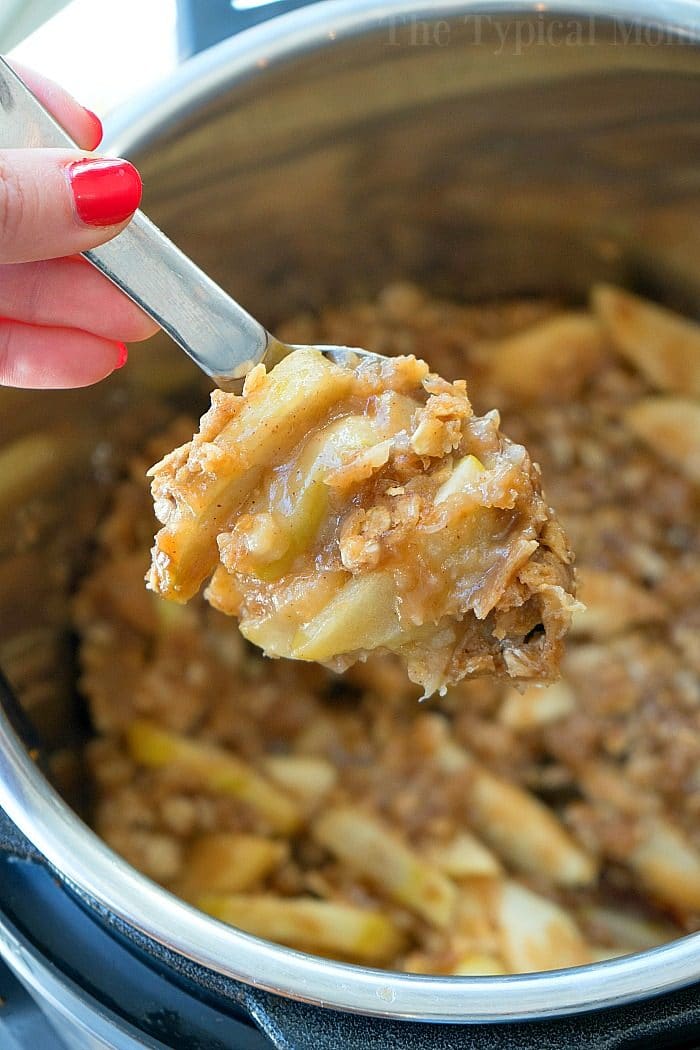 We love any kind of fruit dessert, and I love when I can make a homemade version in no time at all. That is where this Instant Pot apple crisp recipe comes in. It's one of our favorite naturally sweet treats listed on my long list of easy Instant Pot recipes! (affiliate links present)
Ninja Foodi Apple Crisp
I have used a similar recipe and have just adjusted the time to make Instant Pot applesauce too! I will show you how to make both of them here.
We share our crockpot apple crisp here so no matter what you have you can enjoy this. Want to make this as an easy Ninja Foodi recipe or have a Crockpot Express brand instead? NO problem, they all work basically the same and have the same functions.
FIRST – You should sign up for my free newsletter so you get new posts emailed to you twice a week and never miss out on anything! Now let's start with a few basic tips:
Make sure to Bookmark our InstaPot recipes page. We add new ones each week!
Then PRINT this —–> Instant Pot cooking times cheat sheet that will help you understand how long meat, vegetables and beans take to cook in your pressure cooker.
For reference, this is the pressure cooker I have (a 6 quart) and use for all recipe creations.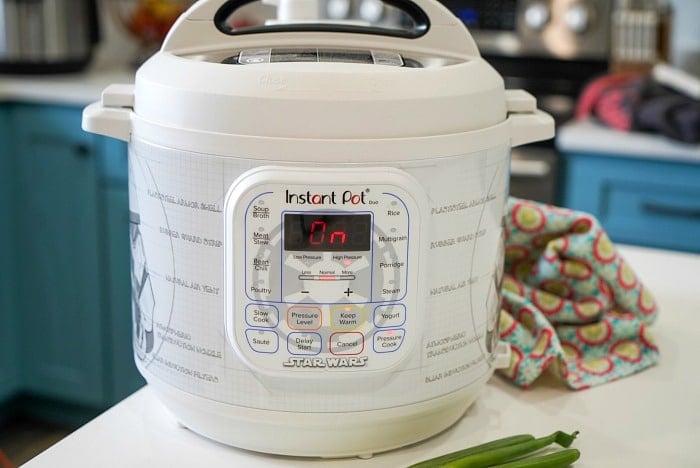 Apple Crisp in Instant Pot
There is a basic recipe we love when we make homemade apple crisp.
Depending on how soft or firm you want your apples you can just use our recipe. Just adjust the time according to your preference.
I have found after making this Instant Pot apple crisp 4 different times you need to use the right apples.
Smaller green apples are best because they are a bit firmer when they are done. You can see about the size we like here. Larger they are the more moisture they have inside and don't hold up quite as well. Believe me as I go on and on about these specifics as I took weeks and weeks to perfect this Ninja foodi apple crisp recipe.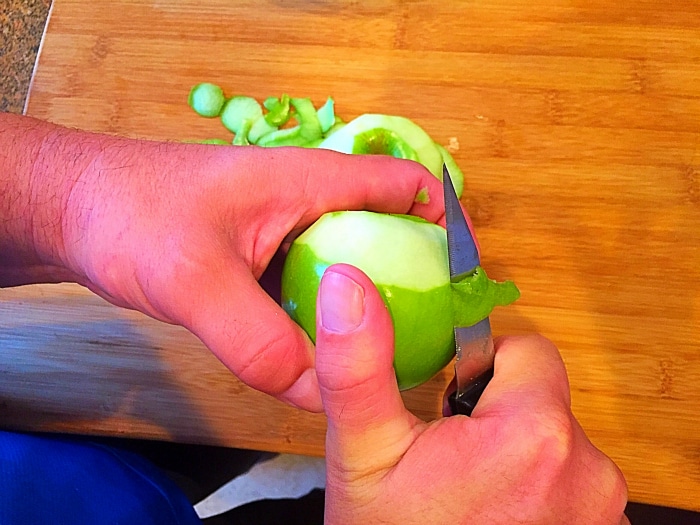 Instant Pot Apples
I bought large green apples thinking they would be the same consistency and they weren't. They turned out much softer. Either way you need to make the slices very thick or cube them to get it just right.
If you prefer really soft baked apples just add another minute on to this recipe.
But I really recommend small green apples cut into thick slices for the best results. They sell bags of about 10 of these in most grocery stores, already bagged.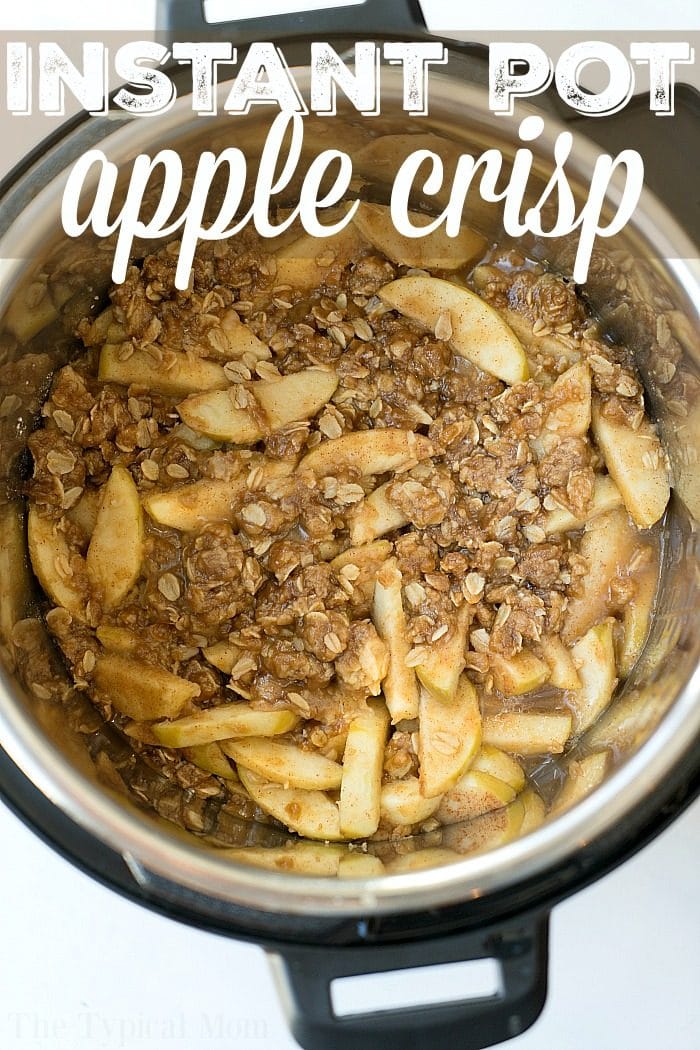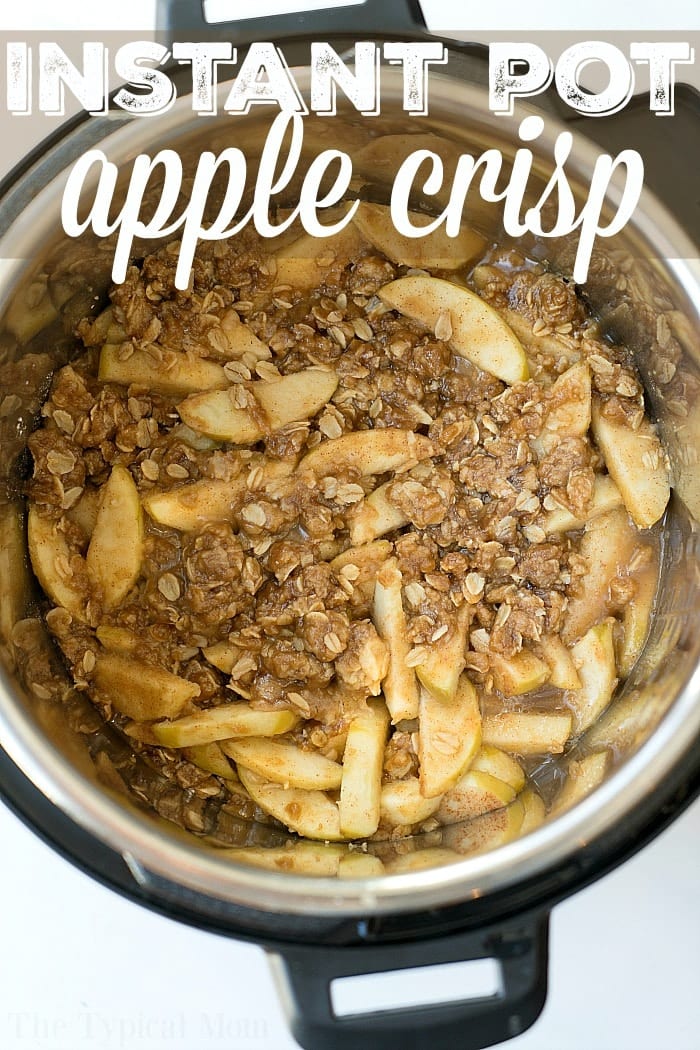 If you have ever had Cracker Barrel baked apples these Instant Pot apple crisp reminds me of those.
All 5 of us just love them when we are able to visit for dinner so I really wanted to try and come close to that version. Using my original recipe in the crockpot I was able to make just a few adjustments to create the perfect pot full….as you see here below.
I love texture, the rolled oats provide that for this recipe.
Do not use instant oats as they will become too mushy and won't work well.
You don't need a lot of liquid as the apples produce juice as they bake. I used water for the liquid but you could use a bit of apple cider and the rest water in this Instant Pot dessert.
If you've never had apple crisp it does come in many forms.
In the oven it creates a bit of a crunchy topping but in the crockpot or pressure cooker it doesn't get crispy…but it's still wonderful (we prefer it this way).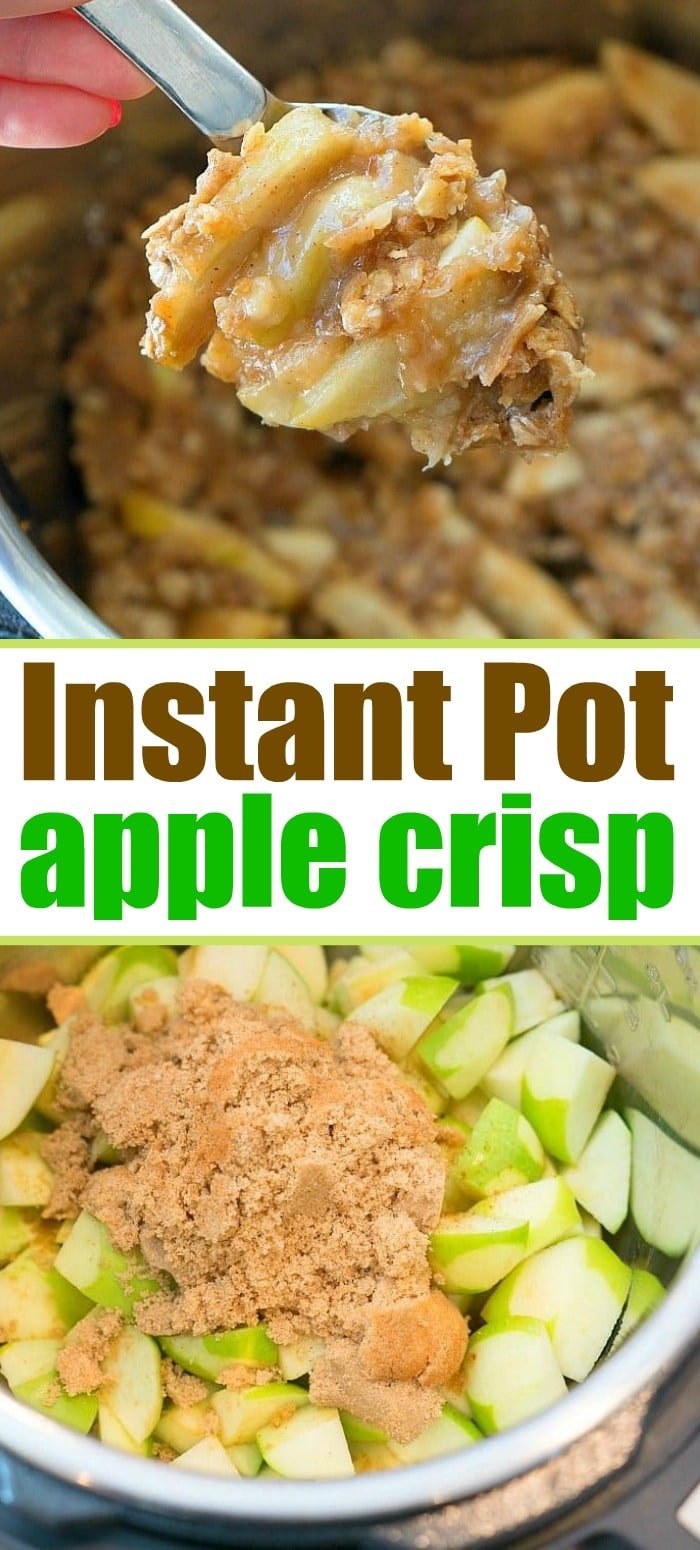 This is what you'll need to make our Instant Pot apple crisp
Instant Pot – this is the one I have

I HIGHLY suggest you get a non stick pot too!

Small green apples cut into thick slices or cubed
Brown sugar

use 1/2 c. Splenda brown sugar for sugar free apple crisp
alternative for diabetics

Flour
Butter
Water – can use half water half Apple cider
Oats – not instant – this is the one we buy
Cinnamon and nutmeg
Vanilla ice cream and/or whipped cream is optional at end served on top. It saves well in the fridge too and have been guilty of enjoying leftovers for breakfast too.
You need to stand right next to this pot once it reaches pressure. The reason being is that one minute is exact! If you want them to keep some texture I have used zero minutes as well. That doesn't mean it doesn't cook, just means that it "cooks" while pressurizing but not enough time to completely break them down.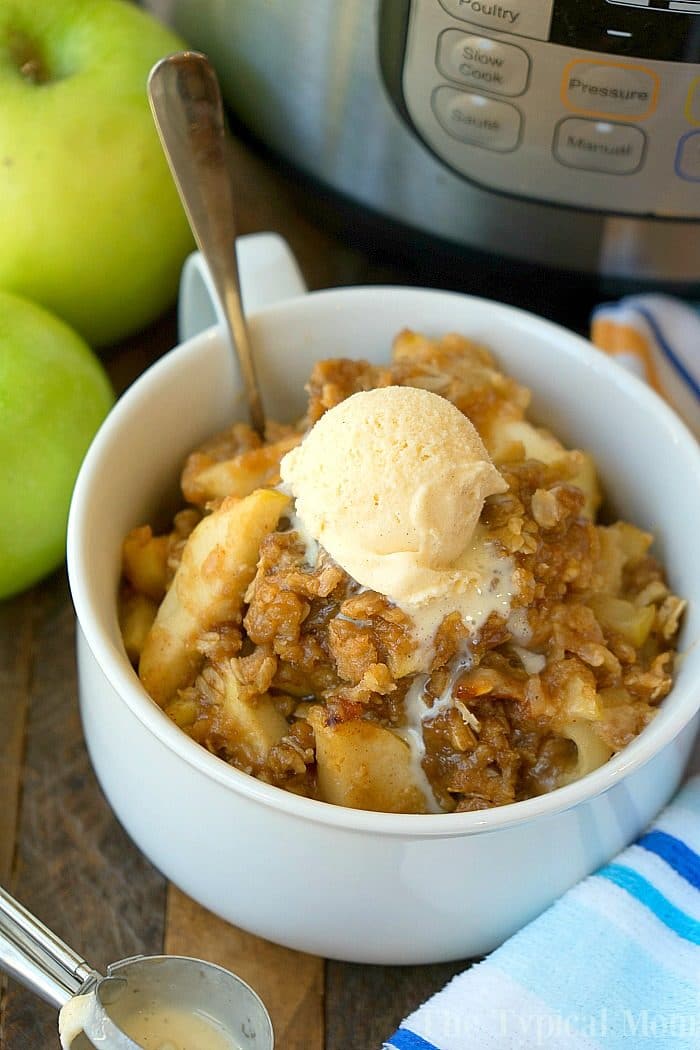 The best way to achieve the right consistency and tenderness to the apples was to set on high for 1 minute.
They are BEST when eaten immediately so what I do is when they're done I scoop them into a serving bowl, throw my pot in the sink with some water to soak.
If you aren't going to serve your Instant Pot apple crisp immediately then you still need to take out of the pot immediately! If you don't they'll continue to cook and soften too much.
You can prepare these pressure cooker baked apples with the crumble topping or without, great either way.
Here is a photo when I cubed my apples so you can see how large they need to be or they will become too soft.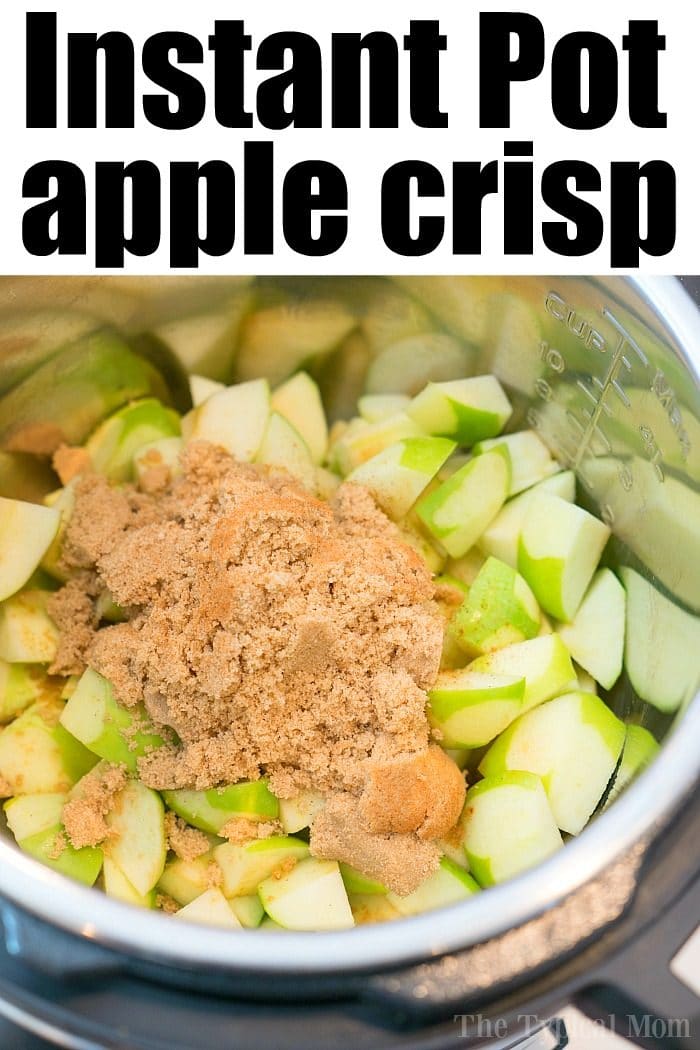 Tips for a successful pot of Instant Pot apple crisp
I remove 1/2 the skin using an apple peeler (do not remove more or they will get mushy)
With the stem facing up I use a knife and cut the 4 sides off leaving the core remaining to throw away
I cut each piece in half, and then half again or use an apple cutter to make very large thick slices (the bigger the better, see photo below)
As soon as it beeps after 0 or 1 minute do a quick release and lift off lid. 1 minute will make it softer.
Quickly add crisp mixture and when it's on saute for just 1-2 minutes do not stir too much, just push crisp mixture down and allow to bubble. Too much stirring will break down apples
After 1-2 min. on saute turn the pot off immediately once sauce thickens or it will continue to cook and get mushy
Instructions below are for making them directly in your pot, pot in pot directions are below recipe card if you'd rather make it that way.
Watch this video to see how easy these Instant Pot baked apples are to make: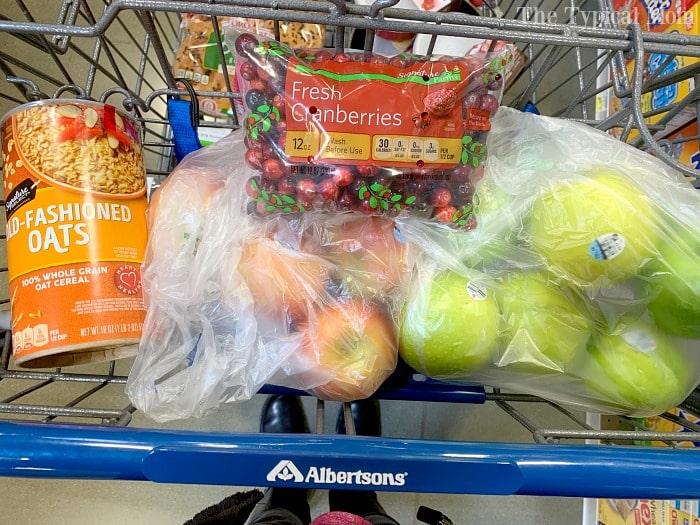 Pressure Cooker Apple Crisp
For the holidays baked apples and cranberries are delicious too. This is the only difference you will make for this combination.
Follow the Instant Pot apple crisp recipe below (in the printable recipe card)
In step 2 add 3/4 c. fresh cranberries
If you cook it down further this makes a batch of our Instant Pot cranberry applesauce which is a healthy and yummy snack too.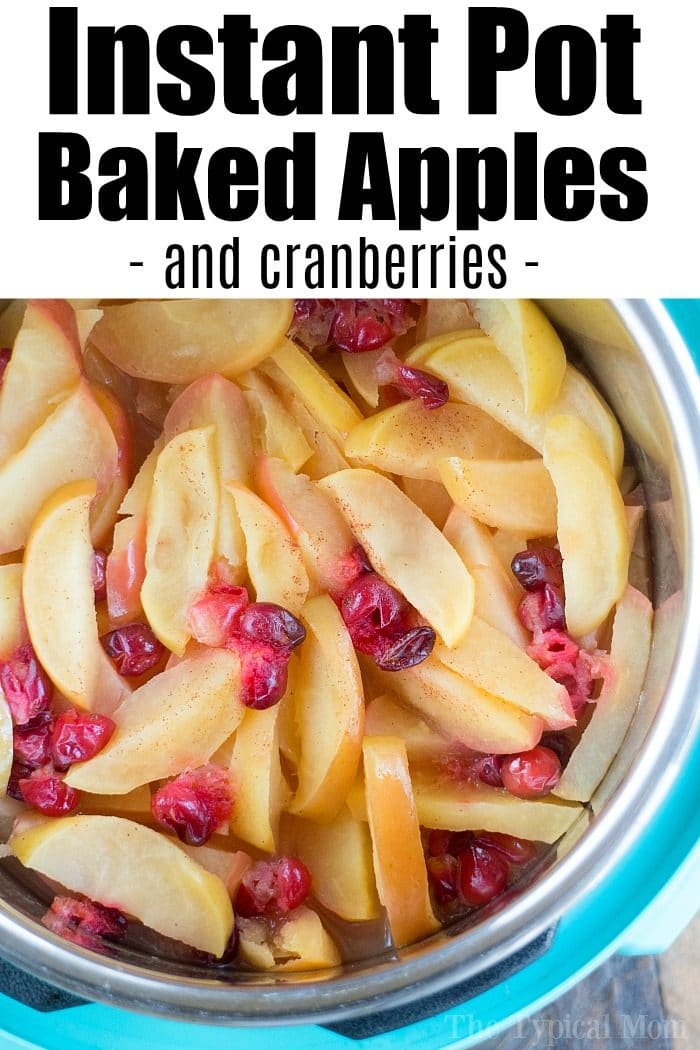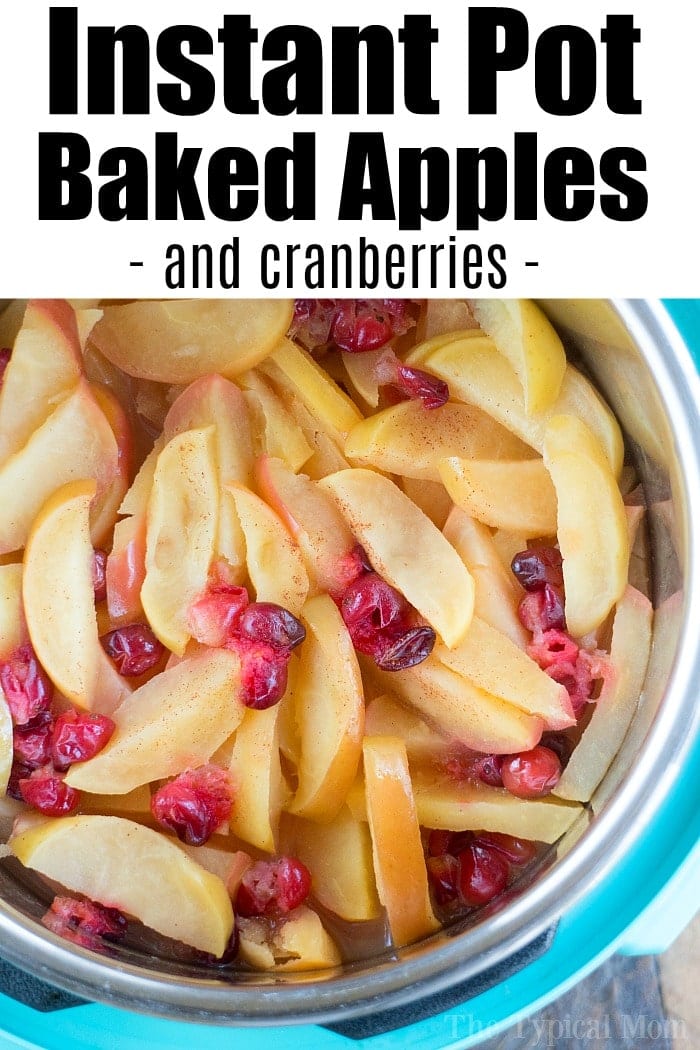 Steps for making apple crisp in your pressure cooker
Step 1 – Peel your apples a bit. Like I state above do not remove more than half the skins or they will become too soft. You can leave all the skins off too if you prefer. Small green apples are your best choice. Put apples into your pressure cooker.
Step 2 – Add your cinnamon, nutmeg, vanilla, brown sugar and water into your pot. Stir together so apples are coated.
Step 3 – Pressure cook for zero or 1 minute, NO longer!
Step 4 – In a bowl mix together your flour, brown sugar, melted butter, cinnamon and old fashioned oats. Do not use instant oats.
Step 5 – Do a quick release when done and lift lid immediately. Turn pot off. Sprinkle in this crisp topping mixture and set to saute.
Step 6 – Allow to bubble and thicken. This will take only about 1 minute and then immediately pour everything into a bowl. If you leave it in the pot your apples will continue to cook and get mushy. Top with whipped cream if desired.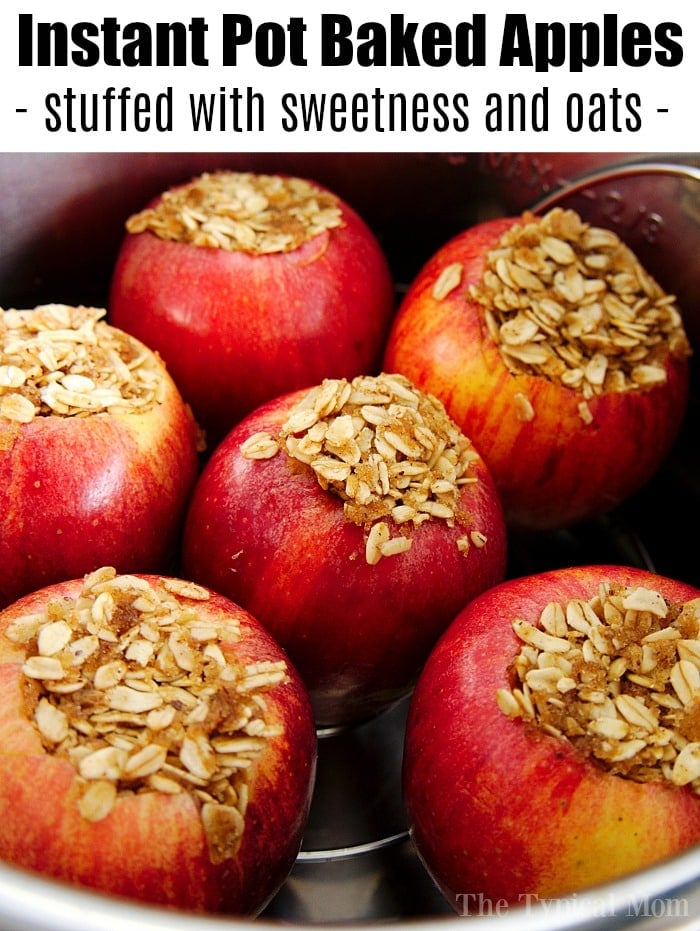 After this enjoy our other Instant Pot dessert recipes like these pressure cooker baked apples you see above.
Our air fryer apple crisp and cast iron apple crisp are the bomb too!
Want to see a few of my favorite things that I am totally obsessed with?? Take a peek and see how many you might already have…twinsies!
Looking for more easy family recipes and tips? LIKE The Typical Mom Facebook page?
Then sign up for my free newsletter, and follow me on Pinterest! 😉
***** If you LOVED this recipe give it 5 Stars below and let everyone know what you thought about it. 😉
Instant Pot Apple Crisp
This Instant Pot apple crisp recipe is amazing! Tastes like copycat Cracker Barrel baked apples we love but made in less than 20 minutes total. Warm cinnamon apples coated with a ooey gooey brown sugar glaze your family will go crazy over for sure. Try this homemade pressure cooker fruit dessert this week!

Instructions
Remove skins (no more than 1/2 or they'll get mushy) from apples, and but them into THICK cubes or thick slices if you'd rather.

Put sliced/cubed apples into your Instant Pot (very thick slices, and large cubes). Then add your 1 tsp. cinnamon, a pinch of nutmeg if you would like, vanilla, 1 c. brown sugar, and water into your pot and stir together.

Put lid on and close steam valve. Set to manual, pressure, high for 0 or 1 minute. If you are unsure if your apples are large enough, or want to ensure they don't get too soft then set to time to 0. This doesn't mean it won't cook, still takes time to pressurize so it will work well. 1 minute if you want it a bit softer.


While that's cooking mix together your old fashioned oats, 1/4 tsp cinnamon, 3 tbsp melted butter, 1/4 c. flour and 1/2 c brown sugar until combined well.

Do a quick release, then lift lid.


Set your Instant Pot to saute and sprinkle your crumble mixture into your pot, gently push down into liquid allowing it to bubble and thicken with the addition of the flour and other ingredients (about 1 min).


Stir very gently maybe 2 times during the 1-2 minutes it begins to bubble on saute (more will break up apples).

After that time turn pot off immediately so apples don't continue to cook. Ideally transfer to another dish and serve immediately for best pressure cooker baked apples ever.
Nutrition Facts
Instant Pot Apple Crisp
Amount Per Serving (4 oz)
Calories 562
Calories from Fat 126
% Daily Value*
Fat 14g22%
Cholesterol 36mg12%
Sodium 147mg6%
Potassium 389mg11%
Carbohydrates 110g37%
Protein 2g4%
Vitamin A 565IU11%
Vitamin C 11.7mg14%
Calcium 86mg9%
Iron 1.5mg8%
* Percent Daily Values are based on a 2000 calorie diet.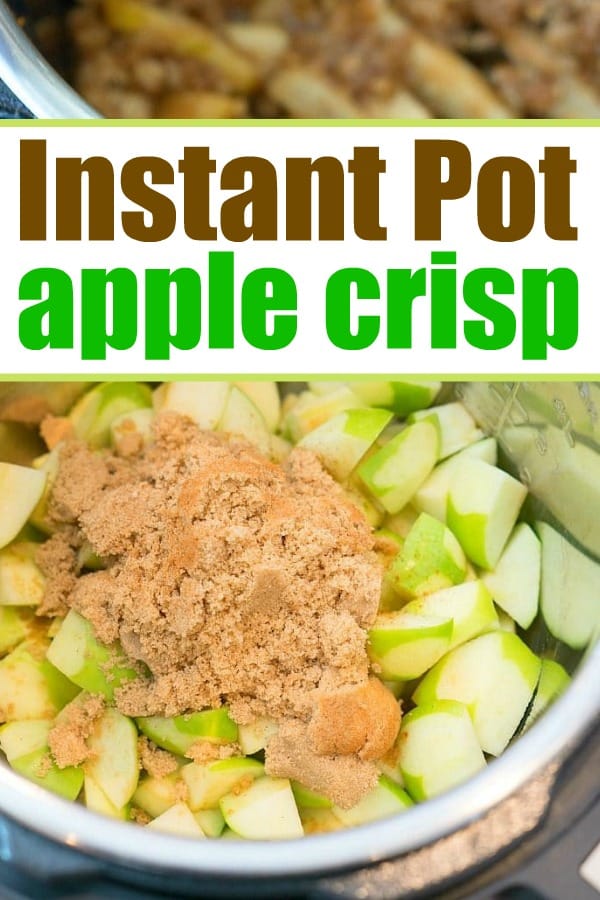 If you want to make a smaller batch using the pot in pot method follow these directions:
Peel and slice 4 small green apples, slices 1/3″ thick or so (thinner the softer they will be etc…)
In a bowl combine

Sliced apples
1/2 c. brown sugar
1/4 c. old fashioned oats
1/4 c. flour
1.5 tsp. cornstarch
1/2 tsp. cinnamon

Toss together so all apples slices are coated with mixture
Pour into this large pot that fits inside either a 6 or 8 qt. Instant Pot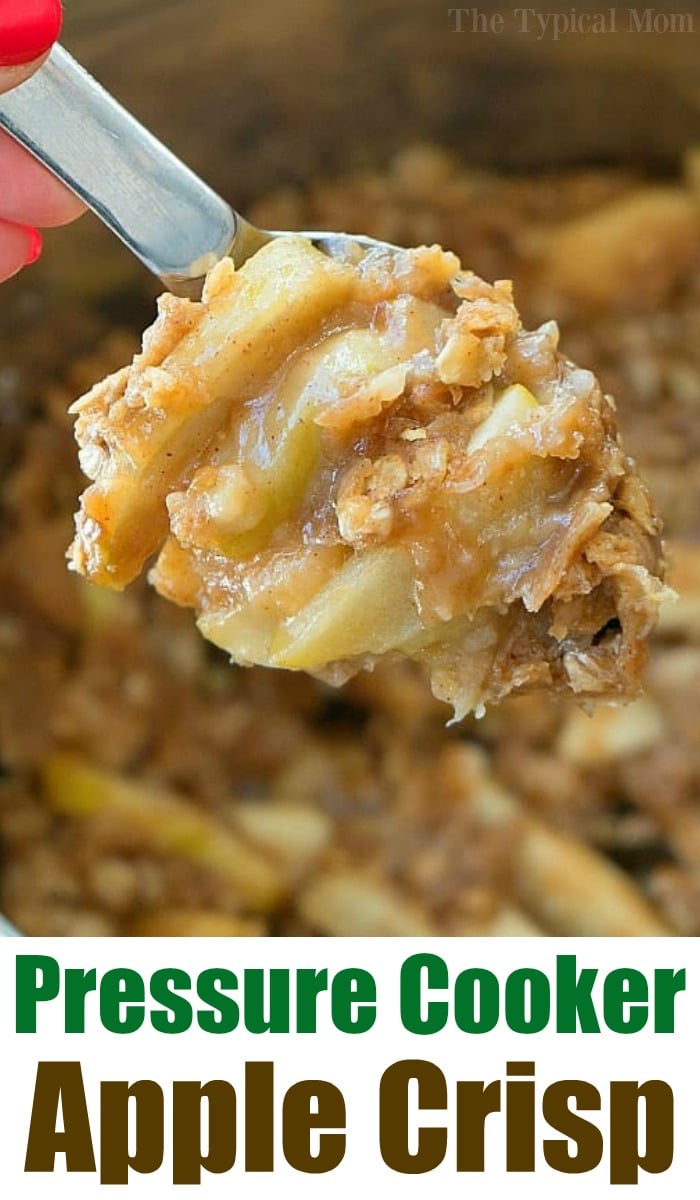 In a small bowl mix together (you can omit this if you want it as is and don't want an additional topping)

3 tbsp melted butter
1/4 cup flour
1 quarter cup brown sugar
1/4 c. oats

Stir well and sprinkle on top of apples in pot
Pour 1/3 c. apple cider (or water) on top of everything
Cover tightly with foil
Put trivet into Instant Pot or pressure cooker + 2 c. water
Lower pot with apples on to trivet
Set to manual, pressure, high for 35 minutes
Enjoy (if they aren't soft enough for your taste you can recover, and cook again on high for another 3-5 minutes and check again….texture for this is personal preference, we like them a bit firmer)