This Instant Pot cranberry applesauce is a great Thanksgiving or Christmas side dish or snack throughout the year. It's a great sweet homemade treat.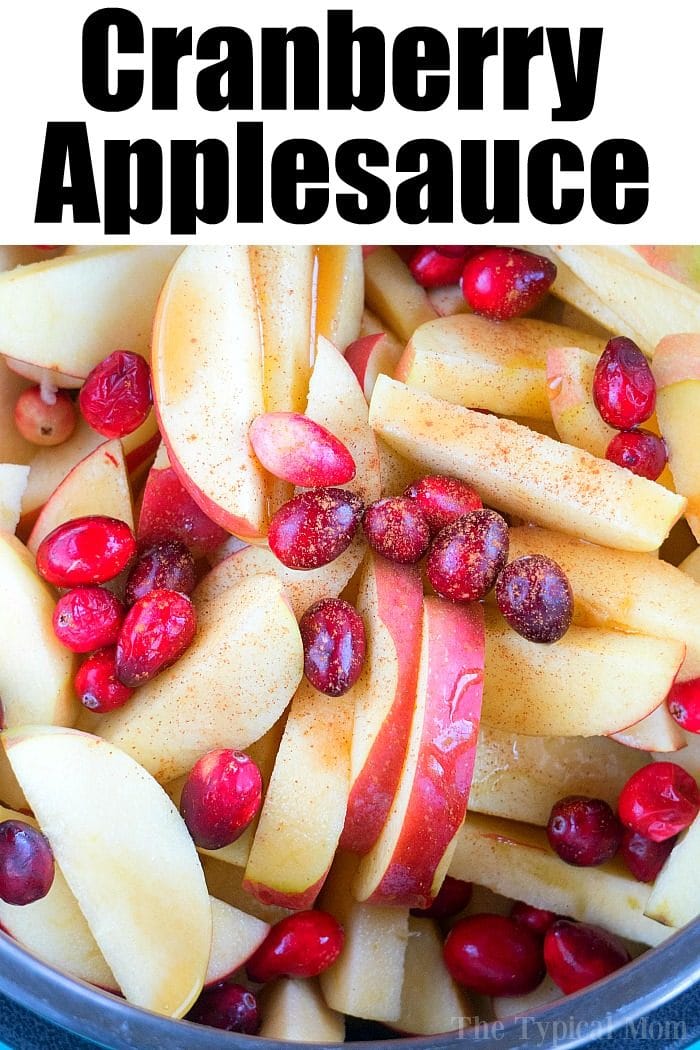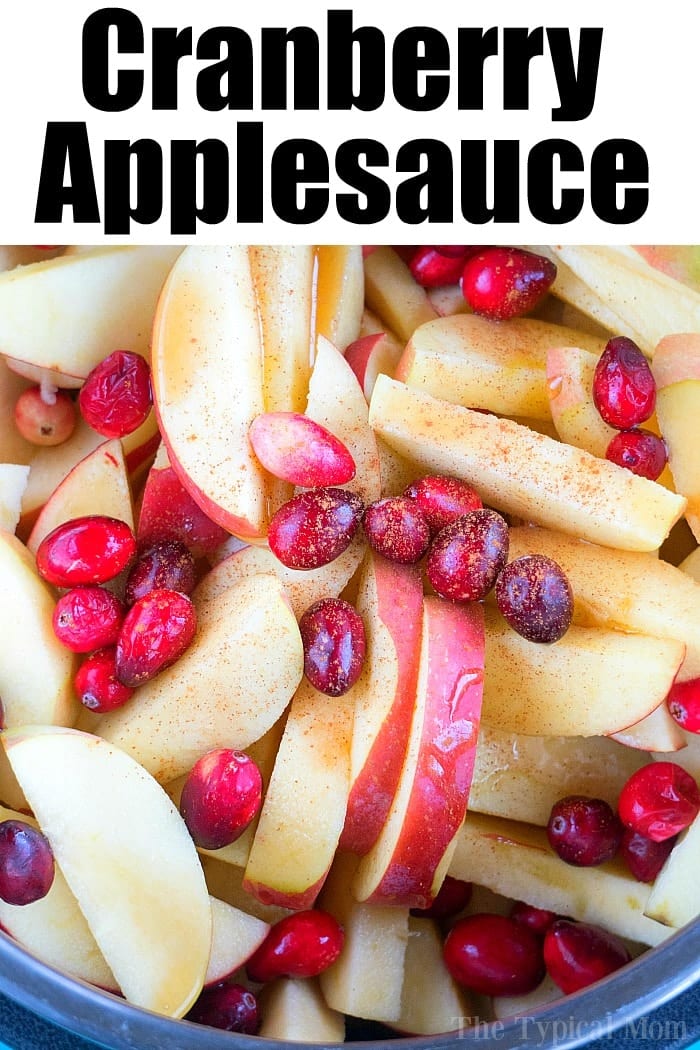 We've been all about easy cranberry recipes this week because the holidays are coming! This Instant Pot cranberry applesauce came about after apple picking and boy was it a surprisingly delicious treat we will now make year round for sure. It's now on our list of 101 + easy Instant Pot recipes here on The Typical Mom blog.
Looks so bright and fun right??!!
Well like I said, we went apple picking the other day here in Idaho and brought home 65 lbs. of apples from a local farm. They had several types but Fuji are my favorite so most of them are that variety.
May look crazy but we do have a cold room so they'll be good for a few months stored there….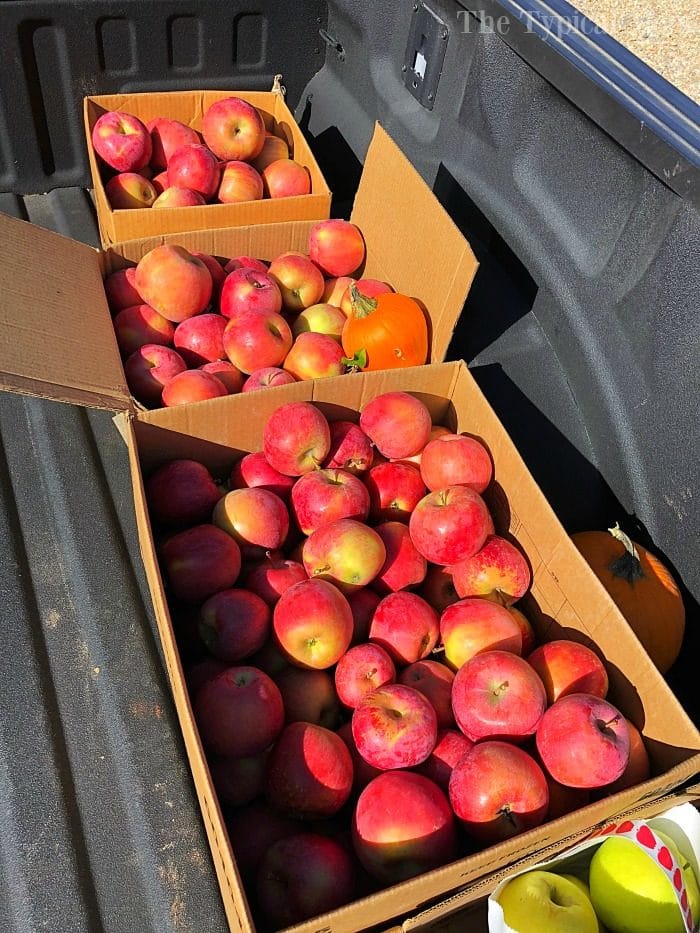 We made a lot of easy apple recipes with our bunches (and will continue to do so since we aren't even halfway through this batch) like:
I had more left so I continued to think outside of the box when it came to my leftover cranberries since I hate wasting food.
Here's what I tried, it was merely a test and I wasn't sure if it would turn out well. I have to admit, I think I like it better than the plain Instant Pot applesauce I made in the past!
It's so pretty when you're making it…..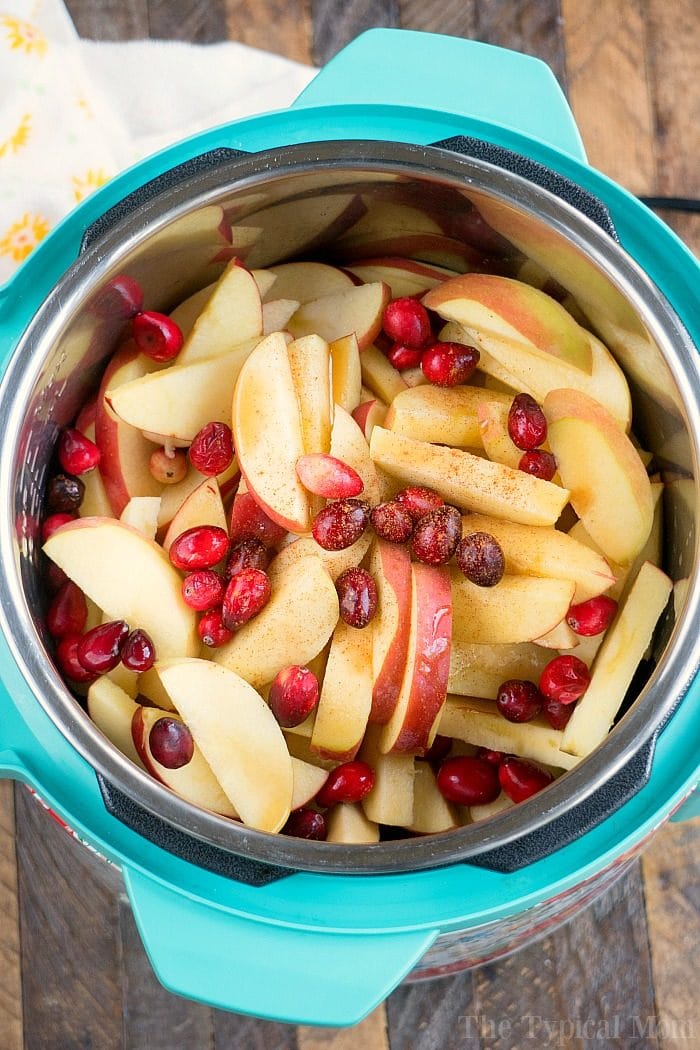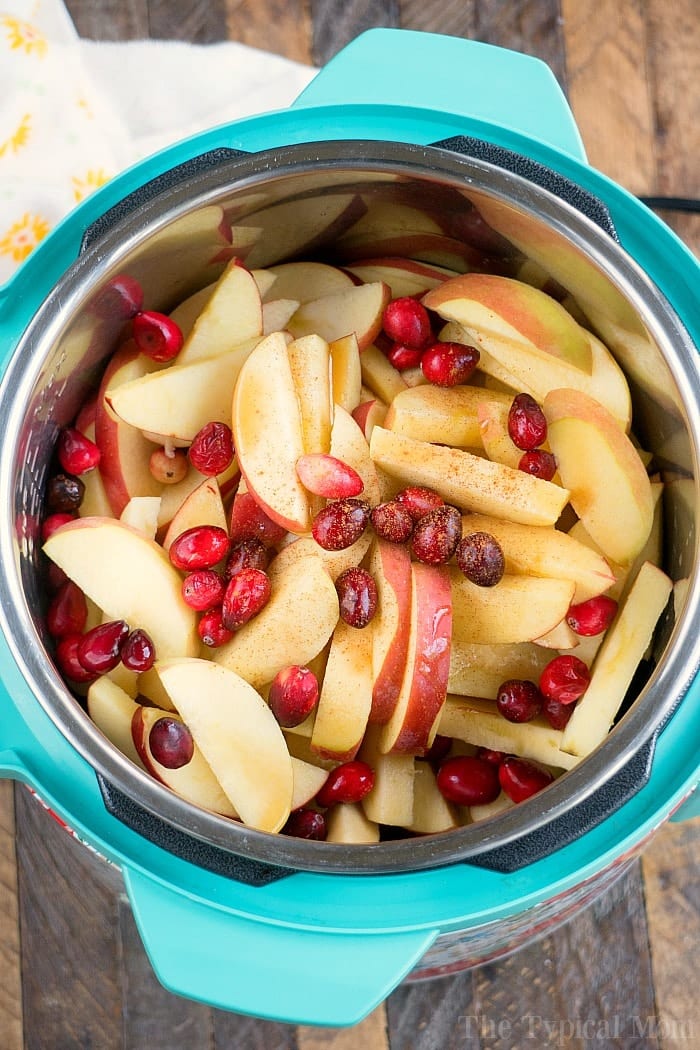 Just a few minutes with some added sweetness from brown sugar and maple syrup and it was done. When I first judged the time it didn't come out tender enough so it was more like a cranberry Instant Pot apple crisp of sorts (which you could totally do).
So I added a few more minutes and came up with the perfect timing that I share below in my recipe card for Instant Pot cranberry applesauce.
I will say the timing does vary according to:
How large your apples are
How thick you slice your apple slices
What variety of apples you use

Granny smith are the firmest
Fuji are the 2nd firmest but are sweeter than green apples
Any other variety will be on the softer side and take less cook time

How chunky you want your applesauce to be when it's done
If you like homemade chunky applesauce
Use Granny smith or Fuji apples
Slice your apples thick
Consider keeping half the skin on (I did this below, you can see a bit, gives it a bit more texture)
Use the designated 1/3 c. of liquid (apple cider is my preference over water)
If you like a recipe for smooth applesauce
Use red delicious or pink lady apples
Slice your apples on the thinner side
Remove all of the apple skins
Use up to 1/2 c. of liquid

more liquid will thin our your applesauce, good if you're making baby food in your Instant Pot (wouldn't recommend using cranberries if you're making baby food though)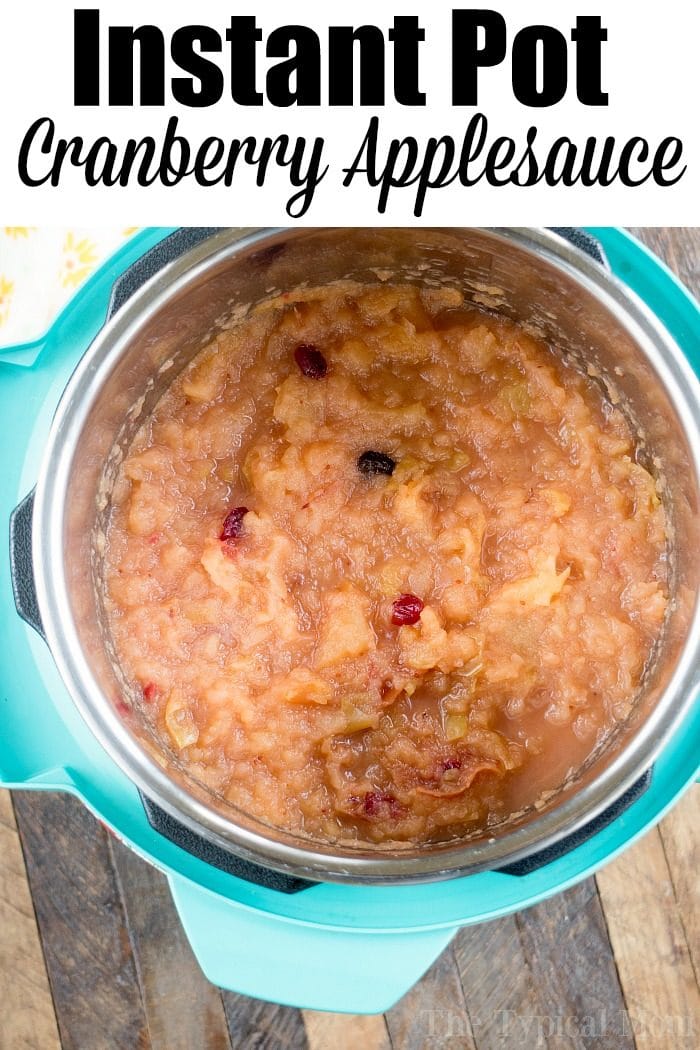 Ok so Instant Pot cranberry sauce doesn't look as fabulous when it is cooked vs. the pre photo but oh is it good!
I leave a little tart left which I recommend. If you want it sweeter then follow my recipe below and at the end taste it and if you want it a tad sweeter then add either another tbsp. of maple syrup or a tbsp. or two of brown sugar, mix and taste again.
I bet you will like our pressure cooker cranberry applesauce just as it is though.
It saves well too, so make a large batch like we did! Store it in a large mason jar and it will keep in your fridge for at least a week to enjoy.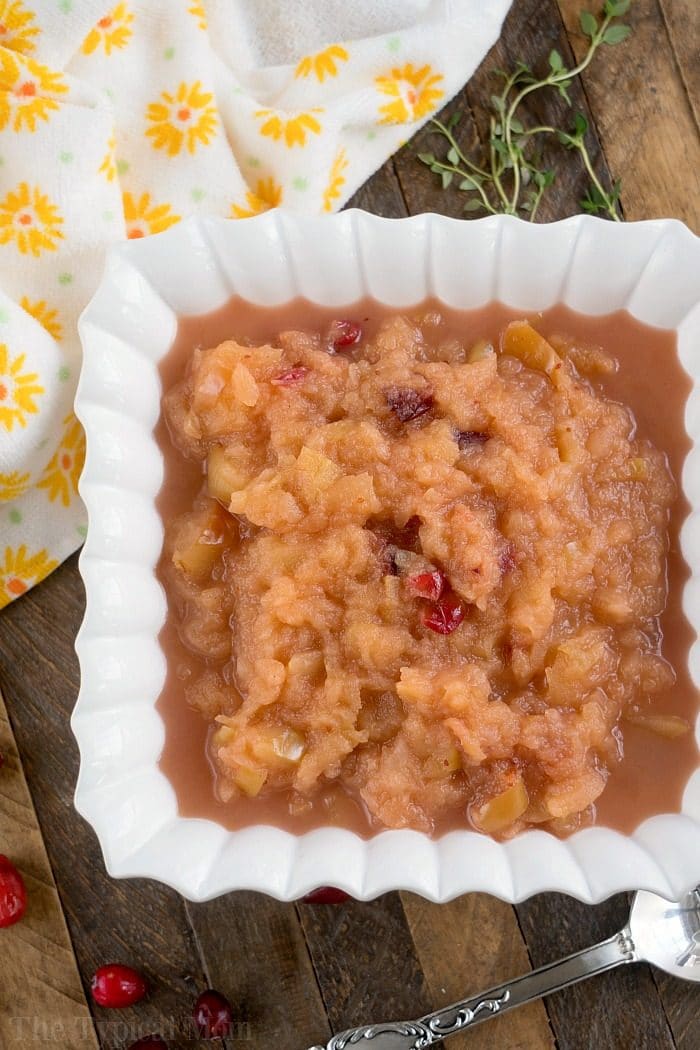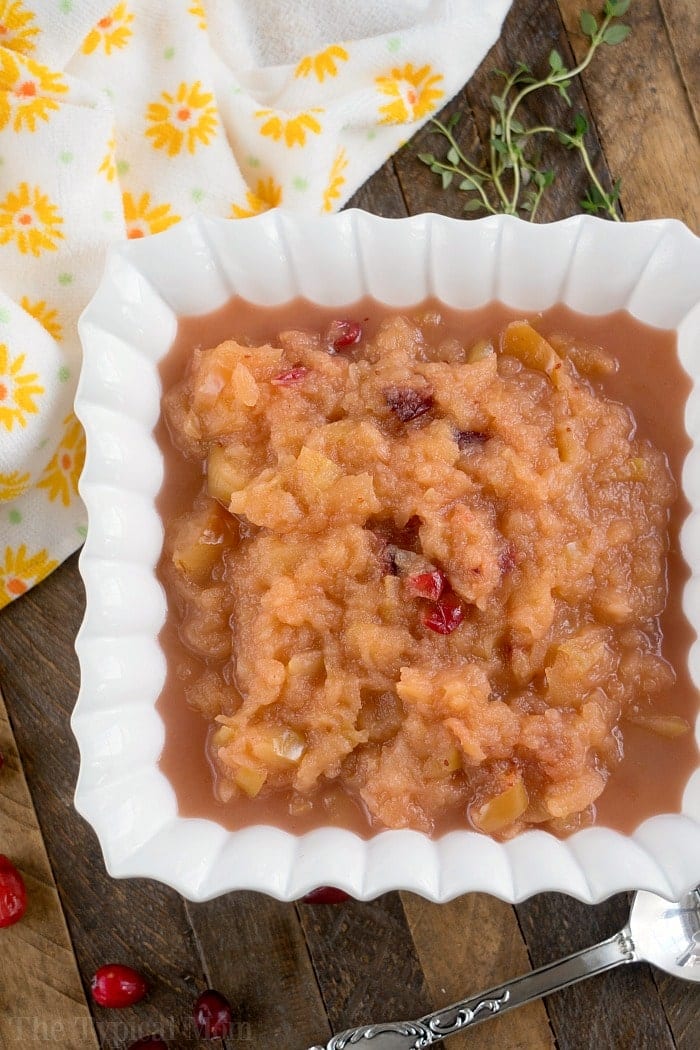 This is what you need to make Instant Pot cranberry applesauce
Apples – Granny smith or Fuji is what I recommend
Fresh cranberries
Apple cider – cold variety
Maple syrup
Butter
Brown sugar
If you have more leftover cranberries try some of our cranberry recipes for Thanksgiving, or add some to our crockpot apple crisp recipe.
Here's the printable recipe
Instant Pot Cranberry Applesauce
This Instant Pot cranberry applesauce is a great Thanksgiving or Christmas side dish or snack throughout the year. It's a great sweet homemade treat.
Instructions
Core and skin all apples (sometimes I leave half the skin on for texture). Cut into thick slices and put into your Instant Pot.

Pour your apple cider in, drizzle on top your maple syrup, pour melted butter on top, put in cranberries (can increase to 1 cup if desired), and sprinkle your brown sugar on top.

Close lid and steam valve and set to high for 9 minutes.

Do a quick release when done.

Use an emersion blender to smooth applesauce or if you want it chunkier (like we do) just use a whisk inside your pot to break down apples but leave it as thick of a consistency as you'd like.
Nutrition Facts
Instant Pot Cranberry Applesauce
Amount Per Serving (3 oz)
Calories 151
Calories from Fat 18
% Daily Value*
Fat 2g3%
Cholesterol 6mg2%
Sodium 24mg1%
Potassium 221mg6%
Carbohydrates 34g11%
Vitamin A 165IU3%
Vitamin C 9.2mg11%
Calcium 20mg2%
Iron 0.3mg2%
* Percent Daily Values are based on a 2000 calorie diet.
For more easy recipes, tips and free printables please LIKE The Typical Mom on Facebook and follow me on Pinterest! You can also sign up for my free weekly newsletter which is packed with goodies I know you'll love. 😉