Air fryer apple crisp is amazing!! Skip the oven and make this amazing fruit dessert in individual mugs tonight. Fall comfort food at it's finest right here.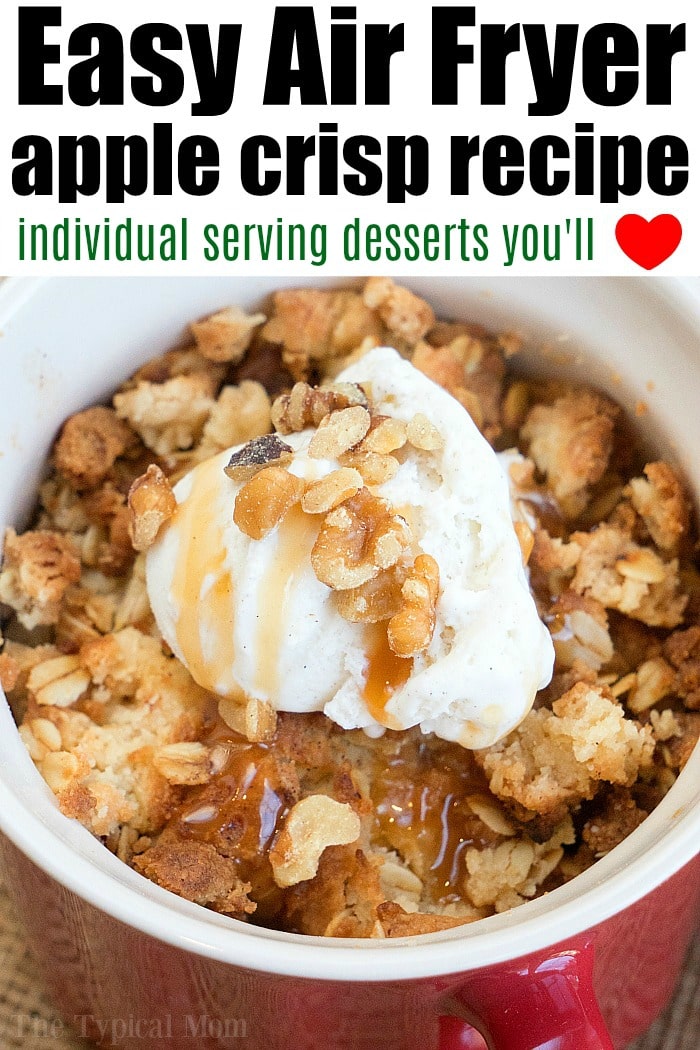 I think this air fryer apple crisp is going to blow you away!! Special thanks goes out to Albertsons for sponsoring this post. Just one of our favorite easy air fryer recipes. (originally published 10/19, affiliate links present)
If you love cinnamon baked apples but don't want to baby it on the stovetop or turn on your oven, this recipe if for you! 😉
Great single serving quick and easy dessert you'll love.
If you love air fryer recipes too, here are some resources to start with: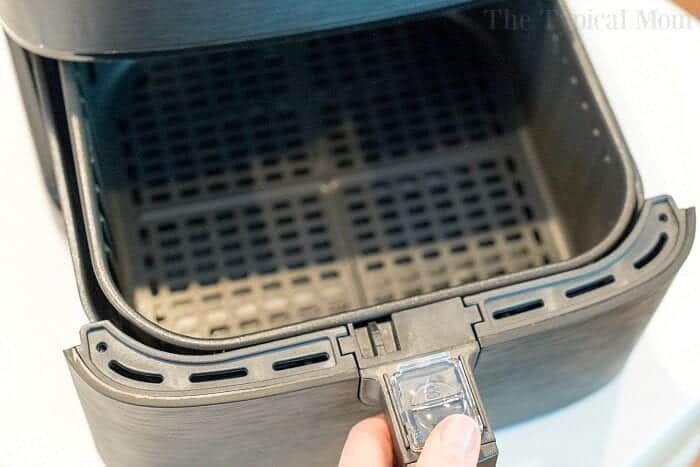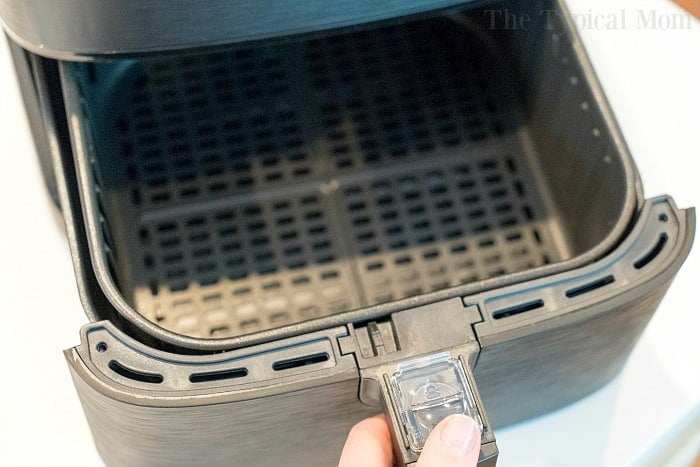 I wish you could smell and taste the goodness through the screen because if you could you'd run to the grocery store to get what you needed right now.
When I step into Albertsons on Broadway, they're filled with decorations, holiday activities, and treats like this!! These caramel apples are what inspired me to make this.
Easy apple crisp recipe
Ok so I bought 2 of these because I just couldn't resist but I did share, a little. 😉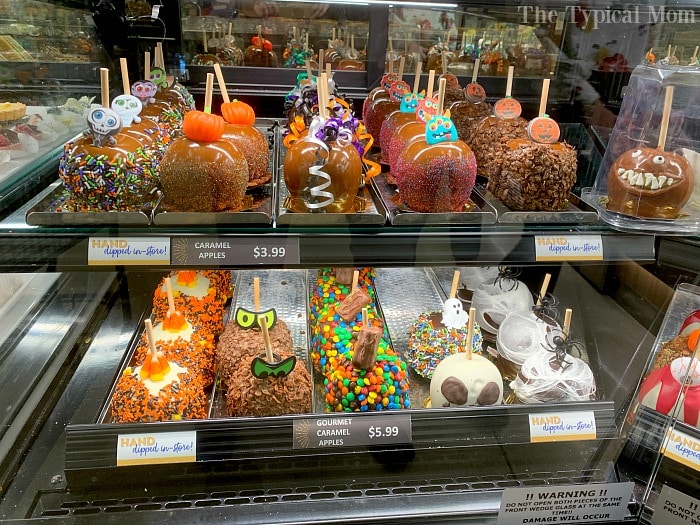 This store always offers up a lot of holiday activities which we love! Love to decorate cakes during the holidays but need some guidance? They offer classes for that.
There are lots of treats throughout the aisles too. If you're there during Halloween time and your kids want to dress up.
They can get treats by heading down each aisle on the 31st!
It's always a lot of fun to go as a family, and see friends throughout the store. 😉
Apple crisp in the air fryer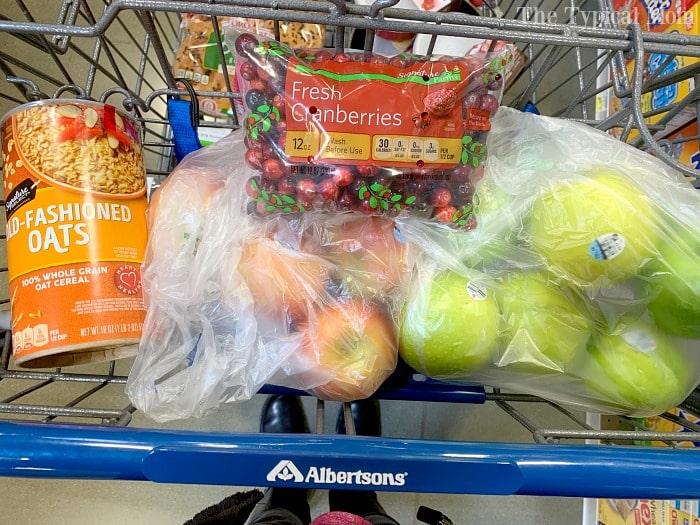 First let's head to their produce section, which is HUGE by the way. Well, it is the largest Albertsons in the world so that would be expected right?? I want you to grab:
Fuji and/or Granny Smith apples

green will be firmer
I used Fuji for this and our air fryer apple chips
You'll need 1 large apple per 18 oz. mug full

Fresh cranberries can be found there too – these are optional but a fun holiday add in
Old fashioned apple crisp
2 – 18 ounce oven / air fryer safe mugs can be found with the bakeware

if they're out you can grab a few here too
you can grab a Ninja Foodi in that spot too if you don't already have one so you can make this
any brand air fryer with a large basket will do though
We aren't brand specific except to say that I love this square basket version because things just fit better.
Brown sugar and a bit of white sugar
Old fashioned oats – don't use quick oats
All purpose flour – remember how to measure flour properly
Cinnamon and nutmeg
Butter
Apple cider or water
I like adding a small handful of raisins and chopped walnuts but those are optional as well
What are the best apples to use in apple crisp?
That depends on your preference really.

if you like your apples to remain a bit firm when done choose Granny Smith
prefer them a bit firm but still quite tender and on the sweeter side, pick Fuji (my favorite)
use half and half if you like too!
What is the difference between apple crisp and apple crumble?
A crumble topping rarely includes oats or nuts, ours does. Instead it usually has a streusel combination of flour, sugar and butter.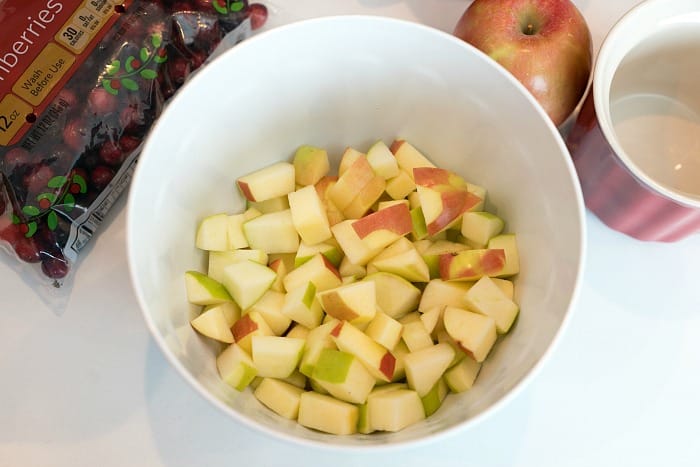 Yes I have made this in every way possible, even baked apples in the oven!!
Air fryer apple crisp
My first batch used a combo of both types as you see in the photo above.

I peeled half of the skin off
This turned out firmer than I like it, but if that's what you're seeking I'd make it the same way
Then I made it another way so I could compare…and enjoy it a bit more, let's be honest here.
The second batch used only Fuji apples.

I peeled the entire apple this time and cut into smaller pieces, diced really
This version was perfectly soft and tender just like I love it, this recipe is in the card below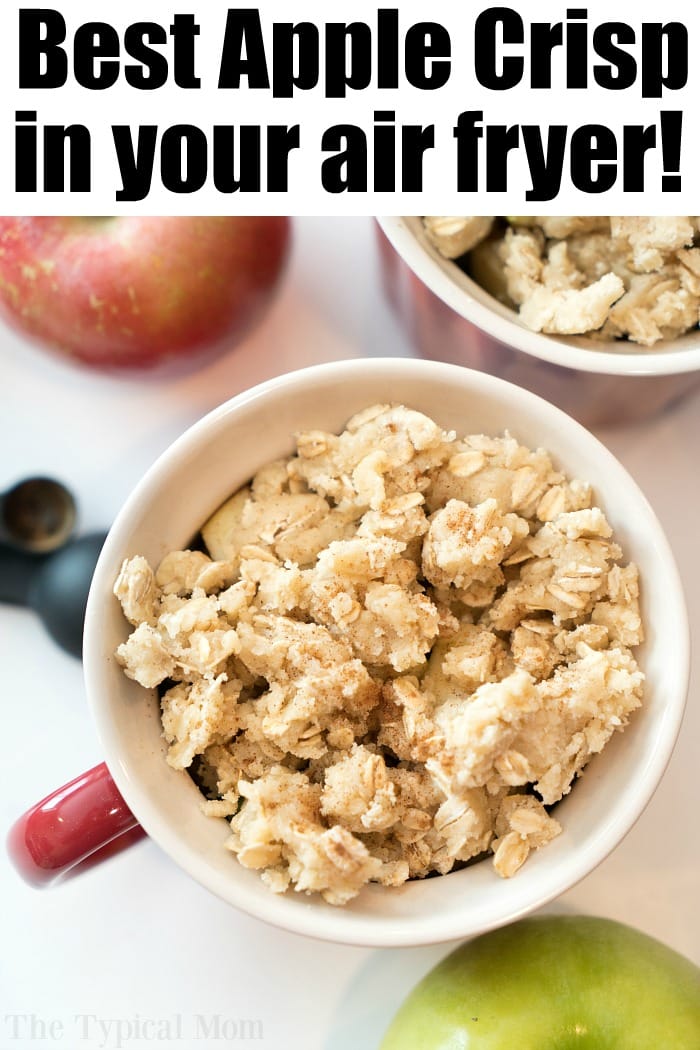 Should you cover apple crisp when baking?
If the apples are still too firm for your liking but your topping is still brown, cover the crisp with foil so the apples will bake without your topping burning.
You don't want overcooked top and under baked fruit. This is a great way to prevent that. You can also cover with foil and the beginning and remove at the end like we did here.
When making apple crisp in the air fryer you'll need to cover for the initial 16 minute cook time to soften your fruit.
It only takes 3 minutes for the crumble topping to lightly brown and that isn't long enough to get tender apples.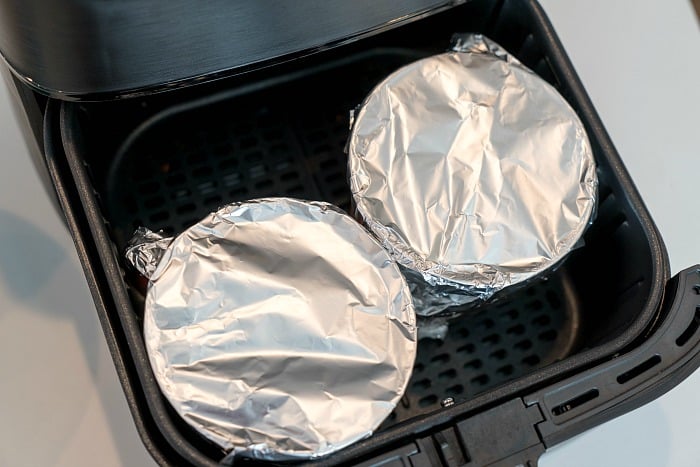 So the steps are quite simple really:
Pick up all the items you need at Albertsons on Broadway or Market Street locations, and don't forget the vanilla ice cream. That takes it over the top I tell you!
Time needed: 19 minutes.
Air Fryer Apple Crisp
Prepare ingredients

Peel your apples. Slice the sides off of the cores and dice them small pieces, the smaller the more tender they will be.

Add the apples into a large bowl with some sugar, cinnamon and flour and toss so they're coated.

Fill

Divide apple slices into 2 oven safe mugs and create your crumble in a bowl. Mix and break up chunks of brown sugar. Sprinkle on top of apples. Cover mugs with foil.

* Could alternatively add all apples into a shallow oven safe dish or springform pan, timing would need to be adjusted to slightly longer though probably.

Preheat

Now preheat your air fryer to 350 and place filled mugs inside covered with foil for 16 minutes or until apples are as tender as you'd like them to be.

Finish

Remove foil and brown crumble topping for 3 more minutes.
Allow mugs to sit inside machine for 5 minutes when done for apples to continue to soften and sauce to thicken.

Serve

This will create the perfect cooked apples you'll just go crazy over! Serve as is or with a scoop of ice cream on top.
Way faster than making this in the oven at 350 degrees, and in the summertime you don't have to heat up your house to make it either!
Wanna see what it looks like when you take a big ol' scoop out of it??! Look at this!!
Now these were "baked" in individual mugs so they're easy to handle and you wouldn't have to share. 😉
But what if you don't finish the whole thing and want to save some for tomorrow? That's never happened in our house but here's some information.
Should apple crisp be refrigerated?
I would if you have leftovers.
How do you reheat apple crisp?
If you don't like eating it cold the next day you can just pop it into the microwave for about 30 seconds. I might stir after that and add 1 tbsp of apple cider to add a bit of moisture and pop it back in for an additional 30 sec.
Keep in mind that the oat crumble won't be crisp anymore after the first few hours of it being freshly made.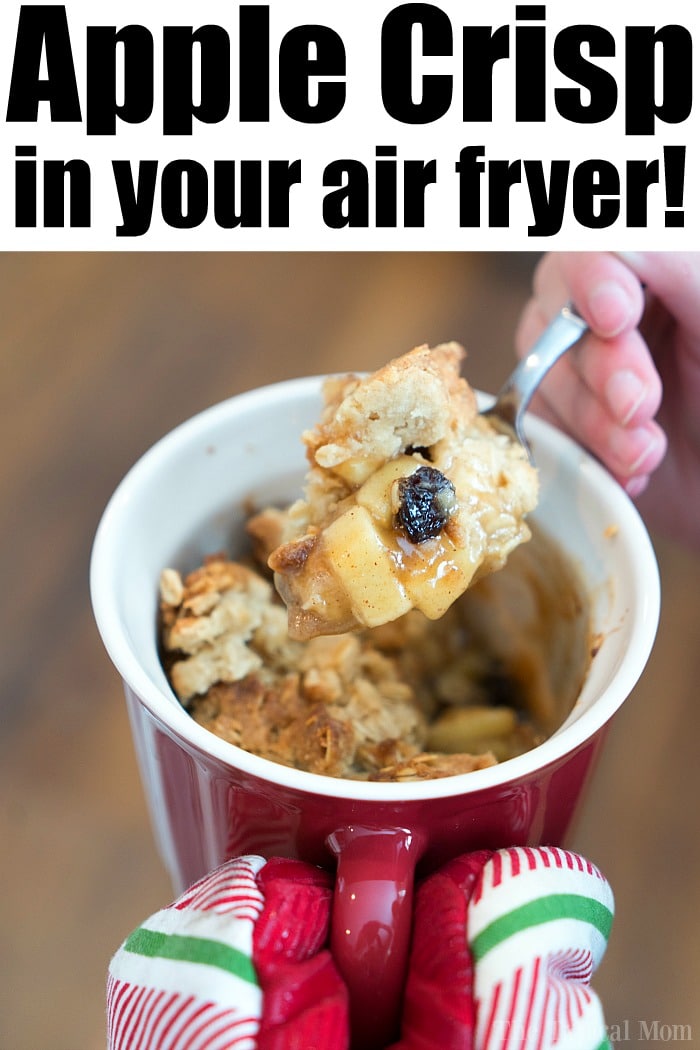 Can you freeze apple crisp?
If you wanted to freeze prior to baking you would have to just do this with the diced fruit, the topping would have to be made fresh.
Instead what I would recommend to make a larger batch would be to dice many apples and squeeze a bit of lemon juice on top to prevent browning.
Then bake the apples without the crumble, allow to cool, spoon into freezer bags and freeze.

Make the topping once apples are defrosted and just follow the last step for 3 minutes at 350 degrees.
Want to make baked apples in your oven too? Try our cast iron apple crisp recipe too!
So what are you waiting for?? Dive into the delicious at your Albertsons store with culinary delights around every corner and grab what you need to make this!
You're going to want to share what you found and this air fryer dessert with your friends for sure. 😉
Want to see a few of my favorite things you might want to write on your Christmas list this year??!! 😉 Take a peek and see how many you might already have…twinsies!
Looking for more easy family recipes and tips? LIKE The Typical Mom Facebook page?
Then sign up for my free newsletter, and follow me on Pinterest! 😉
***** If you LOVED this recipe give it 5 Stars below and let everyone know what you thought about it. 😉
Air Fryer Apple Crisp
Air fryer apple crisp is amazing!! Skip the oven and make this amazing fruit dessert in individual mugs tonight. Fall comfort food at it's finest right here.
Instructions
Peel apples and dice them into small pieces. Put these in a bowl.

Add your top 6 ingredients into the bowl and stir so all apples are well coated and flour is mixed in. (optional raisins, cranberries and even crushed walnuts can go in now)

Divide this mixture into your 2 oven safe 18 oz. mugs or ramekins. Pour your 1 tbsp of apple cider or water on top. Set aside.

In a separate bowl add your softened butter (if from fridge put in microwave for 30 seconds), sugar, remaining brown sugar, oats, remaining cinnamon and flour. Use a spoon or fork to mix together well so all ingredients are incorporated well.

Spoon this evenly across the top of your 2 18 oz. mugs and cover them both with foil.

Preheat your air fryer to 350 degrees for 4 minutes.

Set foil covered mugs into air fryer basket and close. Continue cooking at 350 degrees for 16 minutes.

Then open and remove foil, discard. Continue air frying at 350 degrees for 3 more minutes to lightly brown the tops.

DO NOT open for 5 minutes once it is done, allow to sit in there to continue cooking for this time.

Use pot holders to remove (HOT, HOT) and place on a cool plate to serve. Can top with ice cream and caramel sundae syrup if desired.
Nutrition Facts
Air Fryer Apple Crisp
Amount Per Serving (2 oz)
Calories 718
Calories from Fat 441
% Daily Value*
Fat 49g75%
Cholesterol 122mg41%
Sodium 465mg20%
Potassium 1111mg32%
Carbohydrates 321g107%
Protein 13g26%
Vitamin A 1660IU33%
Vitamin C 22mg27%
Calcium 182mg18%
Iron 7mg39%
* Percent Daily Values are based on a 2000 calorie diet.