Cosori electric air fryer is great for creating crispy recipes with NO oil required! Here's our air fryer review so you can see why we love it.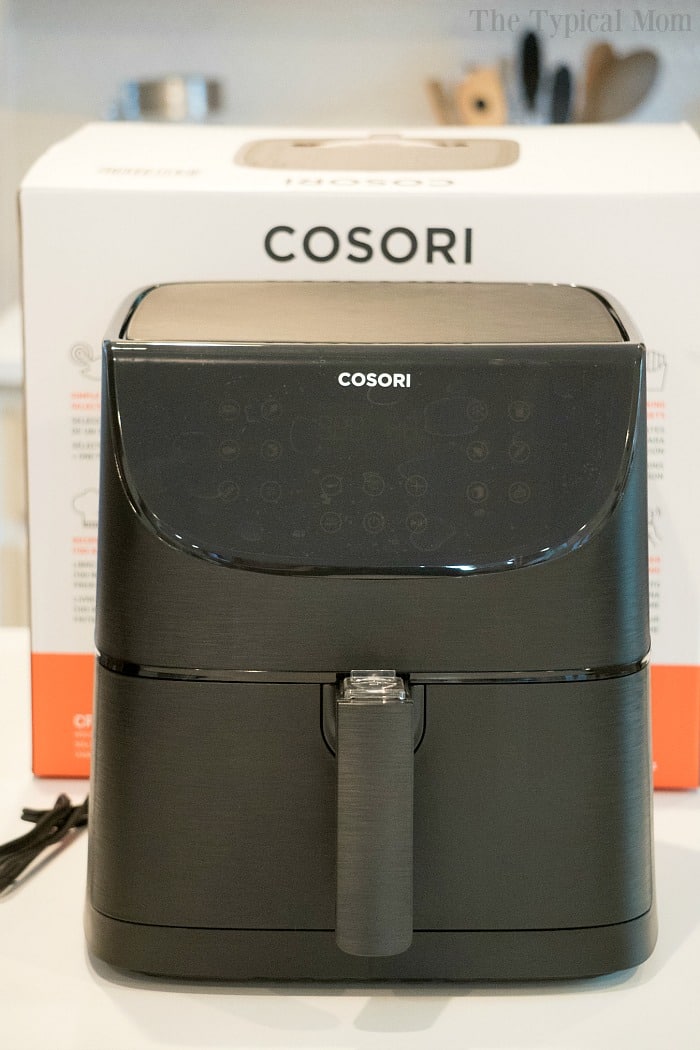 Looking to buy an electric air fryer, or need help learning how to use your Cosori air fryer? We are here to help you decide and/or figure this whole no oil frying world with you! We have been creating new air fryer recipes for the past year and are here to tell you why it has been a Game Changer for our family. Special thanks goes out to Cosori for giving us their 5.8 quart machine. 😉 (originally published 7/19, affiliate links present)
Cosori Air Fryer
And we've put together a roundup of the best Cosori air fryer recipes here too. We started with a Ninja Foodi and loved that. I do think that this one works better for this particular function. The smaller enclosed basket yields a crispier outside on anything you want to cook.
FIRST – You should sign up for my free newsletter so you get new posts emailed to you twice a week and never miss out on anything! If you love air fryer recipes too, here are some resources to start with: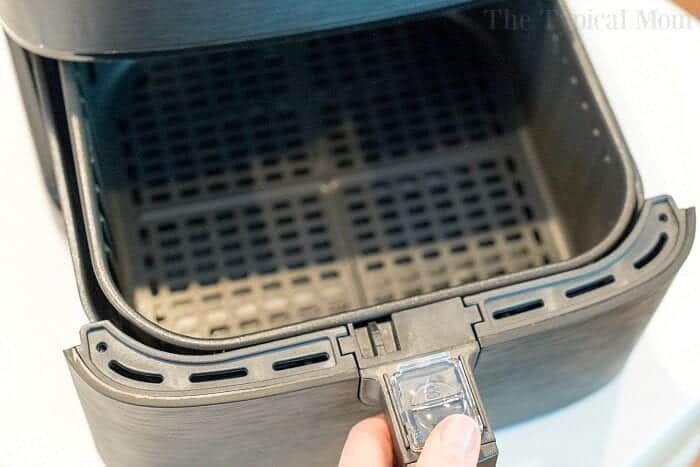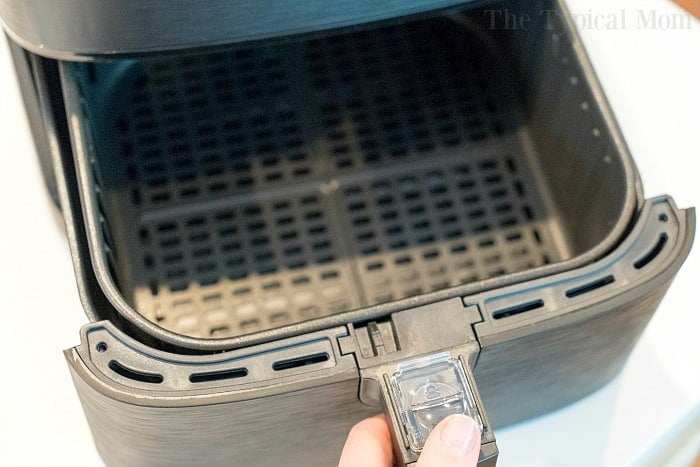 Cosori Air Fryer Review
There are a lot on the market I agree, but there are a few things you should think about before you make that purchase.
First and more importantly you need to figure out where you're going to store it, or put it on your countertop. What functions are important to you are a must too. Do you want it to pair with your Alexa and phone like the new Dual Blaze Cosori Wifi Air Fryer they have now?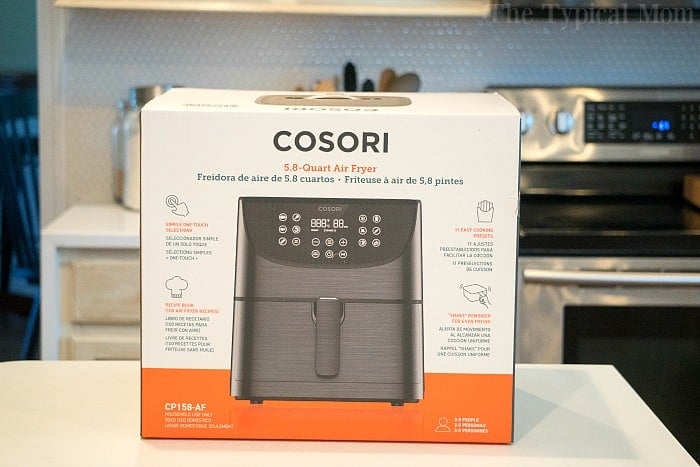 Best Air Fryer
Size of the machine is probably the most important aspect when choosing an air fryer.
If fitting under your cabinets you'll need to measure how much space you have.

This Cosori air fryer is 12 3/4″ tall x 10 1/4″ wide

fits great under my cabinets with plenty of room to spare

The size of the air fryer basket is really important too.

Depending on the size of your family you need to consider how much it cooks in one batch.

there needs to be plenty of air flow so for the most part you want all foods to be in one layer, not overlapping for ultimate crispiness!
Cosori air fryer basket is square which means it fits a lot more food!
How easy to clean it is is surely something to consider as well.
You NEED a basket that is dishwasher safe. This is a game changer.

This one is fine just to throw it into your top rack and come out clean every time.

Warranties are necessary.

Most of the time everything will be just fine, but when it isn't you'll want to get it replaced.
Cosori offers a 2 year warranty on their appliances!

Easy air fryer recipe books will be needed beyond that and in the box comes a book with 100 recipes to try!
But wait, you can get a Cosori smart WiFi air fryer too!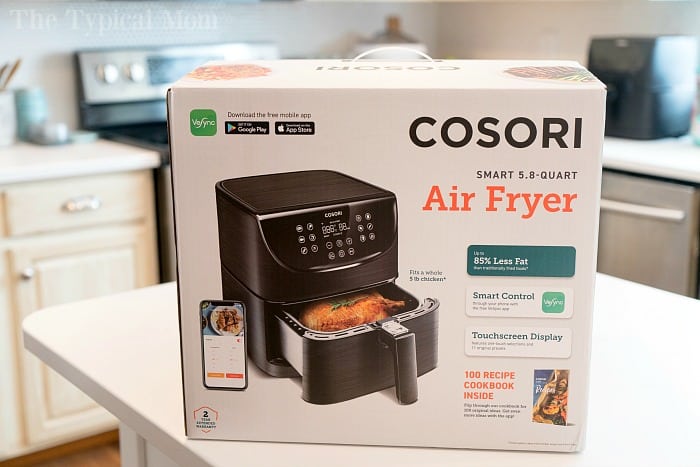 Are you a techie, and love to control your kitchen appliances right on your phone?
This model might be the better choice for you.
The COSORI Smart WiFi can now be controlled and monitored with your mobile devices. Special ergonomic angled display provide better viewing, without bending over.

Slimmer footprint fit on your countertop which helps you save space too.

Remote control- this smart air fryer provides you the ability to control your air fryer by using the Vesync App with your iOS or Android device from anywhere.
Now, you will have total air fryer control in the palm of your hands to cook, schedule, adjust and monitor the progress of your meals. The 4-hour delay start allows you to postpone the start to have dinner ready when you are.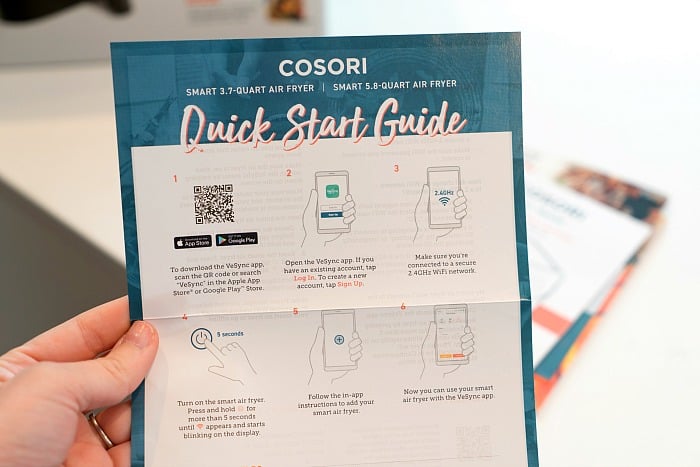 Of course it comes with a handy dandy guide like this one right in the box so you can download the APP you need.
PLUS it comes with a recipe book inside that is so helpful when learning to make new air fryer recipes.
Once you've made the decision of which one suits your needs best, you can continue learning how to use an air fryer.
Printing out our free air fryer cooking times chart will help immensely too!
Now let's talk about all the helpful functions our machine has.
To start using your electric air fryer just plug it in and push the power button right on the front you see here above.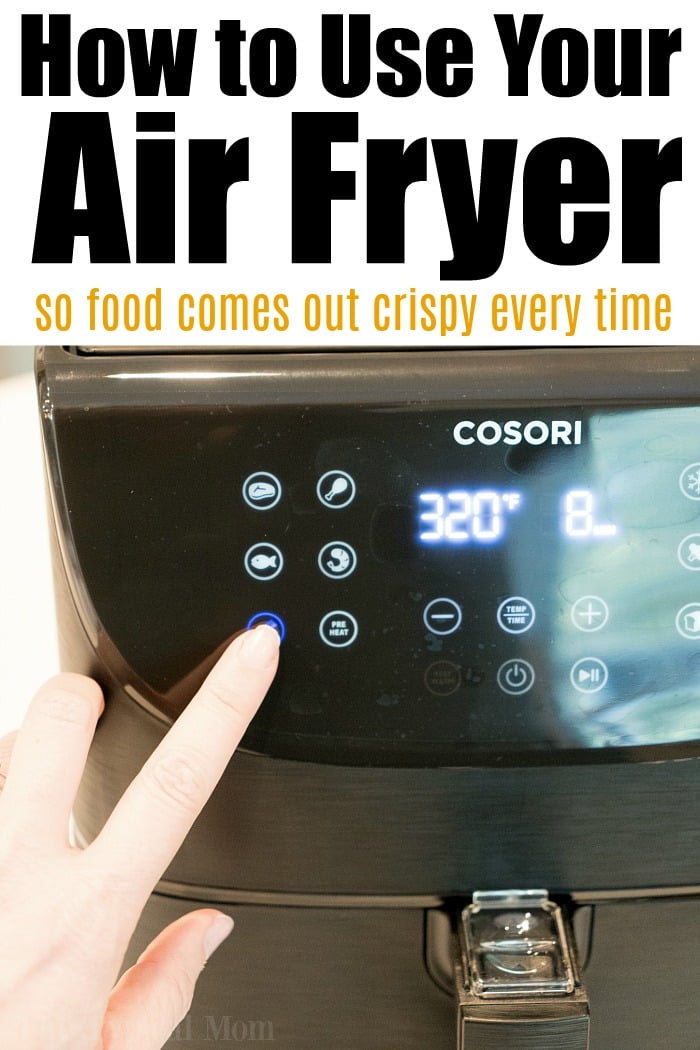 How do you use a digital air fryer?
Every brand is different but what you want to focus on when choosing one is that it has cooking preset buttons!! A MUST I tell you especially if you're a beginner. What does this mean?
Cooking presets make it easier and faster to cook foods because you don't have to remember the time and temperature!

Yes we have an air fryer cooking times printable sheet but pushing a button is much easier.

First you turn it on.
Then you put your food inside the air fryer basket once it's pulled out of the machine as you see here.
Close the drawer and either push the preset button for let's say fried chicken or french fries and just wait.

Typically it is helpful to shake the basket halfway through to get them as crispy as possible, but follow your recipe.
Remove food and enjoy as soon as possible for best results!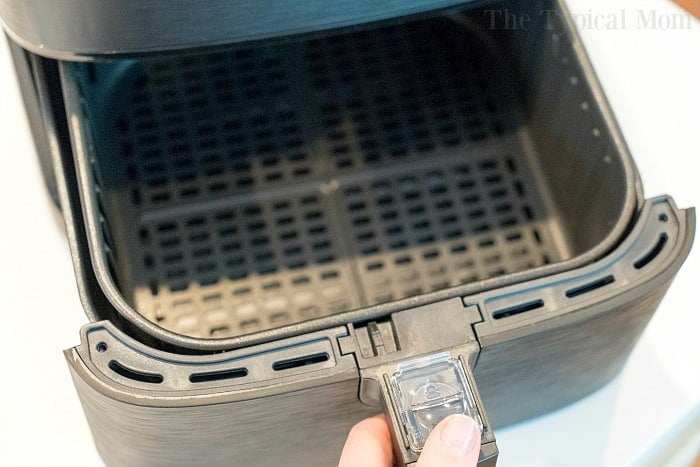 What is the best oil less fryer?
This 5.8 quart Cosori electric air fryer is a great choice for families! With plenty of room in their square air fryer basket to cook side dishes, air fryer dinner recipes or even desserts, you won't be disappointed.
There are tons of air fryer accessories including stainless steel trivets and more that are helpful to have as well.
Which is better an air fryer or air fryer oven?
I started with an air fryer toaster oven but it took up way too much counter space. It went bye bye. 😉
Another difference is that a full-size convection oven does move hot air around, but this is circulating hot air more rapidly!
The smaller chamber is smaller too. This means the cooking process will be much faster and your food will be crispier!
This is by far the best air fryer on the market.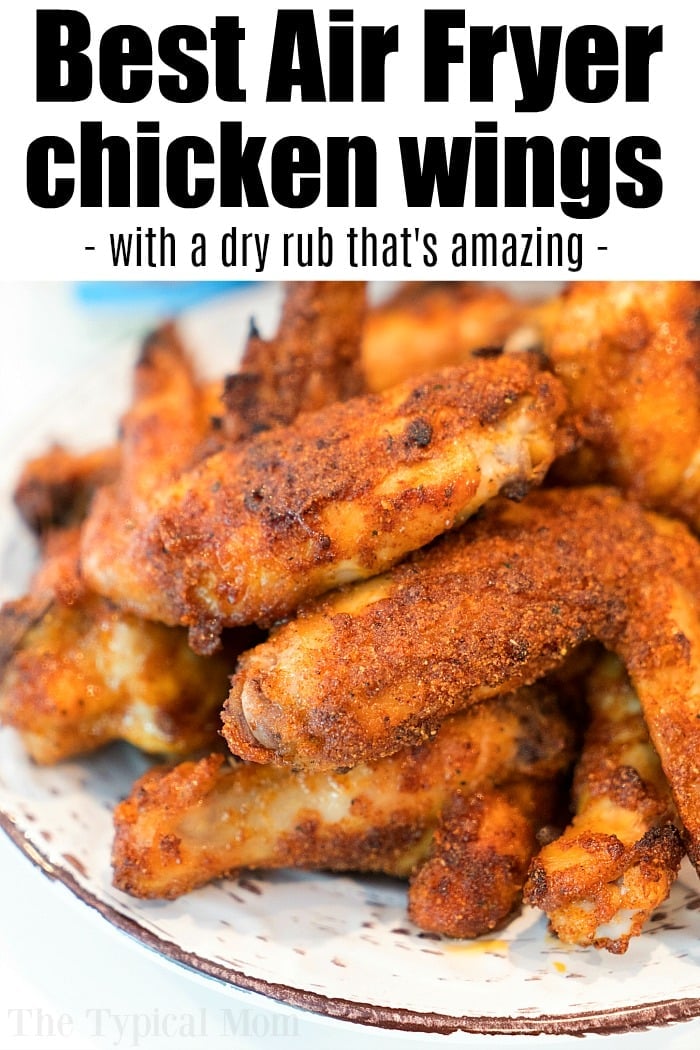 Is air fried food healthy?
YES!! That is the benefit! NO oil is needed to get that deep fried taste and crisp you want.
Ready to buy a Cosori air fryer?? I hope we've helped make that decision and you too can see how amazing it is.
For dessert make a batch of sticky air fryer cinnamon rolls.
Do air fryers consume a lot of electricity?
NO! That is another perk to them, they are very energy efficient AND don't heat up your entire house when it is already warm outside. During those times I use my pressure cooker and electric air fryer exclusively to keep the house cool.
To figure out the exact amount you can take the wattage of the air fryer and multiply it by the amount of time it will be running for.
Compare that to the cost of preheating and running an oven long enough to get it as crispy as your food would in an air fryer and there's no contest. This little machine will win over every time.
The only negative to it is the amount of food you can cook in it at one time. Since you don't want food to overlap you may need to make a few batches to feed your entire family if there are more than 4 or so of you.
That hasn't been a big issue with us, but is something to consider.
Are you ready to jump on the bandwagon now?? If you need a really large air fryer, this model works well too. Love multi function kitchen machines? Check out what the Multo pot does too. You will love all of them I tell you!
Want to see a few of my favorite things that I am totally obsessed with?? Take a peek and see how many you might already have…twinsies!
Looking for more easy family recipes and tips? LIKE The Typical Mom Facebook page?
Then sign up for my free newsletter, and follow me on Pinterest! 😉
***** If you LOVED this recipe give it 5 Stars below and let everyone know what you thought about it. 😉