Bacon wrapped air fryer steak with a dry rub is amazing for dinner! No need for a grill or oven anymore. Get a tender steak in just 18 minutes this way!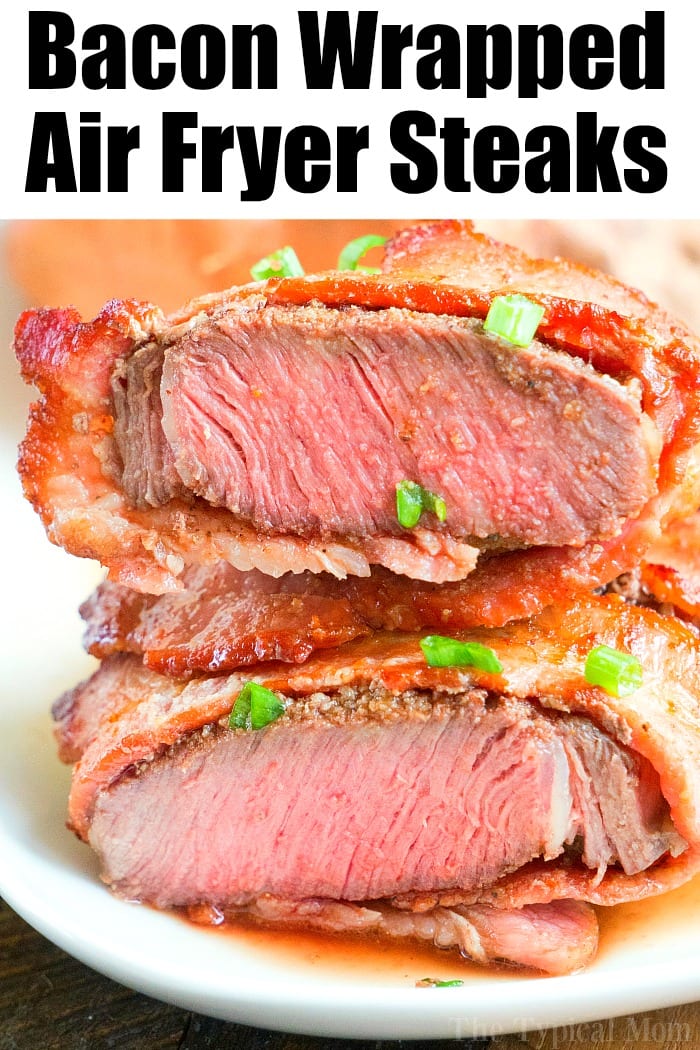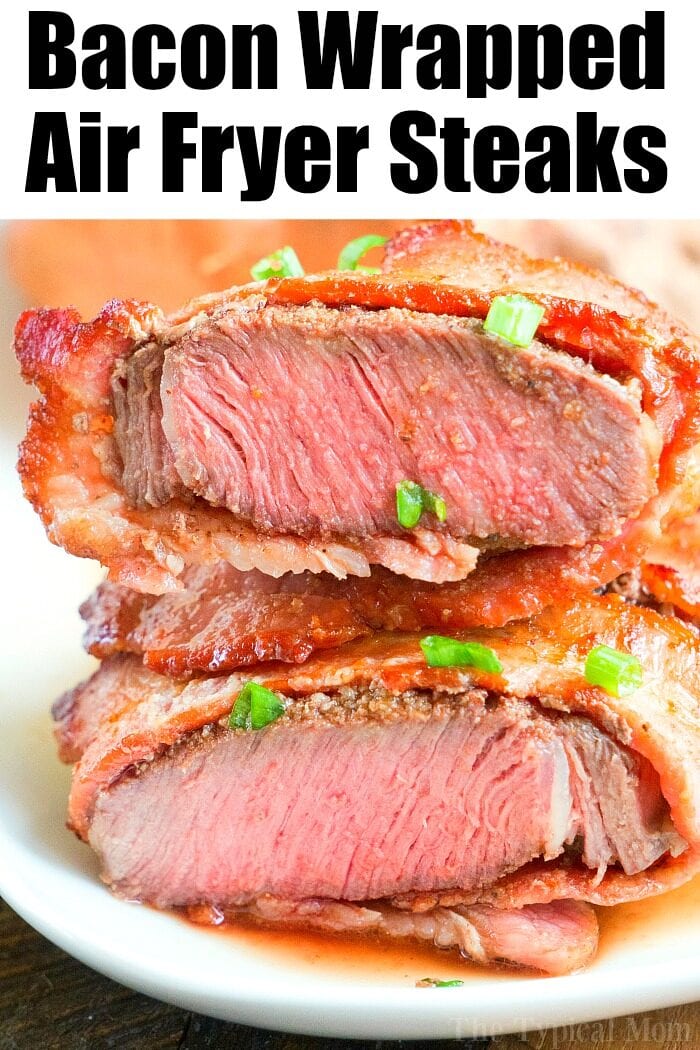 OH MY goodness, this bacon wrapped air fryer steak came out amazing!! I will start by saying I am not a lover of steak but this dinner changed me! Added to our list of easy air fryer recipes, you can use any brand to make this recipe though. (originally published 2/19, affiliate links present)
I am officially obsessed with creating new recipes for my Ninja Foodi!!
Yes I have a "regular" model too and you can use any brand you have.
Either way be sure to LIKE our easy air fryer recipes page to get new ideas for meals and snack ideas daily!
When I thought of cooking dinner last night I figured I would test one out using some steak. I used my air fryer cook times printable to figure out how long ribeye would take to cook and it worked great. We have this pressure cooker and power air fryer but other brands are just fine.
Adding the bacon just took this air fryer steak over the top!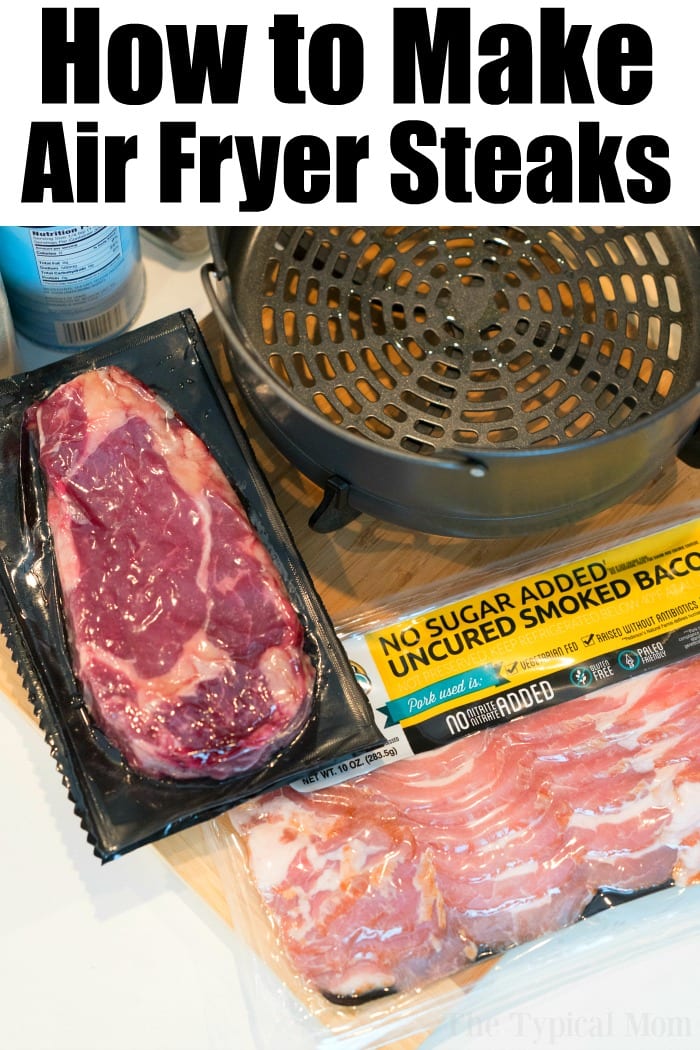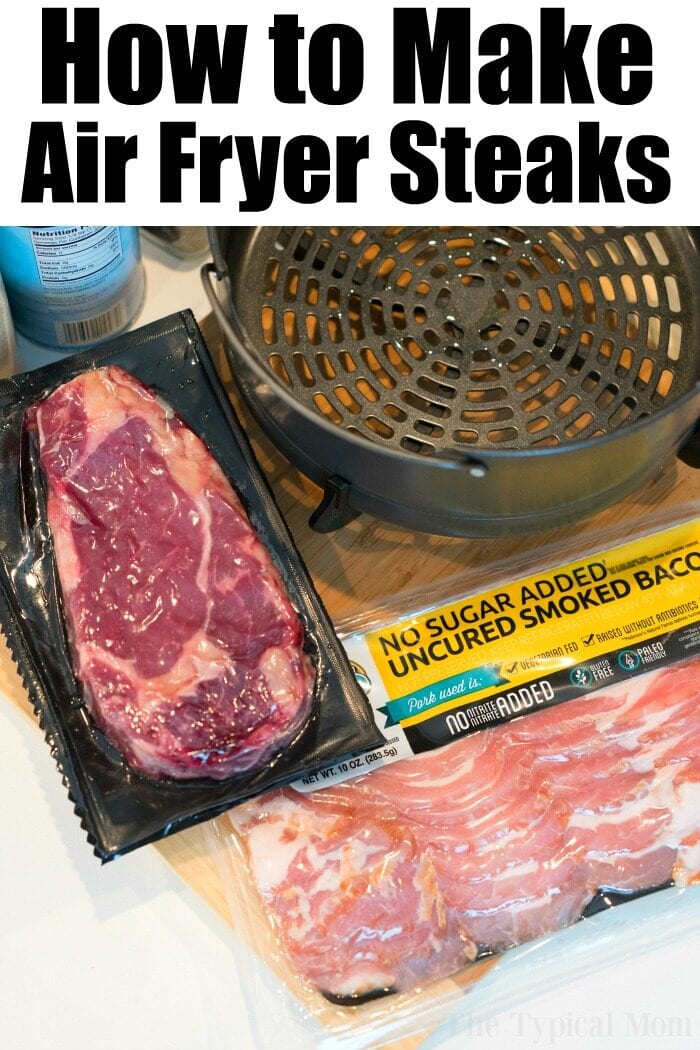 We have a lot of meat at home. We bought half a cow and pig so our freezer is packed full which I love. No reason to go out in the snow to grab what I need anymore. 😉
I'm sure if you shop at big box stores you have a bunch too and will be ready for some air fryer Costco steak tonight.
Recently we were also sent two boxes from ButcherBox which we used here. I will tell you that the bacon was the most amazing bacon we have ever eaten, no joke.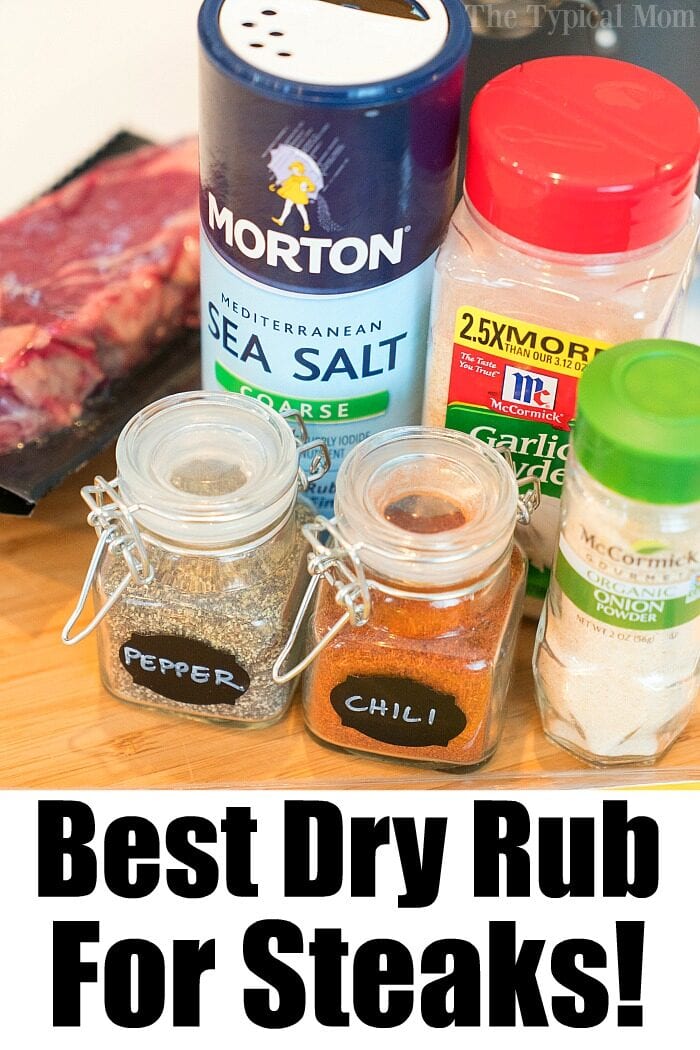 Air fryer steak recipe
It's all about the best steak dry rub recipe here:
1 tbsp. coarse sea salt
1/4 tsp. pepper
1/4 tsp. chili powder
1/2 tsp. onion powder
1 tsp garlic powder
Whether you're making steak in the air fryer, on the grill, or on the stovetop, this is the best steak dry rub ever. NO need for melted butter or sauce when this is rubbed on the outside.
We used the same one to make air fryer steak bites too!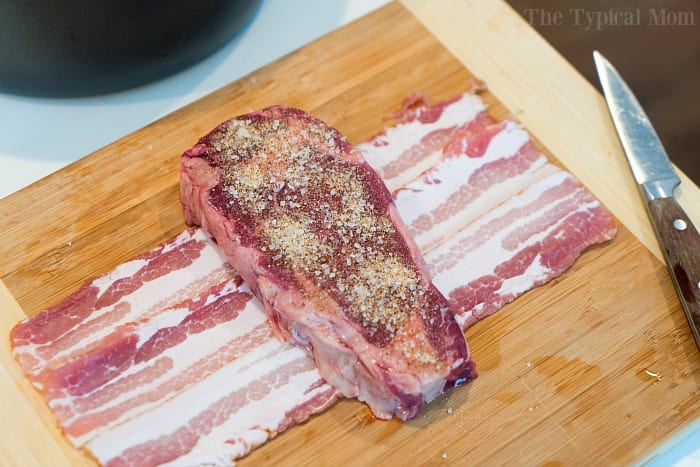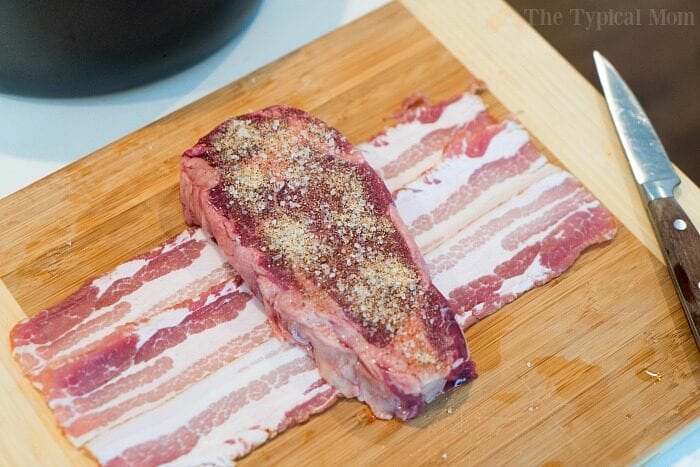 Air fried steaks
Mix dry steak rub and sprinkle on both sides, patting down so it sticks.
Lay 3 pieces of bacon down like this.
Wrap each piece around and under, overlapping the lower pieces onto each other.
Tuck the last piece of bacon under one of the other pieces so it doesn't all unravel.
Lay in your air fryer basket once the preheating is complete.
Flip the steak halfway through.
Like this…….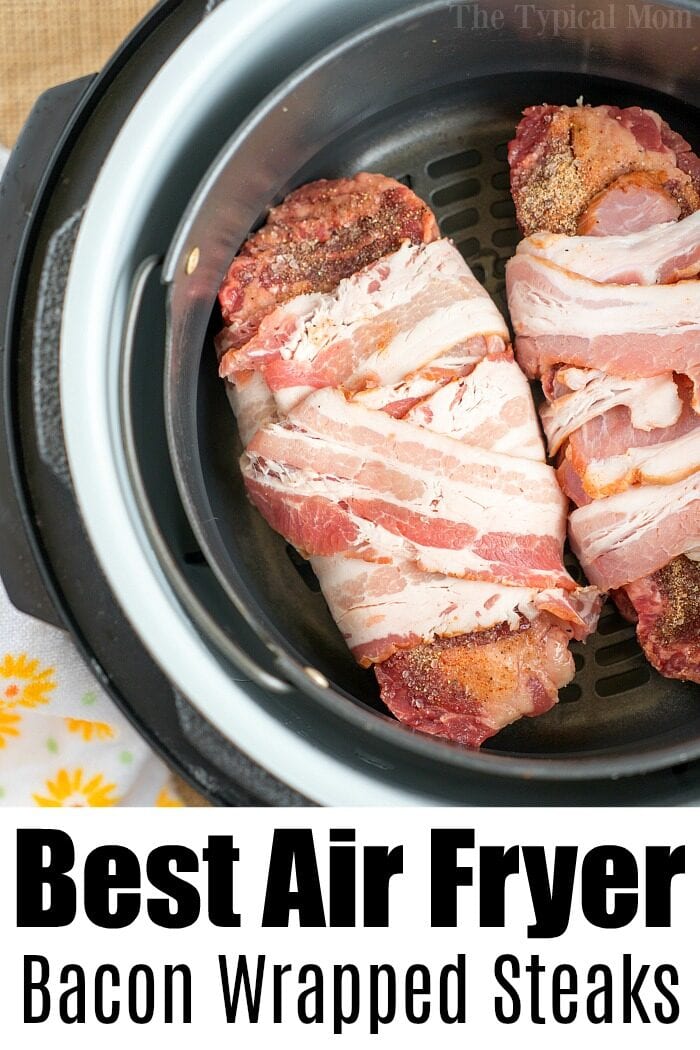 I made sure to preheat my air fryer so it would cook evenly and ensure that the bacon crisped up well. I don't like soggy bacon.
As you can see each piece is cooked perfectly. Crispy but still a bit tender so you can get a piece of bacon with each bite of steak.
The timing listed gets your steaks medium I would say. You can see the photo at the top. If you want medium rare cook for maybe 15 minutes instead of our 18. I will say I typically order mine well done but I wouldn't want to cook it longer than I did here. It's perfect.
Can you put frozen meat in an air fryer?
Yes! I have put frozen chicken in an air fryer and air fryer frozen steak before!
Frozen meat can take a long time to cook when you are in a rush. However, thanks to air fryer technology you can now cook a variety of frozen meat products in no time at all!
Take note: I haven't done this for air fryer steak but if I do I will make any additional notes you might need.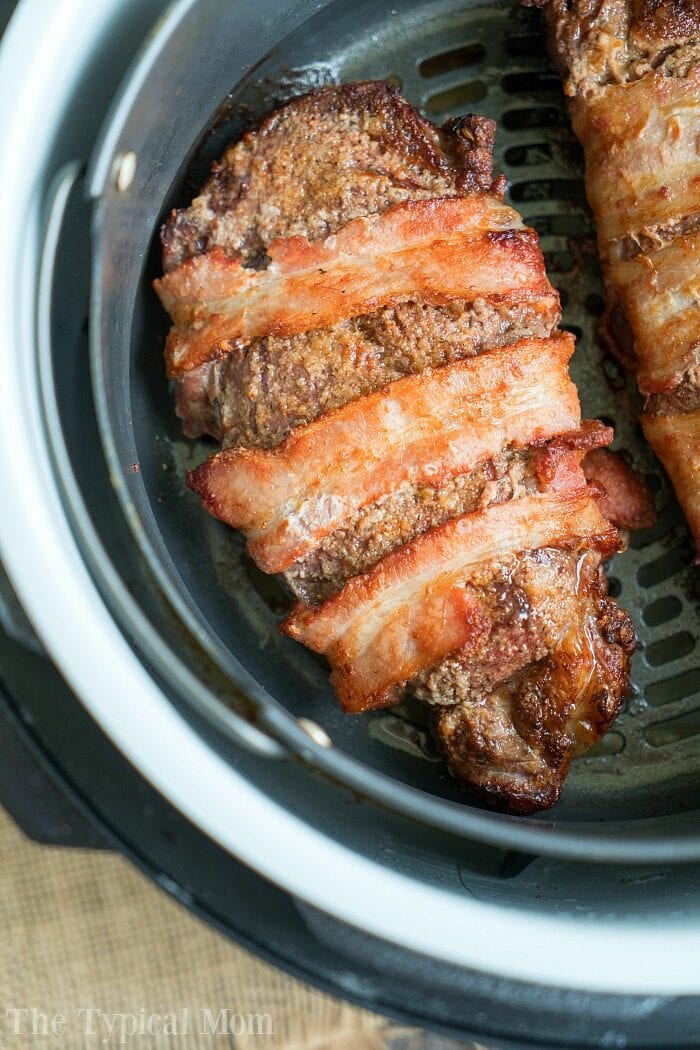 Air fryer steak
Ninja Foodi

electric air fryer or use CrispLid on an Instant Pot

Ribeye steak – our preference, we cooked 2 at a time

use what you like, New York strip steak or filet mignon would be amazing

Bacon – we prefer uncured, you will need 3 strips for each steak
Pepper
Chili powder
Onion powder
Garlic powder
Salt and pepper if desired (we didn't)
How long does it take to cook steak in an air fryer?
It depends on how well done you want it and what type of steak it is. A filet will take the shortest amount of time because it's so tender and generally you want it on the rarer side.
7 minutes is the general rule for medium rare steak. As always allow your beef to rest for 10 minutes before slicing to maintain the juices inside.
What are the best foods to cook in an air fryer?
Well, after you try this you will LOVE our smoked bacon wrapped pork chops too!
How do you reheat steak in an air fryer?
Turn your air fryer to 350-400 degrees for just 3-4 minutes and add your leftovers. It will taste just as crispy as the night before when it's done this way. I prefer to flip mine halfway through.
Keep an eye on it so it doesn't get too done on the outside or overcook the middle, but this timing is pretty dead on.
And for a real treat try a few of our easy smoker recipes like this smoked steak!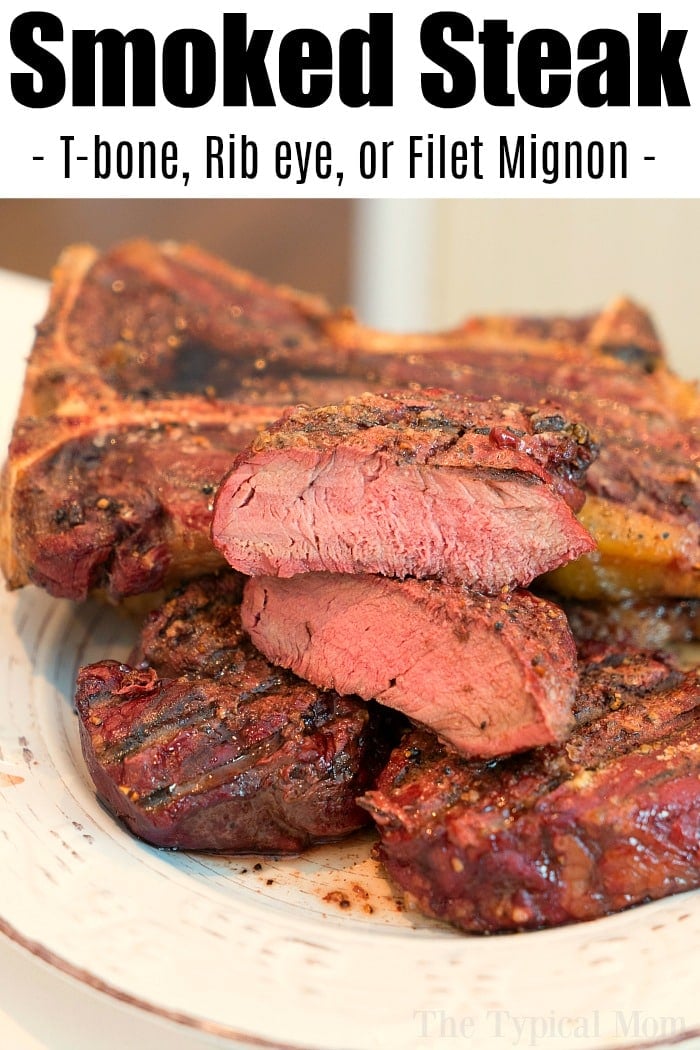 Note: Pre heat your machine first. When cooking a steak in your air fryer flipping halfway is VERY important. It will allow it cook evenly and get the nice crispiness on both sides.
You can use this same recipe to make air fryer steak bites, minus the bacon.
Preheat to 375 degrees
Cut meat into small pieces and toss with fajita seasoning (this is great)
Pour into basket or on to Ninja Foodi Grill plate and cook for 2 minutes
Shake the basket after about 2 minutes.
Cook for an additional 2 minutes at a time checking for doneness each time.
They won't take long as they'll be small pieces.
Then try our Instant Pot steak and potatoes.
Want more easy recipes and tips from The Typical Mom blog? Sign up for my free newsletter, and follow me on Pinterest!
***** If you LOVED this recipe give it 5 Stars below and let everyone know what you thought about it. 😉
Air Fryer Steak
Bacon wrapped air fryer steak with a dry rub is amazing for dinner! No need for a grill or oven anymore. Get a tender steak in just 18 minutes this way!
Instructions
Mix seasonings together until combined well.

Lay steaks on cutting board and sprinkle half seasoning mix on 1 side of both steaks, pat down so it sticks. Flip over and do the same until seasonings are gone.

Lay 3 pieces of bacon down horizontally, lined up next to one another but not overlapping.

Lay 1 steak on top of the bacon in the middle. Wrap top piece around and under steak. Do this with 2nd piece, then with 3rd piece pull last side up and tuck it under one of the other pieces of bacon so they don't all unravel.

Do the same for your 2nd steak. Lay both bacon wrapped steaks inside your air fryer basket.

Preheat your air fryer at 375 degrees for 5 minutes, then put basket with steaks inside and set for a total of 18 minutes.

After 9 minutes flip both steaks so other side can cook and crisp bacon.

Allow steaks to rest for 3-5 minutes to stay juicy, then serve.
Nutrition Facts
Air Fryer Steak
Amount Per Serving (4 oz)
Calories 377
Calories from Fat 261
% Daily Value*
Fat 29g45%
Cholesterol 90mg30%
Sodium 2024mg88%
Potassium 377mg11%
Carbohydrates 1g0%
Protein 27g54%
Vitamin A 65IU1%
Calcium 8mg1%
Iron 2.1mg12%
* Percent Daily Values are based on a 2000 calorie diet.