This Crockpot baked beans recipe is homemade using dry beans, and so much better than canned! You'll never buy them at the store again after trying these.
OH MY I wish I could describe just how good this Crockpot baked beans recipe is. If you could smell it now, you'd just know. Sweet and savory packed with bacon and brown sugar, they are WAY better than buying them at the store. If you've never made homemade baked beans before, they're a snap in your slow cooker. Find this and more on our Crockpot recipes page. (affiliate links present)
Yes we have a lot of easy slow cooker recipes for dinner, but side dishes are the best! Why?? Because you can keep them warm for hours during the holidays so everyone can eat, eat, eat all day long.
It's handy when you're going to a potluck too. Just cook these at home, lock the lid on your slow cooker and take it to your destination. You won't have to take room up in your hosts oven to warm it up, the pot will do all the work for you.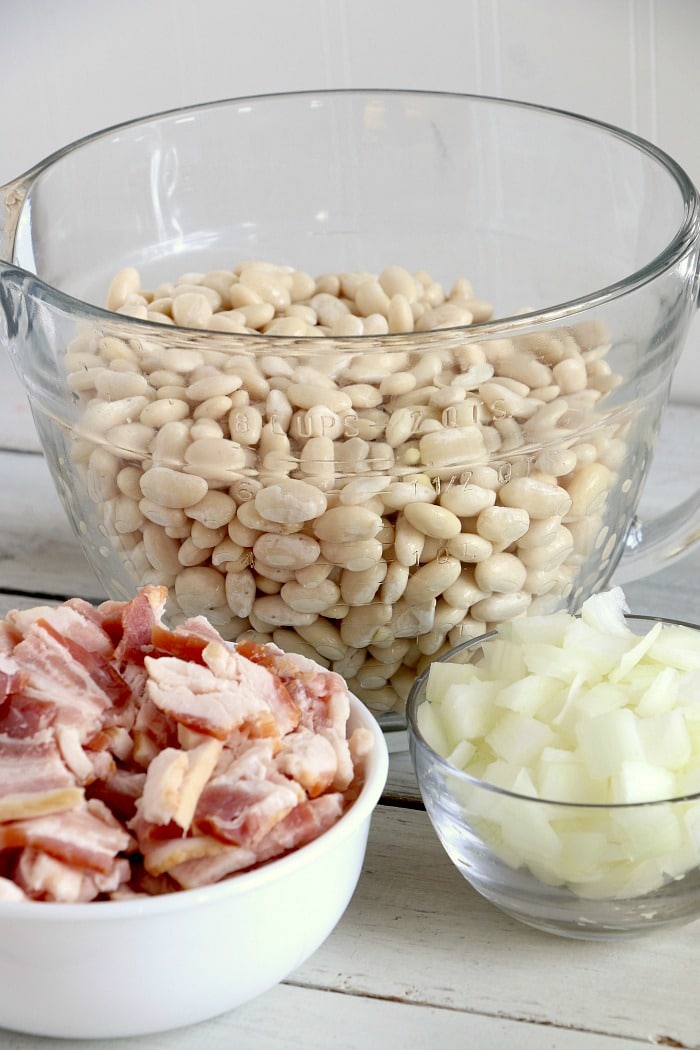 Let's start with: what beans are in baked beans?
Canned baked beans are used as a convenience food. Most commercially canned baked beans are made from haricot beans, otherwise known as navy beans in a sweet sauce.
Northern beans are used often too, that is what we chose for our crockpot baked beans from scratch.
Ingredients you'll need:
Dry Northern beans
Water to soak your beans
Bacon
Onion
Tomato paste
Brown sugar
Molasses
Water to add into the sauce
If you'd like to add some heat, chili powder is a good choice.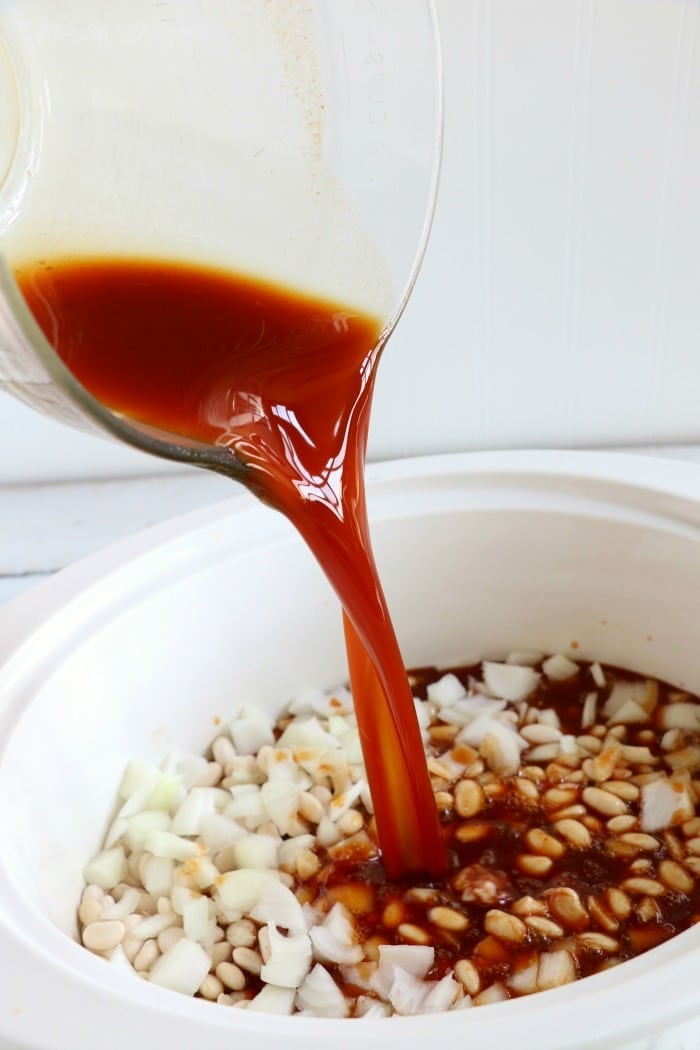 Why are baked beans called baked?
Well, they were originally called this because the can was first filled with blanched beans, then the sauce, then the can was sealed with a lid and cooked.
Yes, canned baked beans are cooked inside the sealed can! The original recipe for Heinz beans was based on Boston beans, so they used to contain pork too.
In this case we are going to soak them first, and then cook them in our slow cooker for a better part of the day. This process will make them super tender, and with a TON of flavor as they cook in the sauce itself.
Can I put canned beans in a slow cooker?
Pour the canned beans into the slow cooker.
Add the onion, brown sugar, tomato sauce, cooked crumbled bacon, etc.
Cover and cook on LOW setting for 6 to 8 hours.
Serve these beans with coleslaw or potato salad and cornbread.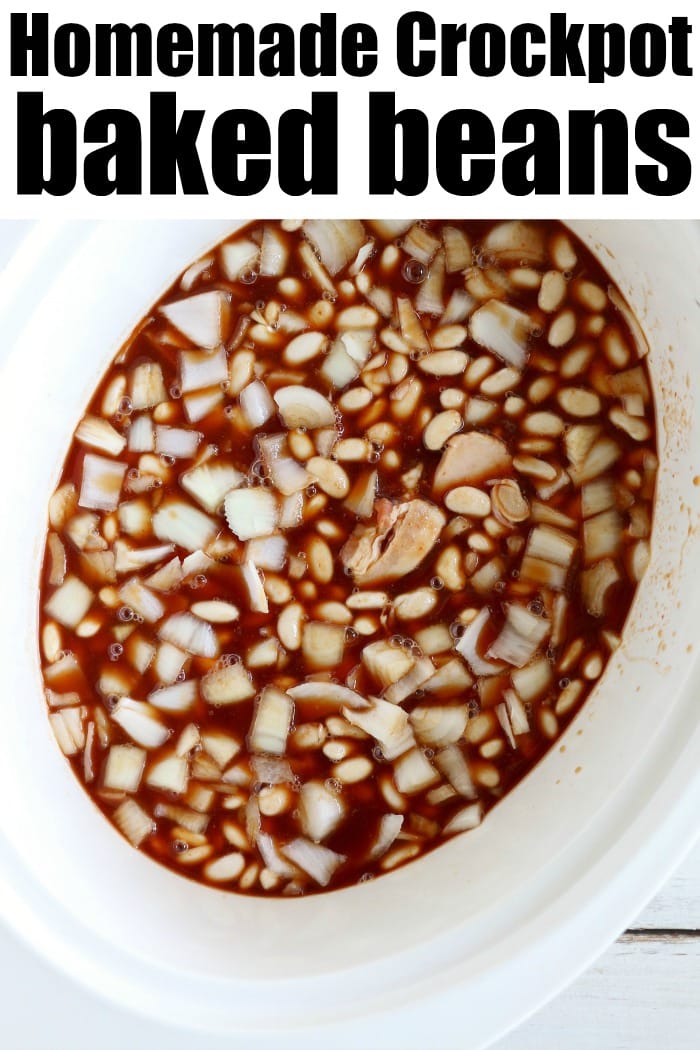 This is what our Crockpot baked beans recipe looks like once everything is thrown in there.
Do you need to soak beans for the Crockpot?
Not necessarily. Pre soaking dry beans beforehand is not a necessity, but many prefer to do so for digesting purposes. We didn't for this or our Crockpot black eyed peas recipe either.
You can just rinse them, add water and salt, and turn on the slow cooker. Red kidney beans are the exception here.
To make them more digestible, always soak first and then boil for 20 minutes before preparing in the slow cooker.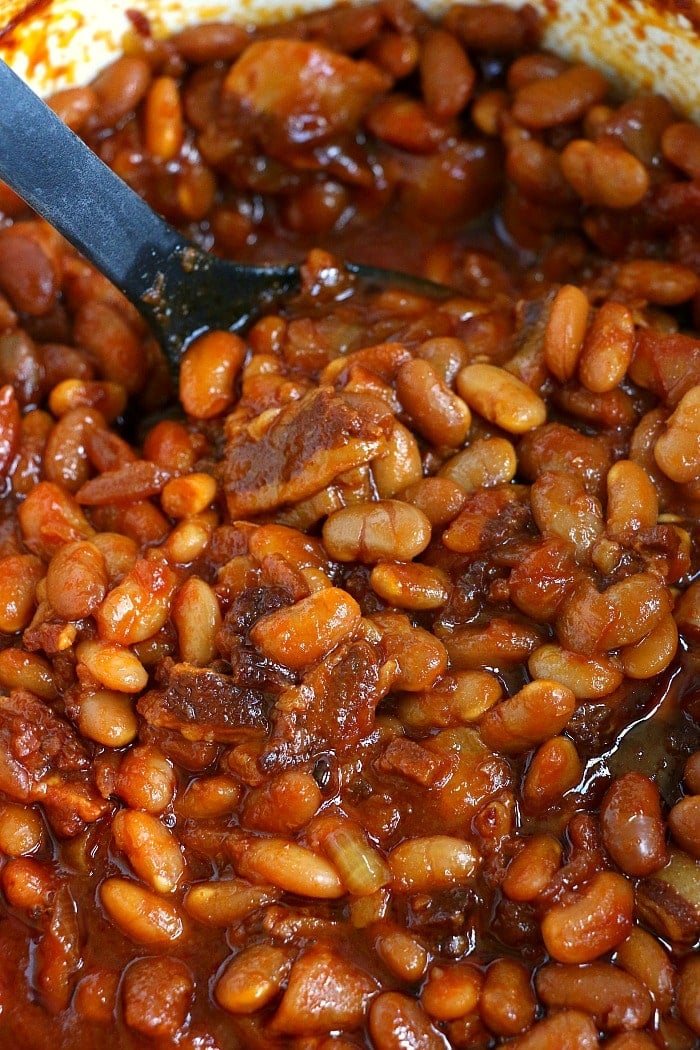 Want to make easy crockpot baked beans with canned beans instead?
NO problem! Just start from step 3 in the recipe below and get going!
You will still want to cook the bacon in a skillet over medium heat on your stovetop before adding. Then make your slow cooker baked beans from there.
I will say that using dry beans is better as far as overall texture goes.
Canned will be much softer, but everyone has a preference so do what you think you'll like best.
Additional add ins some people like:
A bit of maple syrup
Liquid smoke
Barbecue sauce
Some like to add precooked ground beef instead of bacon
I actually love 1/2 cup of feta on the side to sprinkle on top
Want to make no soak Instant Pot baked beans in your pressure cooker instead?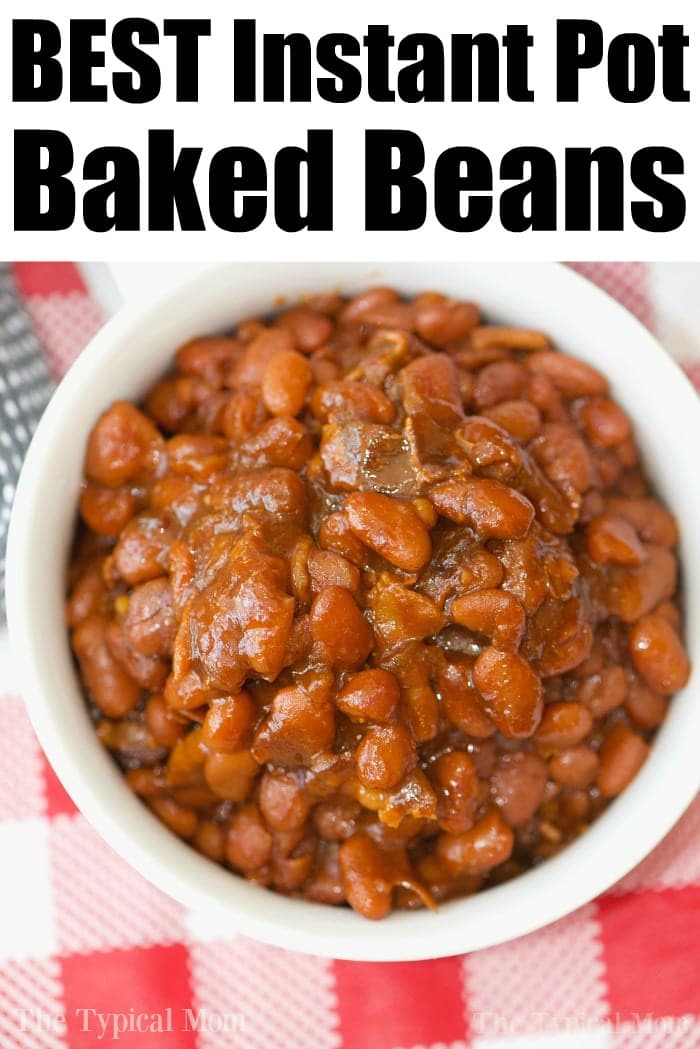 How long do homemade baked beans last?
They will remain fresh and edible for at least five days when you store them in the refrigerator. Always use an airtight container with leftovers. In the freezer they have the ability to last for as long as six whole months.
Try baked potatoes for another great Crockpot side dish.
For a printable recipe for Crock pot baked beans, see below. It has nutritional information on it as well like saturated fat, calories and such. It is calculated by the card itself so unsure of it's accuracy but just enjoy it y'all!!
Crockpot Baked Beans Recipe
This Crockpot baked beans recipe is homemade using dry beans, and so much better than canned! You'll never buy them at the store again after trying these.
Instructions
Rinse dry beans to remove debris, soak in 6 cups of water for 12 hours

After this time drain water from beans in bowl.

Cook diced bacon on stovetop so fat renders down and it is somewhat crispy, add this into your crockpot on the bottom after draining oil out of pan.

Pour soaked beans on top in an even layer, then sprinkle diced onions on top of beans.

In a small bowl whisk together your 3 cups of water, tomato paste, brown sugar, and molasses until smooth. Pour this into your slow cooker, do not stir.

Cover and cook on low for 6-8 hours or until beans are as tender as you'd like.

Check at 6 hours for tenderness, taste, and add salt as needed.
Nutrition Facts
Crockpot Baked Beans Recipe
Amount Per Serving (3 oz)
Calories 293
Calories from Fat 135
% Daily Value*
Fat 15g23%
Cholesterol 25mg8%
Sodium 384mg17%
Potassium 598mg17%
Carbohydrates 31g10%
Protein 9g18%
Vitamin A 230IU5%
Vitamin C 4mg5%
Calcium 79mg8%
Iron 2mg11%
* Percent Daily Values are based on a 2000 calorie diet.