I have 2 air fryer pork chop recipe ideas here. One wrapped in bacon with no breading and the other is lightly breaded. Both are fantastic for dinner!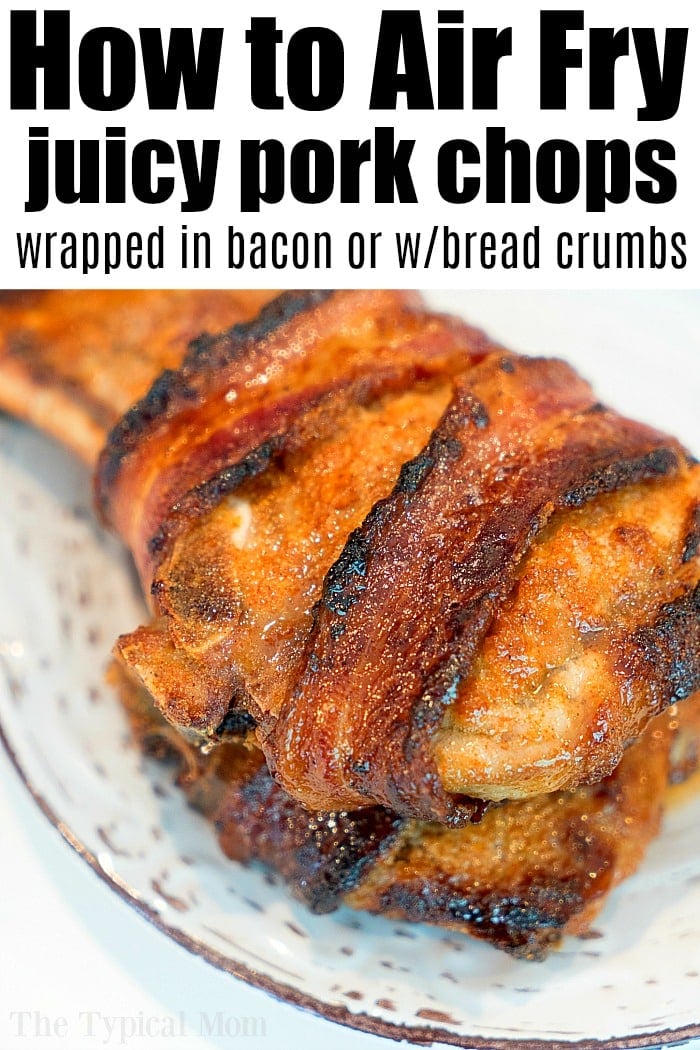 I have been obsessed with my new kitchen appliance, and made these bacon wrapped air fryer pork chop recipe as well as one that is breaded. Both were fantastic! Great way to cook pork chops with a crispy outside and NO need for oil or frying. These are packed with tons of flavor and take just a few minutes to cook. Just one of our favorite air fryer recipes here on The Typical Mom blog. (affiliate links present)
I used my Ninja Foodi for this creation. Of course you can use any other brand you might have but this pressure cooker and air fryer is pretty darn amazing.
I haven't used my stovetop or oven in months after using it. Seriously it does everything!!
This air fryer pork chop recipe is just the beginning…..
Here are a few resources to start with: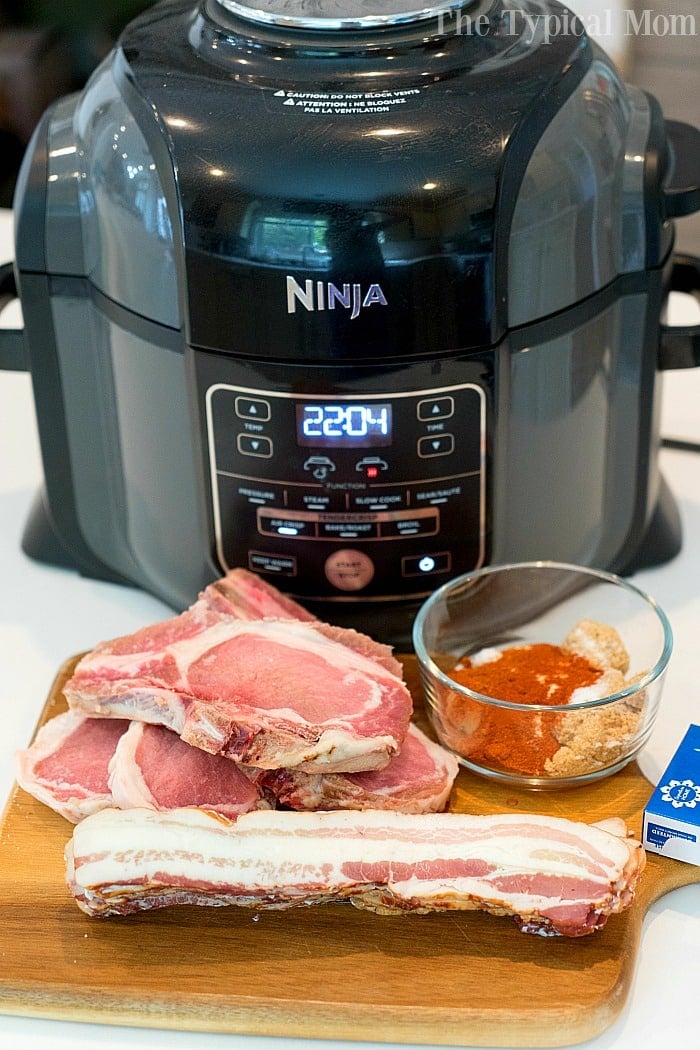 I made smoked bacon wrapped pork chops in the past, but thought they'd turn out a lot faster in my air fryer and they did! With the same great dry rub for pork they didn't have the smoky flavor of the other one but the taste was pretty darn close I have to say.
What is the best way to fry pork chops without flour?
This is the first way I made them, no breading involved which is great if you're looking for low carb or keto friendly dishes.
Ingredients needed for these easy air fryer pork chops
4 pork chops – ours were bone in, haven't tried boneless pork yet
8 slices of bacon
Brown sugar
Salt
Garlic salt
Chili powder
Paprika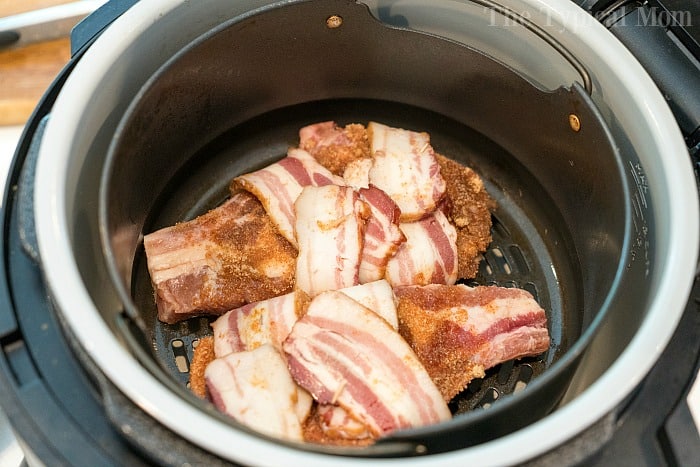 We bought 1/2 a pig and cow earlier this year so the bacon is from that. Ours is quite thick and store bought would be thinner. There isn't a huge difference either way except that the thinner the bacon the crispier it will get and the faster it will cook.
This is how we prepared these bacon wrapped air fryer pork chops:
Mixed pork chop dry rub ingredients in a bowl
Poured it on to a plate and pressed both sides of the chop on to it so it was well coated
Then layed 2 slices of bacon down on a cutting board horizontally
Placed the pork chop on top and wrapped the bacon around the top, the meatiest area
Fasten the bacon down with 1 toothpick per slice in a way where the meat will lay flat
Then add this to your air fryer basket and begin the air crisp process.
Those were fabulous but we wanted to keep going and try breaded bone in pork shops in an air fryer.
These pork chops were from the same batch in our freezer.
We have made pressure cooker pork chops in a sauce and those were good. If you want to experiment I would suggest trying that recipe as well this week. If you want to go on a roll and cook them a bunch of different ways you can try dutch oven pork chops too. They are really versatile!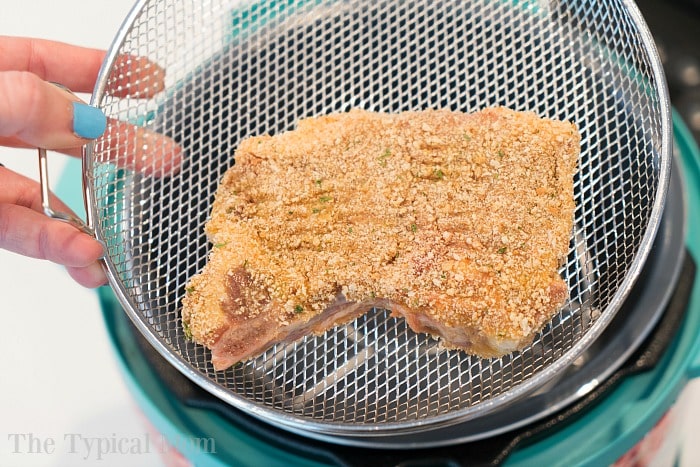 I am all about experimenting and finding what all 5 of us like best. It is different for each food. We found that we love air fryer vegetables, but prefer pressure cooker recipes for beef. I would say that out of these two methods we liked the bacon wrapped version better. But then again….we are kinda' bacon obsessed so there's that.
For this bread crumb air fryer pork chop recipe you follow somewhat of the same steps as above but dredge it in egg first.
This is what it will look like. Can you stack meat in an air fryer?
No, that won't get you the crispy result you want
Hot air needs to circulate around the food in order for all surfaces to crisp
Do you have to flip meat in an air fryer?
To evenly crisp the outside you will want to, yes
Use tongs to flip these once during the 10 – 12 minutes total cook time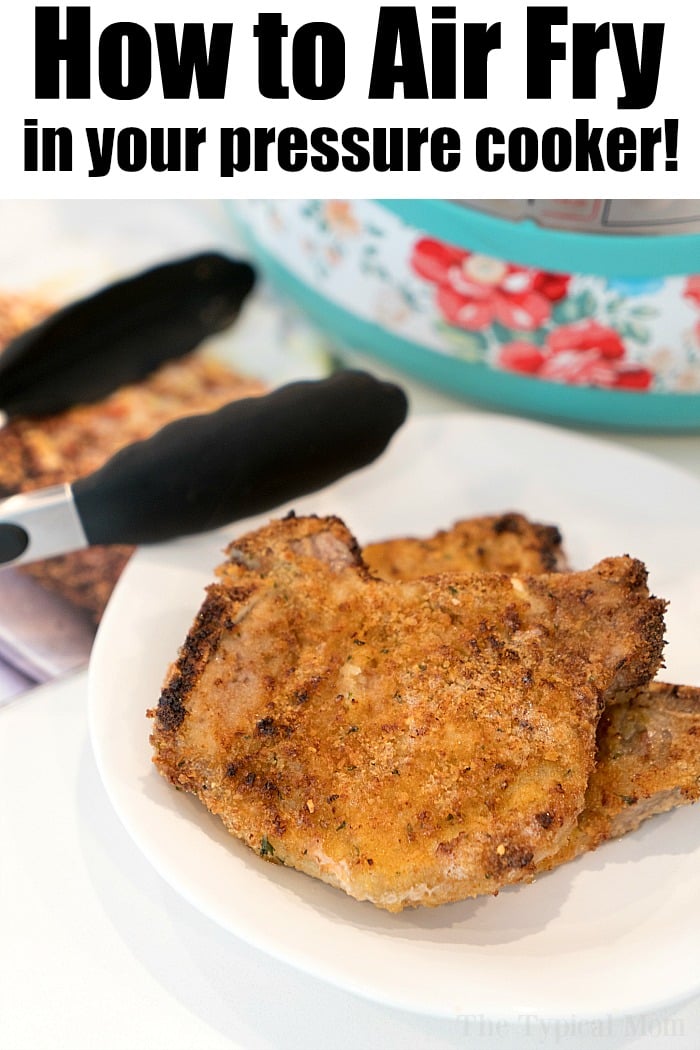 Lightly breaded bone in pork chops in air fryer recipe below
Ingredients to lightly coat outside:
4 pork chops
1 cup bread crumbs

or 1/2 c. panko bread crumbs + 1/3 c. crushed cornflakes

1/2 tsp onion powder, garlic powder & paprika
1 egg
Olive oil spray
Preheat air fryer to 400 degrees.
In a bowl combine all spices and bread crumbs well, pour on to a plate.
Whisk egg in a shallow bowl and dip meat into it on both sides
Lay a pork chop into the mixture and press down so it sticks.

Flip over and press down again.

Spray inside of air fryer basket and put chops inside so they don't overlap.
Use olive oil spray on top.
Cook for 10 minutes total, flip halfway through and spraying on other side too.

For very thick pieces 15 minutes might be necessary
Looking for other pork recipes?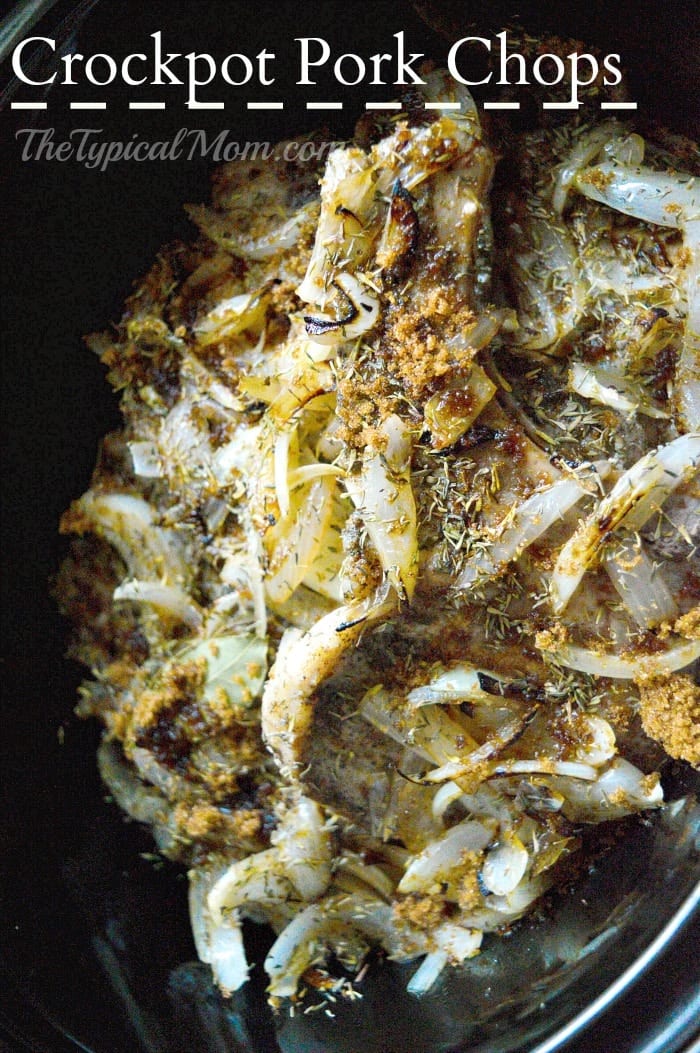 Our crockpot pork chops are easy to throw in and let them cook by themselves all day with apples!
Serve any of these with our air fryer brussel sprouts for a killer air fryer dinner!
Bacon air fryer pork chops no breading recipe below.
Air Fryer Pork Chops Recipe
I have 2 air fryer pork chop recipe ideas here. One wrapped in bacon with no breading and the other is lightly breaded. Both are fantastic for dinner!
Instructions
Preheat air fryer to 400 degrees while you're preparing all of this. Mix seasonings and pour on to a plate. Lay 1 pork chop on seasoning, flip, cover and coat both sides.

Lay 2 slices of bacon down horizontally, use a cutting board for this. Wrap the top portion of the pork chop (meaty end) and fasten with 2 toothpicks so bacon stays on. Insert vertically so it is not sticking out and chop can lay flat.

Spray inside of air fryer basket with non stick spray.

Lay 2-3 pork chops inside the basket, as many as you can without overlapping. We can only fit 2.

Close lid and air fry for a total of 10 minutes (approx, time varies according to how thick your pieces are), flipping halfway through the cooking process.

Remove and check internal temperature to ensure they're done. Allow to rest for at least 5 minutes before cutting. Remove toothpicks before eating.
Nutrition Facts
Air Fryer Pork Chops Recipe
Amount Per Serving (3 oz)
Calories 501
Calories from Fat 243
% Daily Value*
Fat 27g42%
Cholesterol 119mg40%
Sodium 3868mg168%
Potassium 662mg19%
Carbohydrates 28g9%
Protein 35g70%
Vitamin A 730IU15%
Calcium 36mg4%
Iron 1.4mg8%
* Percent Daily Values are based on a 2000 calorie diet.