Air fryer pork loin comes out tender on the inside and flavored to perfection outside. It's a quick way to cook pork in your Ninja Foodi or other brand.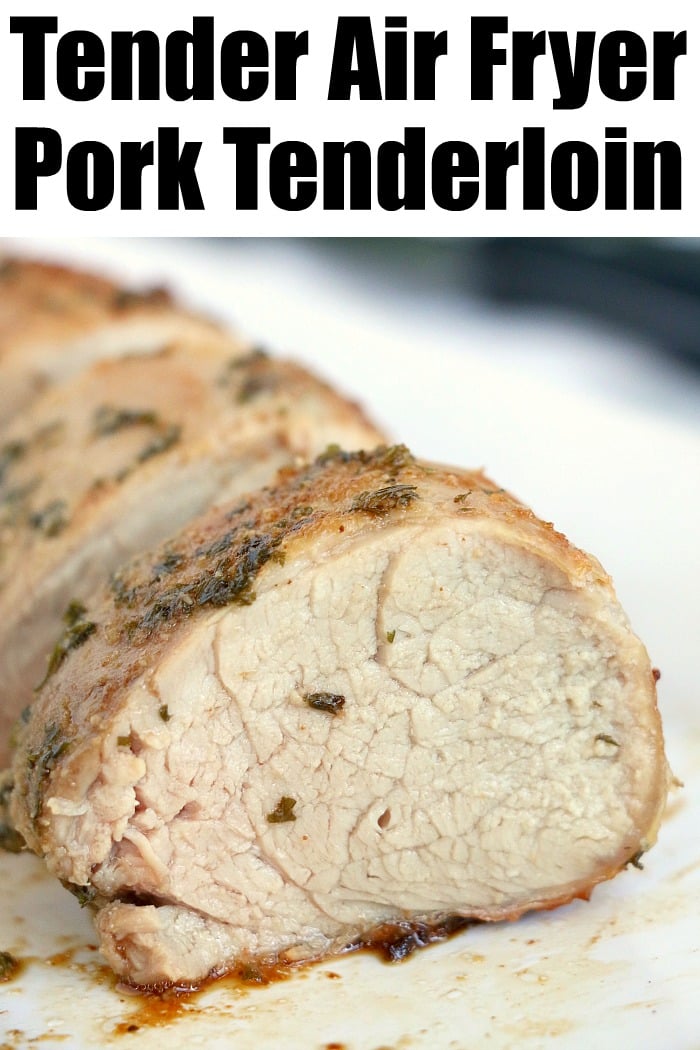 Have you cooked pork loin in an air fryer yet?? It's actually quite simple and quick! Get out your favorite seasonings to rub on the outside and give air fryer pork loin a try this week! Let us know how you like this and our other easy air fryer recipes below.
Do you have a Ninja Foodi but you need a few ideas to get going? We have a ton of recipes you can try!
First, LIKE our easy air fryer recipes page to get new ideas for meals and snack ideas daily!
Then keep reading and try this!
Need a keto friendly meal, this hits that mark too! Of course we usually pair this with a bed of mashed potatoes or rice, but the side dishes are up to you.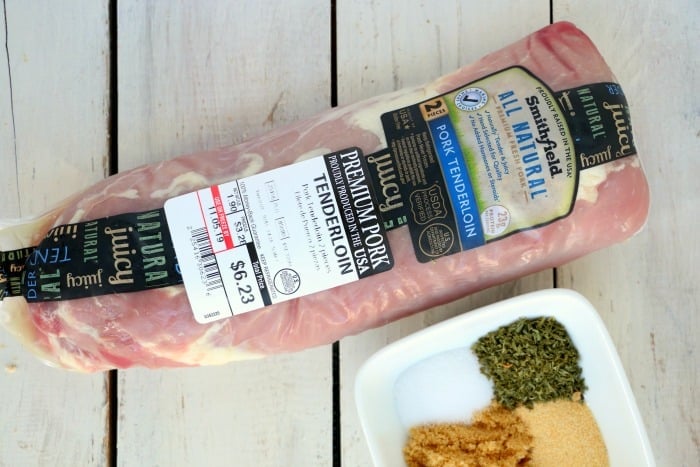 Tenderloin isn't a hard cut of meat to find at your local grocery store. Sometimes I will find a great sale and buy a few. I freeze most of them and leave out one to cook this way.
What you need to make this easy air fryer pork loin recipe:
Pork tenderloin
Garlic powder
Salt and pepper if desired
Basil
Brown sugar
Add any other seasonings to the mix really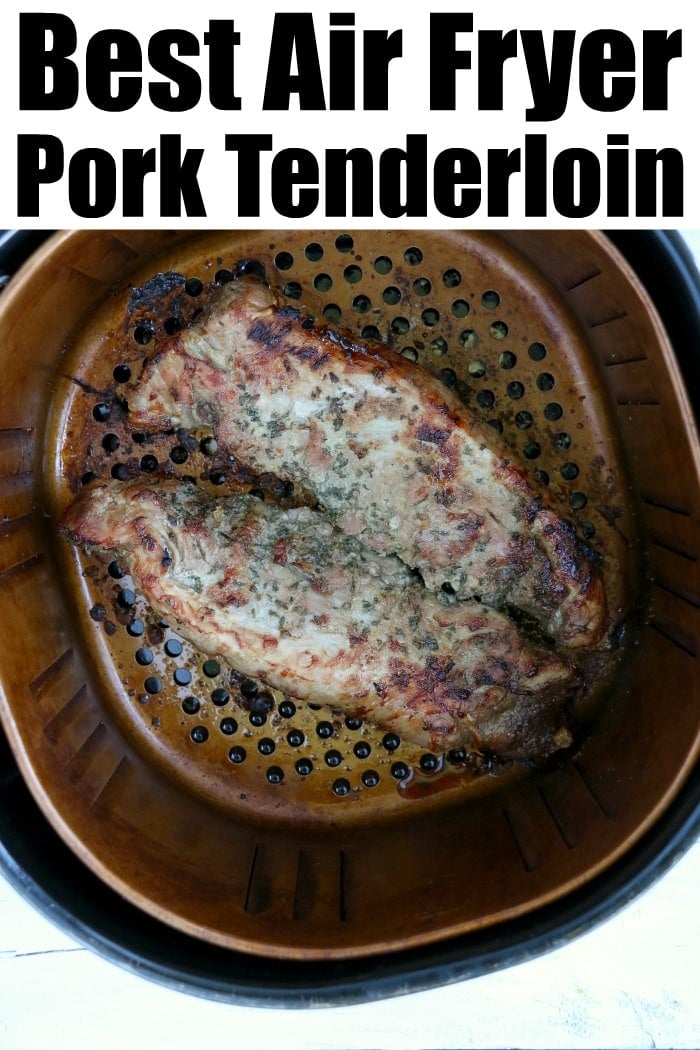 Now when smoking a boneless pork loin I add different spices. You could opt to use this mixture for a more intense flavor. Everyone is different, this one here is very basic.
Wondering how long to cook pork loin in air fryer?
This one was 2 pounds. If yours is much larger the timing will vary from what is in the recipe card below. 18 minutes at 165 degrees worked well to maintain the juiciness of the meat, but still get a nice color on the outside.

It was flipped once almost halfway through the cooking process to get an even color.

As with any other protein you will want to let it rest 5 minutes before slicing. This allows the juices to stay inside and not immediately flow out once sliced.
Always ensure middle reaches internal temperature of 145 degrees after you remove the pork, and before eating.
Can you use PAM in an air fryer? Spraying with olive oil is debatable depending on who you ask. I use it all the time without any issues.
It has been noted that non stick sprays might compromise the non stick coating of the air fryer basket. I say use conservatively.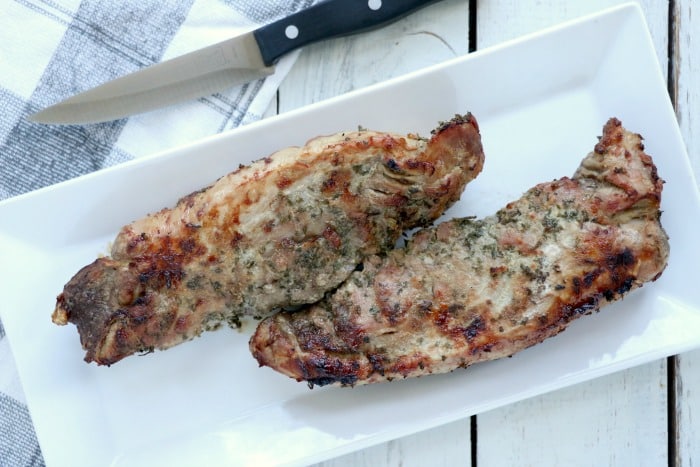 Another debate out there is whether you need to preheat your air fryer. I say it depends on the recipe. Also, it comes down to whether I remember to or not.
How to do you preheat an air fryer?
Preheating an air fryer takes about 2-3 minutes. With the Philips brand the timer button lets you preheat the device by adjusting the timer to five minutes and waiting until the warm up light goes out. Fill the basket after that and turn the timer knob to the required cooking time.
For the Ninja Foodi you just turn the pot on and close the air fryer lid. Hit the air crisp button, set the temperature, and choose 3 minutes for the timing.
Once it beeps and turns the pot off you know it's done preheating.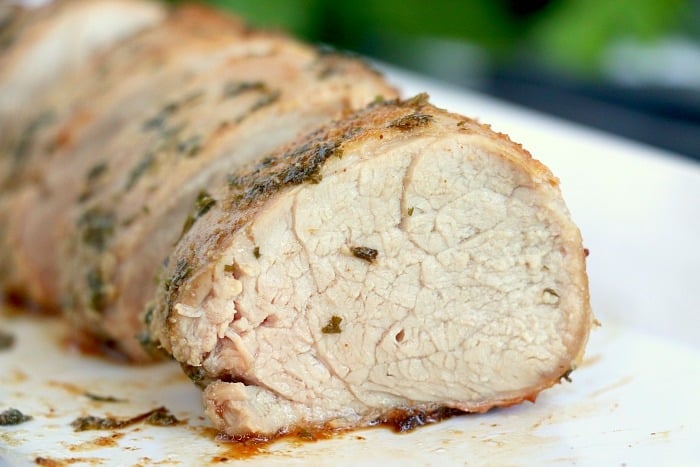 What should I serve with pork tenderloin?
There are TONS of great ideas depending on your taste buds and what method of cooking you want to do. Here are a few of our favorite side dishes.
Air frying is the way to go if you want to make quick dinner recipes everyone will love under 20 minutes. Looking for other pork recipes? Try our air fryer pork chop recipe wrapped in bacon!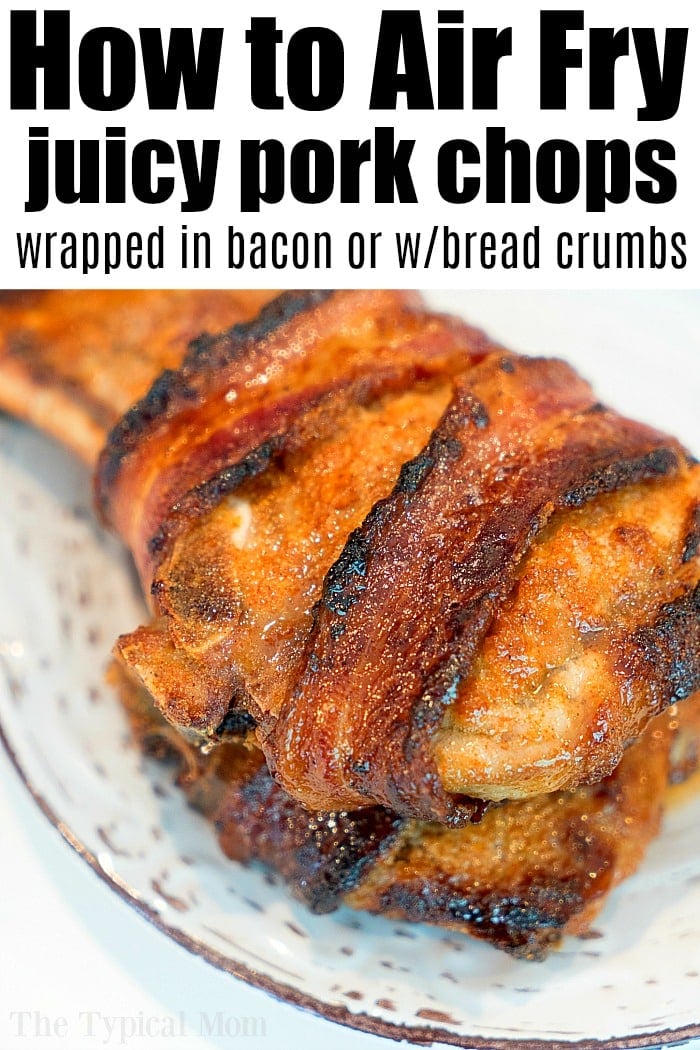 This one requires 400 degrees because there are bones present, but still only takes about 10 minutes. I wouldn't skip the bacon because it makes them incredible!
How long can you keep leftover cooked pork?
Leftover cooked meat will last three to four days in the refrigerator. If frozen, it will last 2-6 months.
Air Fryer Pork Loin
Air fryer pork loin comes out tender on the inside and flavored to perfection outside. It's a quick way to cook pork in your Ninja Foodi or other brand.
Instructions
Mix seasoning together and then press it on all sides of loin. Cutting it in half first will be necessary so it will fit into your basket.

Put into air fryer basket, close. Set to 400 degrees for 8 minutes.

Open and flip loins and cook for 10 more minutes or until internal temperature reaches 145 degrees. Allow to rest for 10 minutes before slicing to maintain juiciness.
Nutrition Facts
Air Fryer Pork Loin
Amount Per Serving (3 oz)
Calories 168
Calories from Fat 45
% Daily Value*
Fat 5g8%
Cholesterol 71mg24%
Sodium 348mg15%
Potassium 435mg12%
Carbohydrates 5g2%
Protein 25g50%
Calcium 9mg1%
Iron 1mg6%
* Percent Daily Values are based on a 2000 calorie diet.