Air fryer pork loin comes out tender on the inside and flavored to perfection outside. It's a quick way to cook this or a tenderloin in your Ninja Foodi or other brand too.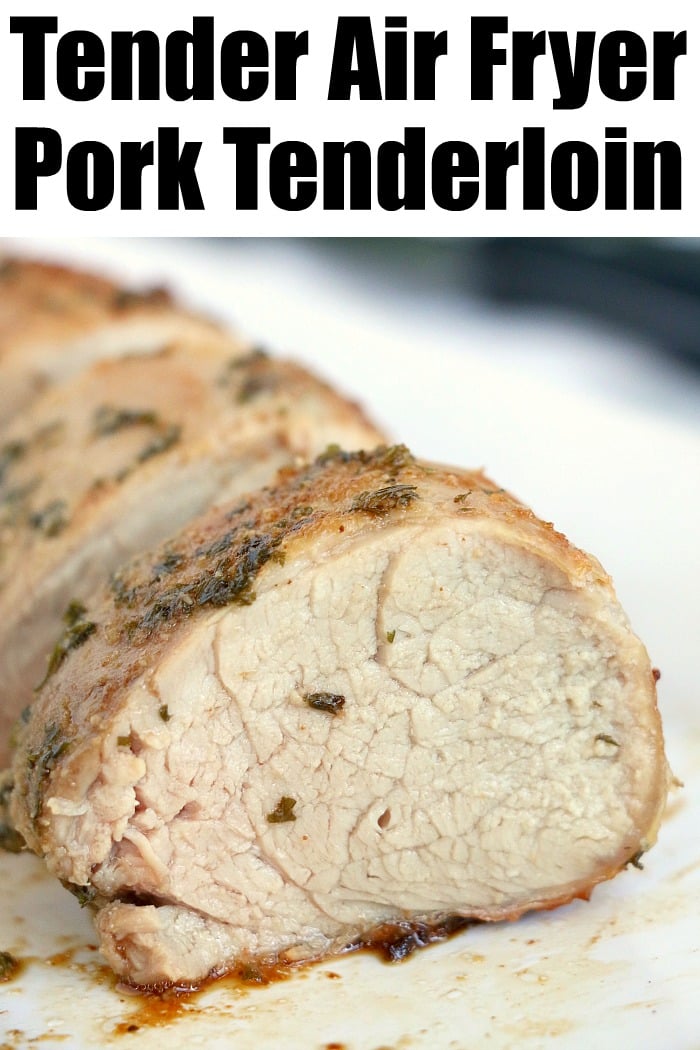 Have you cooked pork loin in an air fryer yet?? It's actually quite simple and quick! Get out your favorite seasonings to rub on the outside and give air fryer pork loin a try! An easy air fryer recipes we love. (originally published 8/19, affiliate links present)
Pork Loin in Air Fryer
We have used this recipe time and time again because it comes out just as good as our best baked pork chops recipe in the oven. So moist and juicy. Use our seasonings below or buy already marinated, either way it's amazing. Better yet this doesn't have a bone in it though which makes it easier to slice and serve with kids.
The biggest difference between making this and our slow cooker Amazing pork loin is that you get an incredible crisp on the outside. If you add a dry rub that gets baked on and a bit caramelized too which makes it beyond delicious.
FIRST – You should sign up for my free newsletter so you get new posts emailed to you twice a week and never miss out on anything! If you love air fryer recipes too, here are some resources to start with: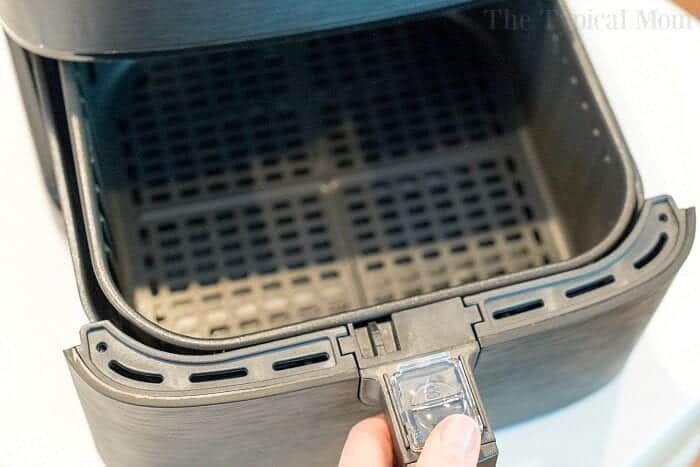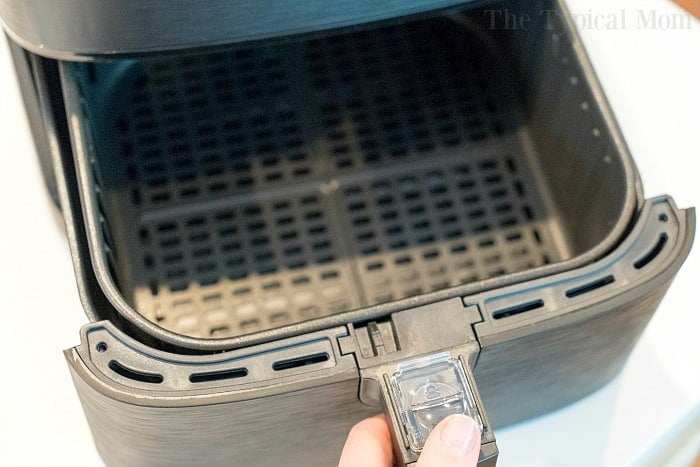 Boneless Pork Loin Air Fryer
Need a keto friendly meal, this hits that mark too! Of course we usually pair this with a bed of mashed potatoes or rice, but the side dishes are up to you. Tenderloin isn't a hard cut of meat to find at your local grocery store. Sometimes I will find a great sale and buy a few. I freeze most of them and leave out one to cook this way.
I have cooked frozen pork loin before but that needs a high pressure cooker to make it tender. I wouldn't attempt it rock hard in this machine. By the time it took to get the middle thawed and cooked in the center the outsides would be way to brown, almost burned.
SO make note of that and give it a good day to defrost in your fridge before you start this one. Now these can come in all shapes and sizes. Some are really large and others smaller. I share how big ours was below so if yours is significantly bigger you'd need to add a few minutes, check, and add a few more until it reaches a safe temp.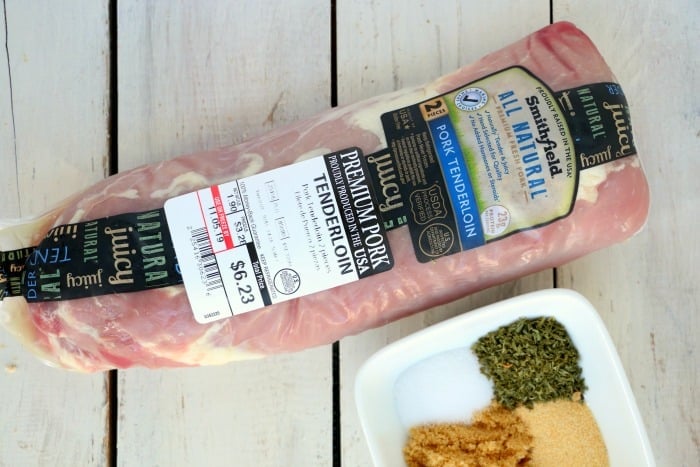 How Long to Cook Smithfield Pork Loin in Air Fryer
You can cook either a tenderloin or loin in your hot air machine. The only real difference is one is typically smaller and more tender (tenderloin). Timing is accurate for 3 lbs. no matter which one you use. It is faster than cooking Smithfield pork tenderloin in the oven for sure. That isn't the only brand out there though.
We chose a Hormel marinated loin fillet once and that turned out exceptionally well. Already soaked in a lot of seasonings and a sauce I didn't have to add anything myself. As with any recipe if you use a larger thicker piece it will take longer to cook. I recommend this size because it isn't massively thick and cooks more evenly.
You don't want the outside overdone in order to get the middle to a safe eating temperature. You can see what it turned out looking like below. Since it was less than 2 lbs. I just took off 1 minute and it was perfectly tender inside when done. Be sure to allow it to sit in the basket, closed for a good 5-10 minutes once it's done. Resting allows the meat to stay tender once you slice it.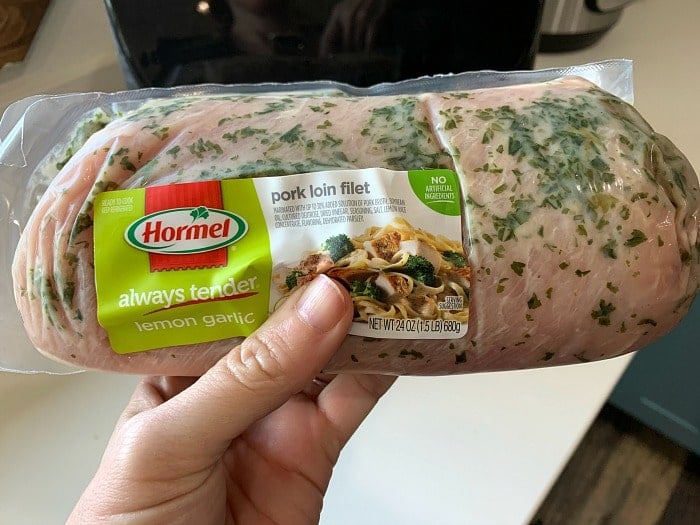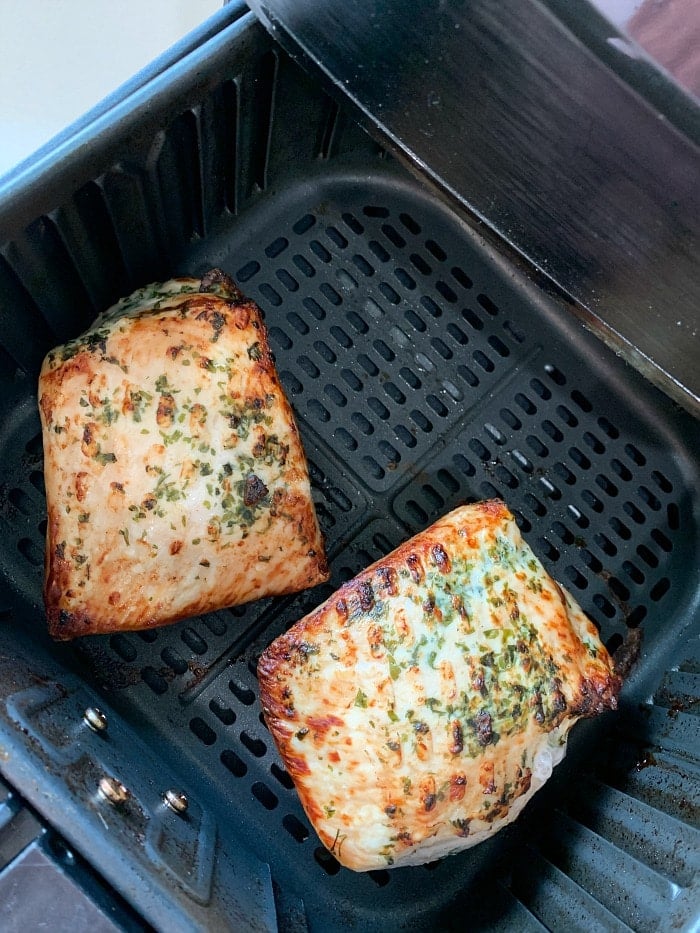 Can you cook frozen pork loin in an air fryer?
I have done this just once and it did work however I prefer pressure cooking it. I'm including a link to those directions below. Preheat the air fryer to 360 degrees F and place loin into the basket. Cook for 50 minutes.
If I forget to thaw one out in the next few days you can cook frozen pork loin in an Instant Pot too! Yes, I have been known to be forgetful a time or two.
Air fryer pork recipe
Pork tenderloin
Garlic powder
Salt and pepper if desired
Basil
Brown sugar
Add any other seasonings to the mix really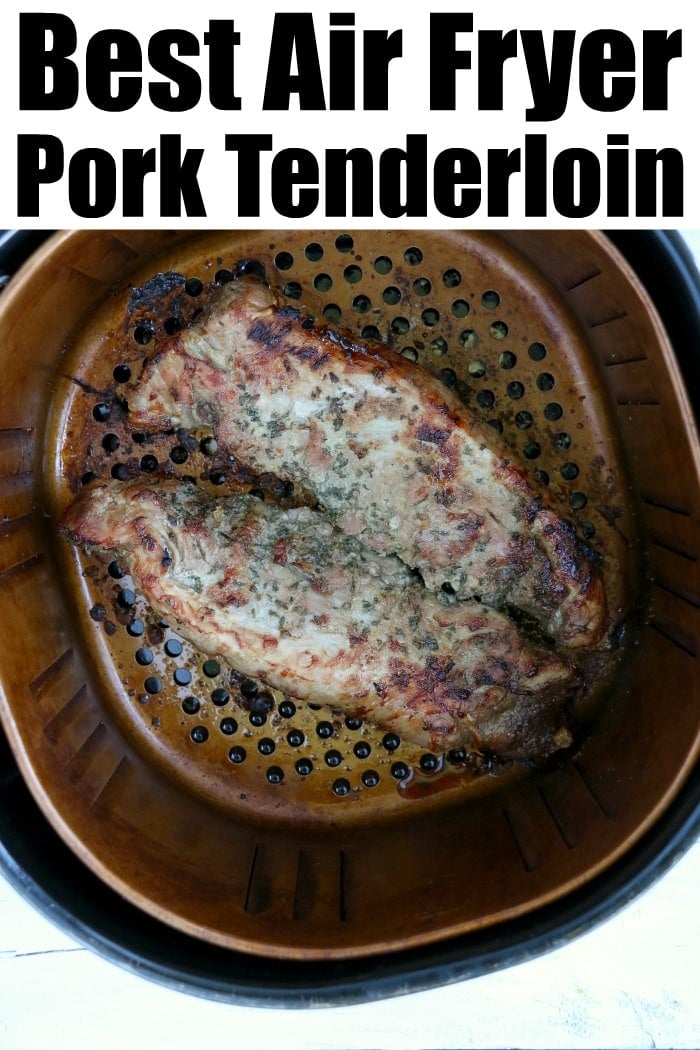 Pork Loin in air fryer
Here are a few questions you might have before you get started cooking this:
How long to cook pork loin in air fryer
?
Ours was 2 pounds. If yours is much larger the timing will vary from what is in the recipe card below. 18 minutes worked well to maintain the juiciness of the meat, but still get a nice color.

I think it's best to be flipped once almost halfway through the cooking process to get an even color. As with any other protein you will want to let it rest 5 minutes before slicing.

This allows the juices to stay inside and not immediately flow out once sliced.

Always ensure middle reaches internal temperature of 145 degrees after you remove the pork, and before eating.
Can you use PAM in an air fryer
?
Spraying with olive oil is debatable depending on who you ask. I use it all the time without any issues. It has been noted that non stick sprays might compromise the non stick coating of the air fryer basket.

I say use conservatively but have had no issues with it myself and think it lends to an easier clean up.
How to do you preheat an air fryer?
Preheating an air fryer takes about 4-5 minutes. With the Philips brand the timer button lets you preheat the device by adjusting the timer to five minutes until the warm up light goes out. Fill the basket after that and turn the timer knob to the required cooking time.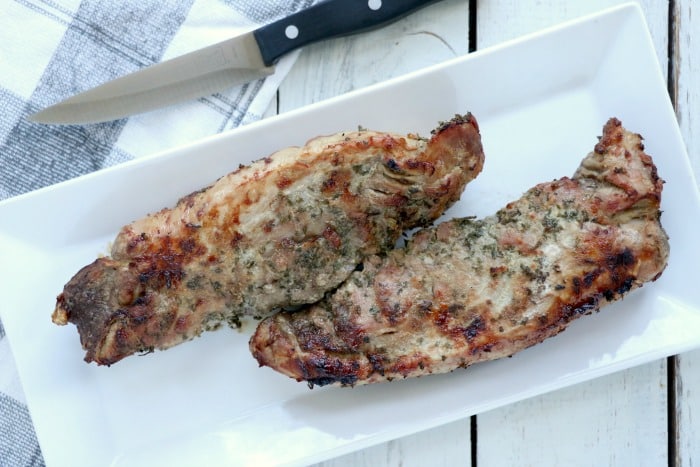 For the Ninja Foodi you just turn the pot on and close the attached lid. Hit the air crisp button, set the temperature, choose 4 minutes for the timing. Once it beeps and turns the pot off you know it's done.
Now when smoking a boneless pork loin I add different spices. You could opt to use this mixture for a more intense flavor. Everyone is different, this one here is very basic. Another debate out there is whether you need to preheat your air fryer. I say it depends on the recipe.
Also, it comes down to whether I remember to or not. I definitely do recommend it in general though. If your machine doesn't have a preheat button I would recommend 5 minutes at the temperature you'll be cooking at.
For most electric air fryer recipes I do not. For bone in pork chops I do.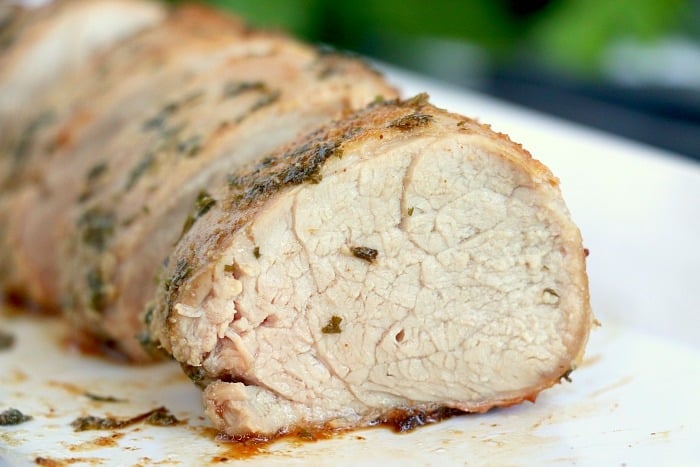 What should I serve with pork tenderloin?
There are TONS of great ideas depending on your taste buds and what method of cooking you want to do. Here are a few of our favorite side dishes.
Air fryer mashed potatoes with russet or tender sweet potatoes.
We have a bunch of Instant Pot side dishes on our site you can search for
Easy Air fryer zucchini fries are my girls' favorites.
Make some simple air fryer cauliflower
Bok choy is a low calorie healthy choice.
Air frying is the way to go if you want to make quick dinner recipes everyone will love under 20 minutes. Looking for other pork recipes? Try our air fryer pork chop recipe wrapped in bacon!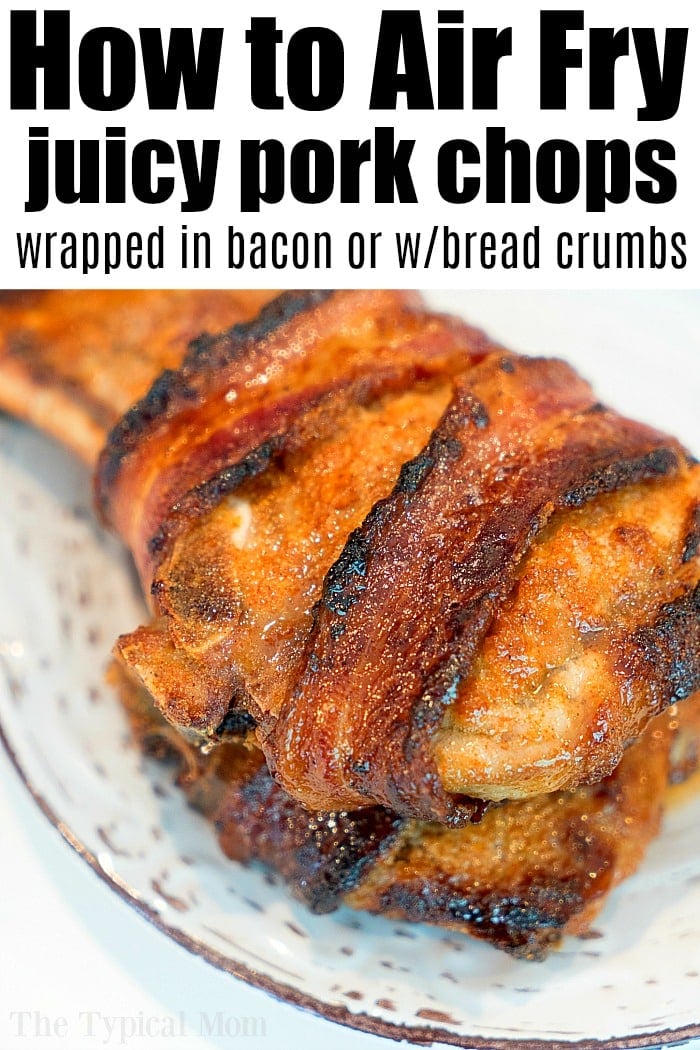 This one requires 400 degrees because there are bones present, but still only takes about 10 minutes. I wouldn't skip the bacon because it makes them incredible! Preheat your air fryer to 400 degrees F for 5 minutes.
Rinse and pat dry with paper towels your loin. Slice in half so it will fit inside your basket. Mix seasonings listed and coat outside.
Place meat in air fryer basket and set to 8 minutes at 400 degrees, then flip each piece over to the other side and cook an additional 10 minutes.
When done let it sit in the closed drawer for at least 5 minutes to rest.
Take internal meat temperature and ensure it is at 145 degrees F. before slicing.
How long can you keep leftover cooked pork?
Leftover cooked meat will last three to four days in the refrigerator. If frozen, it will last 2-6 months. For another quick idea, this is how to cook frozen pork chops in Instant Pot too.
Want to see a few of my favorite things that I am totally obsessed with?? Take a peek and see how many you might already have…twinsies!
Looking for more easy family recipes and tips? LIKE The Typical Mom Facebook page?
Then sign up for my free newsletter, and follow me on Pinterest! 😉
***** If you LOVED this recipe give it 5 Stars below and let everyone know what you thought about it. 😉
Air Fryer Pork Loin
Air fryer pork loin comes out tender on the inside and flavored to perfection outside. It's a quick way to cook pork in your Ninja Foodi or other brand.
Instructions
Rinse meat and pat dry with paper towels. Mix seasoning together and then press it on all sides of loin. Cutting it in half first will be necessary so it will fit into your basket.

Preheat air fryer to 400 degrees F for 5 minutes. Put coated meat into preheated air fryer basket, close. Set to 400 degrees for 8 minutes.

Open and flip loins and cook for 10 more minutes or until internal temperature reaches 145 degrees. Allow to rest for 10 minutes before slicing to maintain juiciness.
Nutrition Facts
Air Fryer Pork Loin
Amount Per Serving (3 oz)
Calories 168
Calories from Fat 45
% Daily Value*
Fat 5g8%
Cholesterol 71mg24%
Sodium 348mg15%
Potassium 435mg12%
Carbohydrates 5g2%
Protein 25g50%
Calcium 9mg1%
Iron 1mg6%
* Percent Daily Values are based on a 2000 calorie diet.