Air fryer zucchini fries or spears are a great side dish or a healthy low carb snack your whole family will love! It's our favorite vegetable air fryer recipe.
We had a lot of zucchini in our garden this year! That meant we made air fryer zucchini fries, spears, chips, and lots of bread for breakfast too. Anyway you cut or slice this green vegetable we just love and hope your family does too. Find this and more on our air fryer recipes page here.
If you love air fryer recipes too, here are some resources to start with: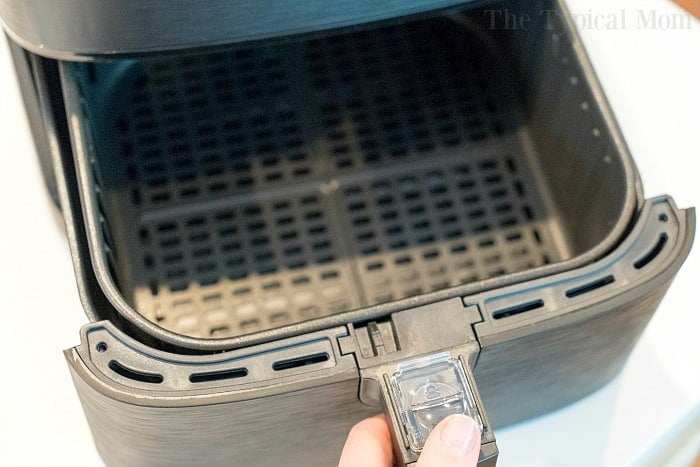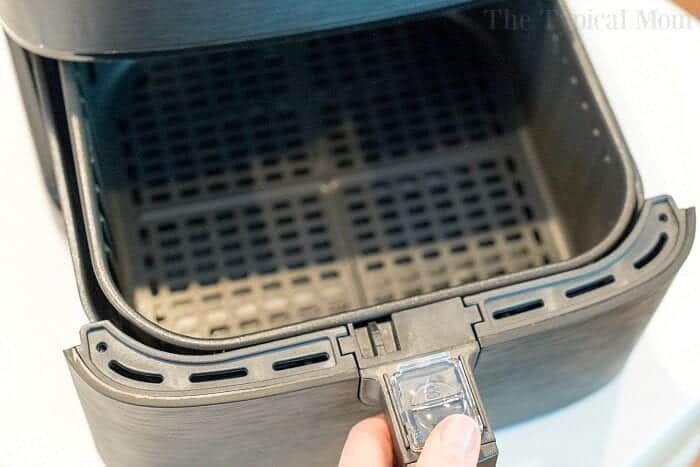 Zucchini fries in air fryer
Is zucchini a fruit or vegetable?
Most would quickly refer to it as a green vegetable. It is usually cooked inside or as a stand alone savory dish or side dish. Botanically though, zucchinis are actually categorized as fruits because of seeds inside.
Should you peel zucchini before you cook it?
Not at all. I have never shredded it before using at all. There is quite a bit of liquid in this veggie so the skin keeps it together well really.
Is fried zucchini bad?
Well anything deep fried in oil isn't great for your health. BUT when you air fry vegetables you still get that crunch but without the fat or oil!
This is kinda' my assembly line of sorts. Prepare all ingredients and then dunk and dip, then cook!
You can use shallow small bowls too for your bread crumbs and one for your egg, totally up to you. It's the way I make almost all of our air fryer vegetable recipes.
Zucchini fries recipe keto
Zucchini – medium size is best
Egg
Old Bay seasoning
Garlic salt
Salt and pepper to taste at end
Olive oil cooking spray
Air fryer basket
Dipping sauces: Ranch dressing, marinara sauce or fry sauce are best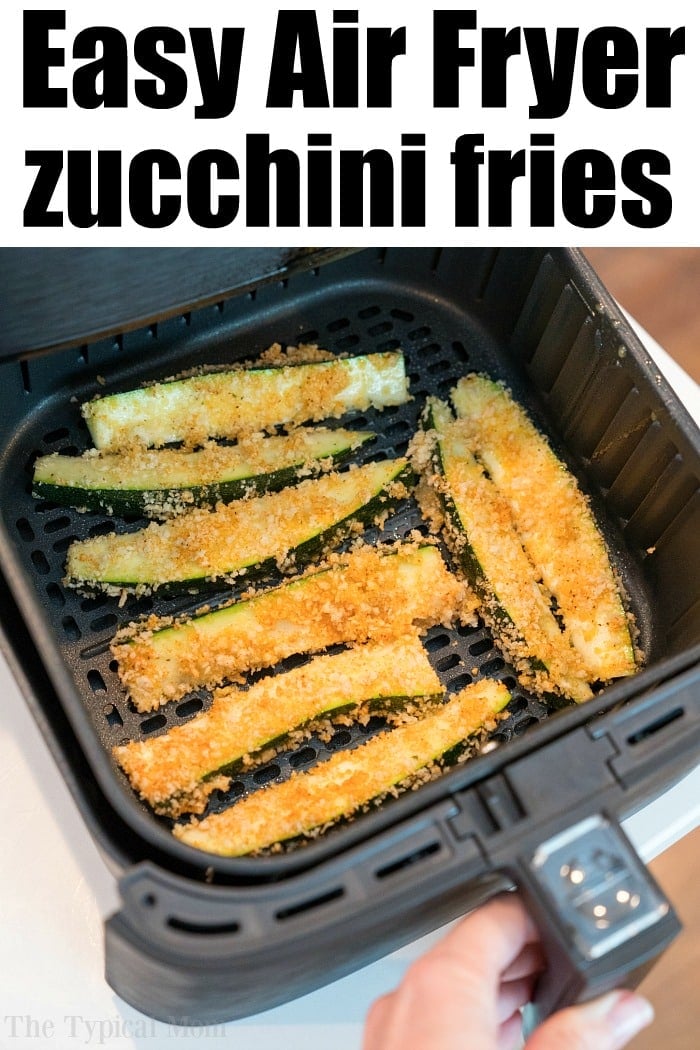 Are air fryers healthier?
Compared to deep fried zucchini spears, yes!! Using hot air to make the outside crispy and delicious versus submerging it into vegetable oil is a much healthier way to make this.
The biggest tip when making air fryer vegetables, or anything else in your machine really, is layer in air fryer in only ONE layer.
If you crowd your food in the air fryer basket the sides won't get an opportunity to get really crunchy and crispy like you want them to be. Separating them allows the hot air to create a crispy outside, but still leave the outside tender and moist.
If we just want something light at the end of the day this is one of our favorite zucchini dinner recipes. We love zucchini taco boats too.
Another tip when making air fryer zucchini fries: flip them halfway through the total cook time. This isn't totally necessary if you forget, but if you remember it makes every inch perfectly crunchy!
Time needed: 15 minutes.
Air fryer zucchini and squash
Slice

Slice your zucchini and/or yellow squash in half, then into spears about 4 inches long.

Coat

Dip into shallow bowl with your egg in it, then press into your breadcrumb mixture until coated.

Cook

Place into your air fryer basket in a single layer. Cook at 350 degrees until crispy, about 15 minutes total flipping after 10 min.

Remove and do the same for remaining zucchini until your entire batch is done and perfectly crispy on the outside, tender on the inside.
Dip and enjoy! Some like a light squeeze of lemon juice after they're freshly cooked too.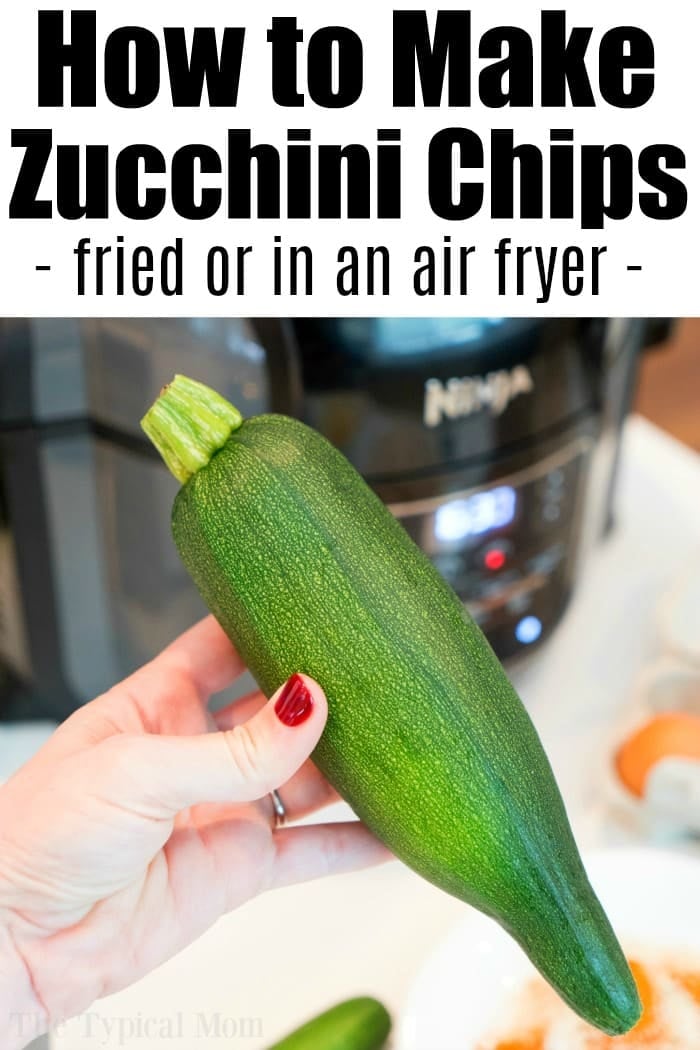 We did this to make our air fryer zucchini chips too. They were a huge hit so we made zucchini spears after that. It's nice to have a bit of variety.
Other Ninja Foodi recipes you might enjoy are:
(any brand of air fryer will work)
Then make our pumpkin zucchini muffins and air fryer donuts for dessert!
Want more easy recipes and tips from The Typical Mom blog? Sign up for my free newsletter, and follow me on Pinterest!
***** If you LOVED this recipe give it 5 Stars below and let everyone know what you thought about it. 😉
Air Fryer Zucchini Fries
Air fryer zucchini fries are a great side dish or a healthy low carb snack your whole family will love! It's our favorite vegetable air fryer recipe.
Instructions
Slice zucchini into spears, the size of pickle spears.

Whisk your egg on a plate and mix bread crumbs and seasonings on a separate plate. (could add 1/4 c. shredded parmesan cheese to breadcrumbs if you wanted)

Dip spears in the egg, allow excess to fall off and then press into bread crumbs on all sides.

Place inside air fryer basket so they don't overlap. Spray with olive oil.

Set to 350 degrees for 10 minutes.

Flip, and reset to 350 degrees for an additional 5 minutes. Enjoy!
Nutrition Facts
Air Fryer Zucchini Fries
Amount Per Serving (3 oz)
Calories 70
Calories from Fat 18
% Daily Value*
Fat 2g3%
Cholesterol 41mg14%
Sodium 683mg30%
Potassium 165mg5%
Carbohydrates 10g3%
Protein 4g8%
Vitamin A 155IU3%
Vitamin C 8.7mg11%
Calcium 38mg4%
Iron 1mg6%
* Percent Daily Values are based on a 2000 calorie diet.