Best Homemade french fries baked in the oven or an air fryer are here! How to make crispy potato straws or wedges that are tender inside. You may have tried our popular Ninja Foodi french fries but want to make them in the oven with your main dish, here is how!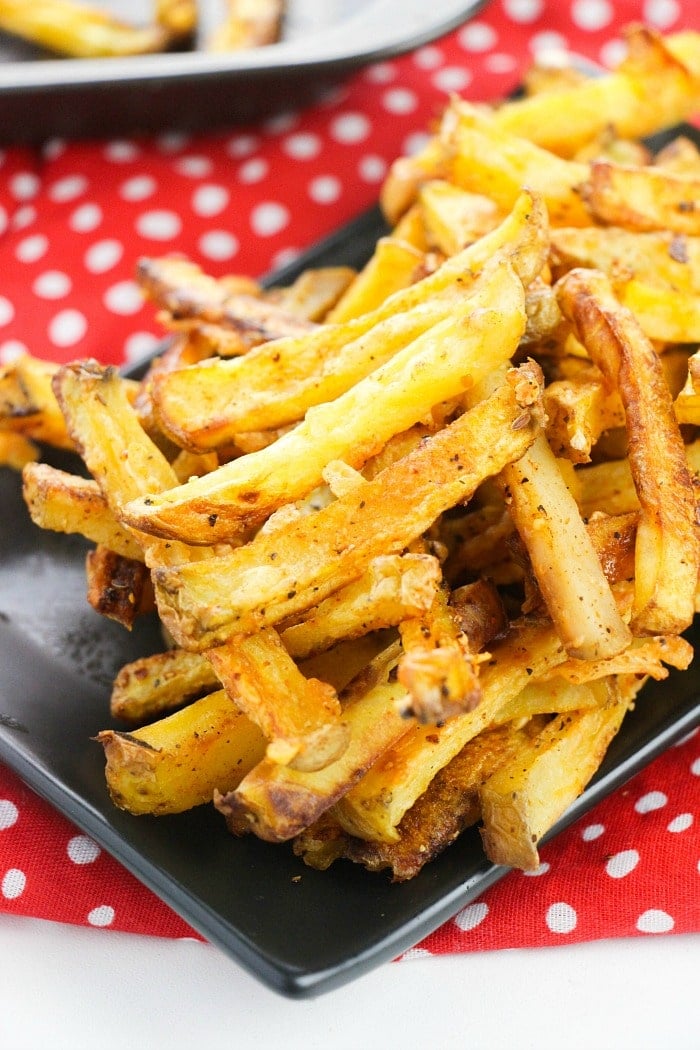 Ready to try the best homemade french fries? There really isn't much better paired with burgers right? Whether you bake them or hot air fry them we will tell you the tricks to making them perfect. (originally published 5/21, affiliate links present)
How do you Make Crispy French Fries from Scratch
We will show you how right here. They are SO easy you'll start to wonder why you never made these earlier. I did after our first batch!
Of course we are going to start with taters. Since we live in Idaho we have lots of those. 😉 Use russet, sweet potatoes, or even red if you like. Each one brings a different flavor and taste so use your fave I say….But aren't the only thing you could use either. After this you should think outside of the box like eggplant fries or carrots too. 😉
How to Make French Fries from Potatoes
Homemade Fries Oven
Here are the basic ingredients you'll need to make homemade fries
Potatoes – Russets are recommended, most commonly used and usually the cheapest as well.
Salt – Use during and after the cooking process. Can opt to use seasoned varieties too such as Lawry's or steak seasoning.
Olive oil – This will help crisp the outsides and give it a bit of flavor too. Avocado oil is a great alternative.
2 Large bowls – One for soaking and another for tossing the ingredients.
Do you have to soak potatoes before frying
You don't HAVE to, but many do and say it makes for crispier fries. This step does help remove some of the starch. Cold water is recommended for at least 30 minutes. Use slotted spoon to remove and place on paper towels. Either way you MUST dry them really well to remove the liquid on the outsides. This will allow the olive or vegetable oil to stick well.
What type of potato is best for French fries
Russets because they are low in moisture but higher in starch than other varieties. This means you can get the outside crunchy but the insides will remain fluffy and tender.
How potatoes are made into French fries?
Well, you slice them. How thick you cut the potatoes is up to you. Many like steak fries which are quite large, while others like super skinny without much on the inside.
Keep in mind that the skinnier they are the quicker they will cook. You just adjust the timing below according to how small they are. You can see the size below that the printable recipe card was based off of.
This is typical so any bigger just add a few more minutes and check until they are perfect for you. Then make a note to yourself after you print the recipe off below so you remember what "your timing" is.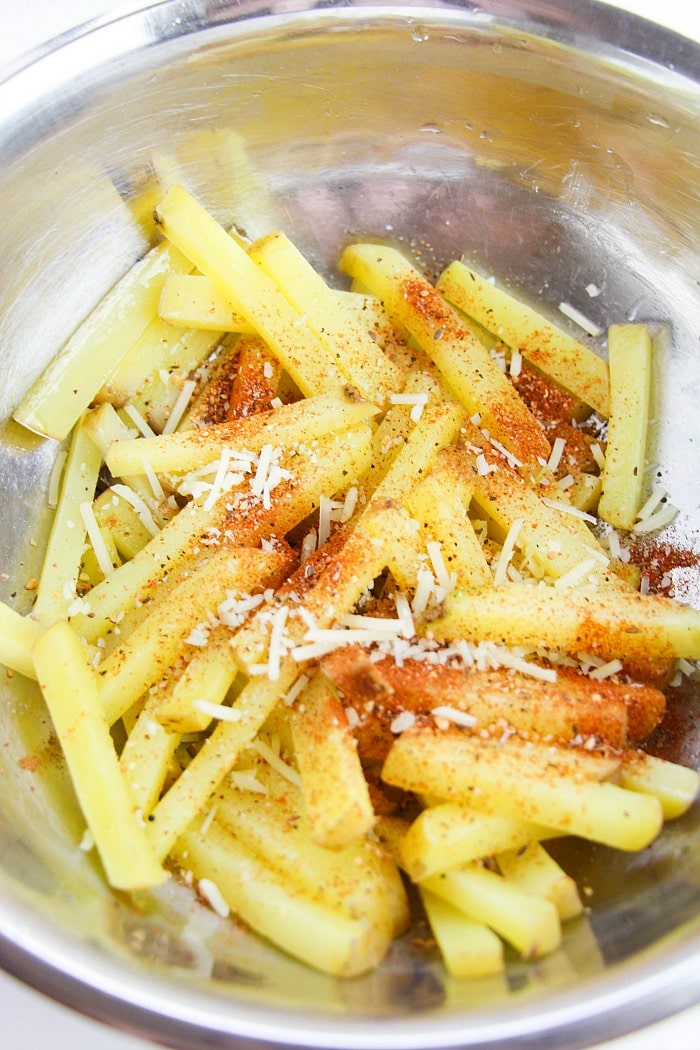 Homemade French Fries in Oven
We are going to start with how to bake them the "traditional way". In the oven that is using just a sheet pan. I mean everyone has one of these in their house so it's a good place to begin. Beyond the basic ingredients there are TONS of other things you can toss into the mix to amp them up too.
How do you make French fries taste better?
We love shredded parmesan cheese sprinkled on the top like you see here.
Truffle oil drizzled on top brings a bang of flavor everyone loves.
Fresh herbs are great if you have them on hand. Of course dried and bottled things like thyme and rosemary are great too.
Baked French Fries
Here are quick step by steps but there is a printable recipe card at the bottom of the post too:
Wash outside of russet potatoes to remove debris. Dry with paper towels.
Slice as thin or thick as you desire, or use french fry cutter. Keep the skins on ideally, if you ask me.
Fill a bowl with cold water.
Put sliced potatoes inside the bowl, add salt, stir, then and soak for 30 minutes to up to 2 hours. Preheat oven to 400 degrees F at this time.
Drain water from potatoes and dry WELL with paper towels to remove as much liquid as possible. The drier they are the crispier they will become.
Put in a new dry bowl and toss with olive oil, seasonings and parmesan cheese.
Use two baking sheets. Lay them out in a single layer so they aren't overlapping at all.
Bake for 20-25 minutes. Flip fries halfway thru total cook time. You can "double fry" them by spraying olive or peanut oil on top after flipping to get REALLY crispy.
Take them out when they're as golden brown as you'd like. This is the end result!! Salt and pepper to taste at the end. Try first though because there's nothing worse than fries that are too salty.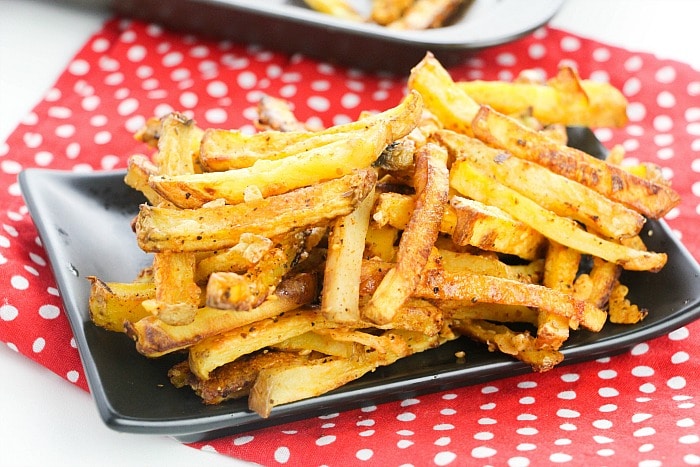 What to add to French fries
I mean you can "dress them up" however you'd like but here are a few of our favorite ways to eat them.
You can pile them up on a plate with gravy on top to make poutine.
Make into fun nachos with these instead of chips drenched in cheese!
Some enjoy marinara sauce over ketchup.
I would say our favorite is our homemade fry sauce recipe here though.
Homemade French Fries Air Fryer
THIS is my all time favorite way to make these, seriously. I have even converted my husband so swears by this method and says it is a game changer. Want to make these a whole new way that will get them EXTRA crispy in no time at all? Use any brand of air fryer to make frozen french fries in air fryer or…..
For homemade we make these air fryer potato wedges over and over again with dinner. As a main dish you can even turn a protein into fries. We did this with chicken fries and air fryer spam fries the other day.
Instant Pot French Fries
If you have the Instant Pot air fryer lid you could use that to air fry them too. You just have to do a smaller batch at a time since the basket is smaller.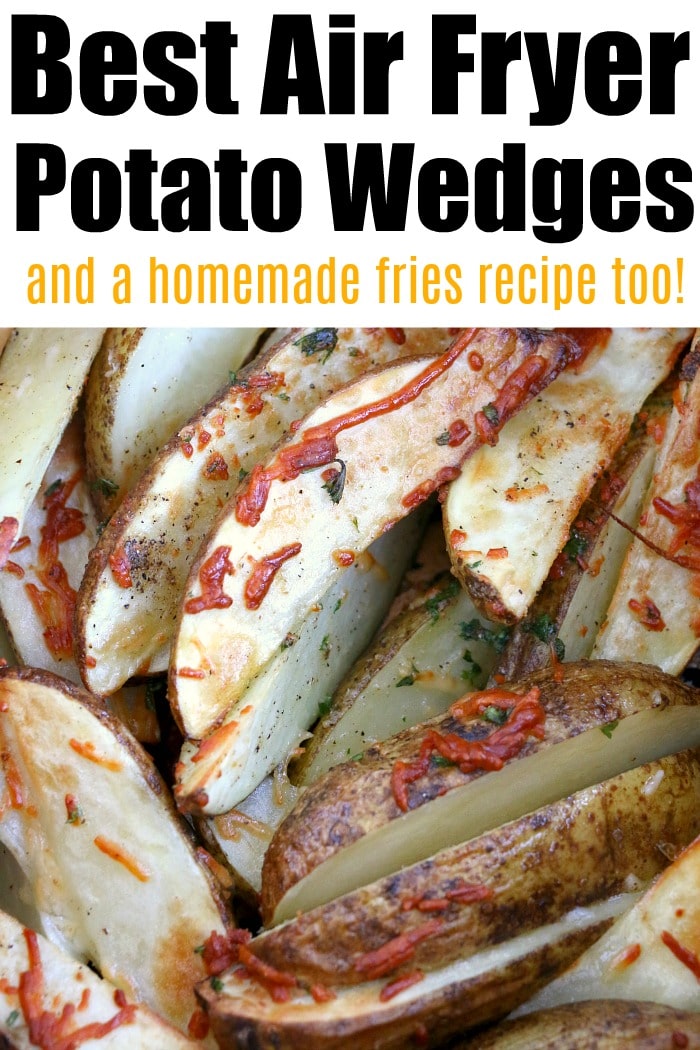 You can go a step further and make fries with carrots or air fryer jicama fries too!
I mean if you haven't tried air fryer carrot fries you will be surprised. Even if you don't really love this vegetable it comes out great lightly breaded with seasonings. You may be fooled, or your kids, and not know what's inside.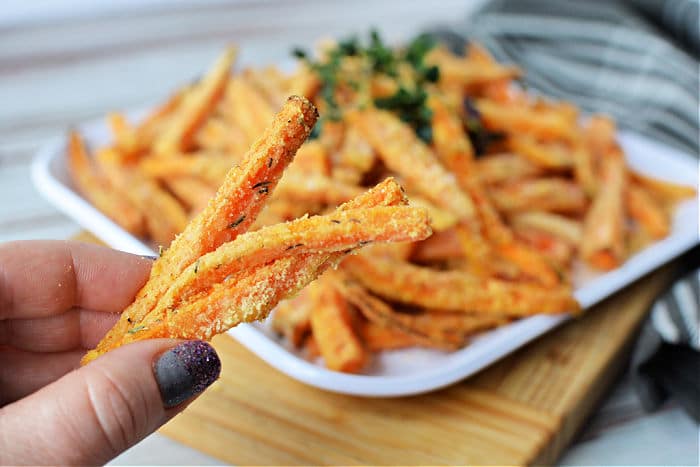 I have never used a deep fryer to make these, I don't even own one. You could follow the same instructions but toss and season at the end after cooking.
Personally I don't enjoy fried foods and these methods are healthier. If you want to fry the potatoes you can use this recipe.
Want to see a few of my favorite things that I am totally obsessed with?? Take a peek and see how many you might already have…twinsies!
Looking for more easy family recipes and tips? LIKE The Typical Mom Facebook page?
Then sign up for my free newsletter, and follow me on Pinterest! 😉
***** If you LOVED this recipe give it 5 Stars below and let everyone know what you thought about it. 😉
Nutrition information with calories, saturated fat and other information is included below. It accounts for all ingredients contained so if something is added by you it will not be quite accurate.
Best Homemade French Fries
Best Homemade french fries made in the oven or an air fryer are here! How to make crispy potato straws or wedges that are tender inside.
Instructions
Fill a bowl with cold water. Slice potatoes into strips, the thinner they are the crispier they will become.

Add salt to the water, stir, then add potato strips and soak for 30 minutes to up to 2 hours.

Preheat oven to 400 degrees F.

Drain water from potatoes and pat dry with paper towels well. The drier they are the crispier they will become.

Put in a bowl and toss with olive oil, seasonings and parmesan cheese.

Use two baking sheets to fit them all. Lay out so they aren't overlapping.

Bake for 20-25 minutes flipping fries halfway thru cook time. Take out when they're as crispy as you'd like.
Nutrition Facts
Best Homemade French Fries
Amount Per Serving (2 oz)
Calories 58
Calories from Fat 54
% Daily Value*
Fat 6g9%
Cholesterol 2mg1%
Sodium 1781mg77%
Potassium 12mg0%
Carbohydrates 1g0%
Protein 1g2%
Vitamin A 40IU1%
Calcium 21mg2%
Iron 1mg6%
* Percent Daily Values are based on a 2000 calorie diet.