Spam fries in air fryer are so good as a snack! This way gets them super crispy but tender on the inside. If you haven't tried this Hawaiian favorite you've got to try fried spam tonight.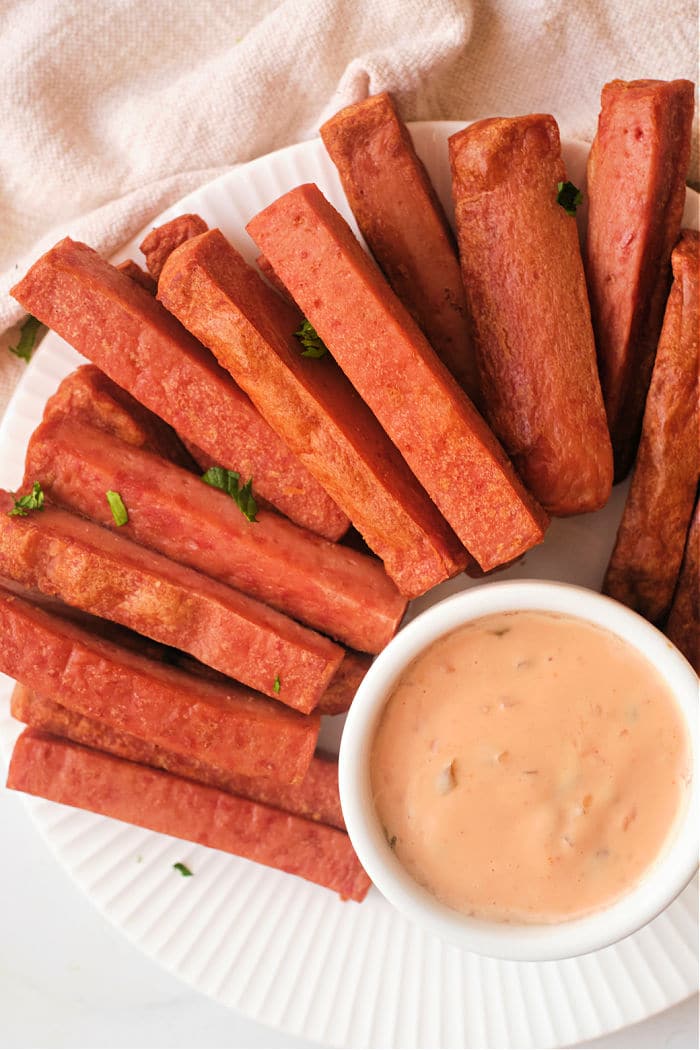 Spam fries use just one ingredient, the contents of the classic can itself! If you've ever been to Hawaii this is a favorite food mixed into fried rice or fried. Yes you can deep fry these but in an air fryer is so much better for you with the same crispy result. One of many easy air fryer recipes on our site. (affiliate links present)
Fried Spam
The first time we made air fryer spam we diced it up and mixed it with potatoes and onions. You should definitely buy a few cans so you can try both of these versions. Both used the "regular" can but nowadays you have so many flavors to choose from.
From jalapeno to Hickory smoke, lite, less sodium, the options go on and on. It doesn't matter which one you choose from the grocery store. The instructions below in the printable recipe card below will work with any of them. The only difference is the flavor profile but not really the texture.
FIRST – You should sign up for my free newsletter so you get new posts emailed to you twice a week and never miss out on anything! If you love air fryer recipes too, here are some resources to start with: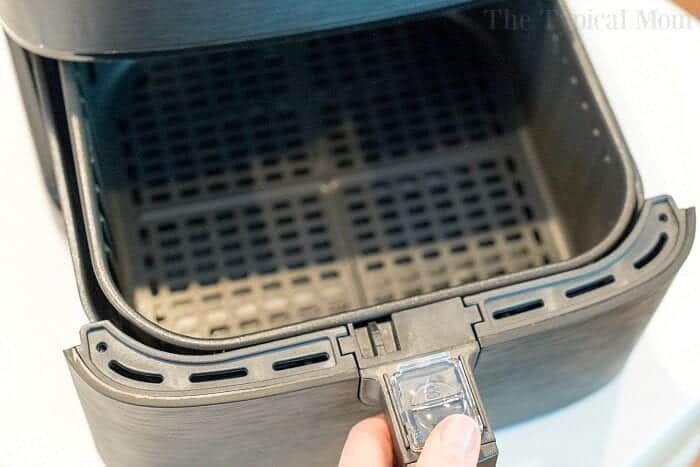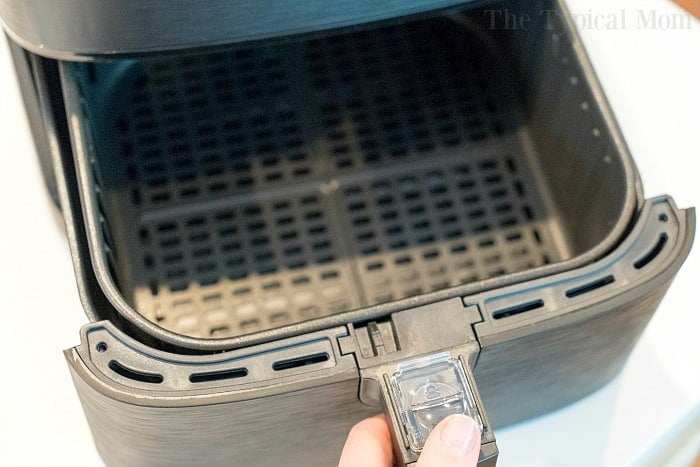 Air Fryer Spam Fries
If you have made air fryer homemade french fries before you may have gotten hooked. That was our first creation too and our kitchen has never been the same again. I kid you not, this hot air machine gets used on a daily basis. Whether it is my kids cooking up some air fryer frozen corn dogs after school, or me making dinner.
It just takes so much less time warming up than an oven, and I have never been a fan of frying anything in oil. I do love how crunchy that method makes food though, so when I discovered that my Ninja Foodi and Cosori did the same thing it was game on.
How do you make Spam crispy?
The BEST way is to air fry it y'all! The thinner you slice it the crispier it will get. Diced up mixed with potatoes is a great way to get everything crunchy too. You've got to try air fryer spam fries, they are addicting.
From start to finish you can have these done in about 15 minutes flat. A cheap snack kids love.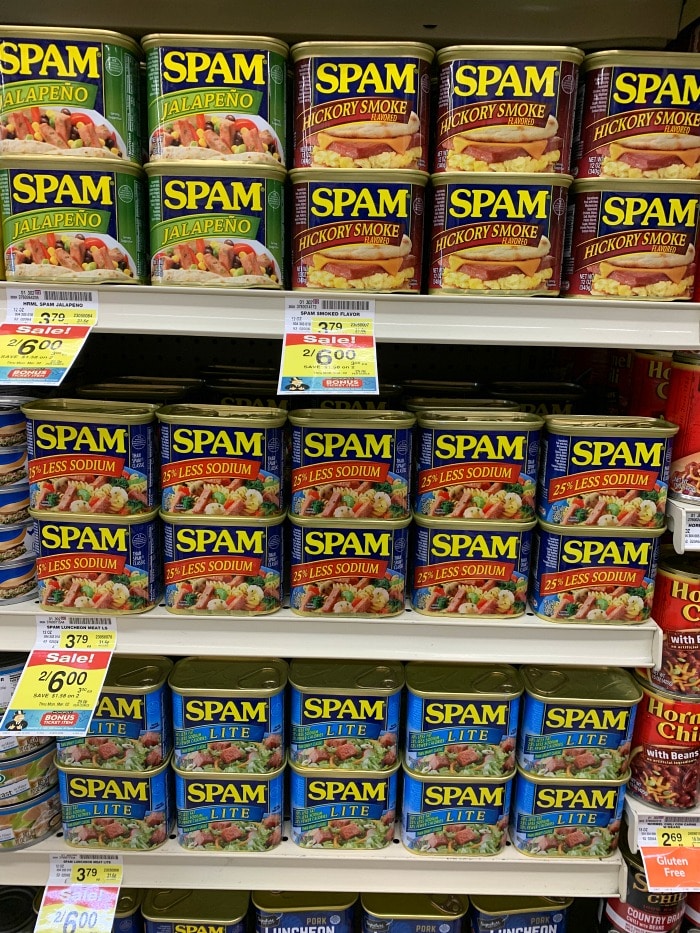 Is fried Spam good?
UMMmm yes. Point blank. If you have tasted this before maybe sauteed over medium high heat it does kinda' crisp up on the edges, Spam in air fryer is beyond better than that.
You definitely don't need any additional seasonings on top, just a light spray of olive oil is all you need. If you don't have that it will still work just fine though.
How long do you fry Spam for?
Well we aren't technically frying your pieces. That would involve a bunch of hot oil that is not only dangerous to use but adds tons of extra calories and fat that doesn't even add flavor to your dish. Instead, make them as a Cosori air fryer recipe.
So here's where it all starts; you have to slide the canned lunchmeat product out of the metal tin. Place on a cutting board and to make sizes like this you can cut it lengthwise in thirds.
Then cut into fry sizes like you see here. That is literally all you need. Like I said, the olive oil spray is just to enhance the crispiness using an air fryer or Instant Pot with AF lid attachment.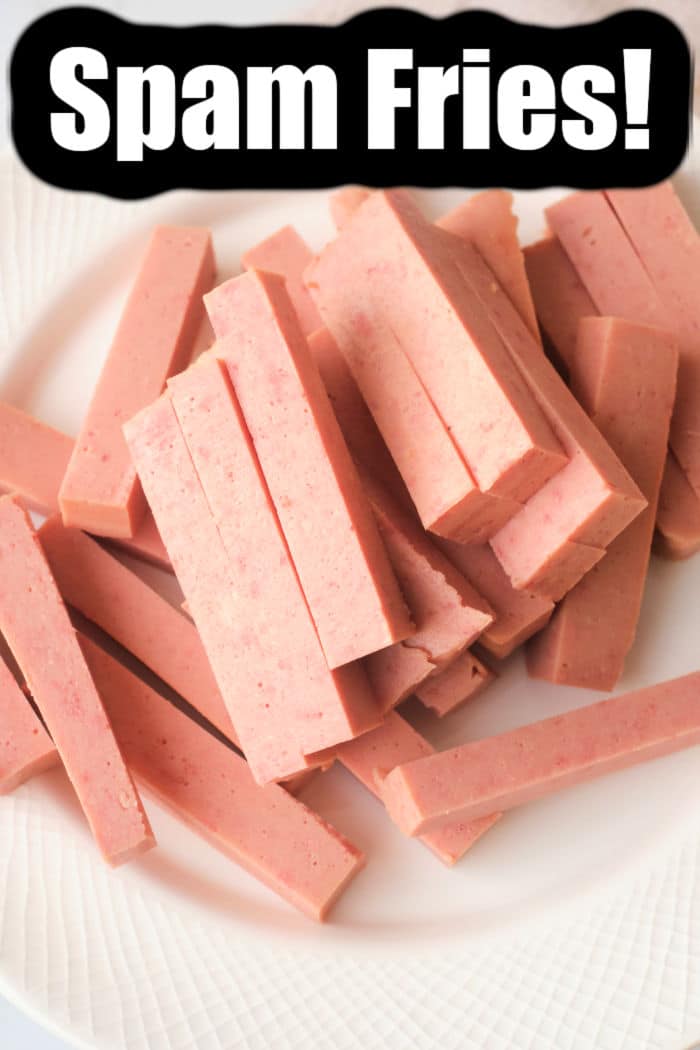 How to Fry Spam
Once you have your pieces ready I always recommend that you preheat your machine. That will ensure the temperature is steady the entire time to get the texture desired. Here's a quick step by step but you can read and print them out below as well:
Preheat your air fryer to 300 degrees F. for 5 minutes.
Slice your Spam patty into fry sized pieces. Spray inside of air fryer basket with non stick spray and lay fries inside in a single layer.
Cook for total of 12 minutes, flip halfway thru the cooking time. If you want them really crispy spray top with olive oil spray the last 3 minutes.
Lay on paper towels when done if you want to absorb a bit of the leftover oil on the outside, but not necessary. I don't really like these breaded but you could spray luncheon meat sticks with oil and roll spam in flour or bread crumbs.
Breaded Spam Recipe
You could dip your pieces in a whisked egg and then roll into some Panko crumbs to coat first. This will give the outside a crispy crunchy texture. Timing would remain the same for this version.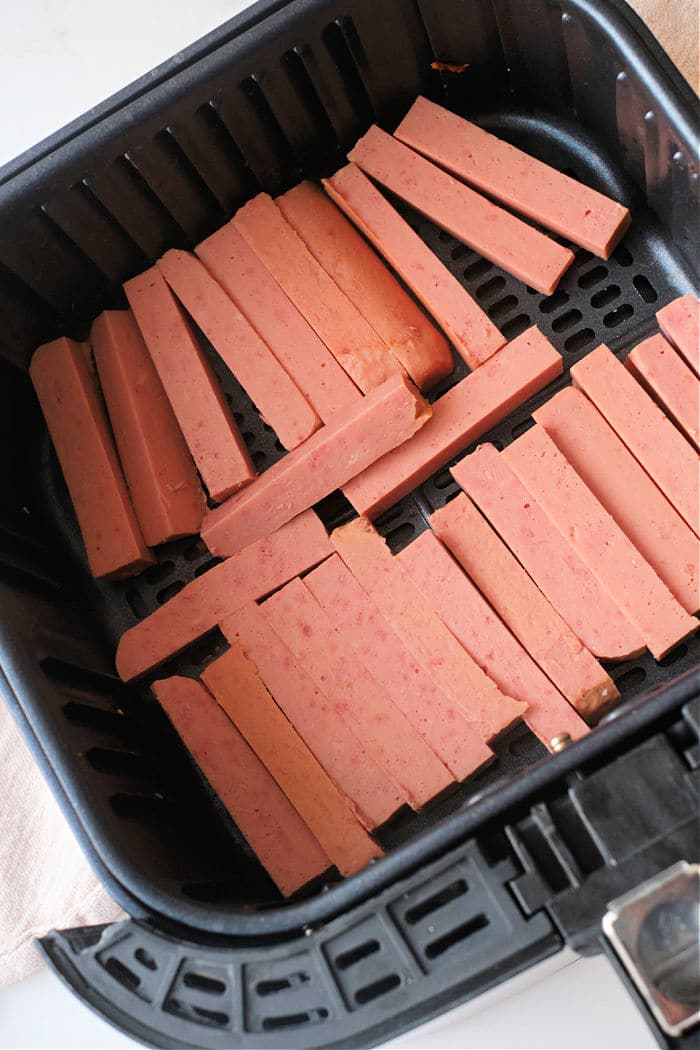 Feel like you need to serve this easy side dish with dipping sauces? You totally could after they are nicely golden brown and ready to enjoy. Ketchup would work, homemade fry sauce, or even mayo is good.
Want to try cooking these different ways to make sure this truly is the best way to cook Spam, alright if you must have oven directions here it goes; preheat oven to 350 degrees F, slice, lay on a baking sheet and cook for about 12-17 minutes until they're the texture you want.
Takes way longer than this but have at it if you want to compare away. 😉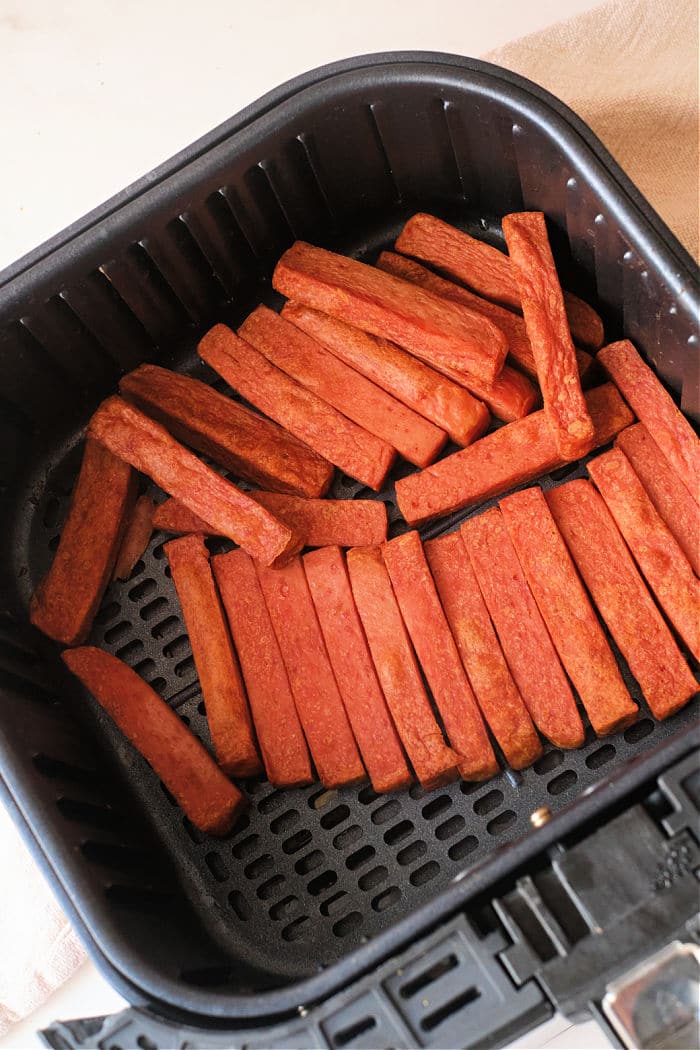 Want to see a few of my favorite things that I am totally obsessed with?? Take a peek and see how many you might already have…twinsies!
Looking for more easy family recipes and tips? LIKE The Typical Mom Facebook page?
Then sign up for my free newsletter, and follow me on Pinterest! 😉
***** If you LOVED this recipe give it 5 Stars below and let everyone know what you thought about it. 😉
Spam Fries
Spam fries in air fryer are so good for a snack! This way gets them super crispy but tender on the inside. You've got to try fried spam.
Ingredients
2

cans

spam

cut into sticks
Instructions
Preheat air fryer to 300 degrees F for 5 minutes. (or heat oil in a pan if frying)

Slice spam patties into fry sizes. Spray inside of air fryer basket with olive oil spray and lay fries inside without overlapping them. (or fry in oil for 2 minutes on each side until crispy)

Cook for total of 12 minutes or so, flipping halfway thru time. If you want them really crispy spray top with olive oil spray the last 3 minutes. (set on paper towels when done if frying)
Nutrition Facts
Spam Fries
Amount Per Serving (1 oz)
Calories 179
Calories from Fat 135
% Daily Value*
Fat 15g23%
Cholesterol 40mg13%
Sodium 800mg35%
Potassium 232mg7%
Carbohydrates 3g1%
Protein 8g16%
Iron 1mg6%
* Percent Daily Values are based on a 2000 calorie diet.