Fresh squeezed lemonade recipe using just 3 ingredients to make the best lemonade ever. You've got to try this easy recipe even your kids will enjoy during the hot summer months, we make it year round.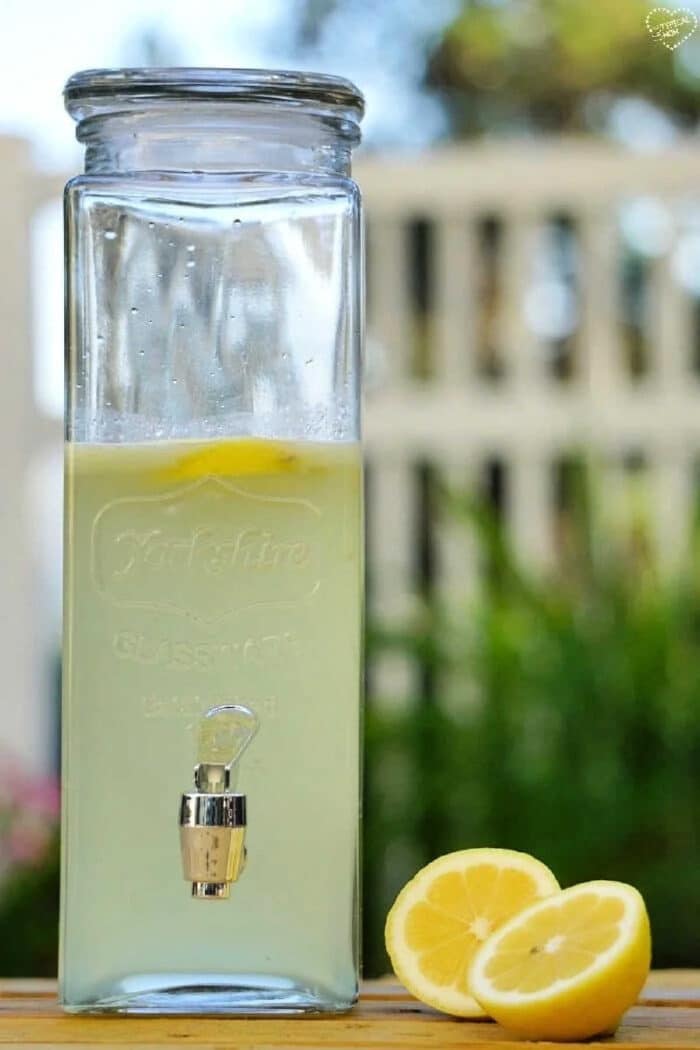 Ok so we have a lemon tree in our backyard. It's been there since we've lived here. I never did anything with them, until now!! I have always wanted to make an easy fresh squeezed lemonade recipe. Somehow I thought there was a lot involved until I tried it myself. (originally published 8/16, affiliate links present)
Best Homemade Lemonade
Seriously, I should've been making this fresh squeezed lemonade recipe years ago…it's amazing!
Literally I couldn't believe how easy homemade lemonade would be to make! I was just so tired of throwing away all the lemons that fell off of our tree and went unused. I figured there had to be a way of using them to make our favorite summertime drink.
We love fresh lemonade when we are at the fair. I fooled around with the right amounts of lemon juice to water to sweetness ratio, and this came out just perfect! Now we make it all the time!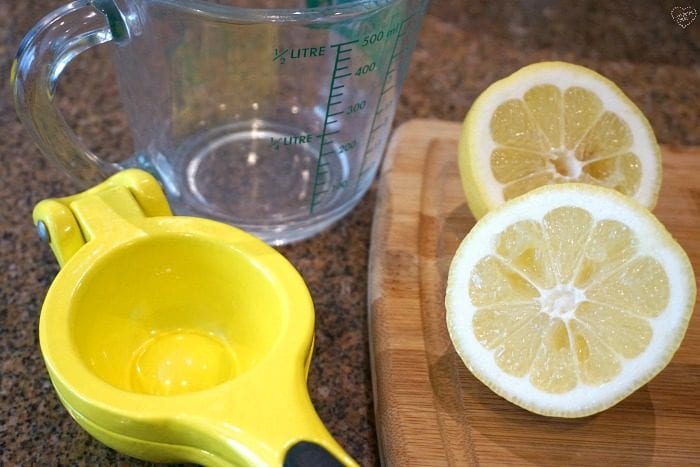 Fresh Squeezed Lemonade Recipe
If you have only bought powdered mixes, cans, half gallons at the supermarket and never tried to make this popular lemon drink yourself you're in for a treat!! When it is hot outside we are all about citrus drinks. Between this and our lime drink I can't keep up with it in the fridge. Many times it's made day to day because it just doesn't last.
Measuring cup
Lemon juicer

or fine mesh sieve if you are using your hand to squeeze (catches seeds)

Fresh lemons

there's no substitute for fresh squeezed lemon juice

Granulated sugar

can boil water and sugar to make a simple syrup
this ensures the sugar is dissolved so juice has a smooth consistency
we don't always do this, depending on how "in a hurry" we are

5 cups of water

add more water if it is too sweet or tart for you

Pitcher (this one is adorable for parties)
Mason jars for "glasses" (love these with lids and straws included)
This obviously makes one batch, about 7 c. of liquid. If you want more just double the cups of lemon juice as well as all other ingredients. It can be doubled, tripled, or made just half of it if you just want a few glasses for that day. It saves quite well though so make extra and enjoy throughout the week!
Is Fresh Squeezed Lemonade Healthy?
Um yes!! Citrus fruits have plenty of vitamin c in them which boost your immunity and has lots of antioxidants keep you well. A bonus is that those things keep your skin looking fabulous too. I don't know about you but after 40 I can use all the help I can get. 😉 If you want to make a simple syrup to dissolve your sugar this is how you do it:
In a small saucepan add you water and sugar
Once it begins to boil stir it slowly
Allow it to bubble and dissolve the sugar until no more graduals are seen
Then remove from heat and allow to cool
Add your lemon juice and stir
Refrigerate and serve when cold
Like I said, we've done it both ways. Many times we just want it right then so we don't bother with the boiling and just add the sugar in with room temperature water. Stirring for 1-2 minutes will dissolve some of it and stirring between servings will mix it up enough.
Our batch has never lasted beyond everyone having a glass and the pitcher immediately becoming empty. lol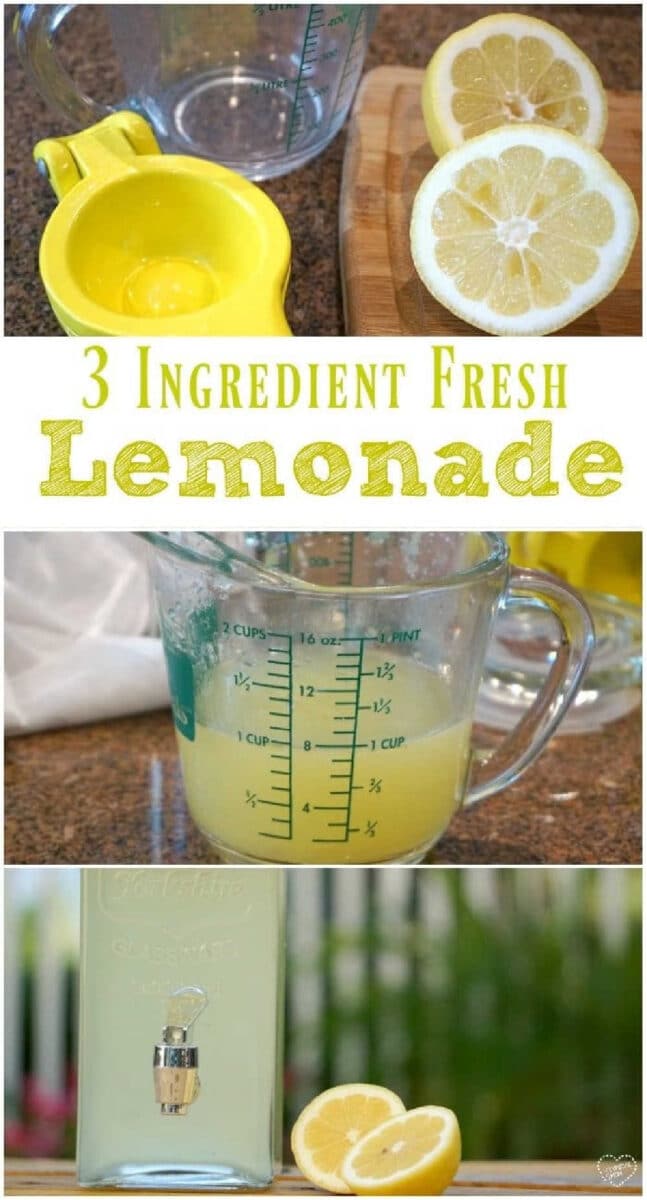 How do I make fresh squeezed lemonade ahead of time?
Make it as directed here but don't add ice if you are going to make it ahead of time and serve it the next day. Just seal it in a jar or pitcher with a lid and store in the fridge. When you are ready to serve add ice cubes, stir well to incorporate sugar back into the mixture, serve and enjoy.
How do I store fresh squeezed lemonade?
Fresh squeezed lemonade can be stored in the refrigerator for up to 2 days. Be sure to cover it tightly to prevent it from absorbing other flavors.
Is Chick Fil A lemonade fresh squeezed?
Wondering if your favorite fast food joint has a homemade lemonade recipe too? Yes!! That one too is a great source of vitamin c, and tastes amazing but not nearly as cheap as if you made it yourself for sure.
You might think store bought bottled lemon juice would be the same but it just isn't. Squeezing it fresh at home is just such a difference and it never lasts in our house. Seriously, it's gone that day
If you love this fresh squeezed lemonade recipe you will love our lemon crinkle cookie recipe and: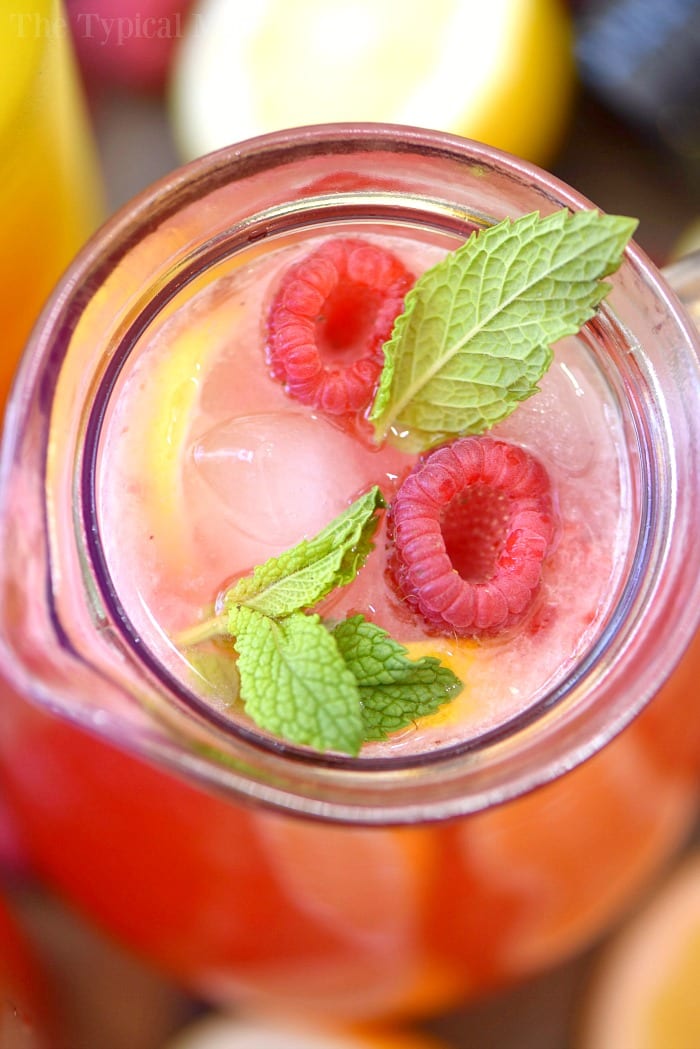 Fresh Lemonade Recipe
If you don't have a lemon tree you can just as easily pick up about 8 in the store and make your own fresh squeezed lemonade at home. This is super easy to make and ready to serve in just about 15 minutes. Chill for best results but can be served room temperature with a bucket of ice beside it too.
Squeeze sliced lemons that have seeds removed into measuring cups. Pour sugar into bottom of pitcher, add lemon juice, stir until sugar begins to dissolve.
Alternatively some prefer to boil water with sugar until crystals disappear and then allow it to cool completely. Then continue on to next steps.
Add water, stir well. Add a few lemon slices into pitcher, add lemonade and serve!
Prepare in a pitcher. Store in fridge. Before pouring another glass stir contents again for best results.
This is a really fun baby shower drink to serve because everyone is sure to love it. Add a few fresh flowers on the top of each glass for added flare. Serving it up inside mason jars with a bit of twine tied around it makes a pretty and inexpensive impression.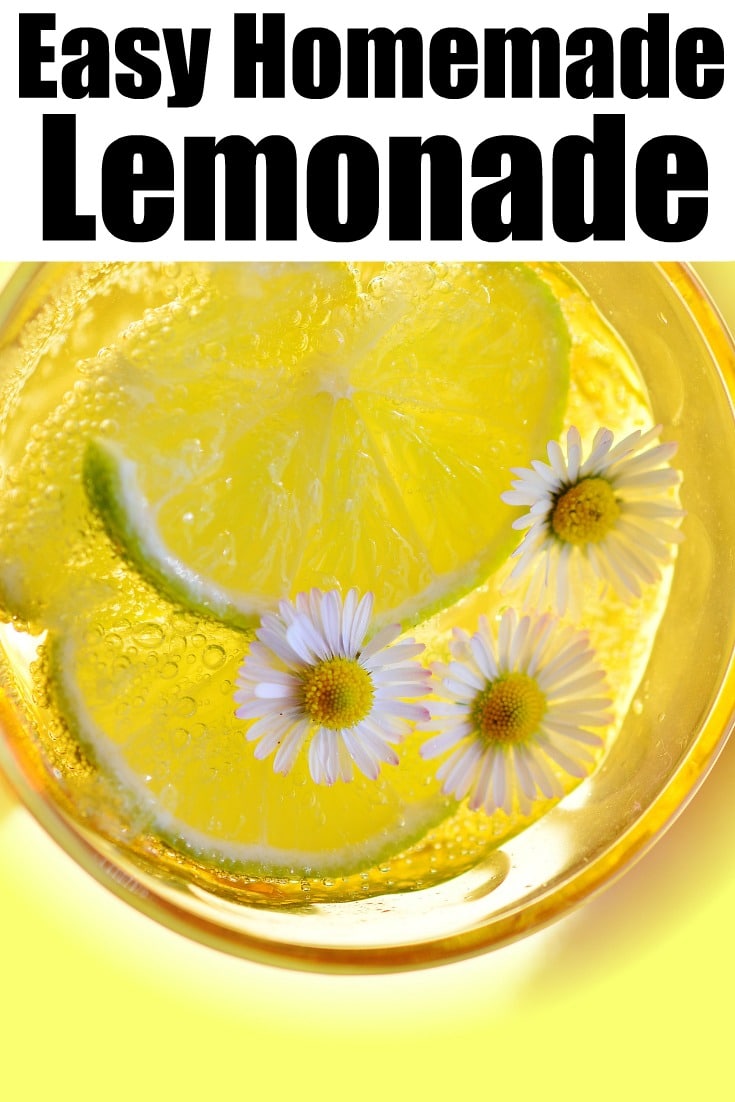 Want to see a few of my favorite things that I am totally obsessed with?? Take a peek and see how many you might already have…twinsies!
Looking for more easy family recipes and tips? LIKE The Typical Mom Facebook page?
Then sign up for my free newsletter, and follow me on Pinterest! 😉
***** If you LOVED this recipe give it 5 Stars below and let everyone know what you thought about it. 😉
Fresh Squeezed Lemonade Recipe
Fresh squeezed lemonade recipe using just 3 ingredients to make the best lemonade ever. You've got to try this, we make it year round.
Instructions
Squeeze lemons into measuring cups, remove seeds. Pour sugar into bottom of pitcher, add lemon juice, stir until sugar dissolves.

Add water, stir. Add a few lemon slices into pitcher, and serve!

Store in pitcher or jar with a lid in the fridge for up to 3 days. Stir well every time you take it out before pouring another serving as sugar will settle to the bottom a bit.

** To avoid settling you can use liquid sweetener instead of granules or boil sugar with water, cool and then add.
Nutrition Facts
Fresh Squeezed Lemonade Recipe
Amount Per Serving (4 oz)
Calories 129
% Daily Value*
Sodium 10mg0%
Carbohydrates 33g11%
Calcium 6mg1%
* Percent Daily Values are based on a 2000 calorie diet.