7 dipping sauce for chicken wings ideas that will make your appetizer out of this world delicious. Spicy, teriyaki, bbq, fry, bang bang and garlic parmesan. They'll knock your socks off!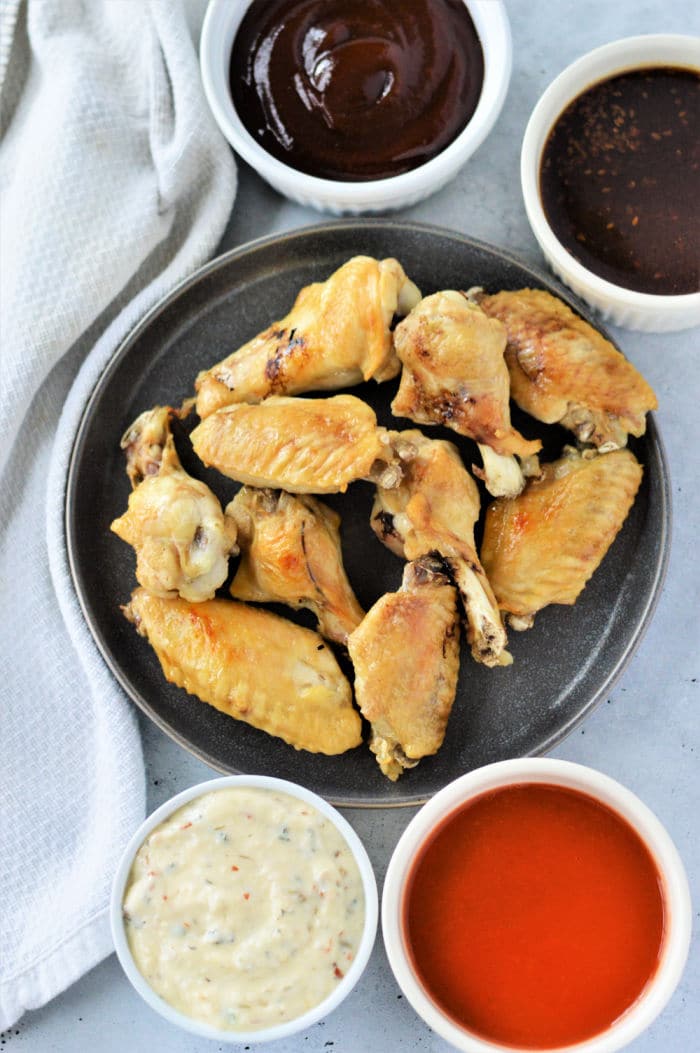 Wanna' know the best dipping sauce for chicken wings?? There isn't just one answer, you'll want little bowls full of all of these on the side next time you make them. Make appetizers fun again.
Chicken Wing Sauce Recipes
When you baked chicken wings or make air fryer wings you can certainly use a dry rub, or just add salt and pepper. What makes the real difference are the wing dipping sauces. I mean blue cheese dipping and ranch dressing are a given but for game day you should really go the extra mile to make them amazing.
Beyond bottled chicken wings dipping ideas, you can amp these babies up with seasonings and creaminess like mayo or sour cream.
Yes some stores carry a variety of sauces on the shelf but those tend to be full of preservatives and aren't always exactly what you want. Homemade is always best, and doesn't have to be difficult or cost a lot of money. I am all about cheap so follow along. 😉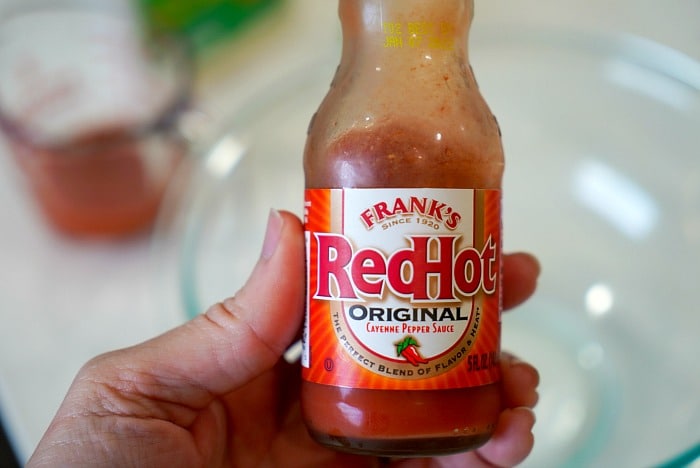 BBQ Sauce for Chicken Wings
Let's talk homemade shall we? For ready made I do like Mambo, regular or spicy. But if you want to make something from scratch you can really tweak it to your liking a lot more.
Just make your meat plain with maybe a squeeze of lemon juice when done. Then pour or brush this on and serve.
6 oz tomato paste
1/2 c water
2 tbsp apple cider vinegar and brown sugar
1 tbsp soy sauce and Worcestershire sauce
One tsp garlic and onion powder
1 tsp chili powder or cayenne pepper and tsp paprika
I like a silicone brush like this one here because it's easy to clean and you can kinda' use it as a spoon of sorts to mix everything together.
You can also just toss them in a bowl with your sauce and gently toss so everything is coated nicely. If you use something like a spicy barbecue glaze, brush it on a few minutes before you take it out. This will give it a chance to brown a bit and get thicker on top.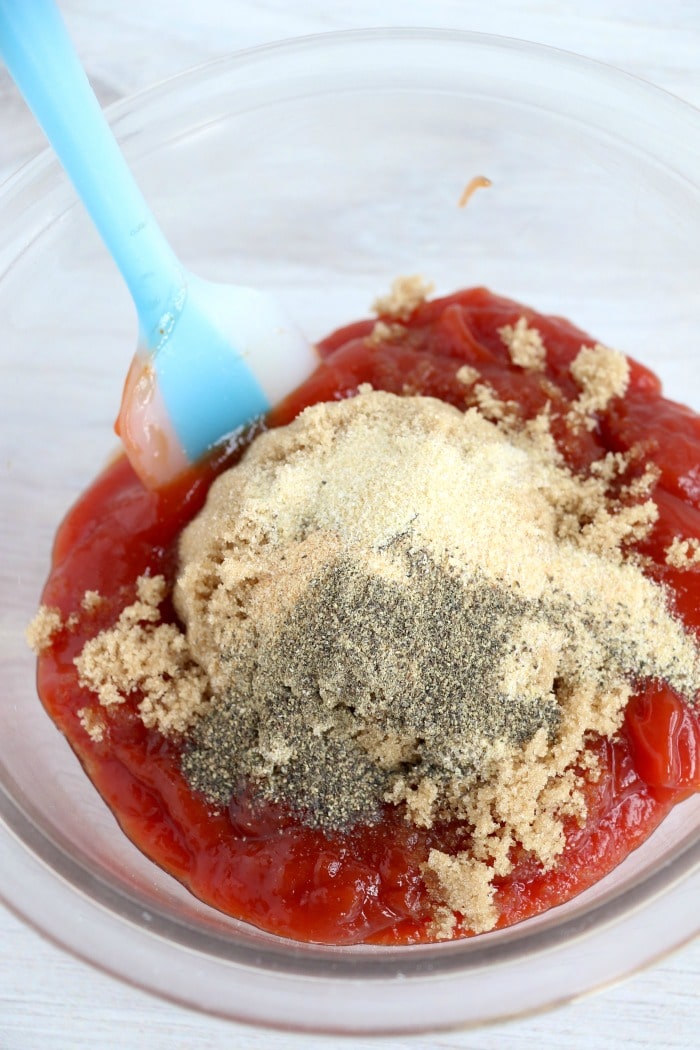 Sauce for Fried Chicken Wings
We love this homemade fry sauce for dipping or brushing on when these babies are done.
1/4 c ketchup
1/2 cup of mayonnaise
1/8 – 1/4 tsp white wine vinegar
1 pinch seasoned salt like Lawry's
1/4 tsp. Sriracha if you want to add some heat to it
You may have had this at Culvers or other fast food places served with fries. It is good on so many other things though, we even like it on fried fish. You can easily tweak this to add more salt and/or spice which is nicer than just buying it already made.
This is so versatile. I mean you could brush this on chicken wings, dip fries in it, I have even dunked my pizza bones inside. A creamy savory flavor you can add heat to of course.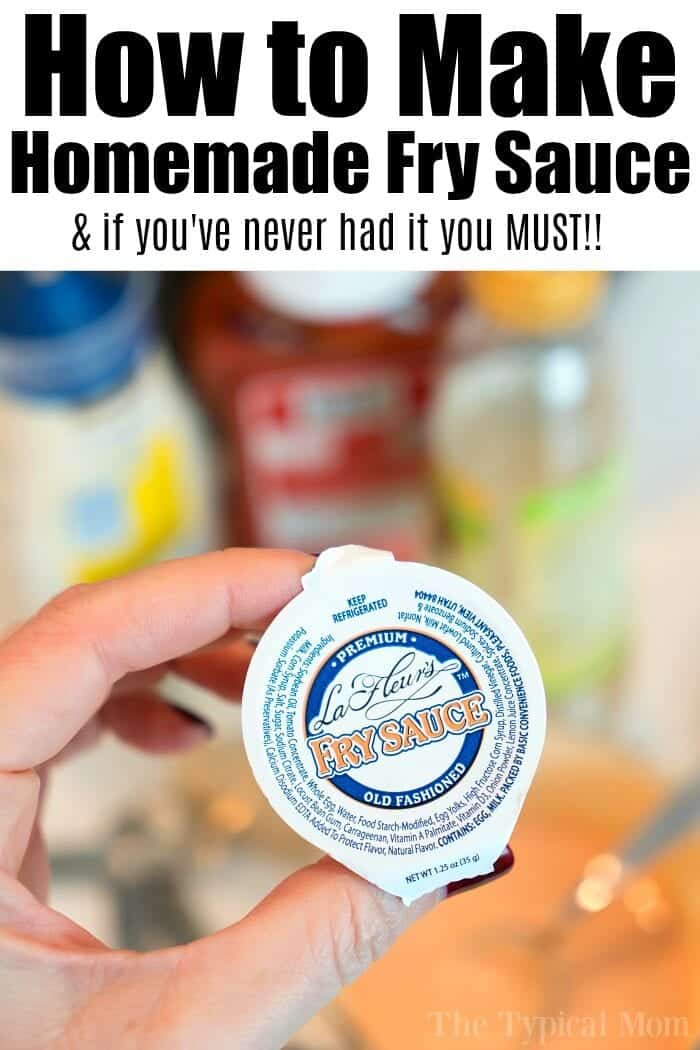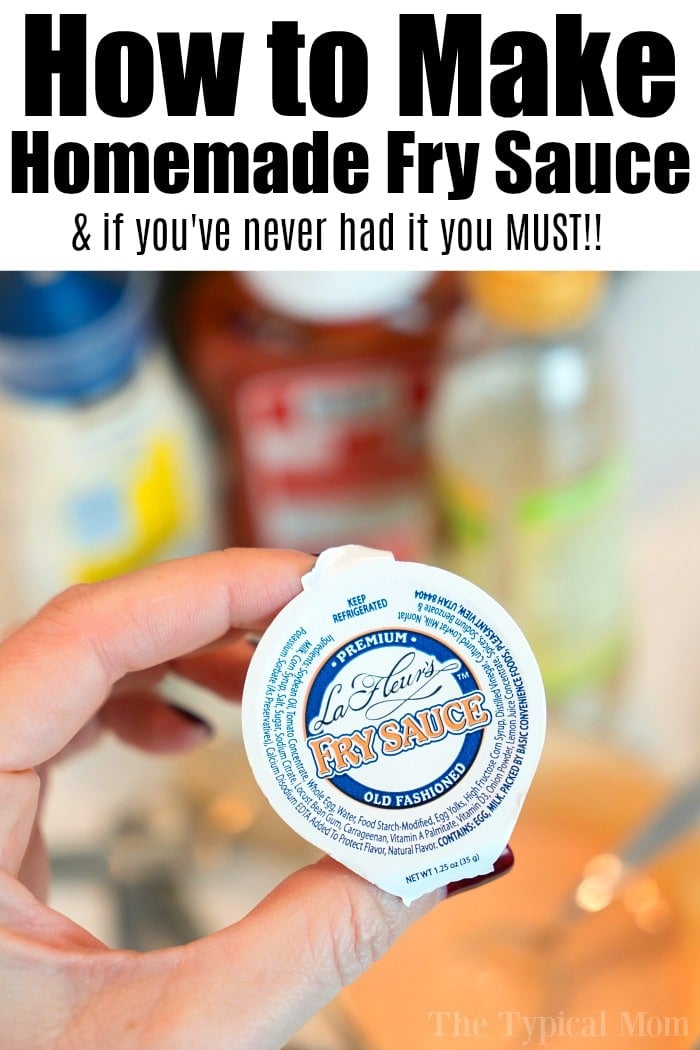 Teriyaki Sauce for Chicken Wings
This is how to make homemade teriyaki sauce. We've used it for all sorts of things like Instant Pot teriyaki chicken and spicy chicken thighs.
1/2 cup chicken broth
1/2 c. soy sauce
1 tbsp minced garlic
4 tbsp brown sugar
3 tbsp Sriracha, or more if you want more heat
3-4 tbsp cornstarch
1/4 c hoisin sauce
Add these EXCEPT the cornstarch to a small saucepan and bring to a boil. Spoon about 1/4 c. of hot liquid into a dish and whisk 2 tbsp of it into your bowl until smooth.
Then pour into your pan and whisk together. Allow it to bubble and thicken. Then do this again with 2 more if you want it thicker, so on and so forth.
Remember that as this sits and cools it will continue to thicken so you don't want to add a whole bunch so it gets gummy.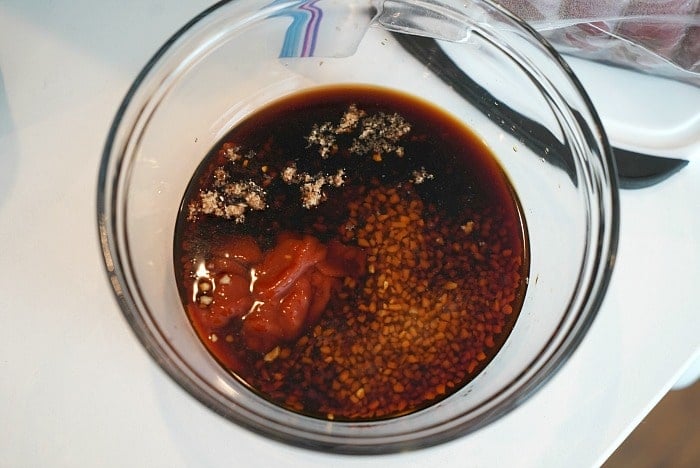 Best Chicken Wing Sauce
And now we come to bang bang sauce. You can use this on shrimp too and it's great. Toss with some pasta for added goodness. It provides a richness to any dish but is great brushed on crispy wings.
1/4 c. mayonnaise and sweet chili sauce
1-3 tbsp Sriracha
1/4 Fresh lime juice squeeze inside is a nice add
Never heard of this stuff?? It's true to it's name with a Wallop of flavor that brings everything a step up. If you are serving a brunch or buffet style it is a fun one to add.
Many have never heard or tried it so it's a new item that people will likely rave over and ask for the recipe. (you can share) ; )
Again, this stuff goes well on all the things. I even had some left over and brushed it on top of chicken thighs. I baked it the last few minutes with it coated and created a wonderful added taste.
Chicken Wing Hot Sauce
I mean this is pretty common and often times just served as is right out of the bottle, BUT adding some sweetness is so much better. Kinda' like our sweet Sriracha wings we made years ago I love savory and sweet mixtures.
We shared recently how to make sriracha mayo which is my husband's favorite, there is another below too.
1/2 cup buffalo sauce
2 tbsp brown sugar
1 tsp garlic powder
We used this on our hot wings in air fryer. Mix all three ingredients together for this buffalo wing sauce. Cook your poultry to a golden brown the way you like it, it's even great on air fryer fried chicken legs.
If you want some REAL HEAT though we just added another. We call it Asian chicken wing sauce with guajillo peppers, if you love spicy you should give this a whirl too.
Mustard Sauce for Dipping
I use this mustard dipping sauce for more than just this. It is great for pretzel bites, corn dogs and more. Sometimes I will include cheese dipping sauce as an option too which my youngest actually loves. You will need:
1/2 cup mayonnaise and Creole mustard which looks a little like Grey Poupon with more of a Southern twist
1/4 c. regular yellow mustard
And then add 1/4 cup of honey to the mix
If you really love this or any of the others you can easily make a triple batch and add it to a squeeze jar. Save it in the fridge to use later or on other things.
You can buy those thin squeeze bottles you find at diners online which are easy to throw on the table when the time is right. use a sharpie to mark on the outside what it is and make a few to last time and time again.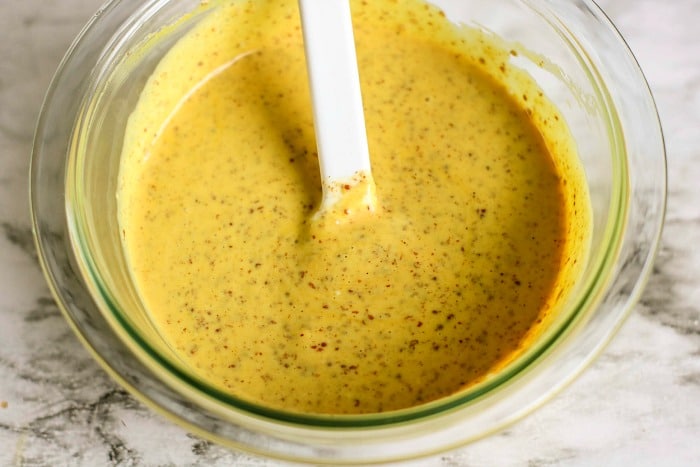 Garlic Parmesan Wing Sauce Recipe
Ok so this is a new one so I thought I would just add it to this post where they are ALL listed. You can serve this hot or cold on the side or drizzled on top. You may have had this at Buffalo Wild Wings and fell in love. Now you can make your own version and make your own tweaks right at home.
A mayonnaise based sauce like bang bang, you can add as much citrus as you like and/or cheese. Here it is just whisked together as is but you could just as easily add everything and then heat in the microwave or stovetop.
Totally up to you. A creamy chicken wing sauce I bet you'll love.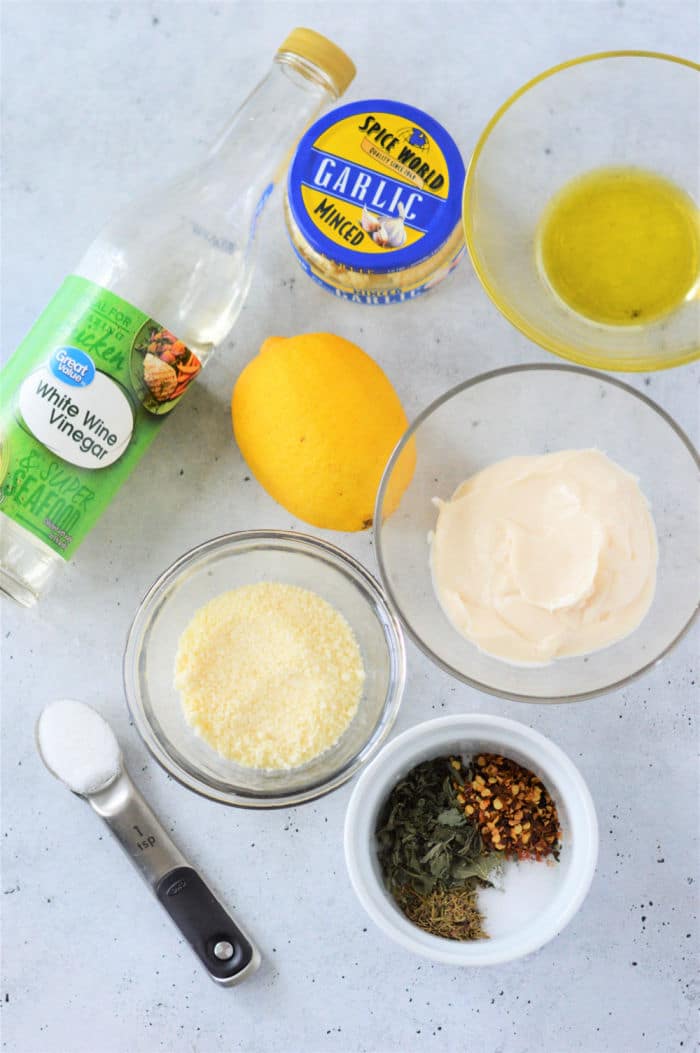 Taste as you go and add a pinch of this or that to make it just as you remembered it at the restaurant. Serve them all with your family and make meal time fun!! Now…what do you do with your leftovers, don't throw them out!
You can totally save it on the side to serve with your leftover meal. I would only coat what you are about to consume, leave the rest plain so it doesn't get soggy when saved in the fridge.
Pour into small jars and seal with a lid or tightly with plastic wrap. It should stay well for a few days so you can use them with other meals that week. Give them a whirl and let us know what you think!
Use little ramekins like you see here to create a chicken wing charcuterie board for your guests during Super Bowl. Let me tell you how big of a hit this will be!!
Want to see a few of my favorite things that I am totally obsessed with?? Take a peek and see how many you might already have…twinsies!
Looking for more easy family recipes and tips? LIKE The Typical Mom Facebook page?
Then sign up for my free newsletter, and follow me on Pinterest! 😉
***** If you LOVED this recipe give it 5 Stars below and let everyone know what you thought about it. 😉
Dipping Sauce for Chicken Wings
7 dipping sauce for chicken wings ideas that will make your appetizer out of this world delicious. Spicy, teriyaki, bbq, garlic parmesan etc.
Instructions
Whisk together all ingredients until smooth. Add tbsp of water or two to thin out if you don't want it as thick. Serve cold or warm in 30 second increments in microwave stirring in between times.
Nutrition Facts
Dipping Sauce for Chicken Wings
Amount Per Serving (0.5 oz)
Calories 86
Calories from Fat 81
% Daily Value*
Fat 9g14%
Cholesterol 6mg2%
Sodium 197mg9%
Potassium 14mg0%
Carbohydrates 1g0%
Protein 1g2%
Vitamin A 57IU1%
Vitamin C 1mg1%
Calcium 17mg2%
Iron 1mg6%
* Percent Daily Values are based on a 2000 calorie diet.