I. Love. Wings! Ok, so my whole family does and it's a great appetizer to serve when people come over because they're just so hard to resist! There is one perfect way to make super crispy baked chicken wings, but there are SO many ways to "dress them up," the sauce I mean! Sweet and spicy is the way to go in my opinion and these sweet Sriracha baked chicken wings are one of our favorites (yes even the kids love them). During this time of year I love having friends over too. I have a group of ladies whom I've known for quite some time and we rotate houses once a month in order to get together and enjoy one another's company. I like to revolve my date around something we all love so since the Academy Awards are this month I thought we could watch that together, snack on these wings, and have a great afternoon full of laughter together. 😉 Special thanks goes out to SweetLeaf® for sponsoring this post, here's the recipe!
I know, amazing right??!! They are really easy to do too…that's my kinda' recipe! There are two steps to this process, making the sweet and spicy Sriracha sauce using SweetLeaf® Sweetener, and baking the crispy chicken wings. You can mix up the sauce while they're in the oven so we will start with how to make crispy baked chicken wings first. You will need a baking sheet, tinfoil, a rack (to keep the wings off the pan), baking powder and salt. I know, sounds different but follow me here, this makes the crispiest wings ever!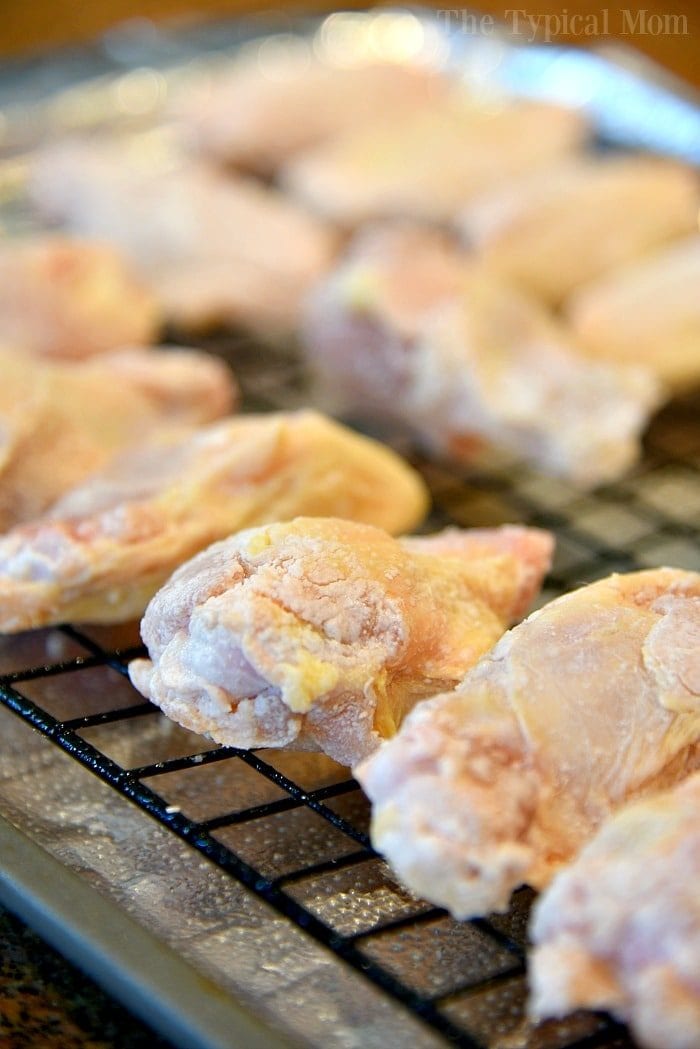 To make them extra crispy you do NOT want them to be directly on your cookie sheet, thus using a rack (this is a small cooling rack) to elevate them a bit. Drying them off is important as well after you've rinsed them, and then you're going to shake them up in a bag with a mixture of baking powder and salt to keep them dry in the oven and create that crispy texture. Here's the entire recipe.
Sweet Sriracha Baked Chicken Wings
Sweet Sriracha Baked Chicken Wings
The best sweet Sriracha baked chicken wings ever! SO easy to make and these baked chicken wings are crispy and moist using this trick.
Course:
Main Course, Side Dish
Ingredients
Wings:

2

lbs

chicken wings

if using more just double this recipe

2

tbsp

baking powder

1

tsp

salt

Sweet Sriracha Sauce:

1-2

packets of SweetLeaf Organic Stevia Sweetener

1/2 - 1 tsp. depending on how sweet you want it

1/4

tsp

paprika

1/4

tsp

garlic salt

1/2

c

mayonnaise

1

tsp

Sriracha

1

tbsp

white wine vinegar

Chives to top when done - optional

Squeeze of lime when done - optional
Instructions
Rinse wings and place on paper towel. Pat dry to remove water.

Add baking powder and salt to large freezer bag.

Add wings to bag and shake until all wings are coated (I like to do half wings and half the amt. of baking powder and salt to make sure all are well coated).

Line cookie sheet with foil and place cooling rack on top of that. Spray cooling rack well with non stick spray.

Line coated wings on rack and place on low rack in oven for 30 minutes at 250 degrees.

Then rotate pan and move to middle/higher rack in oven and bake at 425 for 15 minutes, then rotate the pan once more and continue cooking on middle/top rack for an additional 20 minutes. Done!

For the sauce mix your mayonnaise, Sriracha sauce, vinegar, garlic salt, and paprika together.

Add 1 packet of SweetLeaf Stevia Sweetener (1/2 tsp. if you use their Sweetener Shaker), taste, if you want it a bit sweeter add 1 more packet or 1/2 tsp. additional Sweetener. Toss sauce and wings in a bowl or brush on, serve!
Nutrition Facts
Sweet Sriracha Baked Chicken Wings
Amount Per Serving
Calories 234
Calories from Fat 180
% Daily Value*
Total Fat 20g 31%
Cholesterol 53mg 18%
Sodium 515mg 21%
Potassium 398mg 11%
Total Carbohydrates 1g 0%
Protein 11g 22%
* Percent Daily Values are based on a 2000 calorie diet.
The nice thing about these sweet and spicy baked wings is you can adjust the sweetness and heat to your liking! The recipe I included above is perfect for us but if you want it a bit sweeter just add a bit more SweetLeaf® Organic Stevia Sweetener, or a bit more Sriracha if you are looking for real HEAT! 😉 If you've never used their Stevia Sweetener it's great….so great that they're a Women's Choice award winner and highly recommended by 9 out of 10 women. You just use 1 packet (or 2 if you want it sweeter) for your sauce. It's already measured out for you which is nice, and you can keep the rest to sweeten up your tea or coffee later. 😉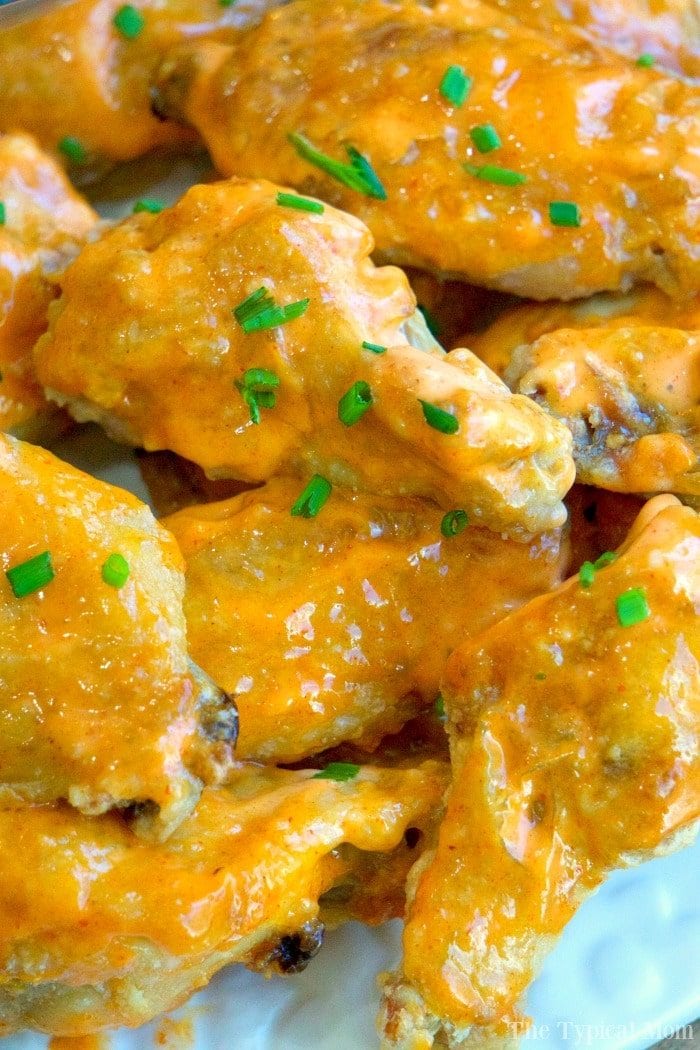 Once you have the sweet Sriracha sauce to your liking you're ready to sauce your wings once they come out of the oven! Toss them if you want a generous amount, or if I am serving them (like for my girls' get together) I use a sauce brush to "dress them" with just enough but still looking pretty on my tray. To celebrate my friends coming over to watch the Academy Awards I "rolled the red carpet" out on the table (wide strips of colored burlap do wonders to dress an area up) and served some sauce on the side too. Serve a light drink like raspberry lemonade SweetLeaf® Water Drops™ and these sweet Sriracha baked chicken wings the perfect appetizer that definitely won't last long! 😉
What do you like to serve during awards season??