This is how long to cook wings in oven at 350, 375, 400 until crispy! Without or with bbq sauce, we'll even share how to cook frozen wings in oven perfectly too. A cheap appetizer or fun dinner idea kids will love too. Try them all!
The cooking time for how long to bake wings in oven can vary depending on the recipe and the desired level of crispiness too. Size does matter as well so larger whole pieces will take more time than smaller wingette and/or drumettes. (affiliate links present)
How Long to Bake Chicken Wings in Oven
As a general rule, baked and/or air fryer wings can take between 25 and 45 minutes to cook. In a preheated oven at 400°F will get them done the fastest and crispiest. However, it's essential to check them regularly during cooking process and adjust the time accordingly so they don't dry out.
Whether you just want a light brush of bbq sauce at the end, tossed with baking powder or coated with our dry rub for chicken wings recipe we will share all of the options. We love them all for different reasons and you too should try them all.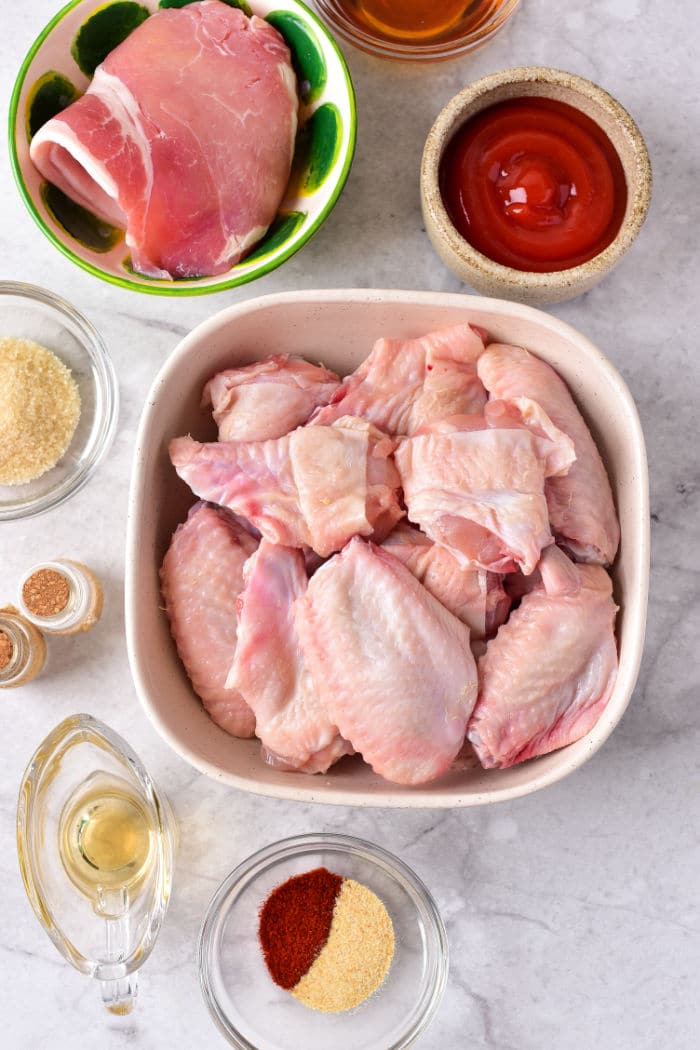 How Long to Cook Chicken Wings at 350
You might like baking at 350 degrees F. For crispier wings. For this you'll be looking at a cooking time of 40-45 minutes or so. As with all the temperatures there will be a variance depending on how large they are. I suggest organic medium size mixture of wingettes and drummetes and thawed.
This is how long to cook chicken wings at 375 degrees F. We have done this a few different ways, covered at first and then remove the foil, and on a baking sheet as is as well.
The first is great so the meat gets as tender as possible, then crisping at the end. You can lather on sauce once it is uncovered.
Should you rinse chicken wings? It's not necessary to rinse poultry cooking them in the oven. In fact, the USDA recommends against rinsing raw poultry, including wings, as it can spread bacteria such as Salmonella to other surfaces in your kitchen. Instead, just pat the the outsides dry with paper towels to remove any excess moisture or juices.
This will also help you get crispy baked whole chicken wings (or in pieces) so they cook more evenly and achieve the texture you want. Remember to wash your hands and any surfaces that come into contact with raw chicken thoroughly with soap and water to prevent the spread of harmful bacteria.
How Long to Cook Chicken Wings at 400
Ok so let's say you are in more of a rush and you want to bake them in a 400° F in the oven. There isn't a huge difference really about 35 minutes, the biggest difference is the outer texture. The higher the temp the crispier the skin will become, remember that fact.
If you prefer your wings extra crispy oven baked chicken wings at 425 F (220°C) you can cook for a shorter time, around 20-25 minutes this way.
How to Prep Chicken Wings
How to thaw chicken: If your pieces are frozen, thaw them in the refrigerator overnight or use the defrost setting on your microwave.
Pat dry: Use paper towels to pat each one dry

removing any excess moisture or juices, this will make the skin crispy

Season: Place in a bowl and add your desired seasonings with a bit of olive oil. You can go for simple salt and pepper wings, add garlic powder, onion powder, paprika and/or spicy with red pepper flakes.

Toss the wings to coat evenly with the seasoning.

Marinate (optional): For extra flavor, you use a chicken marinade, your favorite sauce or marinade

do this for a few hours or overnight in the refrigerator beforehand

Preheat the oven to your desired temperature.
Line a baking sheet with parchment paper or non stick aluminum foil to prevent the wings from sticking to the pan.
Place the chicken wings on the baking sheet in a single layer, making sure they are not touching each other.
Bake the wings: Cook chicken wings in the oven for 25-45 minutes, depending on your preferred level of crispiness.
Use a meat thermometer to check that the internal temperature of the wings has reached at least 165°F (75°C) before serving. Serve hot with your favorite wing dipping sauces, mild or spicy like buffalo wings for Game day!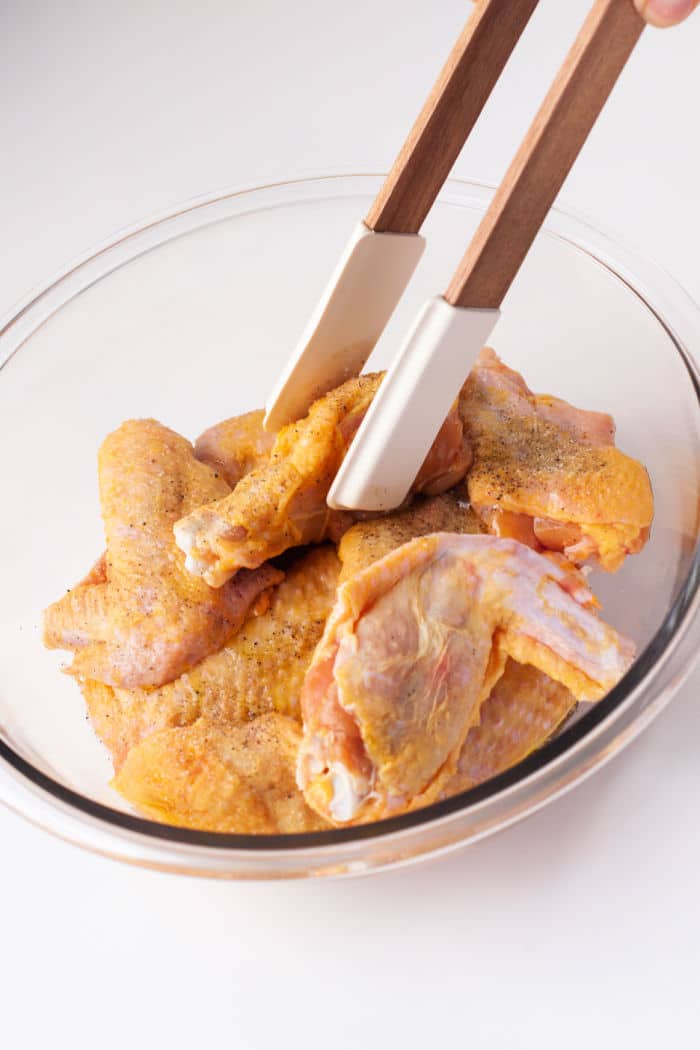 Baked Chicken Wings
We have discussed multiple timings and why you might want to choose one over the other. Lower and slower will get you more tender meat inside, but skin won't be super crisp. You can counteract this with switching to broil at the end if you want though. Here is a brief rundown.
350 F = 45 minutes
375 F = 40 minutes
400 degrees F = 35 minutes
425 F = 25 minutes
It's always a good idea to use a meat thermometer to ensure that the internal temperature of the chicken wings reaches at least 165 degrees F before serving. This will ensure that the wings are fully cooked and safe to eat.
Different Types of Wings
Below I show and explain how to cook these babies with bbq sauce, a favorite. You could swap out this same method using Franks Red Hot Sauce, homemade teriyaki or even any other sort of bottled blend on the market. If yours is creamy with dairy I would wait to add that until the last 10 minutes or so as it will brown more quickly.
Another option is to make baking powder wings as you see here below. Without a sauce they are great or you can toss when they are done. Made on a wire rack it keeps the meat off the tray to get the ultimate crispy skin all the way around.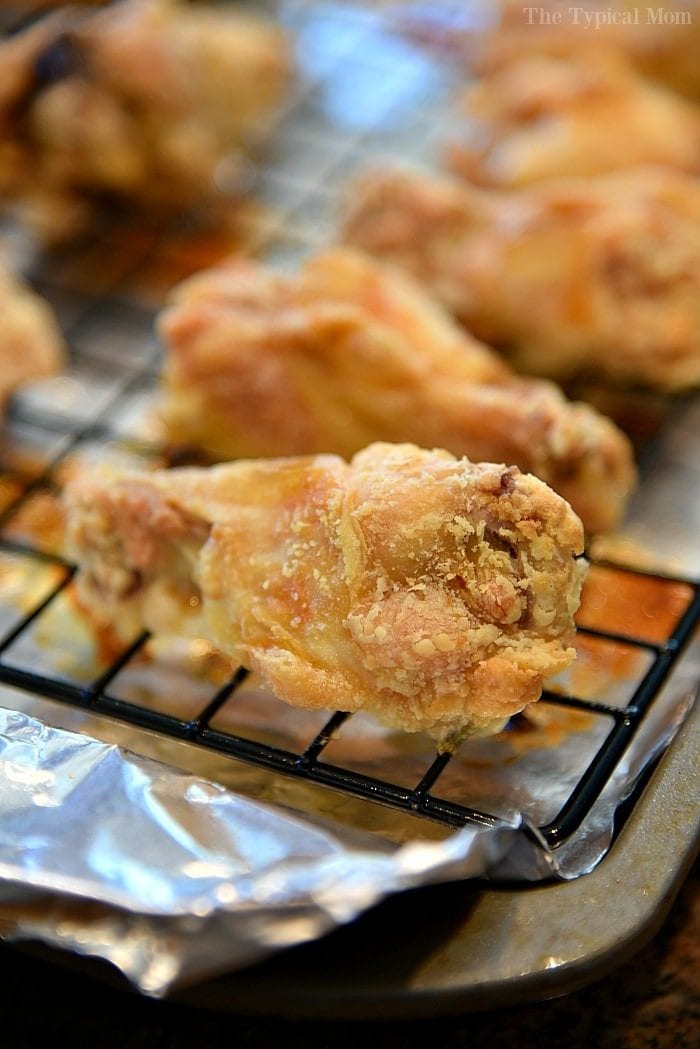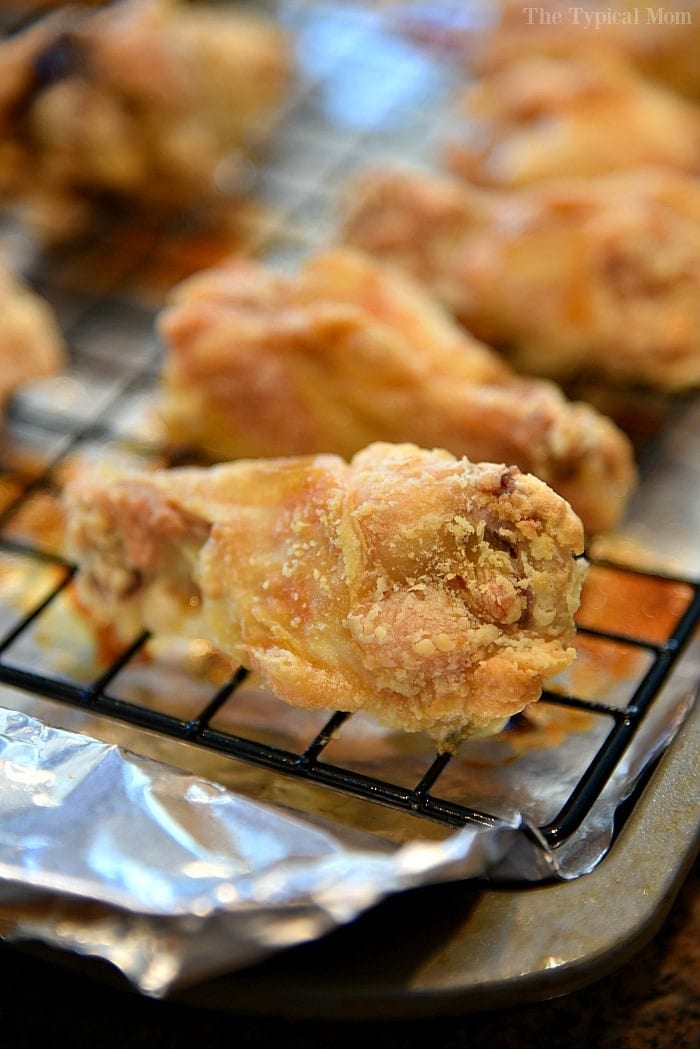 Oven Baked Chicken Wings
Want to see a few of my favorite things that I am totally obsessed with?? Take a peek and see how many you might already have…twinsies!
Looking for more easy family recipes and tips? LIKE The Typical Mom Facebook page?
Then sign up for my free newsletter, and follow me on Pinterest! 😉
***** If you LOVED this recipe give it 5 Stars below and let everyone know what you thought about it. 😉
How Long to Cook Wings in Oven
This is how long to cook wings in oven at 350, 375, 400 until crispy! Without or with bbq sauce, we'll even share frozen wings in oven too.
Equipment
non stick aluminum foil

or parchment
Instructions
Rinse and dry wings with paper towels well so skin is nice an dry. Grease a baking dish with oil or line with non stick foil.

Arrange in the dish so they aren't overlapping. Spread 1/2 of your sauce over the wings, or brush with olive oil and seasonings instead.

Place in a preheated oven set to 375 degrees F and bake about 37 – 40 minutes or until inside meat reaches a minimum of 165 F. (other temperatures and timings are below)

Baking time will be approximately; 350 F = 45 minutes – 375 F = 40 minutes – 400 degrees F = 35 minutes – 425 F = 25 minutes

** For crispier skin you can switch to broil for 2-3 minutes or until it is as browned as you'd like. Brush other 1/2 of sauce on before broiling or after done.
Nutrition Facts
How Long to Cook Wings in Oven
Amount Per Serving (2 oz)
Calories 382
Calories from Fat 207
% Daily Value*
Fat 23g35%
Cholesterol 111mg37%
Sodium 473mg21%
Potassium 308mg9%
Carbohydrates 15g5%
Protein 27g54%
Vitamin A 292IU6%
Vitamin C 1mg1%
Calcium 29mg3%
Iron 2mg11%
* Percent Daily Values are based on a 2000 calorie diet.