Baked whole chicken wings are great, and a super cheap appetizer too! You don't need to separate the drumette and wingette to enjoy these at all. Just pop them on a baking sheet and we will show you how it's done. Similar to our air fryer whole chicken wings but the old fashioned way of cooking.
We have shared how long to cook wings in oven that are separated but if you want whole chicken wings baked we have that here. Still attached these are really inexpensive, have the same great flavors and are basically the best starter to any party. (affiliate links present)
How to Cook Whole Chicken Wings
Air fryer, boiled, smoked, deep fried wings and baked are the four main ways to get this done. I will share them all throughout this post and share our favorite in the recipe card below. Air fried is linked at the top of this post. Those are fabulous if you have that machine but the meat inside does get a bit more done than the oven method.
There isn't a big difference between these and our chicken wings in oven at 375 directions. We think that is the ideal temperature to cook and crisp it all perfectly. The only real change is a bit more cooking time. Depending on how large or small yours are there may not be any increase in timing at all though.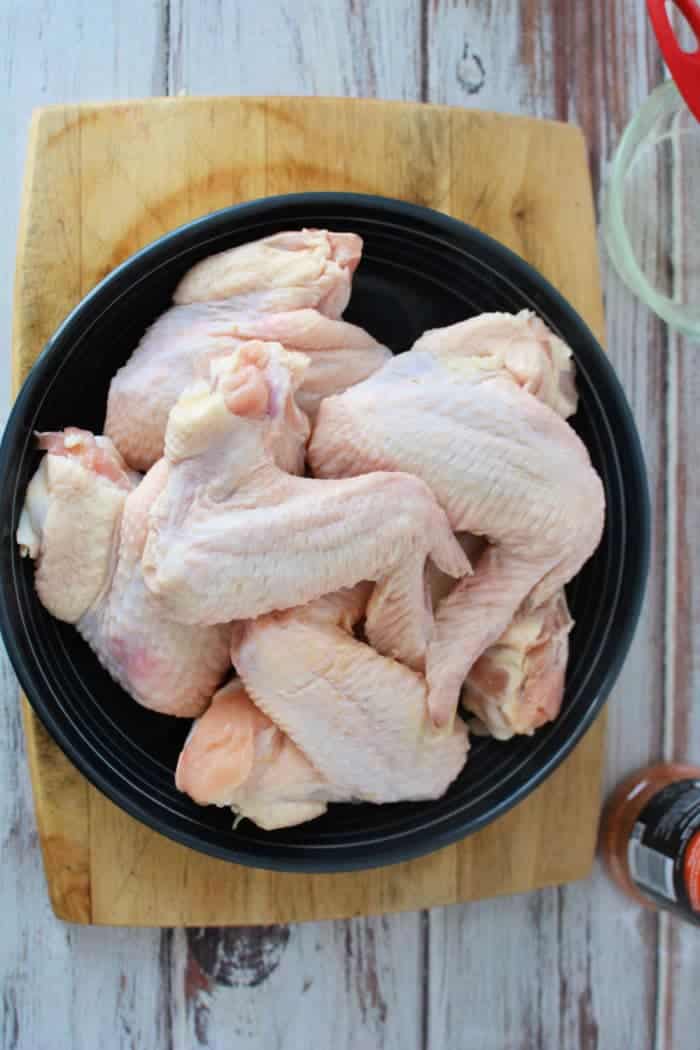 How Long to Bake Whole Chicken Wings at 400
The cooking time for whole chicken wings at 400 degrees F or 200 degrees C will depend on the size of the wings. As a general rule, you can bake whole wings for about 30-35 minutes. However, it is important to use an instant read thermometer to ensure that the internal temperature of the thickest part until it reaches 165°F (74°C), fully cooked and safe to eat.
The cooking time may also vary depending on your oven, so it is always best to use a thermometer to check the internal temperature of the thickest portion of the meat. Higher altitudes require a bit more time too so keep that in mind if you are living at elevation, that's why there is a range.
We recently shared how long to bake a whole chicken, which is fabulous by the way and great for dinners. I like to have instructions for all pieces though because you never know what you are going to find a great sale.
How to Cook Frozen Whole Chicken Wings
Fresh is always best but whole chicken wings from frozen can be cooked too. Did you know you could boil frozen chicken too though?? If that is what you have read this post for directions on that above. Another option is to still use the oven to bake frozen chicken wings this way. Just add a few minutes for these larger pieces.
We will share using the oven so you get them crispy but you could make boiled whole chicken wings too if you wanted to.
In a large pot, add defrosted or cook frozen chicken wings whole with some salt, pepper, garlic powder, onion powder, paprika, and cayenne pepper (or seasonings of your choice).
Add water to cover them so they're submerged (don't add more than halfway full).
Bring the water to a boil over high heat.
Then reduce the heat to low and simmer for 15 minutes, or until chicken wings are cooked through.
Remove from the pot, sit on paper towels to absorb water and let them cool slightly.
Serve immediately or you can brush with olive oil on a baking sheet to get crispy skin for a few minutes in the oven.
So let's drill this down, you have boiled here, air fryer at the top of this post, baked in the recipe card below and smoked whole chicken wings would be here. All 4 for you to choose from or try them all.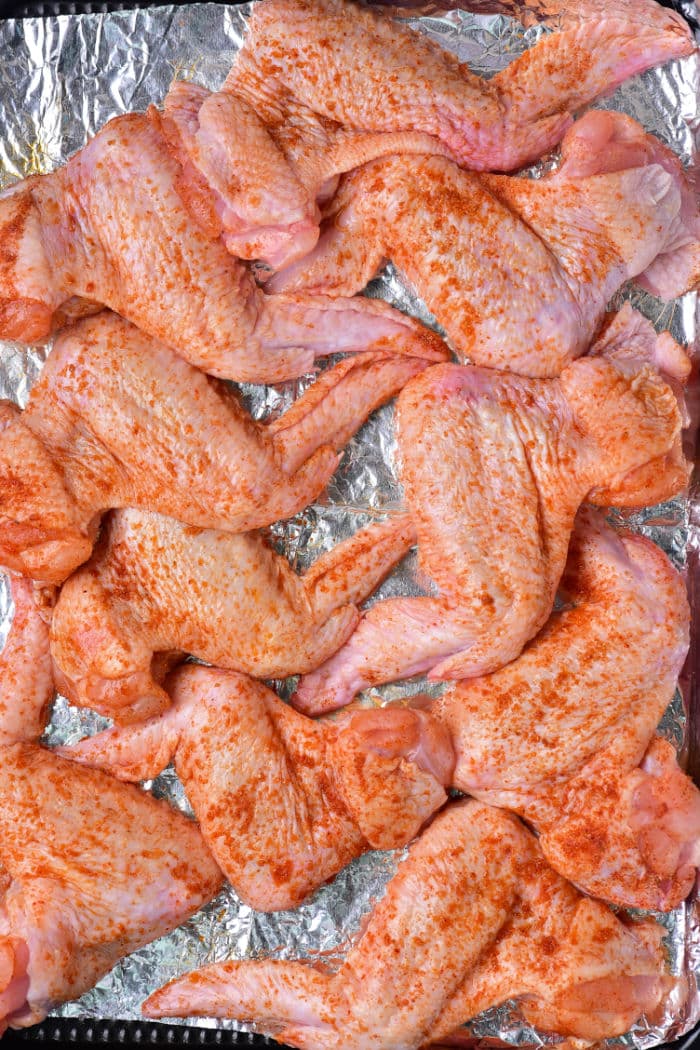 Whole Chicken Wings Recipe
What's the difference between whole chicken wings and chicken wings?
Whole are larger with both the drumette, wingette and tip attached together. There is no reason to separate them other than being a bit easier to eat and/or being more aesthetically pleasing. The latter is when they are cut apart with the tip discarded. We will show you here how to cook whole wings here.
How many whole wings in a 10 lb bag?
You are going to find about 40-45 whole chicken wings if you buy them bagged. We will show you how to cook whole wings frozen, defrosted, baked in a single layer on a sheet pan, smoked or boiled here.
No matter which way you decide to cook chicken you will likely want some type of bbq or buffalo sauce on top. You can brush on when done or about 10 minutes before they're done baking so it caramelizes. Want to cook baked turkey wings next?? Why not I mean you are on a roll. 😉 Now jump to recipe and get started on this one!
Baked Chicken Wings Whole
For a healthy side dish you can then roast spaghetti squash whole on another rack with these. They will be done around the same time and there's tons of things you can do with it. Our favorite way to serve it is to scrape the insides out, toss with butter or spaghetti sauce to make a great low carb spaghetti of sorts.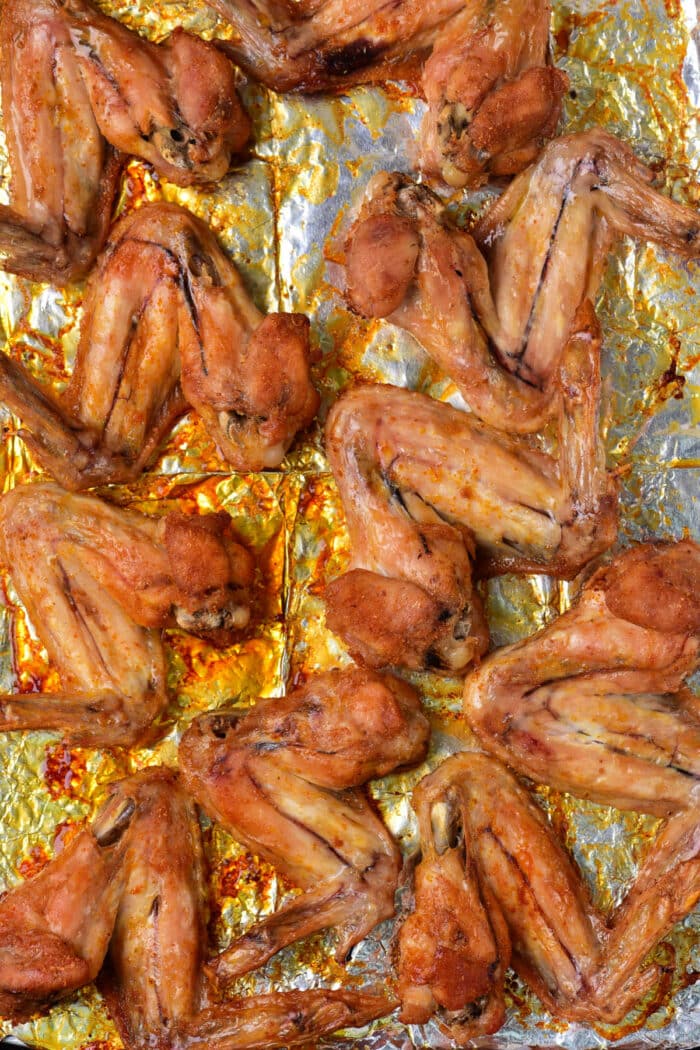 Want to see a few of my favorite things that I am totally obsessed with?? Take a peek and see how many you might already have…twinsies!
Looking for more easy family recipes and tips? LIKE The Typical Mom Facebook page?
Then sign up for my free newsletter, and follow me on Pinterest! 😉
***** If you LOVED this recipe give it 5 Stars below and let everyone know what you thought about it. 😉
Baked Whole Chicken Wings
Baked whole chicken wings in the oven at 375 come out great! Enjoy both the wingette and drumette attached for a cheap appetizer or dinner.
Instructions
Preheat the oven to 375 F. Rinse wings and dry with paper towels well to remove moisture off of the skin. Put in a deep bowl. Add olive oil, salt and spices.

Mix everything thoroughly so that each wing is covered with oil and spices. Lay in a single layer on a baking sheet lined with non stick foil or parchment paper.

Bake for a total of 35-40 minutes until crispy. Turn each one over halfway thru. If you want to brush on bbq sauce do so about 5 minutes before they are done so it can bake on and caramelize on top.
Nutrition Facts
Baked Whole Chicken Wings
Amount Per Serving (2 oz)
Calories 43
Calories from Fat 45
% Daily Value*
Fat 5g8%
Sodium 194mg8%
Potassium 7mg0%
Carbohydrates 0.3g0%
Protein 0.1g0%
Vitamin A 82IU2%
Vitamin C 0.01mg0%
Calcium 1mg0%
Iron 0.1mg1%
* Percent Daily Values are based on a 2000 calorie diet.