Baked cabbage steaks are buttery and the perfect side dish you've been waiting for! Simple ingredients, keto and low carb too I'm sure you'll love them too.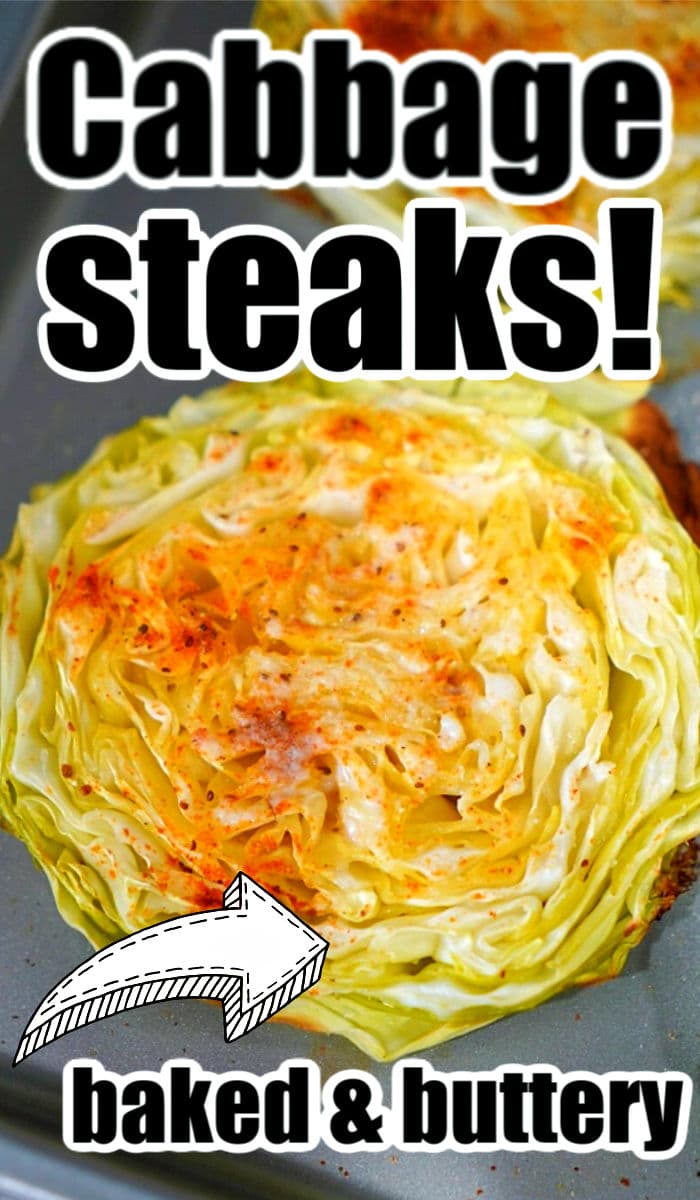 Tender baked cabbage steaks are to die for! Ok so I am a cabbage lover so any way I can bake, air fry or pressure cook this green vegetable I'm game. Just one of our favorite simple cabbage recipes here on The Typical Mom. (originally published 10/20, affiliate links present)
Roasted Cabbage Steaks
It took me YEARS to really start liking this veggie. My Grandmother cooked it with everything every time we visited but I was at a hard NO when I was a kid.
Then fast forward to my 40's and I think I could easily eat it twice a week.
It is great raw, shredded on chicken taco bowls and I have cooked it so many ways. You can even make it a different color with our red cabbage coleslaw recipe.
I haven't found a cabbage recipe I haven't liked. That is, now that I am older. 😉 Let me share what we made here and throughout here I will include a few others you should try as well.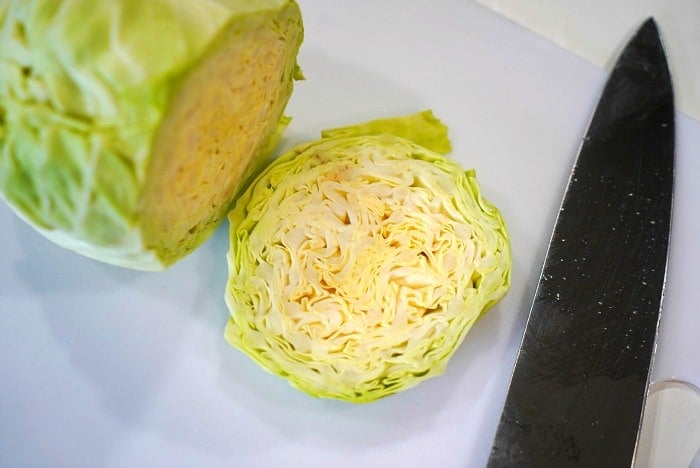 Cabbage Steaks in Oven
There are several ways you can cook these of course but we are focusing on the old fashioned baked method. All you need is a baking sheet which is nice. Make this green version or our roasted red cabbage steaks too. You may have a few questions before you start on all of this. Let me answer them before you go forward.
Crispy Roasted Cabbage Steaks
What part of the cabbage do we eat?
I haven't found a reason to keep or try the core. That is the hard part at the bottom that was once attached to the plant. Once you remove that you can slice it in a bunch of ways to serve or cook.
Why is my cabbage tough?
To create tender leaves you will need some liquid. Low and slow cooking is best to soften.

A simple treatment if it's left raw is salting. Makes it just a tad more tender and considerably more flavorful while preserving its crunch.
How do you know when cabbage is done?
This isn't a food you couldn't eat raw so it is safely eaten at any time in the cooking process really. What you are looking for is the tenderness you desire. It is done when it's right for you palate.
How do you cut and cook cabbage?
You can cube your head of cabbage it into small squares if you're making Instant Pot fried cabbage.
That will create very tender pieces. If making air fryer cabbage you can cut into cabbage slices or steaks. Shredded is great raw on top of tacos. The larger the piece the more firm it will be after cooking.
Do you cook cabbage covered or uncovered?
In the oven I did not cover with foil. That wasn't necessary to get the leaves nice and tender. The key to this is adding butter to soften it so it's perfect and flavorful.

The only time I've covered it with a lid was with my dutch oven corned beef and cabbage recipe. For baked cabbage I think cabbage steaks are best. I slice them about 1″ thick, but nothing is exact around here. 😉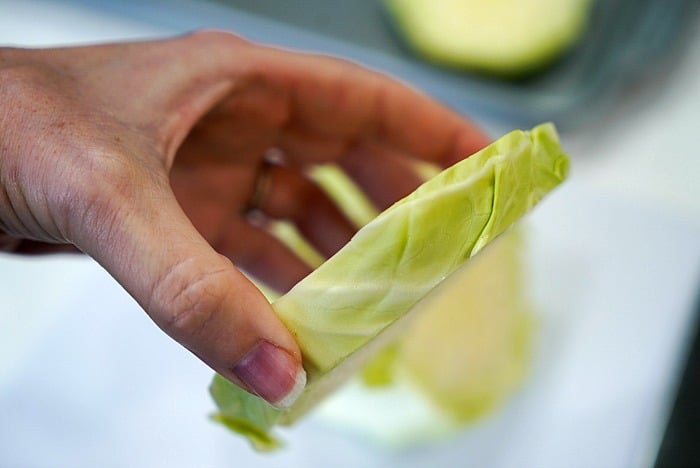 Baked cabbage
These are the ingredients we used. The most common is using the green variety but if you wanted to try the others you could do so quite easily. How tender it will get depends on how thick you slice each piece. The larger the more crisp it will remain, or just take longer to get to the texture you want.
Head of green cabbage

you could easily double or triple this
haven't tried with red cabbage but would probably be the same info.

Butter is the key ingredient here y'all
Old Bay is seriously my favorite seasoning in the world
Onion powder
Garlic salt

any other seasonings can be used, up to you
salt and pepper simply could be your choices with a bit of minced garlic
some prefer just olive oil instead of butter and a drizzle of balsamic vinegar
I serve this as a side dish. I suppose if you were following a keto diet you could use it as a low carb snack as well. With all the bold flavors and tenderness, it is something my teens will even eat gladly with chicken.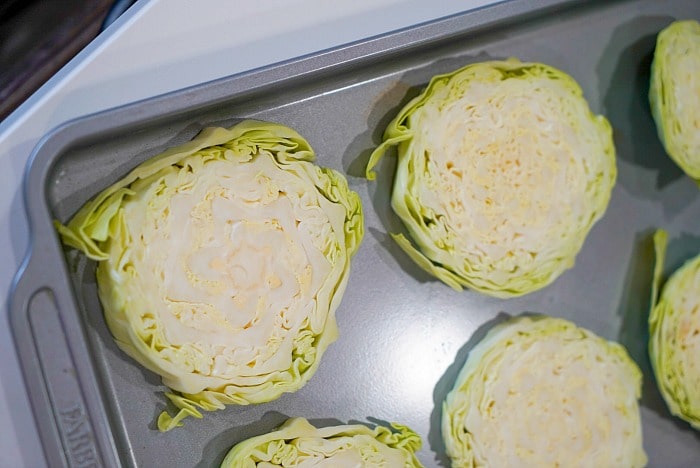 Roasted cabbage steaks recipe
Thickly sliced pieces will come out firmer and/or take more time to cook. There is no exact science to this part, just try to make them as close to the same thickness as possible so they all come out about the same.
Preheat oven to 350 degrees F, you will increase temp later on.
Remove hard bottom stem and discard. Set head on it's side and slice with a sharp knife 1″ slices on a cutting board.
Put cabbage steaks on a baking sheet with pats of butter on top of each one. Then sprinkle with seasonings.
Bake uncovered for 10 minutes. Then turn temp up to 400 degrees F and bake for 10 minutes or until it's as tender as you'd like.
Serve immediately for best taste and texture. If you love cabbage this is a game changer!!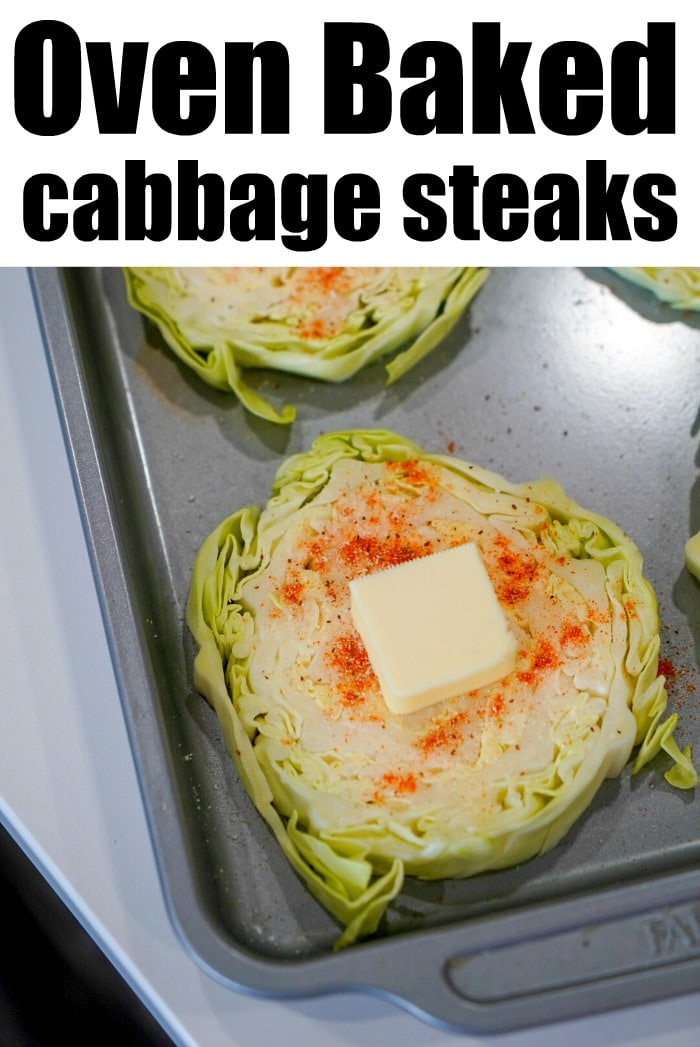 Roasted Cabbage Steaks with Balsamic
Baked cabbage steaks take about 30 minutes to prep and bake to the perfect texture. The taste is out of this world! Super buttery which makes the leaves really tender and the seasonings here have been our favorite combo.
Beyond cooking them in the oven the seasonings and/or sauce you might serve on the top is up to you. If you love balsamic a quick drizzle over the top is just beyond amazing y'all.
Try it yourself with our oven baked brisket recipe for the best meal ever. If you use a different combination of ingredients let us know. I will say butter is way better than olive oil if you ask me.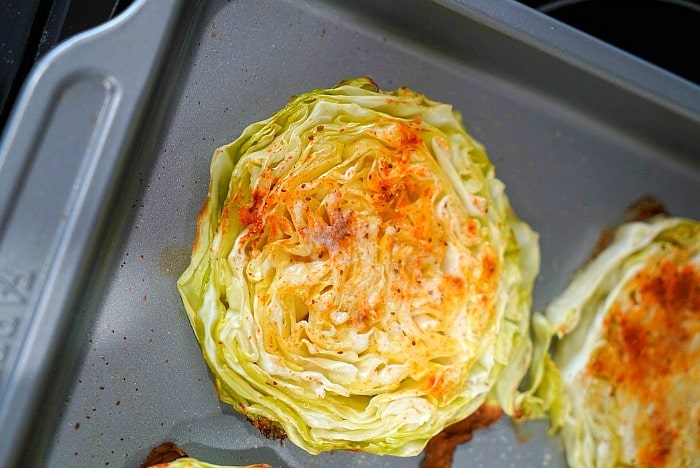 Looking for more easy cabbage recipes?
We have a bunch of different Instant Pot cabbage recipes you can try. Cooking it in a pressure cooker is a great way because it gets tender really quickly.
Cabbage soup is another favorite, hearty meal. Use spicy ground sausage for really bold flavors. A really cheap meal that even my kids love.
Smoked sausage and cabbage is really yummy. The kielbasa gives the wedges a lot of extra flavor. Super easy to throw together if you have a Traeger or other brand. I have made this many times and will say that cut smaller into bite size pieces works better, and faster, than wedges like you see here.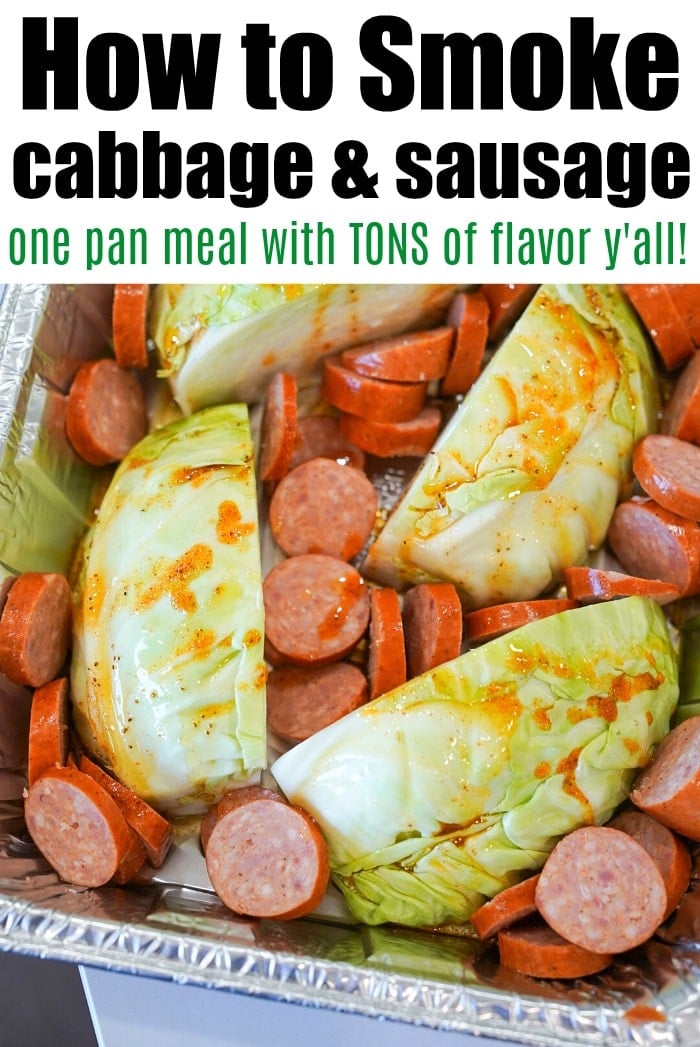 What goes well with cabbage?
I love sausage like you see here above. Another easy duo is frozen chicken in air fryer or some air fryer steak bites. If you love fish, try the best baked salmon.
What else have you cooked with this that you really love? I'm game for lots of new ideas I can try here in the near future. It's great hearing your ideas so we can change things up a bit. Like I said, I could eat this often but it does get boring unless you come up with new flavorful ways of baking or cooking it.
Printable recipe below which includes nutritional information. Of course size will make a bit of difference in regards to that. Our head was on the smaller size with 6 slices total. Remember, the thinner you cut it the more tender it will be in a shorter time duration.
Want to see a few of my favorite things that I am totally obsessed with?? Take a peek and see how many you might already have…twinsies!
Looking for more easy family recipes and tips? LIKE The Typical Mom Facebook page?
Then sign up for my free newsletter, and follow me on Pinterest! 😉
***** If you LOVED this recipe give it 5 Stars below and let everyone know what you thought about it. 😉
Baked Cabbage Steaks
Baked cabbage steaks are buttery and the perfect side dish you've been waiting for! Simple ingredients, keto and low carb too I'm sure you'll love them too.
Instructions
Preheat oven to 350 degrees F. Slice cabbage into 1" thick slices and put on baking sheet.

Sprinkle each one with seasonings and put 3/4-1 tbsp slice in the middle of each one.

Bake for 10 minutes, then turn oven up to 400 degrees for 10 minutes.

Enjoy immediately for best results.
Nutrition Facts
Baked Cabbage Steaks
Amount Per Serving (2 oz)
Calories 141
Calories from Fat 108
% Daily Value*
Fat 12g18%
Cholesterol 31mg10%
Sodium 323mg14%
Potassium 257mg7%
Carbohydrates 9g3%
Protein 2g4%
Vitamin A 503IU10%
Vitamin C 55mg67%
Calcium 64mg6%
Iron 1mg6%
* Percent Daily Values are based on a 2000 calorie diet.