Smoked sausage and cabbage recipe can all be done at the same time for a great dinner on your Traeger. Use an electric or pellet smoker for deliciousness.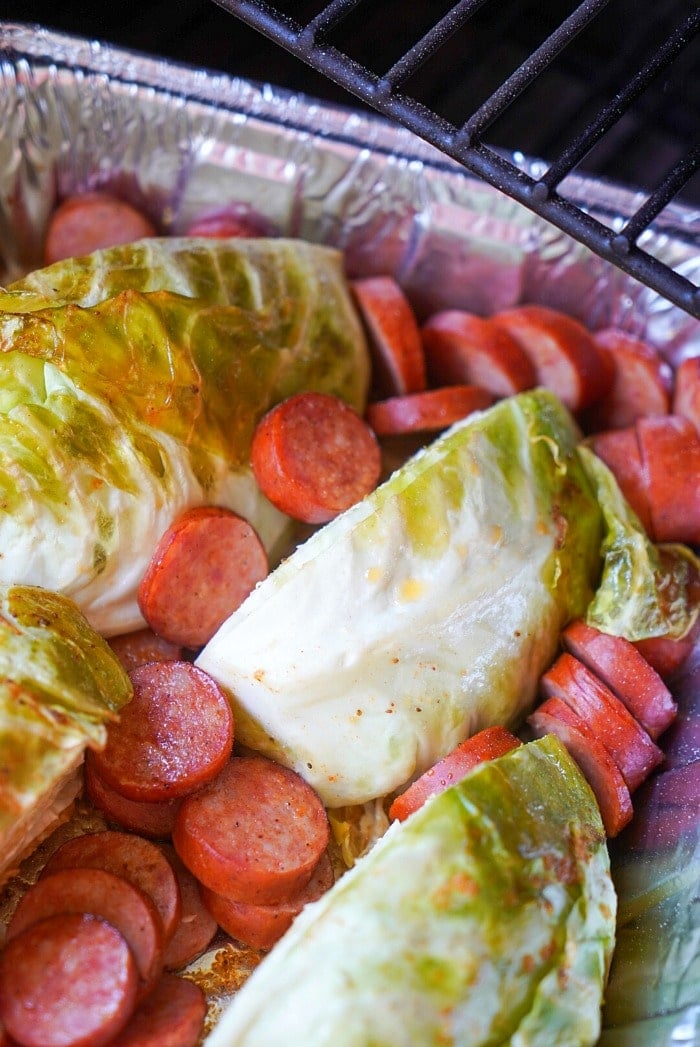 We made Traeger smoked sausage and cabbage the other night and it came out so tasty! With just a few seasonings and olive oil you too can make this easy smoker recipe that's inexpensive and everyone loves.
Smoked Cabbage
We started this journey creating a lot of electric smoker recipes. Of course meat was a given and done first off but the we started thinking of our favorite side dishes. My grandmother was in love with this crispy green vegetable and cooked it often.
Of course she didn't have a Traeger back in her day but I bet she would've gotten into it if she had.
Those will work too if you're looking for more ideas.
FIRST – You should sign up for my free newsletter so you get new posts emailed to you twice a week and never miss out on anything!
To get your meats absolutely perfect we have this printable meat smoking chart to refer to so each and every time it will be fork tender.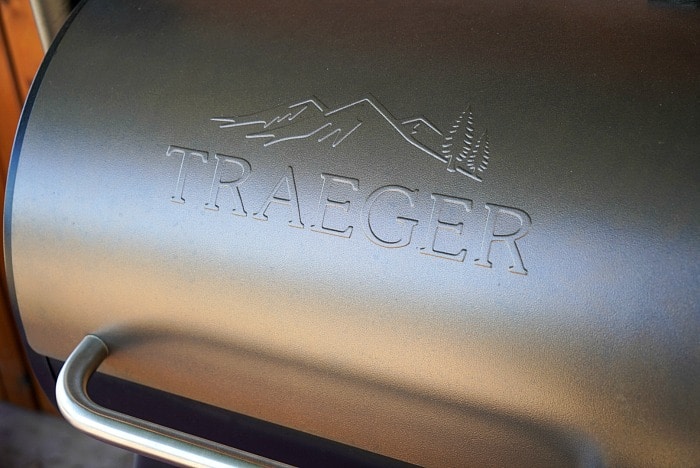 You'll first want to pick your favorite precooked sausage link. Johnsonville kielbasa works great, or choose andouille for a kick of heat!
Traeger Cabbage and Sausage
I don't know about you but the older I got the more simple cabbage recipes I fell in love with. My grandma cooked fried cabbage all of the time but it was a no go for me until I was in my 40's.
Maybe my tastebuds improved because the same went for mushrooms. Now I love them and can't get enough! Call it maturity or old age. lol
These are the main two ingredients. Of course if you opted to just cook one or the other, have at it.
Smoking sausage (or brats) and this vegetable at the same time is a game changer for us so dinner is done all at the same time.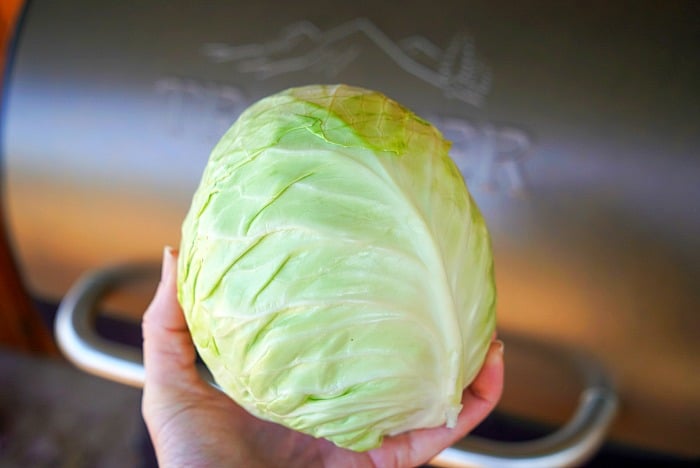 Sausage and Cabbage in a Smoker
There are a few options when it comes to how you cut cabbage. The smaller the pieces the shorter the cook time will be in order to get it tender.
I don't like it limp so I quartered it and it remained a bit firm on the inner layers.
If you want it a bit softer I would recommend that you cut those quarters in half.
8 equal pieces will create tender leaves but not super soft like buttered cabbage if you will.
Any smaller than that would yield really soft pieces, decide for yourself.
Timing is set for a quartered cabbage head though so keep that in mind when making your smoked cabbage.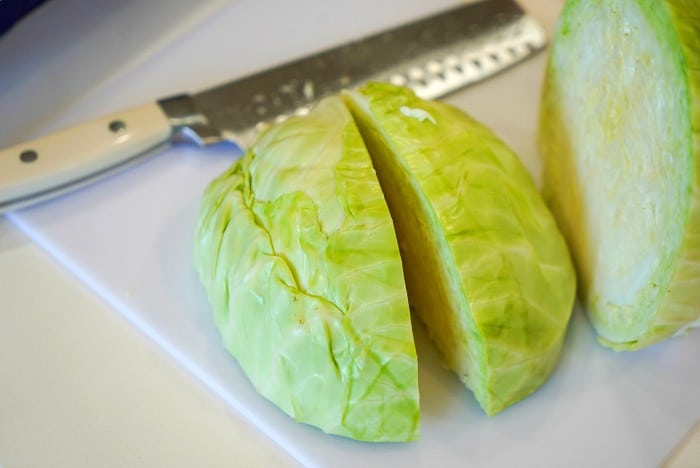 Smoked cabbage and sausage
Head of cabbage – small to medium size, quartered or cut into 8 pcs.
Sausage link – pre-cooked and sliced into dials
Old Bay seasoning
Garlic salt
Onion powder
Olive oil
Could add sliced onions inside too
Aluminum foil
This is what you will need. Simple, and the seasonings are really up to you. Add salt and pepper too if you like.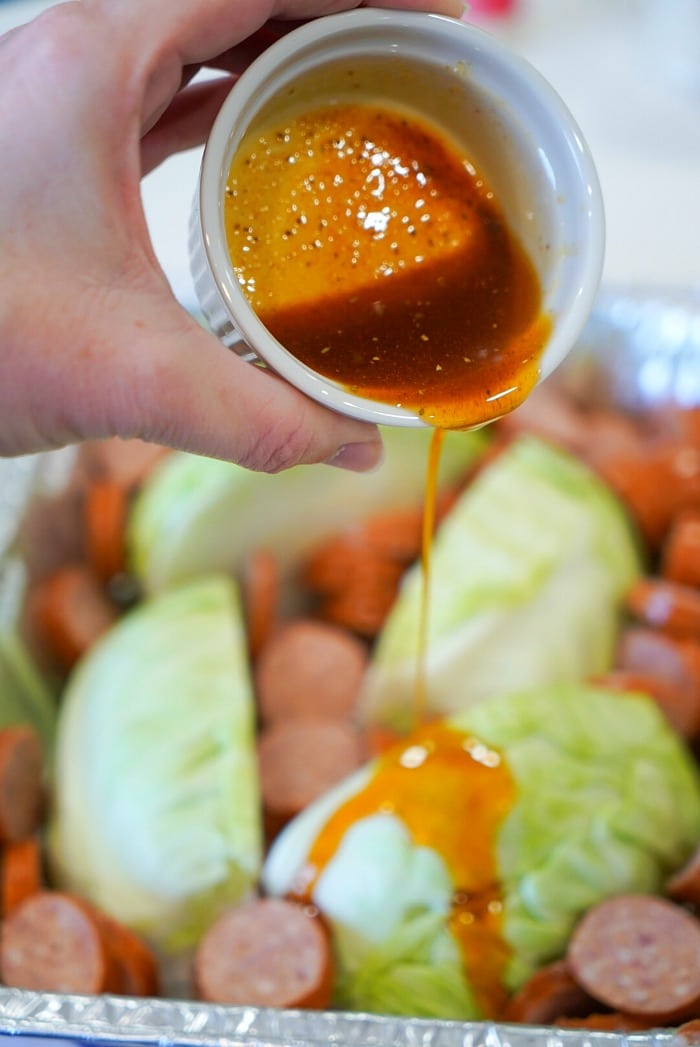 Italian Sausage and Cabbage
You can use any type of meat you want, I like using these links that are precooked though. If they start out raw you'll need to make sure the internal temperature reaches a safe range before consuming. Here are a few questions you might have before you get started:
What goes good with cabbage for dinner?
We think this sausage recipe is a great duo for sure! With onions and garlic if you want to add that, it is very versatile, cheap, easy and delicious.
What is the best type of sausage for smoking?
I like good ol' kielbasa or Italian sausages. If you love bangers and mash you could use bratwursts. Chorizo is great if you want some spice and breakfast sausage is great in the morning.
How long do sausages take to smoke?
That depends on whether they are raw to start, or precooked. If you slice them as we did with our sausage and cabbage recipe they take less time.

Smoked brats left whole directly on the grates take about 3 hours flipping every 45 minutes at about 250 degrees F.
Of course you can pan fry them both over medium heat stirring occasionally if you chop the cabbage into 1.5″ squares. Sliced sausage works best for this method but I explore you to try it in your smoker next time!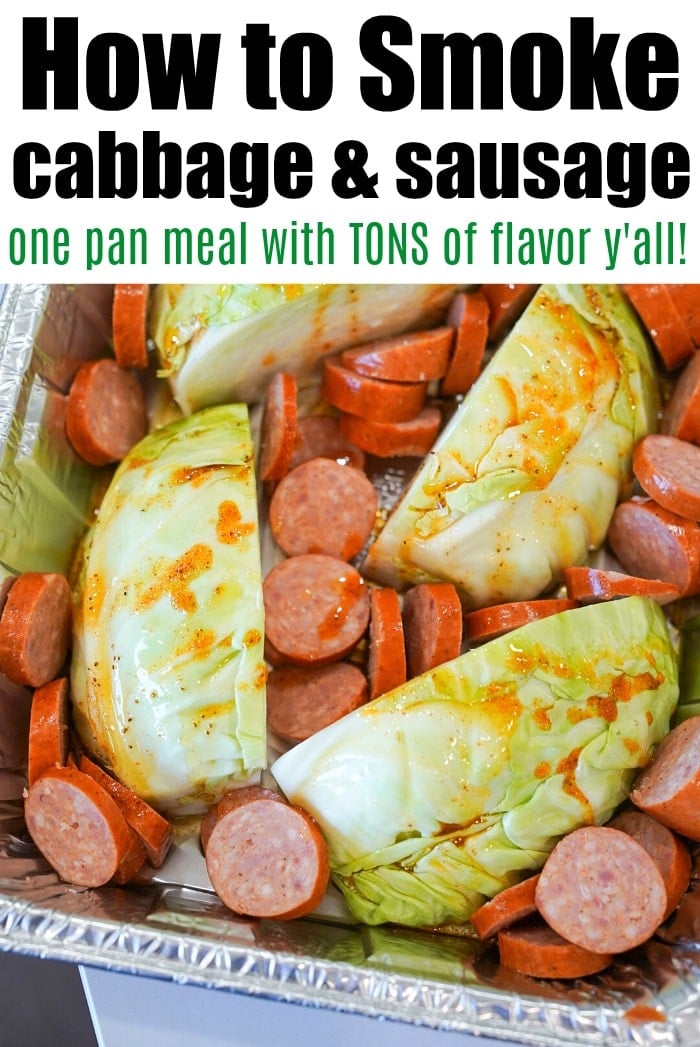 This is how you would make it at home and try it yourself!
Best Smoked Cabbage Recipe
Time needed: 1 hour and 30 minutes.
Smoked cabbage and sausage
Preheat smoker

Preheat smoker to 275 degrees F.

Prepare ingredients

Take top layer off cabbage and slice bottom core piece off. Then cut into 4 or 8 equal pieces as you see below, or diced into bite size pieces. Smaller will make it more tender. Then slice your sausage into 1/2″ thick dials.

Mix seasonings

Use a fork to mix together olive oil and seasonings together.

Prepare to cook

Place chunks of cabbage and sliced sausage into an aluminum pans (add sliced onions now too if you want).

Drizzle on sauce

Pour olive oil seasoning sauce on cabbage. Cover and cook.

Smoke food

Put pan on grate and smoke for 20 minutes, flip cabbage on other side, cook for another 20 minutes, flip cabbage, remove foil and continue cooking for about another 40 minutes until tender.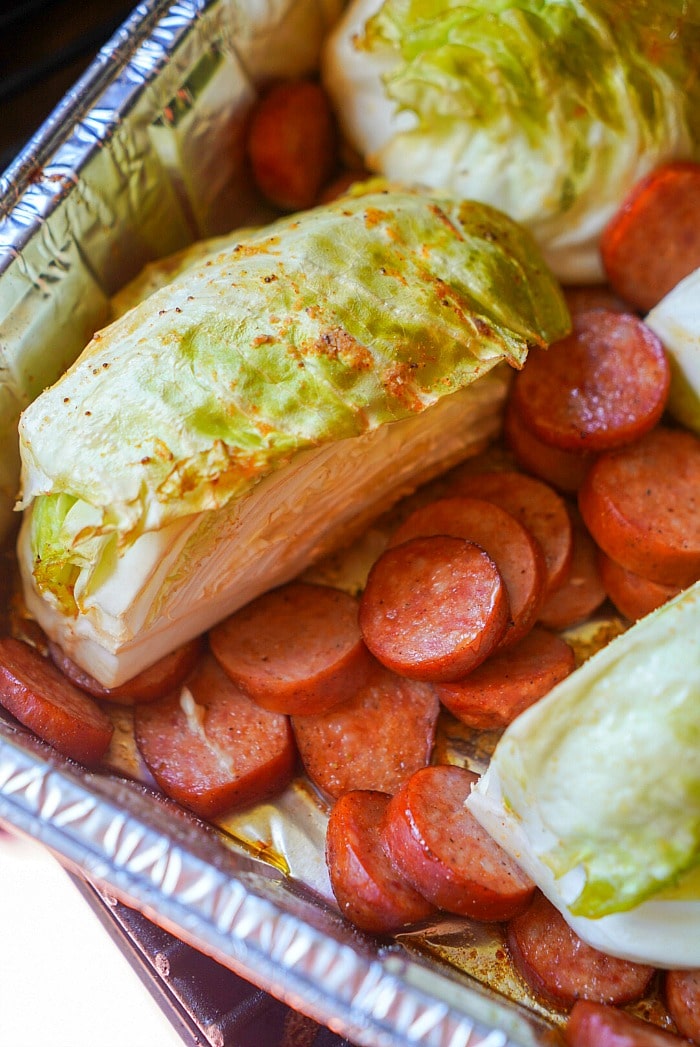 Cook time will depend on how browned you want your meat and how tender you want your cabbage. Serve smoked sausage, onion and cabbage immediately for best results.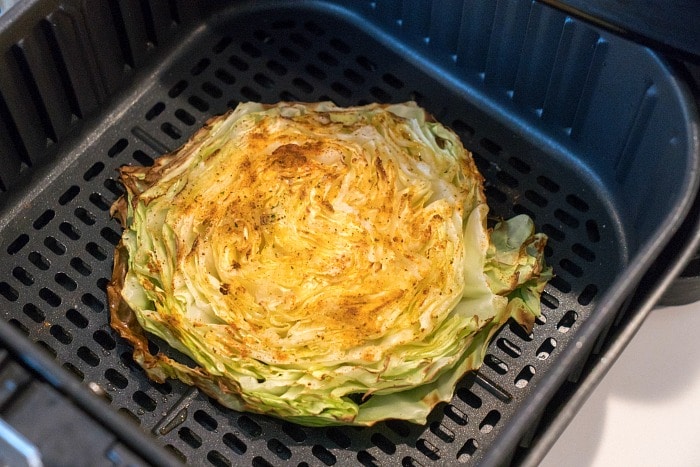 Want to see a few of my favorite things that I am totally obsessed with?? Take a peek and see how many you might already have…twinsies!
Looking for more easy family recipes and tips? LIKE The Typical Mom Facebook page?
Then sign up for my free newsletter, and follow me on Pinterest! 😉
***** If you LOVED this recipe give it 5 Stars below and let everyone know what you thought about it. 😉
Smoked Sausage and Cabbage
Smoked sausage and cabbage recipe can all be done at the same time for a great dinner on your Traeger. Use an electric or pellet smoker for deliciousness.
Instructions
Preheat smoker to 275 degrees

Slice sausage into 1" thick dials and cut cabbage into quarters or 8 equal pieces (more, smaller pieces will yield more tender cabbage)

Put wedges into 9×13" aluminum pan with sausage surrounding them. (if adding onions sprinkle those in now too)

In a bowl whisk together olive oil and seasonings. Pour on top of cabbage and cover pan with foil.

Cook for 20 minutes, then lift foil and rotate cabbage to other flat side, cook for another 20 minutes, then remove foil and cook for 40 more minutes uncovered. (note: this timing is for quartered cabbage, if you cut it smaller it may take less time)

Check and see if it's as tender inside and browned on outside as you'd like it to be, remove and enjoy immediately for best taste and texture.
Nutrition Facts
Smoked Sausage and Cabbage
Amount Per Serving (3 oz)
Calories 146
Calories from Fat 99
% Daily Value*
Fat 11g17%
Cholesterol 1mg0%
Sodium 267mg12%
Potassium 309mg9%
Carbohydrates 11g4%
Protein 2g4%
Vitamin A 178IU4%
Vitamin C 66mg80%
Calcium 73mg7%
Iron 1mg6%
* Percent Daily Values are based on a 2000 calorie diet.