Crockpot cabbage and sausage is amazing! Sliced kielbasa links with tender buttered slow cooker cabbage and potatoes turns out great. Sometimes called Haluski in slow cooker you are going to love this dish!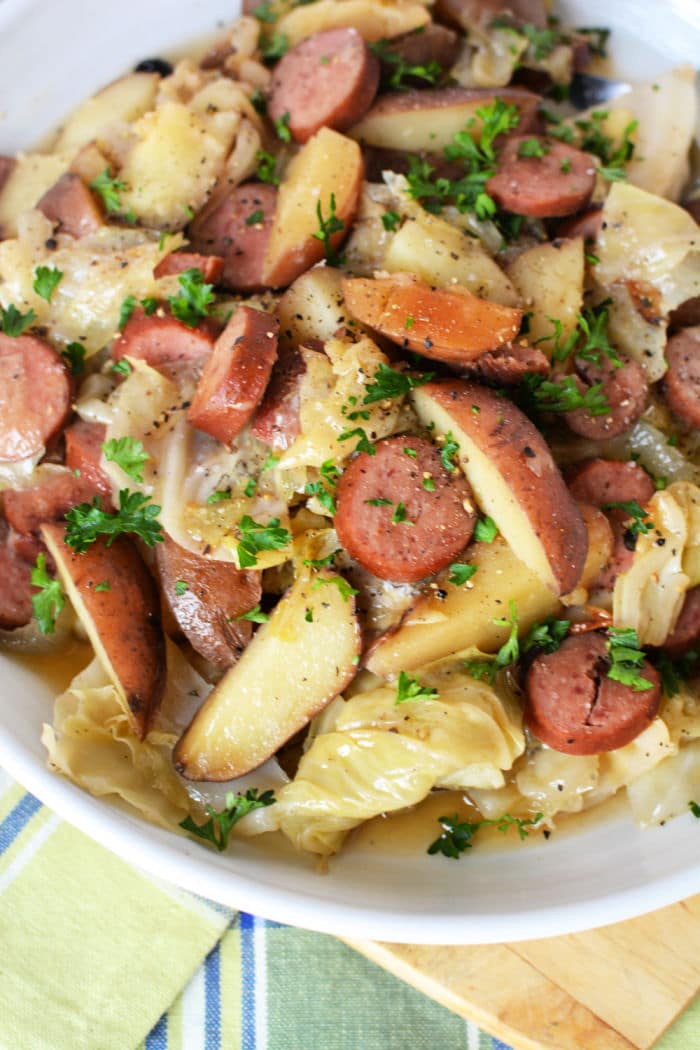 I'm telling you this Crockpot cabbage and sausage recipe is so simple and tastes out of this world amazing. Just dice everything up, throw it in and your one pot meal is done when you are at dinner time. Just one of our easy Crockpot recipes here on The Typical Mom blog. (affiliate links present)
Crockpot Cabbage and Potatoes
You could add all three of these main ingredients or just two. I will tell you that everything listed below is delicious. Onions are optional as well but I tend to add those and garlic to just about everything. They are the cheapest way to add a ton of flavor to any meal.
I think I fell in love with this green veggie when I made Instant Pot fried cabbage a few years back. It was so good that I often make it year round. This time since red potatoes were added, it was better to cook everything low and slow so everything cooked evenly.
FIRST – You should sign up for my free newsletter so you get new posts emailed to you twice a week and never miss out on anything! Let's talk a little bit about slow cooking shall we?? First off I have a few different varieties and I love them all. Each one has an occasion to be used like….
This is my favorite 6 quart programmable one with a locking lid so it's great for bringing to a potluck too.
If you just want to serve a few appetizers you should get this one that sit side by side one another.
I prefer not to use liners, but rather just spray olive oil inside before adding my food for easier cleanups.
Let me give you a peek of my pretty thang I bought recently. It goes with my kitchen so I can just leave it out on the countertop all the time. 😉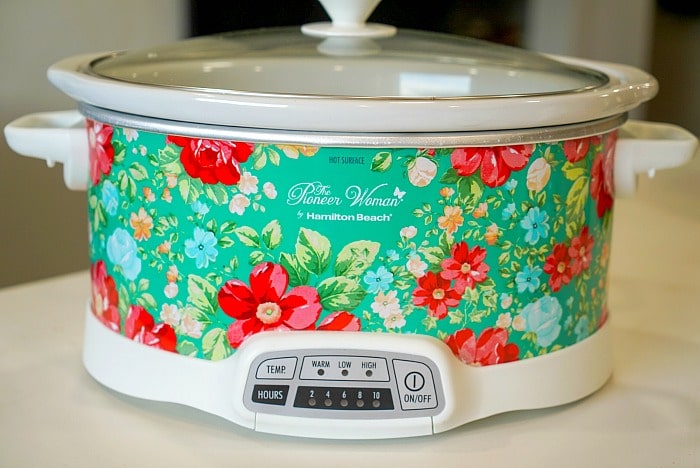 Sausage and Cabbage Slow Cooker
There are a few other items you could include. If you wanted to make a kielbasa cabbage, carrots potatoes dish you totally could. Just peel and slice your pieces into large bite size chunks. That will ensure that everything gets done at the same time and is fork tender, but not falling apart.
Keto cabbage and sausage Crockpot recipes are possible too. Just omit the starches and follow the rest of the recipe as far as timing goes. Add your own seasonings of choice and enjoy at the end of the day. This is what we did with slow cooker cabbage.
Potatoes, I say leave the skin on for added texture and flavor
Sliced precooked sausage link
Onion
About half a head of cabbage chopped into large(ish) pieces

this is how to cut a cabbage

Salt and pepper, and anything else you want to throw in there
If you wanted your Crockpot cabbage recipes to be a bit spicy you could add a bit of red pepper flakes, dry Sriracha and/or chili powder. Easy recipe that is super cheap. And you can find cabbage and onion year round.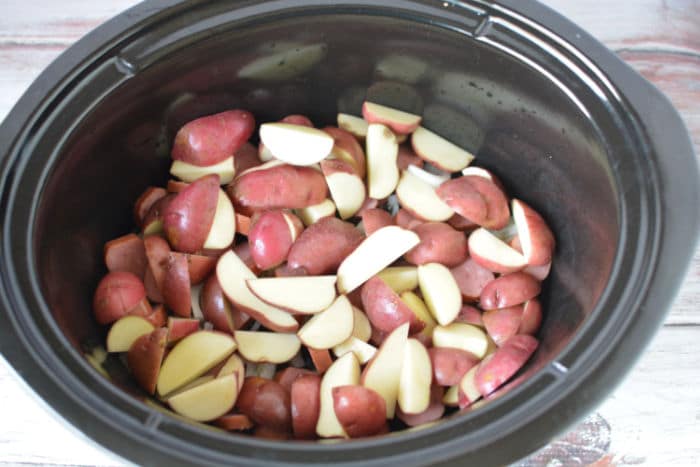 Slow Cooker Sausage Potato and Cabbage
Now I did also make air fryer sausage and potatoes once to give that a whirl. I used sliced deer links that were made locally and out of this world. That method gives the edges of everything a nice crispiness which is out of this world. It kinda' caramelizes the meat too in a way.
Doesn't take too long that way especially since the pork is already cooked. You always want to remember that any way you cook this the taters will take the longest. The rest you're just heating up and softening the pieces.
Slow Cooker Sausage and Cabbage
I swear, buttered cabbage goes with all the things. It soaks up all the other flavors in the pot and takes on the deliciousness in no time. Remember that the items that take the least amount of time should be put on the top. It will get less heat and break down the least, especially when it isn't in contact with the liquid below.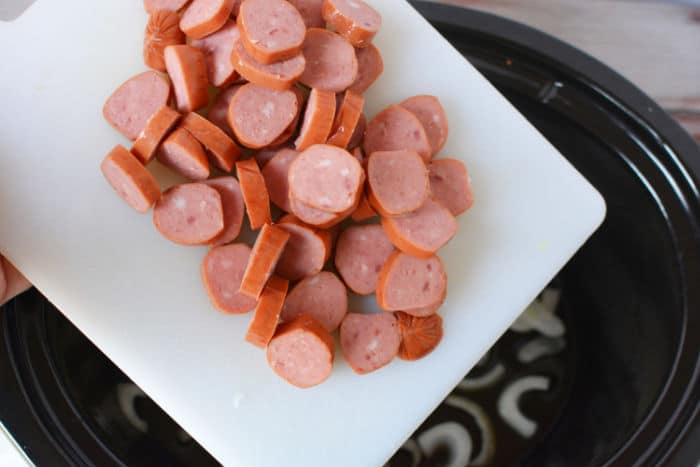 Cabbage and Kielbasa in Crock Pot
You can print recipe card at the bottom of the post with all the ingredient amounts you need and instructions. Here is a quick rundown of how this is put together and the order that works best.
Layer your chicken broth first, then sliced onions, cut smoked sausage dials, potatoes cut into chunks and cabbage into your pot. Cut butter into pats and lay on top with a sprinkle of salt and pepper.
Cover and cook on low for 4-6 hours cooking time.
When it is as tender as you'd like gently fold everything together, taste, re season if necessary and serve. It really is a one pot meal with everything you need, no side dishes necessary.
You could totally add a different pre-cooked meat to this too. If you had leftover pot roast you could dice that up and use that instead. I hate throwing away last night's meal so if I can make a second Crock pot recipe with it it's like a 2 for 1 deal.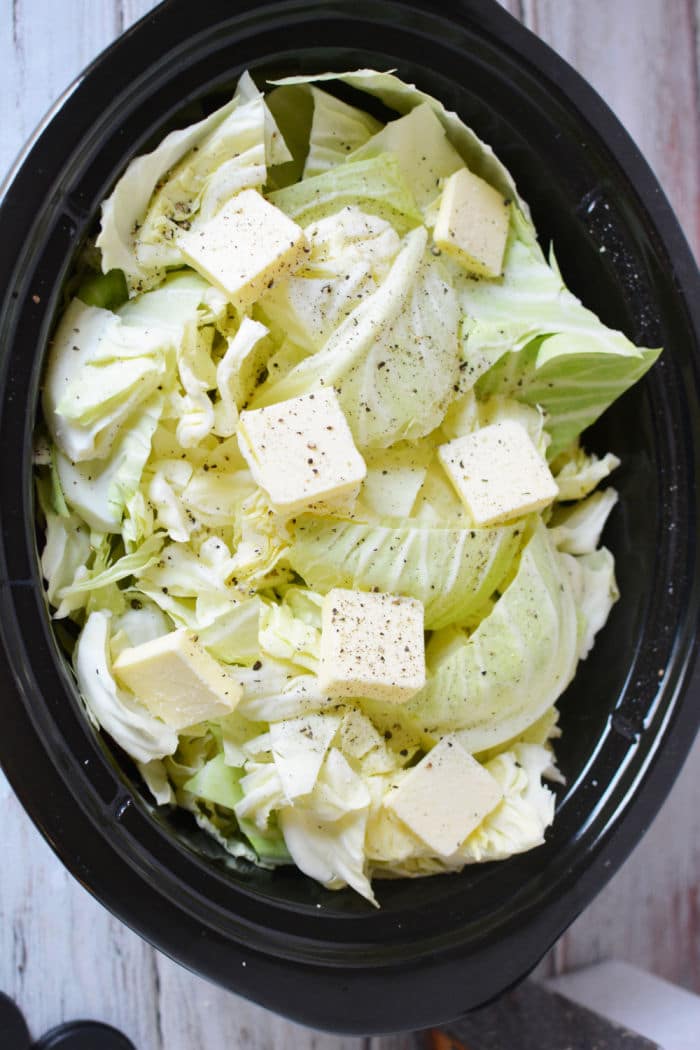 Crockpot Cabbage Potatoes and Sausage
Slow cooker recipes are the bomb, especially during the Winter time when it is snowing outside and you literally want to do nothing around dinnertime. What are your favorite recipes you love during this time of year. Now what do you do if you don't eat all of this. Once again, don't throw it away y'all.
Best way to save leftovers is to allow it to cool completely first. This is important because if you don't, it can grow bacteria easier. I like using pint size freezer bags personally because I don't have to wash them out. Just seal, store in the fridge for up to 3 days and then transfer to a microwave safe dish to reheat.
Haluski Crockpot
It should only take about 1 minute stirring halfway thru to get warm again. You could throw it into your Ninja Foodi too at 400 for about 4 minutes to get it a bit crispy too. If you want to take it up a notch, sprinkle some parmesan cheese on top and let that melt at the end. That is a great add in when serving the initial meal too.
If you have some of your Traeger corned beef left over, these two dishes can be heated together for lunch the next day!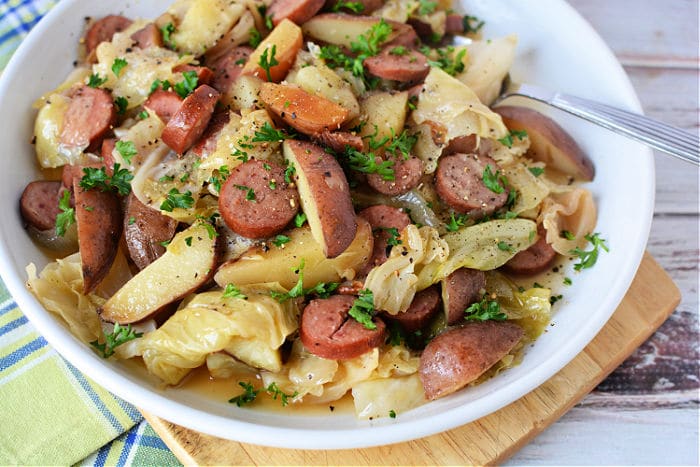 Cabbage and Sausage
If you don't have a low and slow cooker you could use these same ingredients in a large stock pot on your stovetop too. Covered with a lid on low heat, you'd simmer for about 30 minutes stirring frequently. This takes more of your attention and the vegetables will break down more since you're folding and rotating more often.
For another hearty meal, you'll love our old fashioned cabbage soup too.
Want to see a few of my favorite things that I am totally obsessed with?? Take a peek and see how many you might already have…twinsies!
Looking for more easy family recipes and tips? LIKE The Typical Mom Facebook page?
Then sign up for my free newsletter, and follow me on Pinterest! 😉
***** If you LOVED this recipe give it 5 Stars below and let everyone know what you thought about it. 😉
Crockpot Cabbage and Sausage
Crockpot cabbage and sausage is amazing! Sliced kielbasa links with tender buttered cabbage and potatoes in a slow cooker turns out great.
Instructions
Layer broth, then onions, sausage dials, potatoes, cabbage into pot. Cut butter into pats and lay on top with a sprinkle of salt and pepper.

Cover and cook on low for 4-6 hours. Gently fold together and serve.
Nutrition Facts
Crockpot Cabbage and Sausage
Amount Per Serving (2 oz)
Calories 248
Calories from Fat 207
% Daily Value*
Fat 23g35%
Cholesterol 61mg20%
Sodium 506mg22%
Potassium 185mg5%
Carbohydrates 2g1%
Protein 9g18%
Vitamin A 277IU6%
Vitamin C 3mg4%
Calcium 13mg1%
Iron 1mg6%
* Percent Daily Values are based on a 2000 calorie diet.