How to cook air fryer SPAM so it's perfectly crispy, plus how to cook diced potatoes with it for a completely delicious meal in under 20 minutes flat!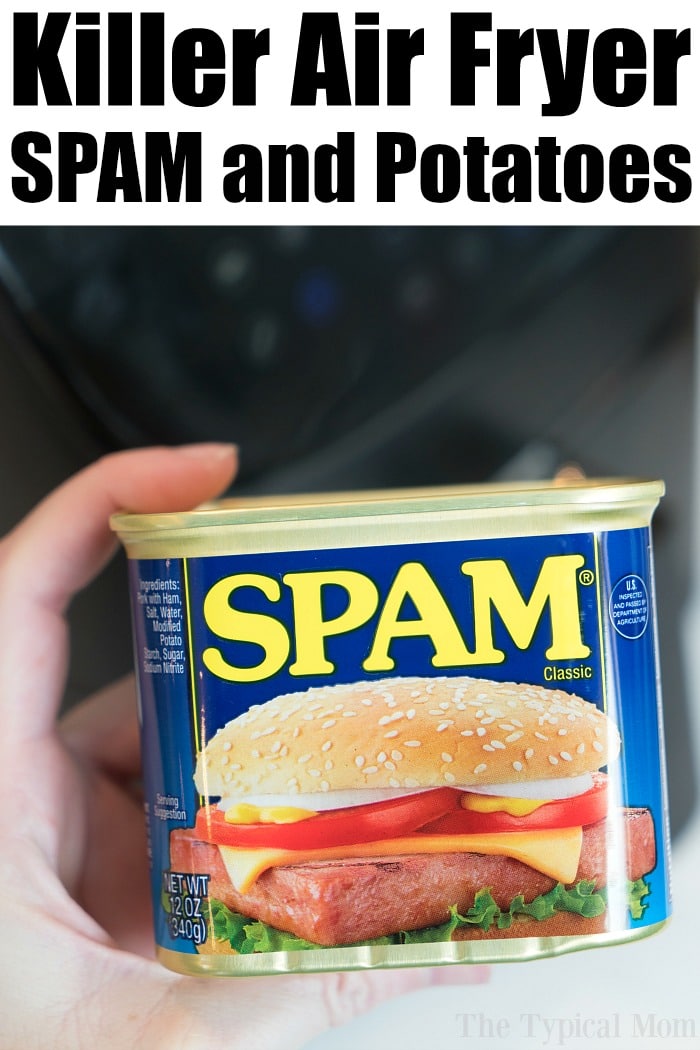 This little can of yum is pretty controversial. People either love, hate, or have never tried it! If you want to know how to cook spam the BEST way, this air fryer spam recipe is it! One of our favorite air fryer recipes on The Typical Mom. (originally published 2/20, affiliate links present)
Spam in Air Fryer
We even added a second SPAM recipe with potatoes below too! Once you try this you're going to want to air fry everything I tell you! Crispy edges make everything taste better ya' know. 😉
You can make this as an easy Ninja Foodi recipe or use whatever brand you have. They all work basically the same, the basket sizes are just different.
If you love air fryer recipes too, here are some resources to start with: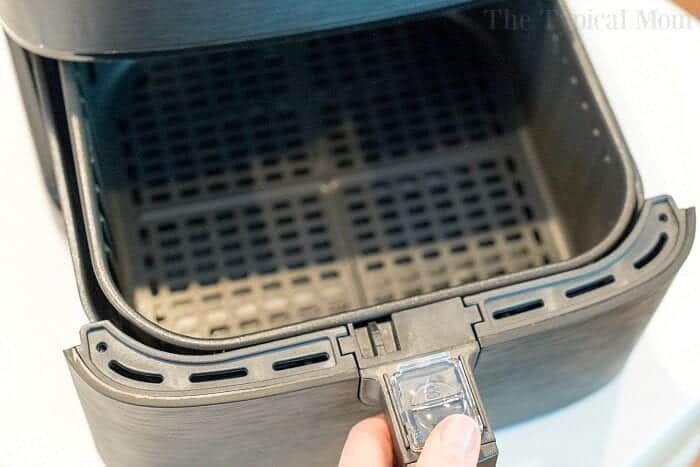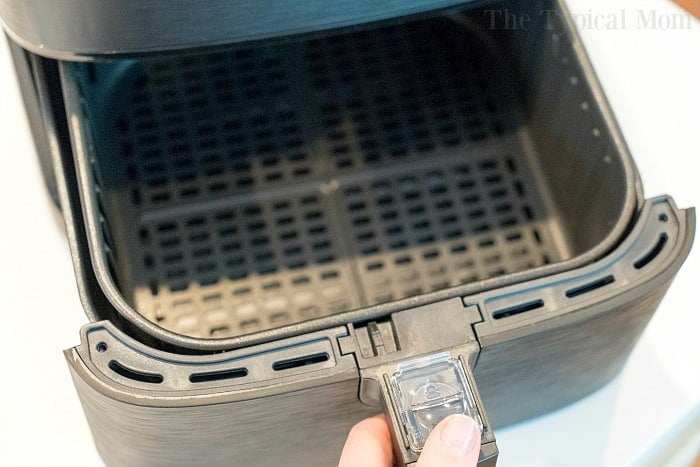 Ninja Foodi Spam
If you actually have tried and love fried spam this may replace that method because you get the same crisp to the outside, but only a light spray of oil is needed.
NO deep frying in oil to get that nice caramelized color and flavor on the outside. Just dice, throw it in and it's done in no time.
Ready to start cooking spam in your Ninja Foodi or other brand of air fryer? Let's open the can and get going.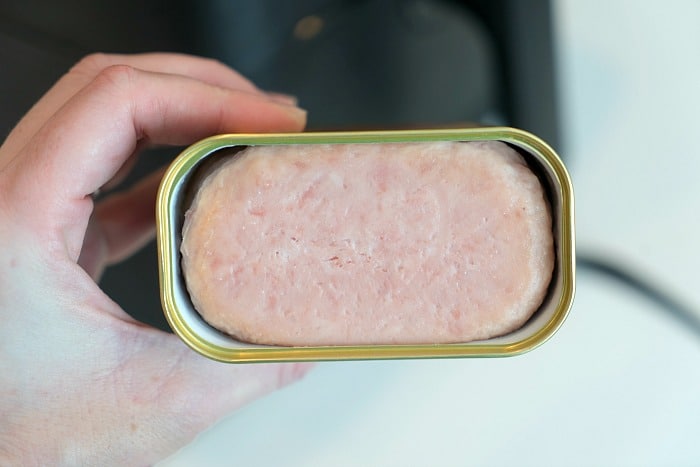 Air Fryer Spam Recipe
Yes, this is what it looks like.
A bit like a very large Vienna Sausage in looks without any skin on the outside, it has a similar flavor too, but better.
What are SPAM ingredients anyway? According to the can, this is what it is made out of:
Pork with Ham
Salt
Water
Modified potato starch
Sugar
Sodium Nitrite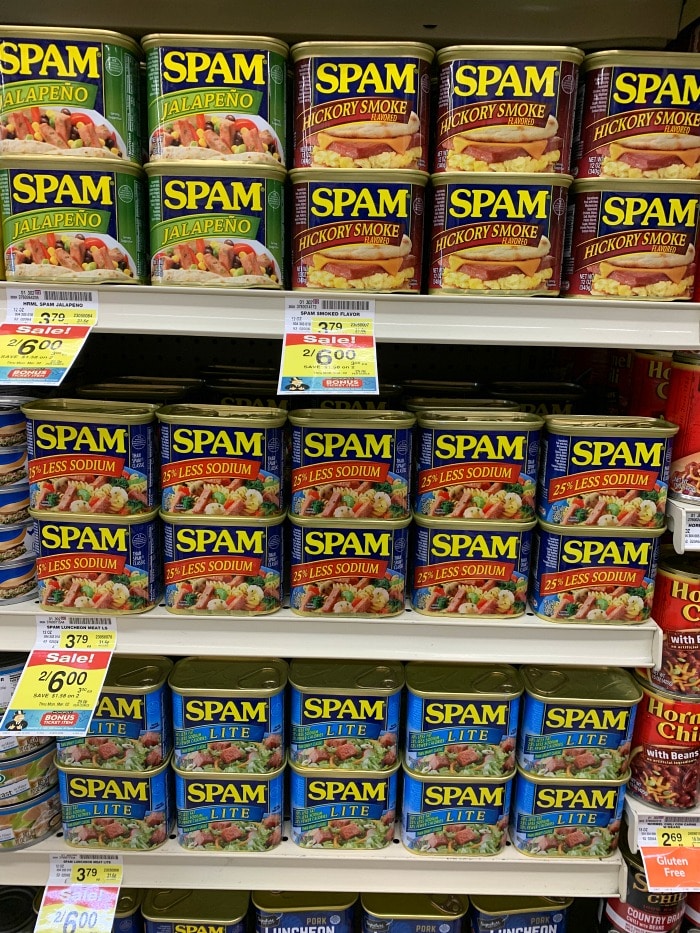 This is what you'll need to make the best air fryer Spam
Can of SPAM

order online above or find in the grocery store near the tuna fish
there are now a few different flavors but I prefer original, any will work for this

Olive oil spray
Knife
If you want to include potatoes I will include the ingredients and recipe for that below. You could even swap out the seafood in our air fryer shrimp boil for this and add corn on the cob into the mix.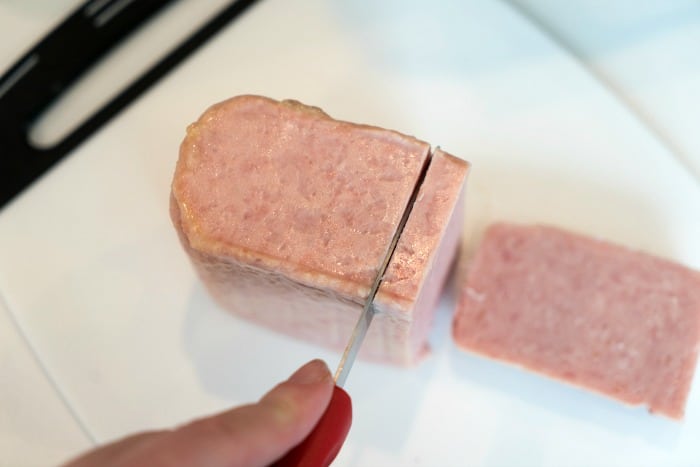 To get it out of the can squeeze the short ends just a bit and hit the open end gently down on a cutting board. It should pop out cleanly that way.
You want it to pop out in one piece so you can slice it nicely like you see here.
Ideally you want all of your slices to be similar in size so it cooks evenly.
Is spam gluten free?
YES! It does say on the side of the can that it is, as for any questions regarding that they provide you a number which is helpful I suppose. Hormel SPAM is made in Minnesota and has been around forever!!
How can you serve spam in air fryer then?
Simple and delicious, just serve crispy spam and rice that has been perfectly steamed in your pressure cooker.
A very popular dish is spam musubi. If you have never heard of this it is essentially using a cooked or uncooked piece inside or on top of a piece of sushi.
Can you eat spam without cooking it?
Yes! It's been cooked before it gets tinned, has been pasteurized during the canning process and is safe to eat as is.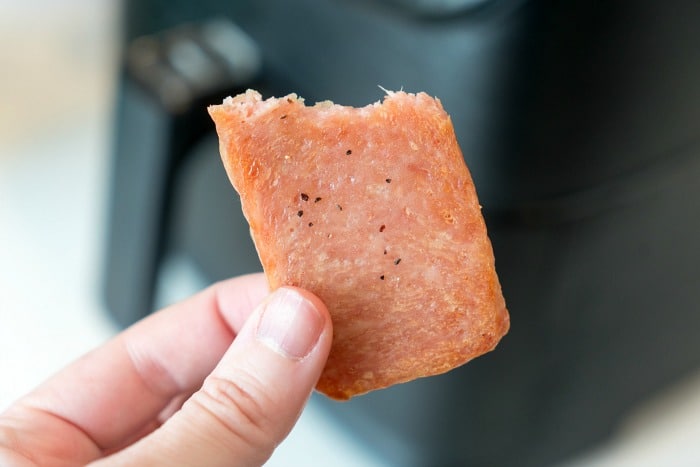 How to Cook Spam in Air Fryer
Want a heartier meal? Slice it thick and make a spam burger out of it atop a bun loaded with lettuce, tomato and pickles!
We have even just picked up a piece of air fryer spam and had it as a quick snack like this!
Since the outside gets nice and crispy they're easy to pick up and munch on.
Whatever spam recipes you make just remember to NOT add any more salt. Especially if you decide to cook it, this meat has quite a bit of salt already in it. You don't want to overdo it.
What does SPAM stand for?
The name was derived from a the idea that it was a sort of spiced ham. The original variety of Spam is still available today, but now there are many more varieties to choose from.
Now let me show you how I mixed diced potatoes and this popular canned meat together which came out amazing!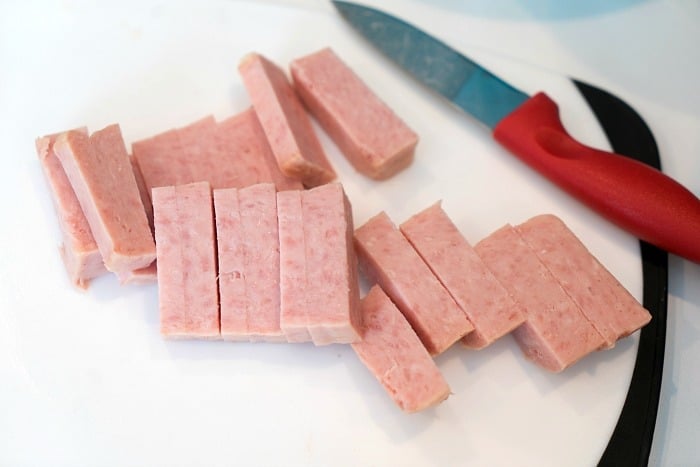 Instead of making 9-10 slices per loaf, I then cut those slices into strips so they were bite size and easier to eat.
Ensuring everything was tender in the middle but crispy on the outside at the same time was the goal.
Soon I am going to do this same thing, bread it a bit and make spam fries. Will share when those are ready!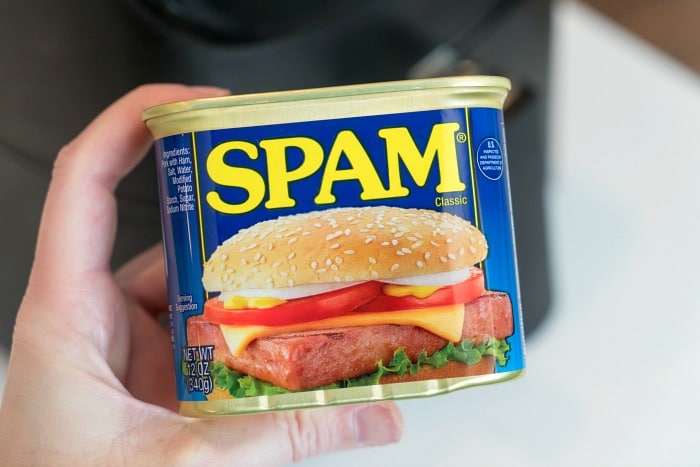 Air fryer SPAM and potatoes
Can of SPAM

sliced like you see above

4 medium potatoes

we used russet this time
washed, dried, diced as you see above

1 tbsp. Olive oil
1/4 tsp. Garlic salt
1/8 tsp. Basil
1/8 tsp. Oregano
It's one of our favorite air fryer potato recipes for sure.
This is how large I cut up the russet potatoes.
To get them this size I sliced each one in half, put the cut end down, sliced lengthwise in half again, and then about 5 slices width wise made them bite sized.
Olive oil is a necessity when cooking air fryer potatoes of any kind really.
I did add a few seasonings to the mix, but NO added salt because the meat has plenty.
Make sure to mix all of this together first and add your spam pieces into the mix at the end so it doesn't break apart.
Preheating your air fryer is an important step too so everything cooks evenly.
Shaking the basket halfway through so all pieces get nice and crispy all the way around!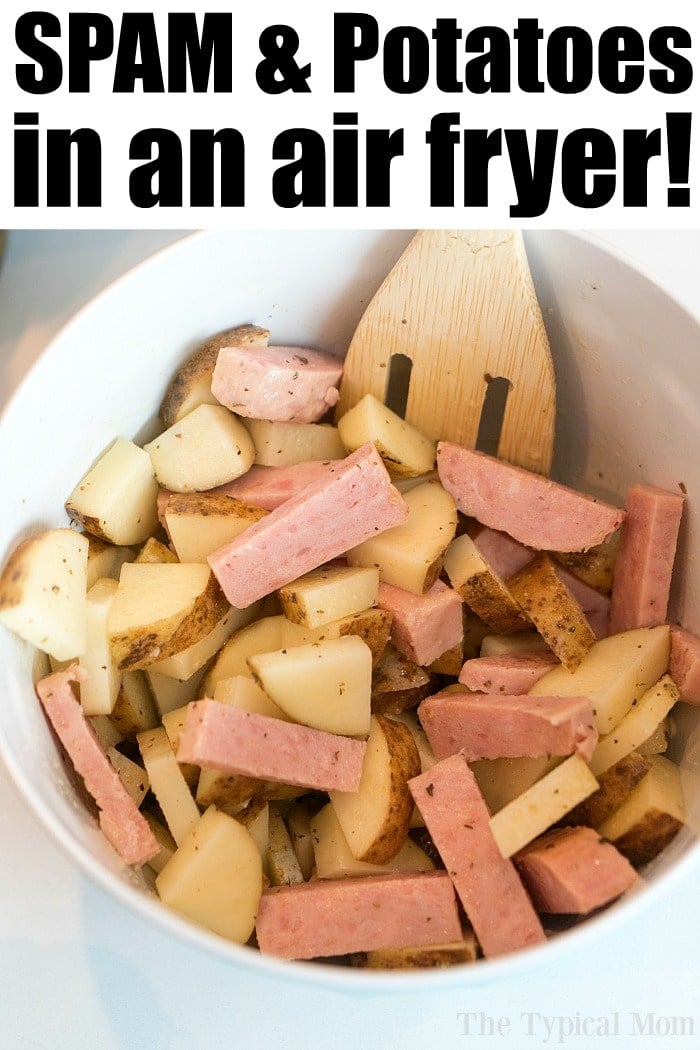 This one is quite simple but I did increase the temperature to 400 degrees since that worked well to cook our air fryer sausage and potatoes recipe.
Get ready by preheating your Ninja Foodi or air fryer to 400 degrees for 5 minutes
Dice your potatoes about the size you see above, as well as your SPAM
Put potatoes in a bowl with olive oil, salt, basil and oregano and stir so they're coated.
Add Spam pieces and gently stir so they're coated too but don't fall apart
You will need to make this in 2 batches, or cut recipe in half if you're serving only 2 of you
Pour half of what's in your bowl into your preheated air fryer basket
Set timer to 12 minutes
Shake basket gently after 6 minutes so all sides can crisp up
Enjoy immediately for best results!!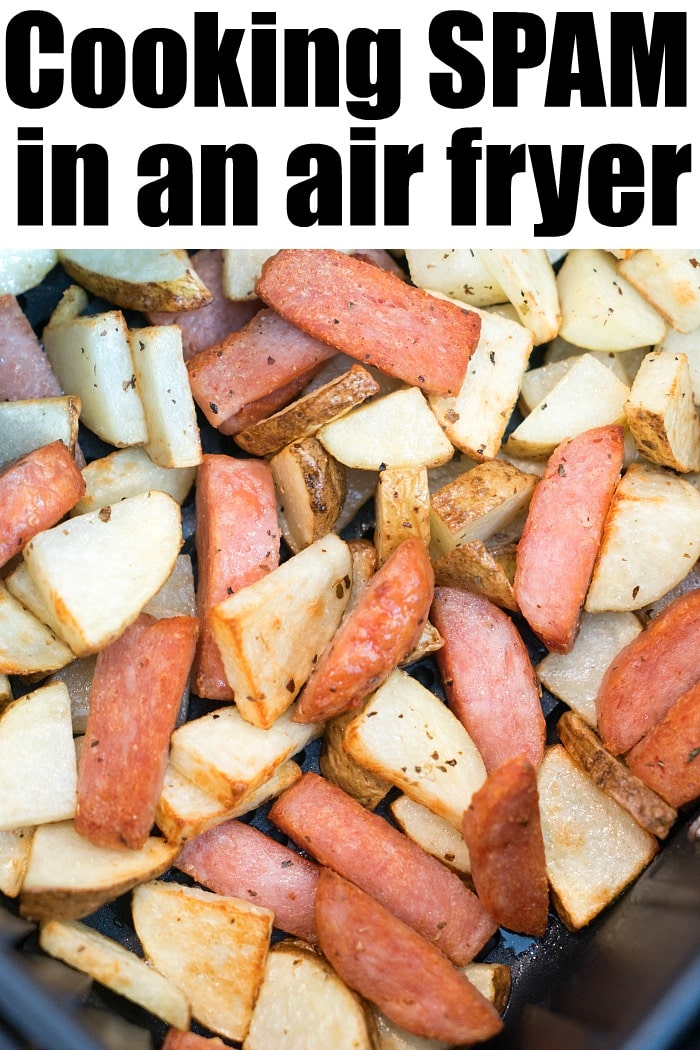 Looking for other easy air fryer recipes you'll love?
Pair air fryer spam fries with some air fryer broccoli for a family meal.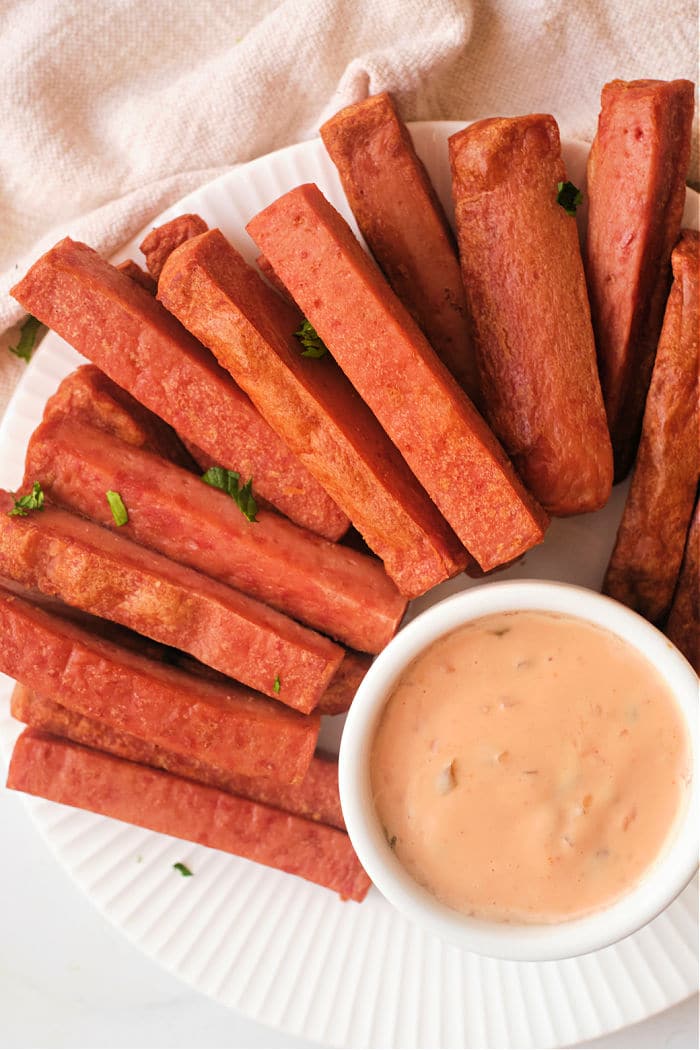 If you want to take this to a WHOLE new level put a dollop of sour cream on the top of your serving and DON'T count the calories people.
All in moderation y'all. 😉
Want to see a few of my favorite things that I am totally obsessed with?? Take a peek and see how many you might already have…twinsies!
Looking for more easy family recipes and tips? LIKE The Typical Mom Facebook page?
Then sign up for my free newsletter, and follow me on Pinterest! 😉
***** If you LOVED this recipe give it 5 Stars below and let everyone know what you thought about it. 😉
Ready for the ultimate air fryer breakfast?
Printable recipe is below. Nutritional information such as carbs in spam and more info are included too.
Air Fryer Spam
How to cook air fryer SPAM so it's perfectly crispy, plus how to cook diced potatoes with it for a completely delicious meal in under 20 minutes flat! #spam
Instructions
Preheat air fryer to 350 degrees.

Place slices of Spam into air fryer basket and spray with olive oil

Close and set to 6 minutes, check and if you want it crispier add another minute.

Recipe for air fryer spam and potatoes together is above this recipe card.
Nutrition Facts
Air Fryer Spam
Amount Per Serving (2 oz)
Calories 179
Calories from Fat 135
% Daily Value*
Fat 15g23%
Cholesterol 40mg13%
Sodium 800mg35%
Potassium 232mg7%
Carbohydrates 3g1%
Protein 8g16%
Iron 1mg6%
* Percent Daily Values are based on a 2000 calorie diet.