We have 2 easy pressure cooker cheese fondue recipes to try with our Instant Pot beer bread! The perfect appetizer or side dish when you want something delicious and fast.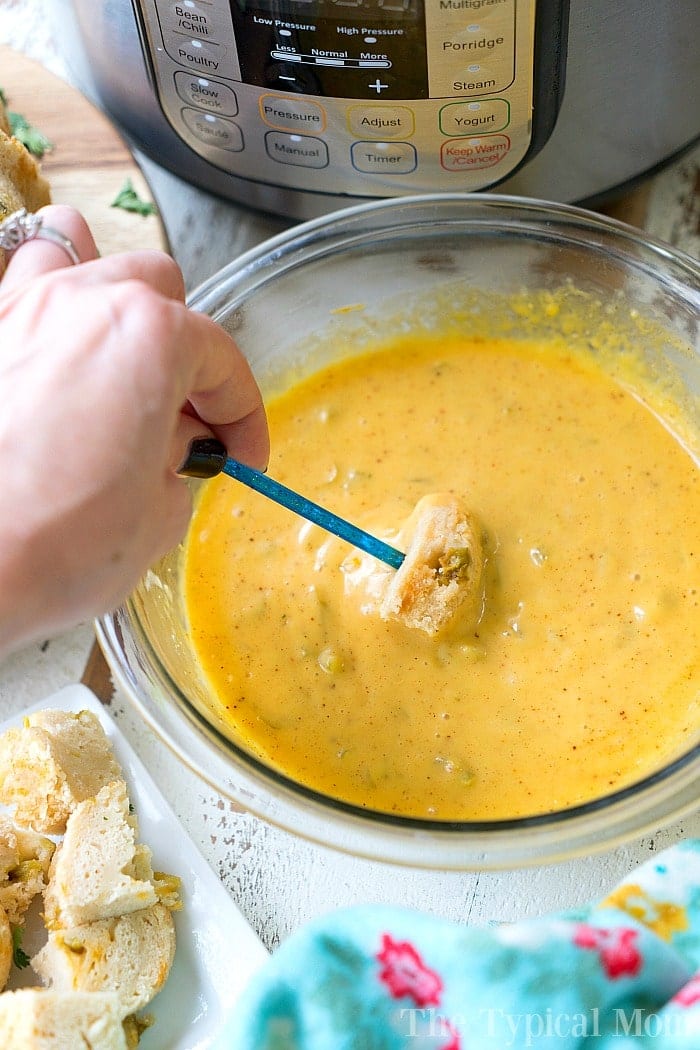 If you've ever been to the Melting Pot or another restaurant where they serve cheese and chocolate fondue you know how delicious it is!! With yummy chunks of bread for dipping it can almost become an entire meal if you ask me….so I decided to make some "cheater" pressure cooker cheese fondue the other night. It was so yummy and the kids thought it was "so cool" too. This and over 100 other Instant Pot recipes are shared on The Typical Mom, we hope you love this one too. 😉
Why do I call this cheater fondue? Well because it's super simple. I also have a copycat Melting Pot cheese fondue recipe you can try but that has beer in it so I thought I would share both.
Once again I used what I had at home and it came out great!

Ninja Foodi Fondue
This first recipe uses cheddar cheese soup in the can and amping it up to make it yummier with spices, chiles, and a bit of hot sauce.
I plan to make other Instant Pot dips but started with an easy peasy one because quite frankly I like quick and easy recipes in my pocket I can make when people stop over unexpectedly…then I know I can whip something together that will impress them. 😉
If you aren't a big fan of beer don't worry. The bread doesn't taste like that. It really has a wonderful flavor and with the added cheese and chiles it is the perfect pairing with our easy cheese dip here.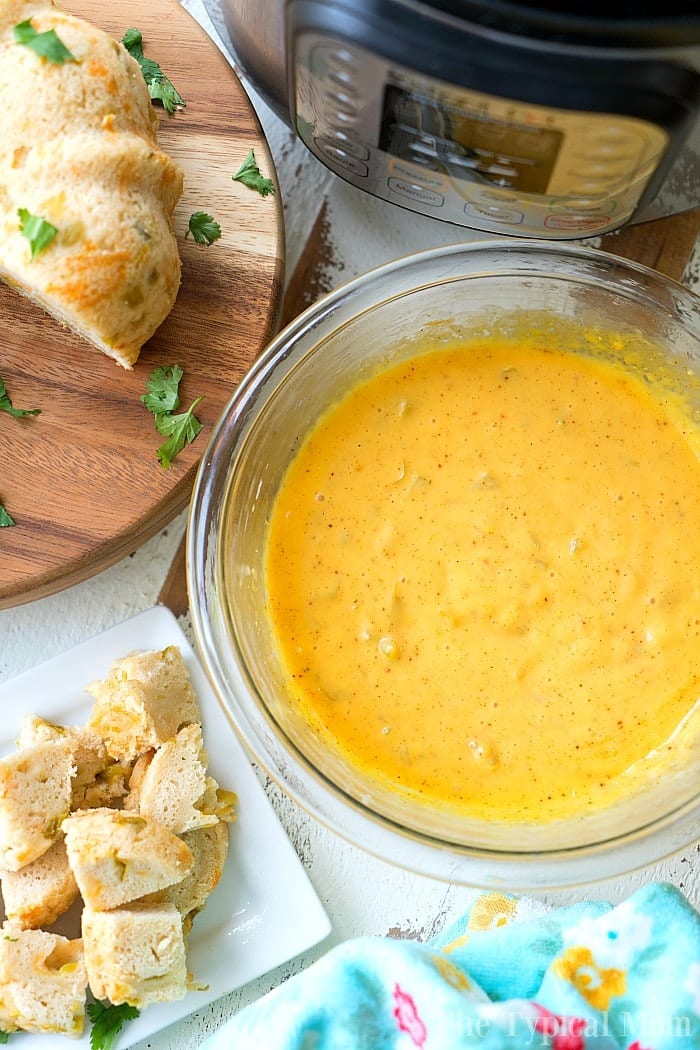 Instant Pot cheese fondue
Glass bowl – I use the middle size in this set to fit inside my 6 qt. Instant Pot
Tinfoil
Cheddar cheese soup – this is what I use
Diced chiles – we use mild but you could use hot
Chili powder
Garlic salt
Seasoned salt – we use Lawry's
Heavy cream
Milk – can use all milk if you want it thinner
Hot sauce – optional
Copycat Melting Pot fondue it is always a hit.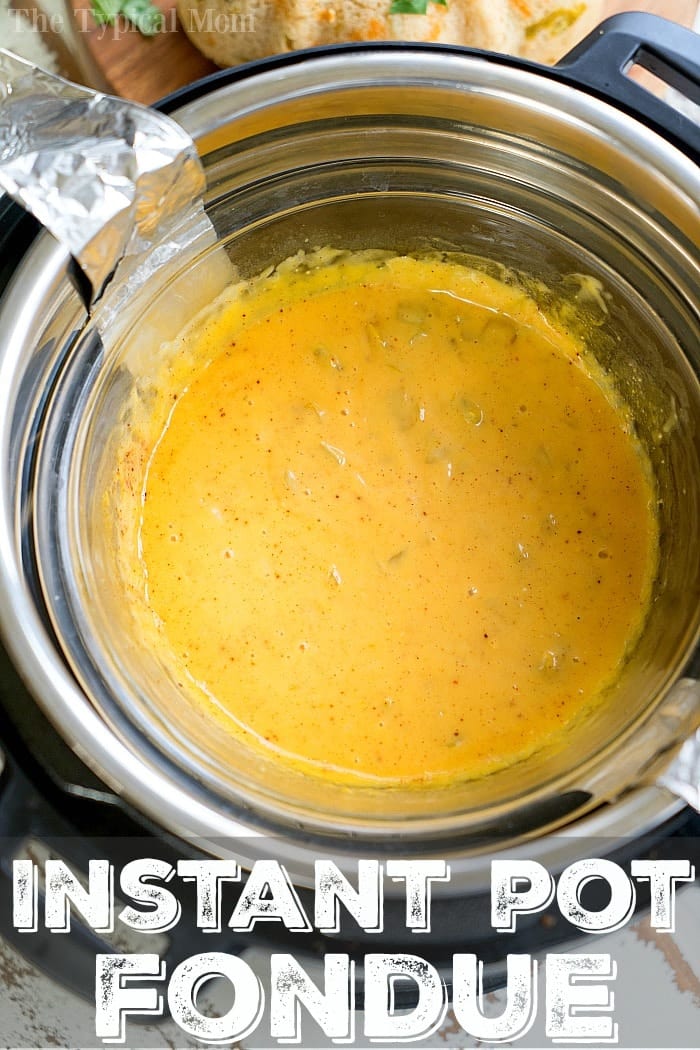 Ingredients (can cut in half if you just want a little)
1 c. beer
3 tsp dry mustard
16 ounces shredded sharp cheddar cheese – can use a combination of Swiss and cheddar if desired
4 tsp. Worcestershire sauce
4 tbsp flour
Directions
Use the same method as above as far as using a glass bowl, placed on a trivet and covering with foil
Add beer, mustard, W. sauce into bowl and stir
Put flour into small dish and toss shredded cheese into it until cheese is coated
Add half of your cheese into your glass bowl with other ingredients and stir well
Cover bowl with foil
Put trivet into pressure cooker with 2 c. water in the bottom
Lower glass bowl on to the trivet
Turn Instant Pot to pressure, high, for 4 minutes
Do a quick release
Lift bowl out and add remainder of cheese, stir until all cheese is melted
Serve (can add a bit more beer if you want it thinner)
The third and most known cheese fondue style dip is the famous queso dip. Similar to our homemade velveeta and that you can make too.
Pressure Cooker Cheese Fondue
We have 2 easy pressure cooker cheese fondue recipes to try with our Instant Pot beer bread! The perfect appetizer or side dish when you want something delicious and fast. You just need a few ingredients to make this thick cheesy dip that can be mild or as spicy as you want. Wonderful either way.

Instructions
In a glass bowl mix together all of your ingredients. Taste to see if you want to add more heat or salt.

Cover bowl with tinfoil and put a trivet inside your pressure cooker.

Pour 2 c of water into your pressure cooker and lower your bowl on to the trivet. (use a foil sling to do so)

Set to pressure, high for 4 minutes.

Do a quick release, lift out and enjoy with cut up bread, baguette, or use the recipe for my beer bread.
Nutrition Facts
Pressure Cooker Cheese Fondue
Amount Per Serving (2 oz)
Calories 49
Calories from Fat 27
% Daily Value*
Fat 3g5%
Cholesterol 9mg3%
Sodium 459mg20%
Potassium 149mg4%
Carbohydrates 3g1%
Vitamin A 260IU5%
Vitamin C 0.2mg0%
Calcium 20mg2%
* Percent Daily Values are based on a 2000 calorie diet.
Pressure cooker cheese fondue
When you're done enjoying this you should try a few other pressure cooker recipes that are similar to this one:
For more easy recipes, tips and free printables please LIKE The Typical Mom on Facebook and follow me on Pinterest! You can also sign up for my free weekly newsletter which is packed with goodies I know you'll love. 😉