Ever wondered how to toast a bagel in the oven? We have the directions for you here! If you loved our air fryer toast but want to do it with this thicker New York treat it is easier than ever.
There's something special about a freshly toasted bagel with cream cheese. I've found the perfect method to create a crispy, warm, and delicious treat; toasting bagels in the oven! Yes, that's right, we are learning how to toast without a toaster like we did with How to Make Toast in the Oven. (affiliate links present)
How to Toast a Bagel without a Toaster
There's an unmatched joy in sinking your teeth into a bagel with a perfectly toasted exterior, with its slight crunch and the warmth that highlights the bagel's flavors. This easy to follow method will give you the best toasted bagels, and it's also a great way to revive a stale one this way too!
Let's dive into the specifics of the toasting process, unravel some common queries, and navigate our way to achieving a perfectly toasted bagel using an oven.
No toaster, no problem! The oven is your best friend when it comes to making homemade WW 2 Ingredient Bagels so they achieve that golden brown crust, warm, chewy interior we all love perfectly toasted.
Whether you prefer your bagels lightly toasted or with a deep golden crust, controlling the toasting process is as simple as adjusting the oven temperature and toasting time. So next time you're faced with a batch of fresh bagels and no toaster in sight, don't despair!
Just preheat your oven, grab a baking sheet, and get ready to enjoy the best oven-toasted bagel you've ever had. Once you've tried this method, you might even prefer it over the traditional toaster. Remember, the key to a great oven-toasted bagel is keeping a close eye on it to prevent over-toasting. Enjoy your perfectly toasted bagel with your favorite spread, and start your day off right! Try this avocado spread for a super yummy breakfast!
Lacking a toaster should never deter you from enjoying a warm and toasty piece of bread of any size. From How to Make Bruschetta Toast to larger versions with holes like these, this is a game changer. A regular oven can serve as an excellent alternative, particularly if you're toasting multiple bagels at once. Here's what you'll need:
A question I often get asked is, "Can I toast a frozen bagel in the oven?" The answer is yes, you absolutely can. It might extend the toasting time a little, but it works just fine.
Don't forget to make your own homemade bagels for extra yumminess! Try 2 Ingredient Bagels or Air Fryer Bantam Bagels.
Toast Bagel in Oven
Toast your bagel in the oven or Toaster Oven by preheating it to 350 degrees Fahrenheit. Slice the bagels in half and lay them on a baking sheet. If you're a fan of buttery, warm bagels, consider spreading some butter on the top before you start toasting.
Put the bagels in the oven for about 5 minutes or until they're as brown as you'd like them to be. Once done, you can serve them immediately. They taste great with jam, cream cheese, or more butter! Even dip them in this Pumpkin Cream Cheese Dip!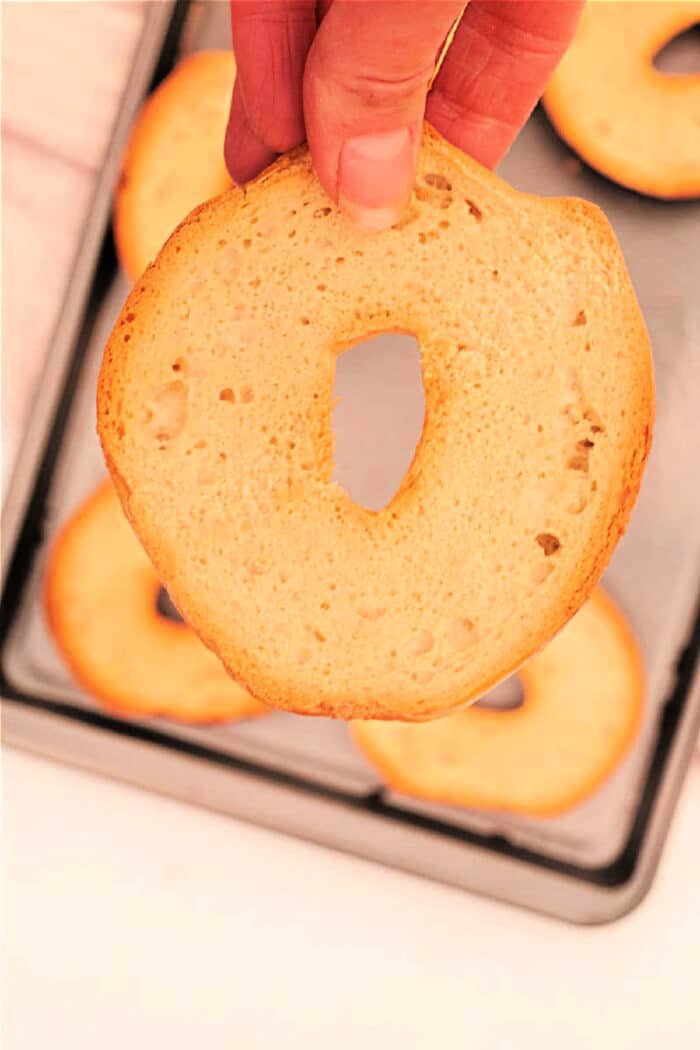 Toasting a Bagel in a Pan
And if you don't have a toaster or an oven? Well, you can even toast your bagel in a pan over medium heat. Make sure to keep turning it to get a nice, even toast. Just butter the inside of each half and set into a skillet over medium high heat. Use tongs to pick up and over to check, once it is golden brown remove and enjoy crispy with jam or cream cheese.
What is the Best Way to Toast a Bagel in the Oven
The trick to achieving the best results when toasting a bagel in the oven is to watch them closely during the toasting process. Every oven is slightly different, and some may toast faster than others. Therefore, keep an eye on your bagels and remove them from the oven when they reach your desired level of toastiness.
Furthermore, it's always a good idea to slice your bagel before toasting. Not only does this create more surface area for toasting, but it also helps the bagel heat evenly.
Remember, every oven is different, so the toasting time may vary. Start with less time and add more as necessary, depending on how toasted you prefer your bagels.
An additional tip for those of you who enjoy a flavorful bagel – don't hesitate to experiment with some seasonings. For example, a little garlic salt or even some cinnamon can give your toasted bagel a unique twist.
Broil Bagel in Oven
Broiling is another excellent method to toast bread in the oven. Set your oven to broil, place the sliced bagels on a baking sheet, and then into the oven. Keep a constant eye on them; it only takes about 1 to 2 minutes under the broiler to get a nicely toasted piece. Be careful though, as they can go from perfectly toasted to burnt in a matter of seconds when using the broiler.
Whether you're using fresh or trying to put the life back into stale rounds, broiling them can result in a deliciously crispy outside and a soft, warm inside. If you like yours a bit on the softer side, I suggest covering them with a damp paper towel before putting them into the oven. This bit of moisture can help keep the inside soft while the outside gets nice and crispy.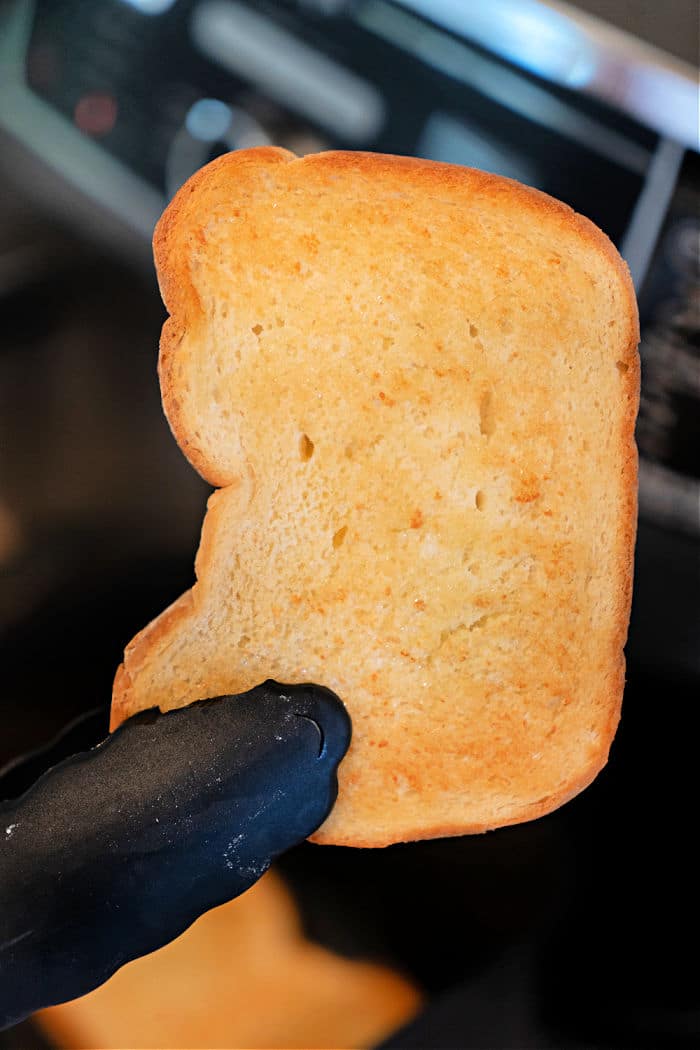 Toasting a bagel in the oven is a simple and effective way to get the perfect, crispy morning treat. Whether you're serving them plain, with a simple spread, or creating a fancy bagel sandwich, oven-toasted bagels are a delightful start to your day.
With this guide, you have the knowledge to make the perfect toasted bagel without a toaster, and you might just find that you prefer it this way! The next time you have a fresh bagel or need to revive a stale bagel, give this method a try. And remember, a good bagel is a toast to good times!
Want to see a few of my favorite things that I am totally obsessed with?? Take a peek and see how many you might already have…twinsies!
Looking for more easy family recipes and tips? LIKE The Typical Mom Facebook page?
Then sign up for my free newsletter, and follow me on Pinterest! 😉
***** If you LOVED this recipe give it 5 Stars below and let everyone know what you thought about it. 😉
How to Toast a Bagel in the Oven
Instructions
Preheat oven to 350 degrees F. Slice bagels in half and lay on a baking sheet. If you want the butter to bake in spread some on the top at the beginning as well as after they're toasted.

Bake for about 5 minutes or until they are as browned on the top as you'd like. Serve immediately with jam, cream cheese and/or more butter.
Nutrition Facts
How to Toast a Bagel in the Oven
Amount Per Serving (1 oz)
Calories 193
Calories from Fat 9
% Daily Value*
Fat 1g2%
Sodium 374mg16%
Potassium 71mg2%
Carbohydrates 37g12%
Protein 7g14%
Calcium 13mg1%
Iron 1mg6%
* Percent Daily Values are based on a 2000 calorie diet.