Making toast in the oven is so easy and a great way to make it in large batches for breakfast. Use brown or white bread to crisp the top. Much quicker than toast in air fryer because you can only make 2 at a time that way.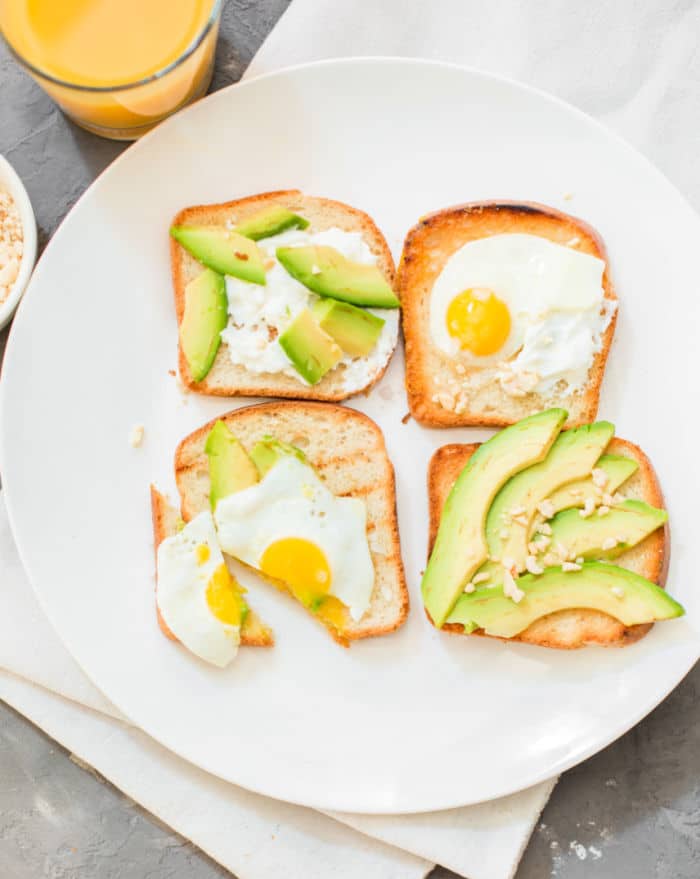 Having a crowd over for breakfast or brunch and making toast in the oven sounds like a fast way to get it all done? It totally is. In about 4 minutes you can get bread lightly browned on a sheet pan, then let your guests add all their favorite toppings. (affiliate links present, originally published 6/22)
How to Make Toast in the Oven
Ok this may just sound silly. A toaster is in every home and why would you ever bother using your oven instead to bake bread? Have 12+ people in from out of town or for Christmas brunch and you'll realize that 2 slices at a time just isn't going to cut it.
This way you can throw as many pieces on as people in your home and in less than 5 minutes it is all done. Use more than one cookie sheet full for fewer batches, or one for 6-8. A great way to make a ton.
Serving lots for the holidays and want to make it as easy as possible for you. Make a toast bar for everyone with all the things on the side like; avocado slices, jam, honey butter, cream cheese, even prosciutto would be a hit.
How to Toast Bread in the Oven
What is fun to do when you are hosting a crowd is to put together a toast bar of sorts. Think about it. A really cheap idea that everyone will rave about. What should you serve with toast? I mean the list goes on and on but what I would offer up would be:
Avocado toast is all the rage now so have slices of avo, our avocado spread or guacamole available
Room temperature butter is best for spreading
Kids love slow cooker apple butter
We like to make and serve Instant Pot jam after picking huckleberries or raspberries in the Fall
For a protein option you could make some slow cooker eggs, soft boiled to serve on top or on the side.
How to Make Crispy Toast in the Oven
How can you toast bread without a toaster
NO problem, just use your oven! It only takes a few minutes and the tops will get just as browned as it would otherwise. You'll be surprised how well baking toast in an oven works. Great hack when traveling in an RV or when you're at an Airbnb that doesn't have a toaster oven or anything.
You can see here how this oven method turns out. Every minute makes quite a difference so keep an eye on it so it doesn't get too golden brown. Same thing goes for How to Toast a Bagel in the Oven!
How to Toast Bread in Conventional Oven
Let's talk about types of bread for a hot minute. There are A LOT of choices when it comes to this. If you are making this for a crowd I would offer a variety. Have your favorites then just go with that. A few of ours are listed here in order of favoriteness. 😉
Sourdough in the morning is probably my fave
Followed by a loaf of Squaw bread, seriously you have to try this
Cinnamon toast with raisins is great for little ones
Homemade white bread is great if you have some time to make it
You can slice French bread from the bakery
Light wheat I will buy from time to time
Whole grain isn't something I typically buy but would have the most nutritional value
Beyond that this is how to make Bisquick biscuits fluffy, and we love good old fashioned English Muffins (which would be in a slightly different category) in the morning.
How to Make Crispy Toast in the Oven
Now there really isn't a need to flip the bread if you want to make things easier. Only the tops will brown but both sides will get crispy. Make sure you preheat the oven so it bakes at a consistent temp. the whole time. If you do flip the slices do so after minute 2 for the perfect toast slices.
First you're going to want to preheat your conventional oven to 425 degrees F. Lay pieces, not overlapping, on a non stick baking sheet.
Bake on the middle oven rack for 3-5 minutes, or until they're as browned on top as you'd like. Remove, peanut butter and honey enjoy.

for very browned slices bake for 4 minutes, flip and bake another 3 min or so

If you need a broiler method just preheat and cook for just 2 minutes total as that doesn't take long at all.
Now if you want to add toppings like our Pizza Toast it will take closer to 20 minutes but so good!
Use a basket to serve them up or if you are having a breakfast bar then you could just set the trays on hot pads on your countertop. Want to add other things to your breakfast charcuterie board of sorts? On another shelf you could cook hard boiled eggs in the oven too.
These can be shelled and served whole alongside this, or sliced so they can lay flat on top with a slice of cheese too. Another different (but super wonderful and surprisingly delicious) is making this bone marrow recipe. Creates a nutritious spread with tons of flavor.
Toast in Oven with Butter
Yes you can add your Whataburger honey butter before laying them on the baking sheet if you'd like. This will soak into the middle a bit more. You can always add more when it is done too, we won't tell. 😉
If you want to have a low carb option eggs are always key to this. You can make a loaf of keto bread as well so there is an array of possibilities for everyone. With some avocado slices on there as well your low carb friends will probably steal this idea for themselves.
Leftovers don't save well, I will be honest about that. BUT if you did buy a few loaves of French bread, but only used some you could dice that up and make our easy raisin bread pudding recipe with it the next day. I hate wasting so I am always on the lookout for how I can use up all the things in a yummy way, I'm sure you are too.
Want to see a few of my favorite things that I am totally obsessed with?? Take a peek and see how many you might already have…twinsies!
Looking for more easy family recipes and tips? LIKE The Typical Mom Facebook page?
Then sign up for my free newsletter, and follow me on Pinterest! 😉
***** If you LOVED this recipe give it 5 Stars below and let everyone know what you thought about it. 😉
Making Toast in the Oven
Making toast in the oven is so easy and a great way to make it in large batches for breakfast. Use brown or white bread to crisp the top.
Ingredients
Instructions
Preheat oven to 425 degrees F. Lay pieces, not overlapping, on a non stick baking sheet.

Bake for 3-5 minutes or until they're as browned on the top as you'd like. For really crunchy browned pieces, flip after 4 minutes and cook another 3 minutes on the other side. Remove, butter and enjoy.
Nutrition Facts
Making Toast in the Oven
Amount Per Serving (1 oz)
Calories 76
Calories from Fat 9
% Daily Value*
Fat 1g2%
Sodium 145mg6%
Potassium 51mg1%
Carbohydrates 14g5%
Protein 3g6%
Vitamin A 1IU0%
Vitamin C 1mg1%
Calcium 39mg4%
Iron 1mg6%
* Percent Daily Values are based on a 2000 calorie diet.