This is how easy it is to make marshmallow homemade edible playdough right at home with just a few ingredients. A great craft for kids and toddlers and perfect for Preschool and Kindergarten. If you're looking for a fun and yummy recipe for edible play dough or putty this one is a cinch to put together.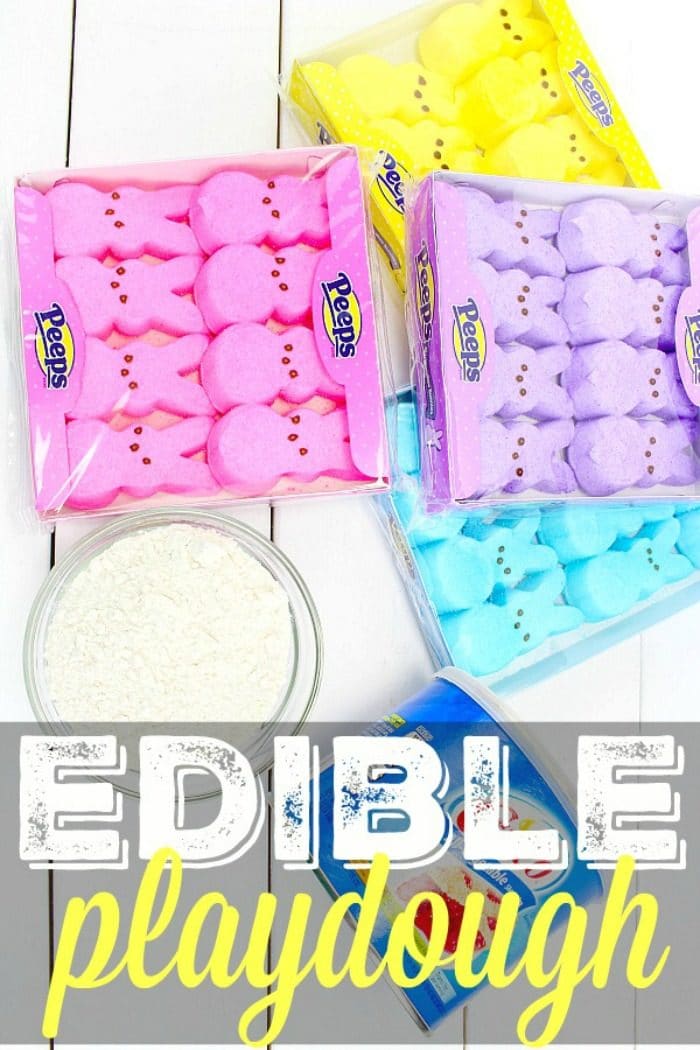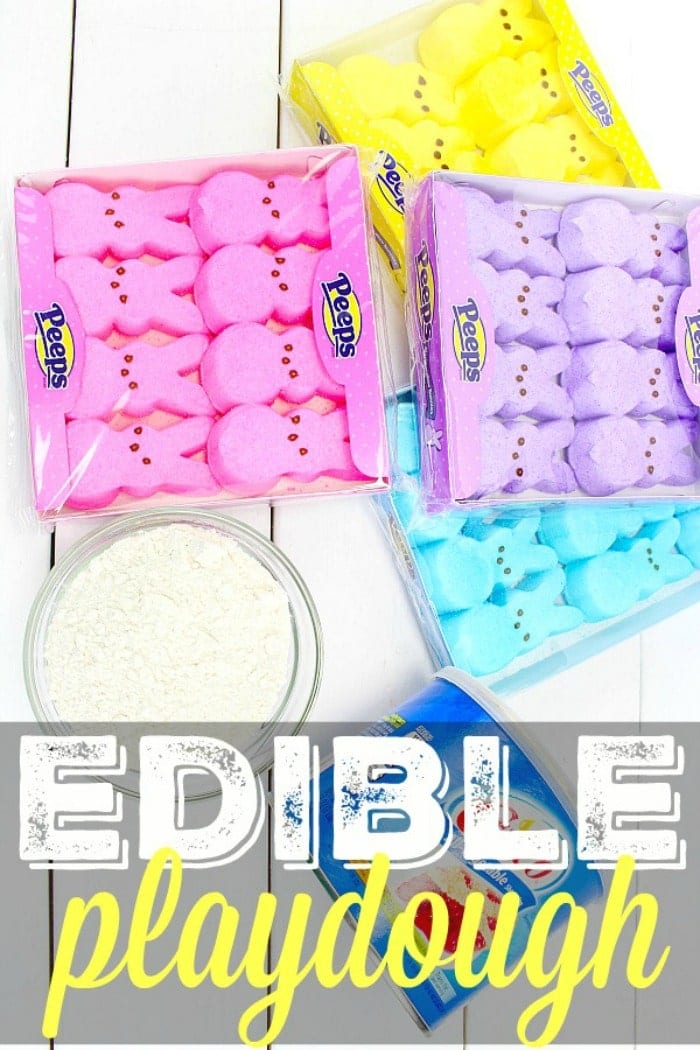 Play dough has been around for years. Bought in small containers in a variety of colors it has always been a favorite activity for all ages. Making homemade edible playdough though is quite the rage. It is easier to make than you might think.
Marshmallow Playdough
It is a fun craft for Preschoolers as well as Kindergarteners or really kids of all ages. You only need 3 ingredients to make it at home and not only is it fun to play with but it can be eaten afterward and non toxic for toddlers which is great (since they tend to put everything in their mouths). It is one more of our favorite ways to make edible playdough at home!
You will have to help with the melting process if you are doing this edible craft with very small children, but older kids can do it themselves as only a microwave is required.
This batch is made with Peeps marshmallows. If it is after Easter time and you don't have access to these you can just make this marshmallow edible playdough recipe using regular ones found at the store year round.
Homemade edible playdough
Peeps – any colors you choose
Flour
Crisco – or vegetable shortening of any brand
Non stick cutting board – it's helpful for mixing, playing and kneading – we have this set
Plastic spoon & paper bowl – not required but best for easy cleanup (marshmallows can be hard to scrub off when melted)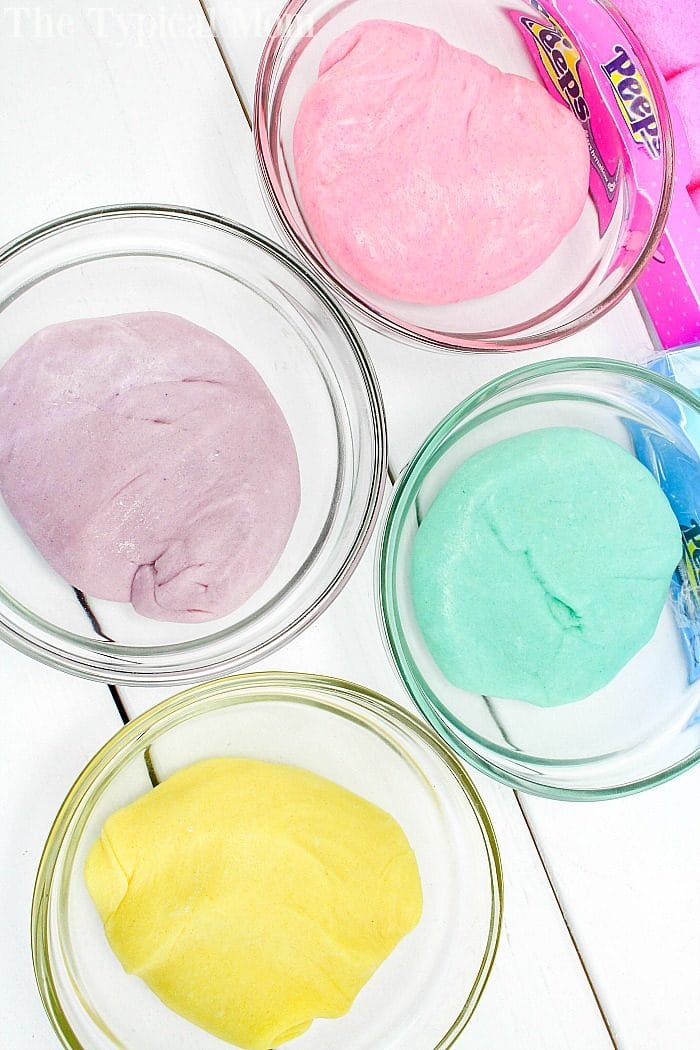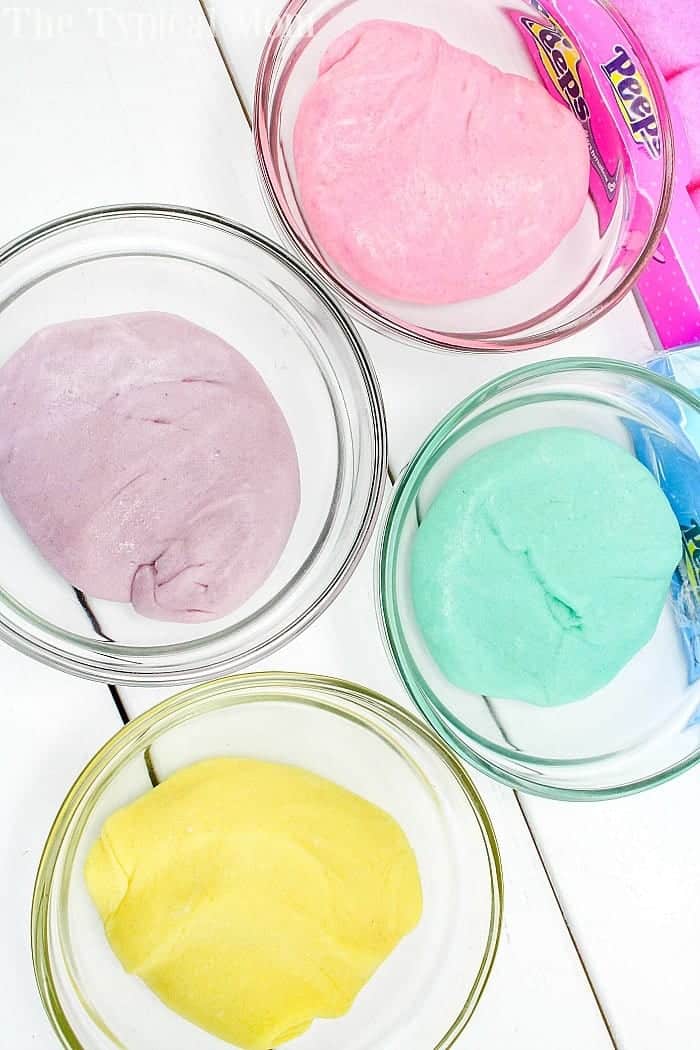 How to Make Edible Playdough
Here are the directions to make this easy homemade edible playdough in all colors:
Put about 5 peep marshmallows in a microwave safe bowl (we use paper bowls for easier clean up) and add 4 tbsp. of flour and 1 tbsp. of Crisco
Put into microwave for 30 seconds
Stir well (we use a plastic spoon so we can throw it away) inside the bowl until it starts to stiffen and cools off
Take out when cool enough, and kneed in your hands for a few seconds
Have a non stick placemat ready
If too sticky for you add a dust with just a touch of flour, knead again, and repeat until stickiness is gone
Play with it and have fun!!
Any and all colors work
If you're looking for other fun and cheap crafts for kids check these out too:
Do you have any favorite Easter activities for kids that aren't on our list? Of course this is fun any time of year but really easy to find what you need during this time of year for sure.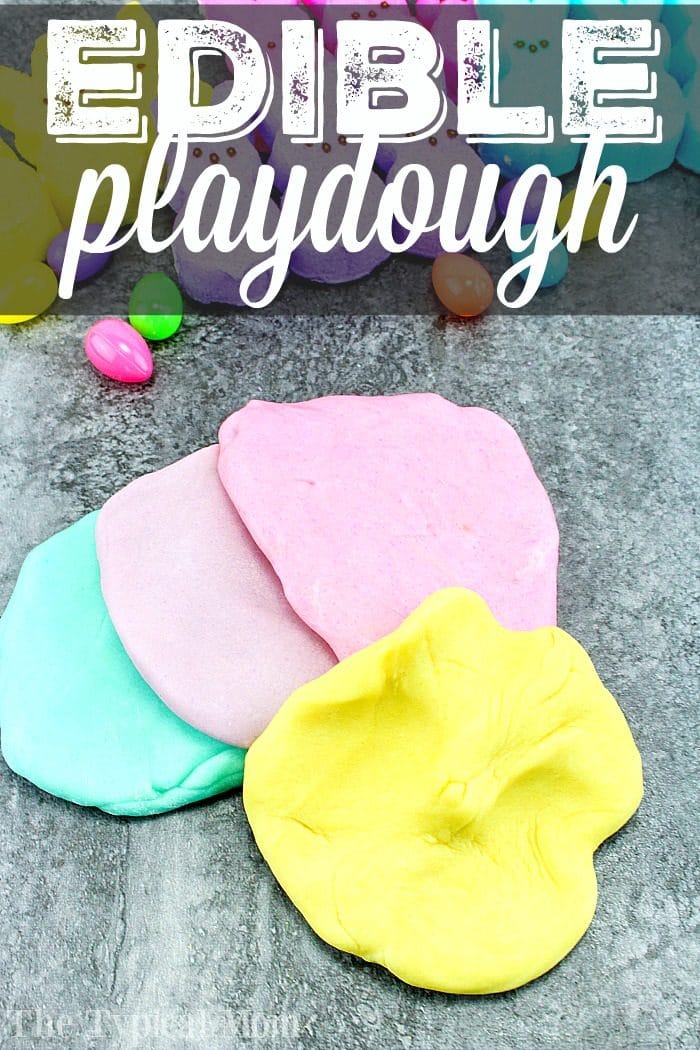 For more easy recipes, tips and free printables please LIKE The Typical Mom on Facebook and follow me on Pinterest! You can also sign up for my free weekly newsletter which is packed with goodies I know you'll love. 😉