How to hard boil eggs in the oven using a muffin tin so they're perfect every single time! Great for Easter egg hunts, egg salad sandwiches and breakfast. Don't want to deal with the shells? Try no peel hard boiled eggs too.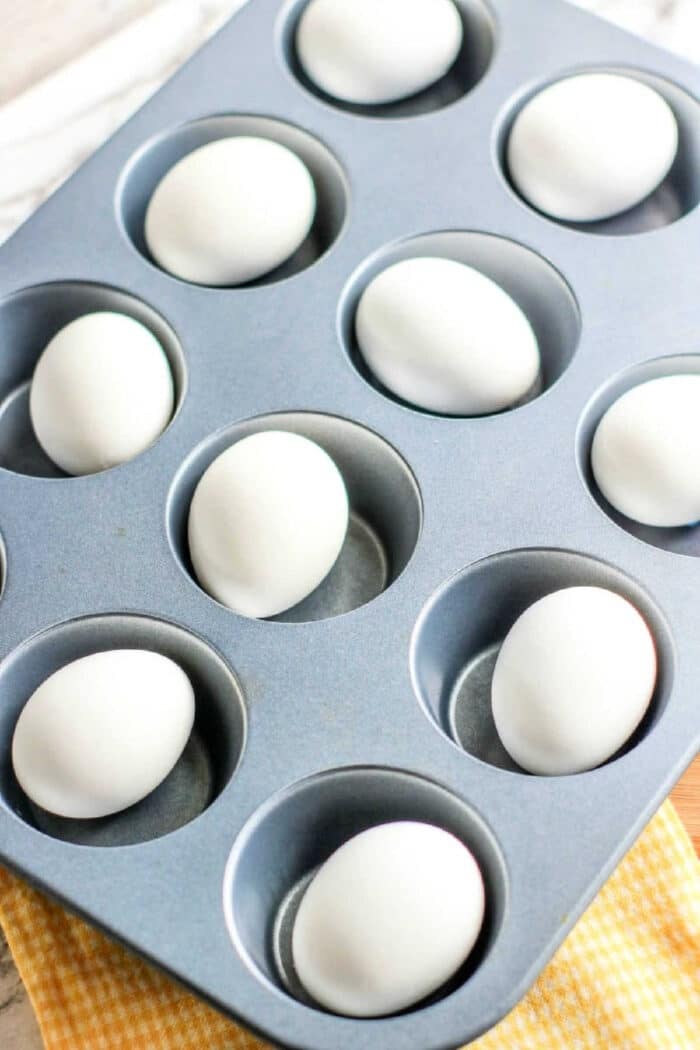 Taking the time to bake hard boiled eggs in the oven is a process that isn't hard or long and can result in an easy way to create deviled eggs, Easter Eggs and even a delicious addition for homemade egg salad, too. (affiliate links present)
Hard Boiled Eggs in Muffin Tin
If you're searching for tips to make hard boil eggs in a muffin tin, we've got you covered. Not only will you get information here on how to tell when eggs are done cooking, but you'll also learn how to make them perfect. There are so many easy recipes and ways to use fresh eggs and this is what makes them a great protein-packed food to eat.
When it comes to perfecting baked hard-boiled eggs, do you know the proper way to do so?
It's just not as simple as tossing your eggs in the oven and waiting for them to cook.
Can we boil eggs in the oven?
You can! In fact, this is a method that people use because it's a super fast way to cook up a bunch of eggs in a short and quick amount of time. You can add Frozen Hashbrowns in Oven in another rack to served together too.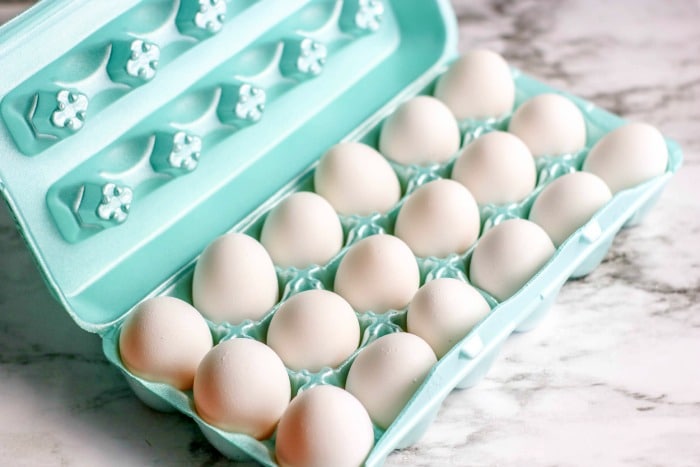 Oven Hard Boiled Eggs
The easiest thing to do when making eggs in the oven is to preheat it first to 325 degrees and wait for it to come to temp. Don't rush this process or you might end up with a soft boiled egg multiplied by several if you do.
Once the oven comes to temperature, add your eggs to your muffin pan (one in each muffin cups) and place it in the oven to bake.
Takes anywhere from 20-25 minutes. (Some people leave them in for 30 minutes to ensure that they're hard-boiled without issues) Once they're done, you remove and can begin to start peeling. Want to make an entire breakfast? On another shelf put bacon in the oven on a sheet pan and you'll have both to enjoy.
How do you cool a boiled egg?
Once you remove the eggs from the oven, you're going to want to get them cooled down to make them easy to peel.
The easiest way to do this is to grab a large bowl, use the running water from your faucet and fill it about halfway full with cold water, and set the eggs right inside.
Of course you can make slow cooker hard boiled eggs or Instant Pot hard boiled eggs in a jiffy too. If you don't have a pressure cooker or Crockpot though…..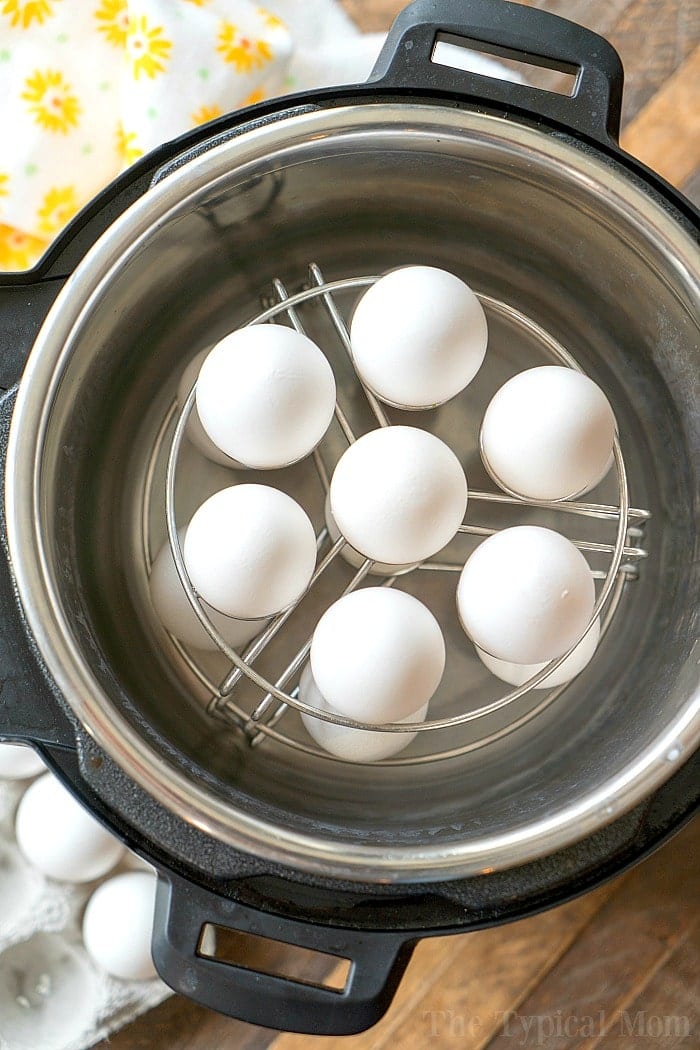 This will cool them down in a quick method so that you can easily peel them without worry. This trick works with fresh eggs as well as eggs that have been sitting on the shelves for a while as well.
Can you eat 2-week old hard-boiled eggs?
No, these would be too old to eat and should be thrown out. Once eggs are hard-boiled, you can enjoy them for up to 7 days as long as they're kept in the fridge during that time.
If you're unsure of the date of an egg, don't take the risk of eating it. It's better to be safe than sorry.
This timespan is also true if you hard boil your egg and don't peel it right away as well. Boiled eggs can stay in their shell for consumption later for up to a 7 day time period, too.
Do hard-boiled eggs in the shell need to be refrigerated?
Yes, it doesn't matter if eggs are in their shell or not because once you hard boil them, they have to be stored in the fridge from then on.
It's fine to leave perfect hard boiled eggs out for a short amount of time to cool down but the rest of the time they need to be kept cool to be able to eat.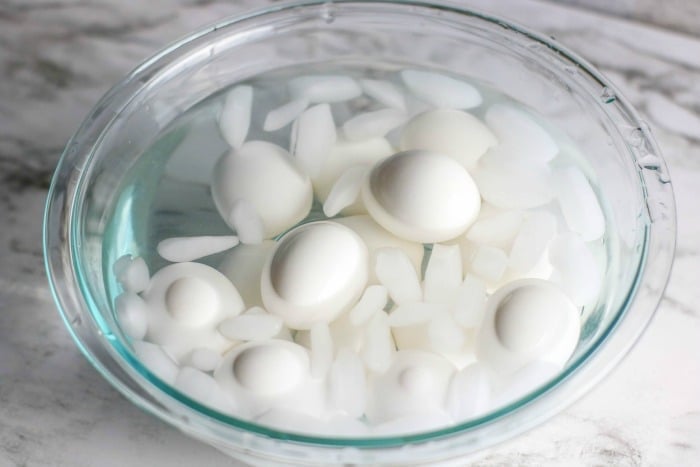 What temperature kills salmonella in eggs?
If you're worried about salmonella in eggs, you can overcome that worry by cooking your eggs to a temperature of 160 degrees.
Using a thermometer will help you determine that the temperature has been met and is safe for consumption.
Can you overcook a hard-boiled egg?
You actually can! If you've ever peeled an egg and noticed a green look around the center of the yolk, this is a good indicator that you've overcooked your eggs.
They're still safe to eat but many people are turned off by the look of that extra green ring. Some people say that the taste varies too if they're overcooked but that just varies on each person's tastebuds.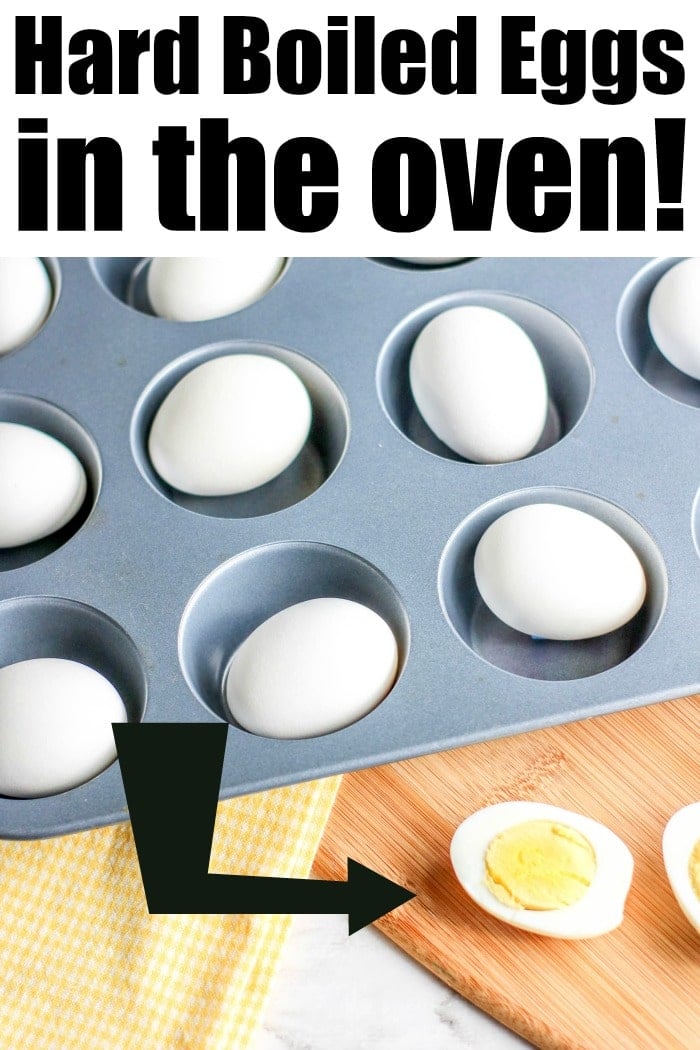 Why are my hard-boiled eggs hard to peel?
We've all been there, right? No matter what we do, those darn eggs just won't peel like they're supposed to. When that happens, just know that sometimes it's just the way it is.
There are some people that say fresh eggs are harder to peel than older eggs. It really all just comes down to the membrane. It connects the internal portion of the egg to the shell.
I will say white eggs are much easier to peel than brown!
If you notice that some of your eggs aren't peeling very well, it actually might not be anything that you're doing wrong. Waiting a few days before peeling eggs after boiling them. This might help in loosing up the membrane so the shell is easier to come off.
How to fix hard boiled eggs that aren't done
No matter what method you use if you notice that they are still runnier than you would like you can fix it. Just scoop what you have into a mug and microwave for 30 seconds, check. If you need more time add another 1/2 of a minute.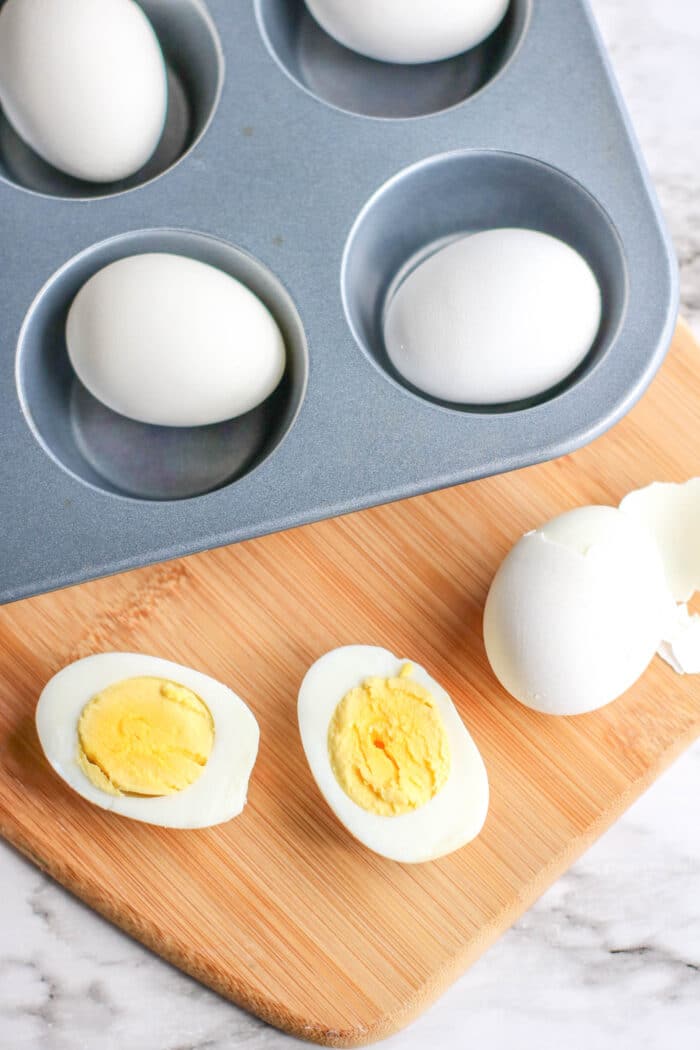 What recipes use eggs that are boiled?
Many people love to eat eggs as a quick protein fix. Don't forget that you can add them to other great recipes as well. Some simple ideas would be:
Once you cook them up, you can enjoy them however you like!
Now that you know how to hard boil eggs in the oven, why not bake eggs in a big batch? This is such a quick way to cook a a lot with minimal effort on your part!
Want to try something else for breakfast? Instant Pot poached eggs are great. Then try our air fryer egg bites and scrambled eggs in a mug! Or you can make Instant Pot egg bites too.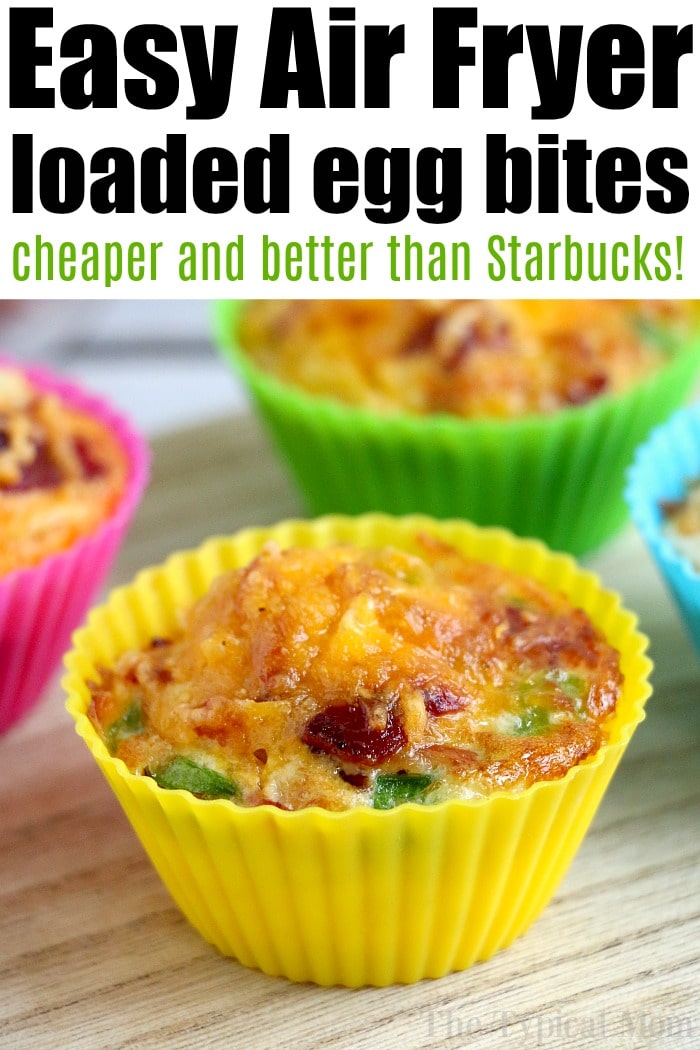 Note: if you want your yolks on the softer side you could alter timing to 25 minutes. 30 minutes will get you the color and texture shown above. This is how to cook egg whites, those are much faster with a lot less calories too.
Want to see a few of my favorite things that I am totally obsessed with?? Take a peek and see how many you might already have…twinsies!
Looking for more easy family recipes and tips? LIKE The Typical Mom Facebook page?
Then sign up for my free newsletter, and follow me on Pinterest! 😉
***** If you LOVED this recipe give it 5 Stars below and let everyone know what you thought about it. 😉
How to Hard Boil Eggs in the Oven
How to hard boil eggs in the oven using a muffin tin so they're perfect every single time! Great for Easter egg hunts, egg salad sandwiches and breakfast.
Instructions
Preheat oven to 350 degrees. Place 1 egg into each hole in your muffin tin.

Bake for 30 minutes. Before timer goes off prepare a bowl filled with ice water.

Use an oven mitt to gently put each one into ice bath when done for 10 minutes.

Remove shells immediately, they will slide off.
Nutrition Facts
How to Hard Boil Eggs in the Oven
Amount Per Serving (2 oz)
Calories 63
Calories from Fat 36
% Daily Value*
Fat 4g6%
Cholesterol 164mg55%
Sodium 62mg3%
Potassium 61mg2%
Carbohydrates 1g0%
Protein 6g12%
Vitamin A 238IU5%
Calcium 25mg3%
Iron 1mg6%
* Percent Daily Values are based on a 2000 calorie diet.