No peel hard boiled eggs in the oven are all the rage! If you know how to hard boil eggs in the oven you've already been wowed, but a hard boiled egg loaf for egg salad sandwich or potato salad will blow your mind.
Ok so maybe you first saw this on social media and want to make Tik Tok eggs yourself now. Well no peel hard boiled eggs are much easier than you might think. After you make this you'll never heat up a pot of water again. Diced and perfectly cooked to use in all sorts of recipes. (affiliate links present)
No Peel Hard Boiled Egg Hack from Tik Tok
Everyone has made hard boiled eggs in Ninja Foodi before. Maybe you let yourself get real fancy and moved on to air fryer hard boiled eggs. Both of those still involve peeling those pesky shells off at the end though. NO fun. Even after submerging in a bowl of ice water they still can be time consuming to get off, and frustrating.
SKIP all of that and just crack them right at the beginning y'all. I know, it's like a Shark Tank "why didn't I ever think of this moment" right?? Makes total sense to do if all you want are diced eggs to use in a recipe, or don't care that they are round when serving to your kids in the morning.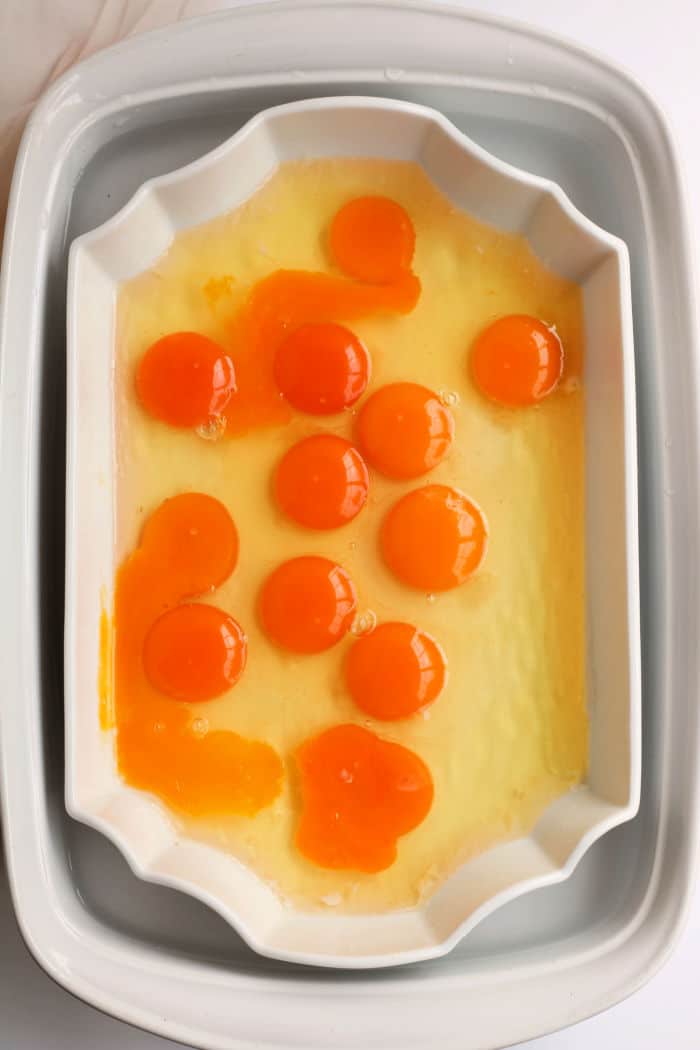 Hard Boiled Egg Loaf in Oven
I mean this isn't just to add into the best chicken salad sandwich mixture. If your kids are having a sleepover, or you have a big brood yourself, you can now bake a large batch of cooked eggs and just slice into squares when done. What do kids care anyway? They always like cool stuff anyway and if you said you saw it on Tik Tok then…….
Let's just say you'll be the coolest chick around. 😉 Yes there are different types of eggs you can buy. If you have chickens at home (we did once) you get what you get. At the store you can find, white, free range, brown, cage free etc…. I personally always choose brown and organic but use what you like.
They may not all crack perfectly either, that is okay. You can see here that 3 yolks busted and kinda' spread a little, believe me it still tastes the same.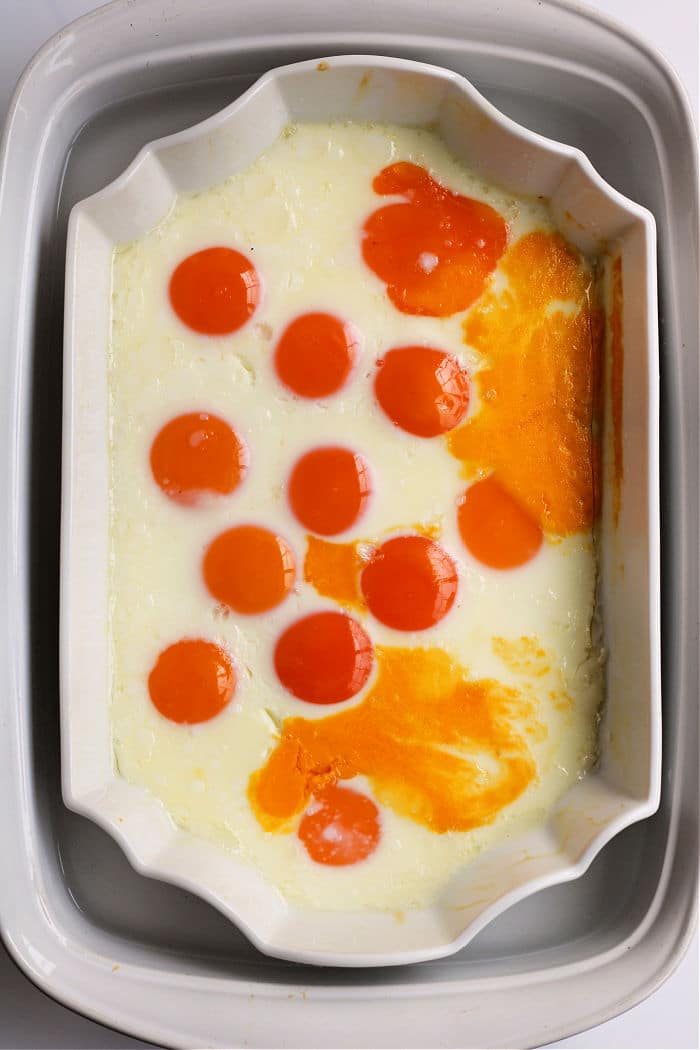 No Peel Hard Boiled Eggs Instant Pot
As far as seasonings use what you normally would if you were preparing over easy or poached eggs. I mean salt and pepper is a given but some like a bit of paprika or dry Sriracha for heat. You will need two dishes for this, one to hold water to cool nice and even and a smaller one to fit inside.
You can use however many eggs you'd like, 12 fit into this 11×8″ pan that fit into a 13×9″ dish

grab these 3 oven safe dishes so you can make less or more however you'd like
the smaller one fits into the medium size and fits 6-8 well

Water in the larger dish will help to not burn and overcook the eggs
Season with salt and pepper ideally before baking
Then when it is done a cutting board is handy to have. Using a knife you can loosen the edges which should be easy as long as you lightly sprayed the dish with non stick spray beforehand. You can make crispy toast in the oven and serve this right on top with a dollop of avocado spread.
OH Yes this is by far my favorite start to the day ever.
Can you Hard Boil 24 eggs?
Certainly, you would just need a larger dish or if you had a high sided baking sheet you could make a large batch of sheet pan eggs. The hardest thing with that would be that you'd have to find an even larger pan that would fit into that could have water in it. If you didn't the bottom and sides would get rather hard vs. the middle.
For a smaller batch, like 6 you could use a loaf pan or make it as an Instant Pot egg loaf under high pressure. That method (with any brand of pressure cooker for that mater) uses a ramekin atop a trivet with a cup of water underneath to steam it. Of course to pressure cook means faster than other methods.
Either way you would crack the eggs into the dish you're using
Since there are no shells you don't need an ice bath at the end
I would highly recommend spraying your baking dish with olive oil cooking spray first
When you are done you can chop up and add them into all sorts of things like homemade egg salad sandwiches which we love. This is how to cook egg whites if you want a version with a lot less calorie and fat.
No Peel Egg Salad
WAY easier than peeling all of those buggers. It doesn't matter for this that they are round or flat to begin with anyway right? Same goes for adding some into the best tuna macaroni salad ever. Other things that these work great for are;
If you make too much just bag it up and use it in something the next day. If it is after St. Pats, throw some in your batch of homemade corned beef hash. We did that this last year and OMG was it a great add in I had never thought about before but won't go without it now.
Want to see a few of my favorite things that I am totally obsessed with?? Take a peek and see how many you might already have…twinsies!
Looking for more easy family recipes and tips? LIKE The Typical Mom Facebook page?
Then sign up for my free newsletter, and follow me on Pinterest! 😉
***** If you LOVED this recipe give it 5 Stars below and let everyone know what you thought about it. 😉
No Peel Hard Boiled Eggs
No peel hard boiled eggs in the oven are all the rage! Make a hard boiled egg loaf for egg salad sandwich or potato salad like now.
Instructions
Preheat the oven to 350 degrees F. Grease a medium size baking dish with avocado oil and set aside. Crack the eggs into the greased baking dish.

Place dish in a larger baking dish. Fill the larger baking dish with water 3/4 of the way up to the rim of the medium size dish. Place dishes into the oven and bake for 30 minutes until cooked.

Once cooked remove from the oven and cool for 10 minutes. Take a knife around the edge to loosen the eggs. Remove egg loaf and place them onto a cutting board. Cut them into small pieces if making egg salad.
Nutrition Facts
No Peel Hard Boiled Eggs
Amount Per Serving (1 oz)
Calories 63
Calories from Fat 36
% Daily Value*
Fat 4g6%
Cholesterol 164mg55%
Sodium 62mg3%
Potassium 61mg2%
Carbohydrates 1g0%
Protein 6g12%
Vitamin A 238IU5%
Calcium 25mg3%
Iron 1mg6%
* Percent Daily Values are based on a 2000 calorie diet.