Lots of free Pokemon pixel art printables are here. Pikachu and other characters you love in our Pokemon color by number coloring pages. If you loved our Mario pixel art pages you are going to love these other popular video game characters.
Your kids are going to love this free Pokemon pixel art pages. It is fun to have all of the classic characters like Pikachu, Squirtle, SquigglyPuff and more. Just one of many fun and free color by number printables we have shared over the years on out site. (affiliate links present)
Free Pokemon Pixel Art
Pixel art is a form of digital art where images are created pixel by pixel, resembling the graphics from early video games. Pokémon pixel art, as the name suggests, focuses on renderings from the characters in those game. There are many different ones. Pikachu printable is probably the most popular of course.
First created in the late 1970s, over time it evolved into an art form in its own right, breaking free from just gaming and finding its place in various creative realms like these printables. To create these images, tiny square-shaped boxes are created with numbers inside each one. There is a key on the bottom to create the shape in question. You can find more with our Harry Potter pixel art pages too.
Pokemon Color by Number
Since you're here I know you are looking for all the free printables for kids you can find. I add more each week so make sure you bookmark the blue link above and check back often.
First you should subscribe to our free newsletter to get more via. email too. Feel free to print one or as many as you like for rainy day activities that boys and girls will all enjoy! Here are our favorite items to use on coloring pages, word searches and color by number printables;
Pixel Pokemon
Color by Number worksheets for kids have long been a popular pastime, allowing individuals to relax and engage in a creative way. Combining this with your favorite world of Pokémon creates an experience that is both nostalgic and entertaining.
FREE Color by Number Pokémon offers a unique opportunity to color iconic characters, bringing them to life with your personal touch.
Whether you call it pixel art or color by number coloring pages these activities help to improve cognitive skills. It enhances concentration, as participants must pay attention to the details and ensure they match the correct colors with the corresponding numbers. They also stimulates hand eye coordination, fine motor skills, and visual perception.
Appropriate for even young ones who are a bit advanced, they could easily be used as educational Kindergarten printables. BUT even adults will get a kick out of them as they remember their childhood.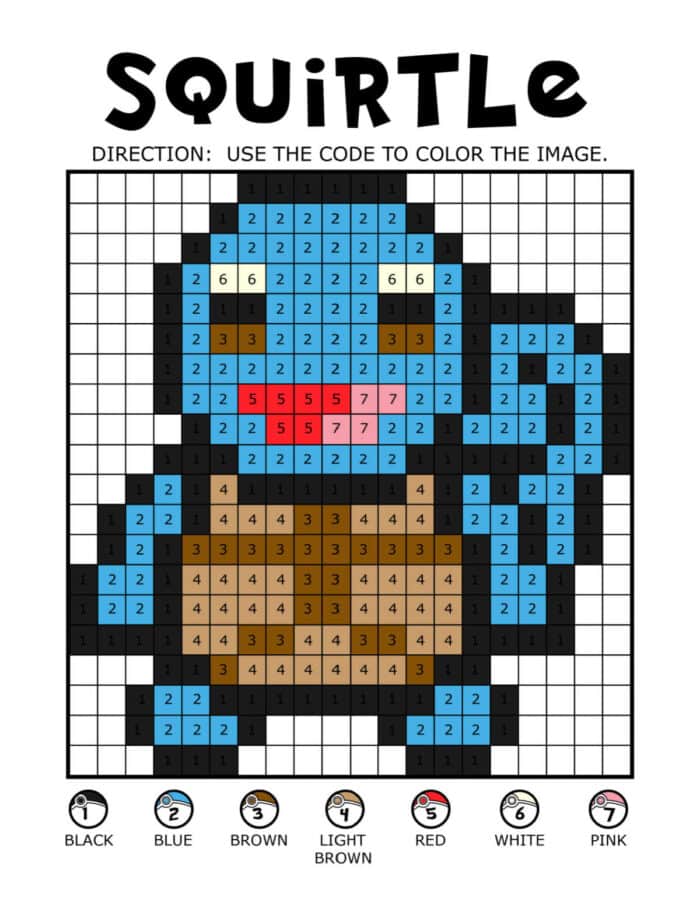 Pokemon Printables
Where can I find free Pokemon printables?
I have a bunch right here! Just click on the blue link at the bottom of this post for free Pokemon printables pixel art color by number coloring pages. We will add more so bookmark this page.
Are there Pokemon printables for educational purposes?
Yes! Our free color by number Pokemon coloring sheets here have an educational element to them. Number recognition, matching, color recognition and fine motor skills are worked on with these.
How can I personalize Pokemon printables with my child's name?
If you were having a Pokemon birthday party you could print 1 of our printables here and write their name on the top. Then photocopy more for each guest to have and decorate.
Free Pixel Art Printables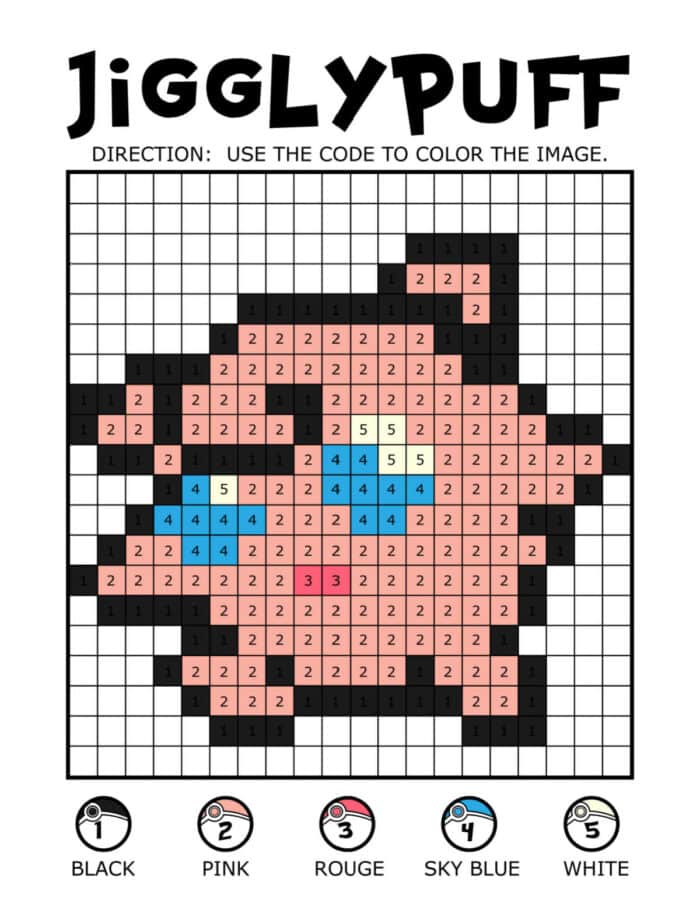 Eevee Pokemon Coloring Pages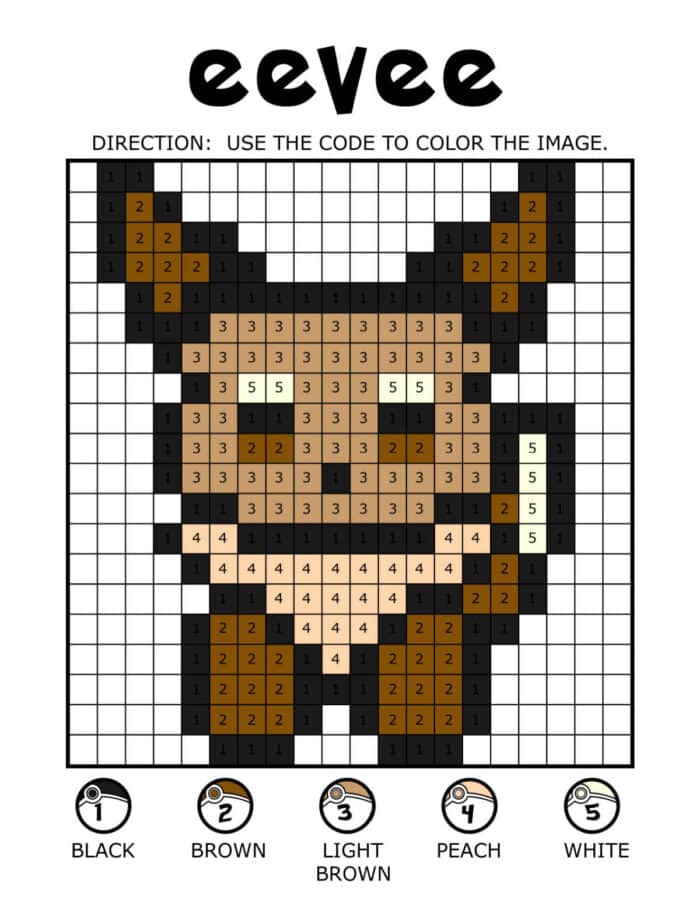 Pokemon Birthday Party Printables
The printables link you need is below. If you only want one you can do that. Click on the link, then hit file above and change pages from ALL to the # you want. Then it will only print that particular page.
Time needed: 5 minutes
Pikachu Pokemon Printables
Print

Click on our pixel Pokémon color by numbers link here and choose which you like. Print all of them if you want to.

Decorate

Use the key at the bottom of the page to color each number the color designated below to make a picture.