Dill pickle pasta salad is the perfect cold noodle side dish. Bring it to a barbecue, a potluck, or for your family, it's packed with dill pickles and rocks!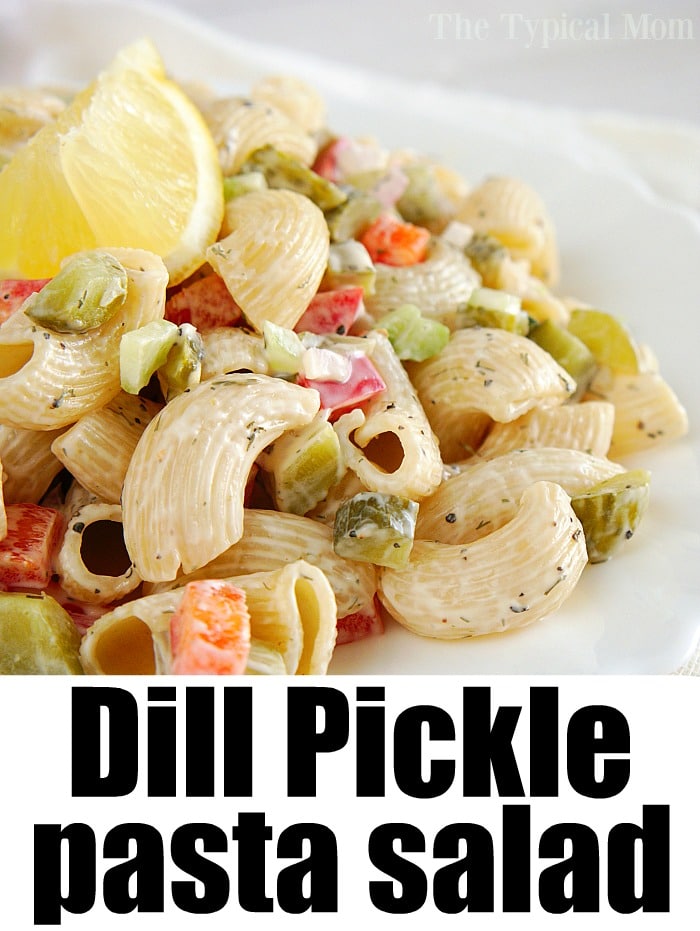 Pickle pasta salad is my newest obsession, it will be yours once you take a bite too! Macaroni salad packed with dill pickles and diced veggies will be your new favorite side dish.
Pickle Macaroni Salad
If you're having a holiday get together, or want to get oohs and ahhhs from your own family at dinnertime you've got to make this.
Our bacon pasta salad is pretty amazing too.
Yes we love cold macaroni salad but the addition of diced dill pickles takes it over the top! This is so good. It's that tang you can't get with any other food other than PICKLES y'all! The more the better if you ask us. I add them to everything including deviled eggs, tuna sandwiches, ALL THE THINGS I tell you.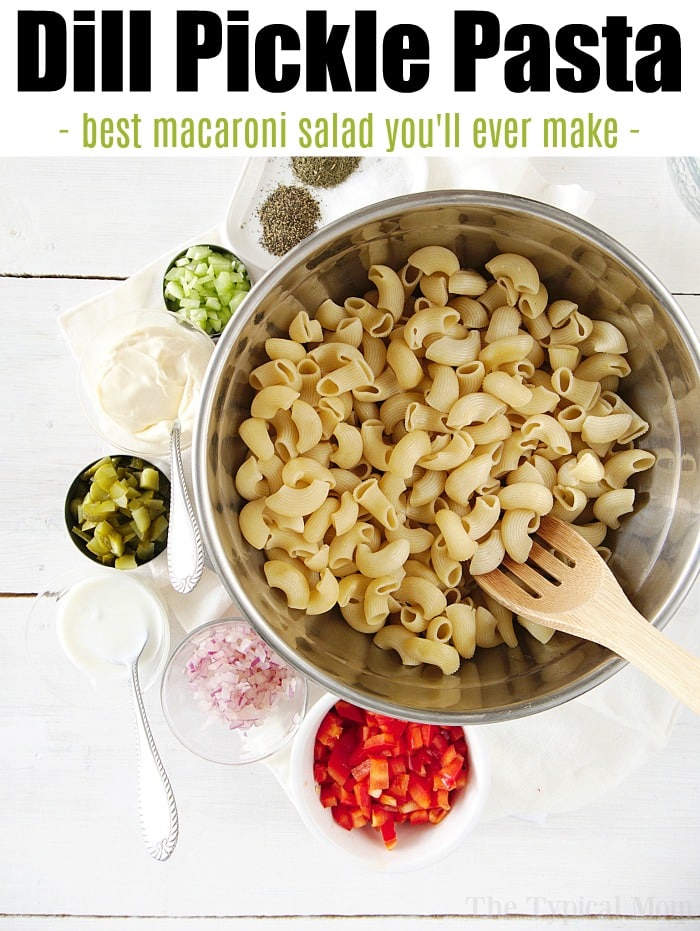 Creamy Dill Pasta Salad
Yes you could make this same thing but without the actual chunks. You can dice fresh dill herbs and add into the mayonnaise coated macaroni noodles but you really need to go ALL the way with chunks of actual marinated cucumbers y'all.
Sweet Pickle Pasta Salad
You can follow the same instructions with diced bread and butter pickles instead. With that I would skip the dill and just keep with the sweeter side of things.
What is the best pasta for pasta salad?
That's a good question, and the answers will vary depending on who you ask. For me it depends on my mood really, or what I have in my cupboard at the time.
In general though it needs to be short pasta shapes. Their small size makes them easy to serve and eat. Their little folds and pockets provide plenty of spaces to trap dressing, herbs, and small ingredients. Popular styles are:
fusilli
farfalle
rotini
penne
A pasta salad is so versatile because you can really add anything and everything you love inside. Another great addition if I have them on hand are sliced hard boiled eggs.
How do you make pasta salad from scratch?
We will show you here. You can then add to or omit any ingredients you like. The possibilities are endless.
What goes with pasta salad?
This is what we added to our dill pickle pasta salad time:
Diced dill pickles, jarred or this is how to make pickles at home
Red onion
Celery
Mayonnaise
Salt and pepper
Seasonings
This time we used both mayo and Greek yogurt, you could opt for one or the other. The yoghurt adds some protein is a good egg free choice. Other options would be:
Pickle Pasta Salad Recipe
Cook pasta in a large pot until al dente (my preference)
In a large bowl combine cooked noodles and diced vegetables you love
Combine mayo, yogurt, salt, pepper and dill in a small bowl and mix together
Pour this into your bowl with elbow macaroni noodles and gently mix so everything is coated well.
Gently fold in pickles, add a bit of pickle juice for a more intense pickle flavor
How do you dice a pickle?
I slice it lengthwise, put flat side down on cutting board, slice lengthwise again and then several times width wise to make them as small as I want.
Sprinkle 1/2 cup of cheese and/or diced green onions or other favorite ingredients on top and refrigerate so it gets nice and cold
Looking for more of the best pickle recipes? Try our air fryer fried pickles too!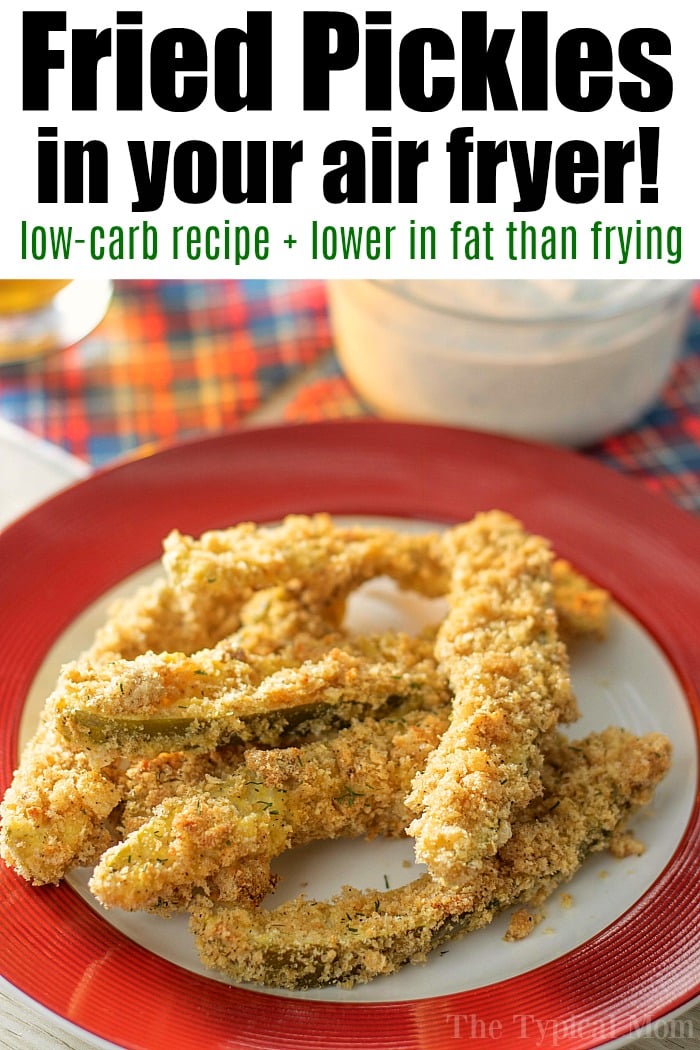 What is the best pickle?
That probably depends on who you ask but according to a survey, these are the most popular. I will tell you the refrigerated versions like Claussen are the BEST to us!
Claussen dill
Vlasic
Van Holten's
Brooklyn Brine Company has some good ones
Bubbies sweet slices are great
McClure's spicy pickles are yummy if you like a little spice in your life
You could make your own if you wanted too
Next try our asparagus pasta salad and shredded brussel sprout salad too.
Printable recipe below with nutritional information listed as well. Calories, saturated fat and other amounts will vary if you change recipe at all. Enjoy!
Want to see a few of my favorite things that I am totally obsessed with?? Take a peek and see how many you might already have…twinsies!
Looking for more easy family recipes and tips? LIKE The Typical Mom Facebook page?
Then sign up for my free newsletter, and follow me on Pinterest! 😉
***** If you LOVED this recipe give it 5 Stars below and let everyone know what you thought about it. 😉
Dill Pickle Pasta Salad
Dill pickle pasta salad is the perfect cold noodle side dish. Bring it to a barbecue, a potluck, or for your family, it's packed with dill pickles and rocks!
Instructions
Cook the pasta until it is as tender as you'd like it. Drain the water completely and rinse with cold water so noodles cool off.

In a bowl combine mayo, yogurt, salt, pepper and dill in a bowl and mix well.

In another bowl put your cooled, cooked macaroni noodles and diced veggies in and toss together.

Put mayo dressing on and gently stir so every piece is coated with creamy dressing.

Best if refrigerated for at least 1 hour after this so it can get nice and cold. Then serve!
Nutrition Facts
Dill Pickle Pasta Salad
Amount Per Serving (2 oz)
Calories 320
Calories from Fat 99
% Daily Value*
Fat 11g17%
Cholesterol 6mg2%
Sodium 506mg22%
Potassium 205mg6%
Carbohydrates 45g15%
Protein 9g18%
Vitamin A 630IU13%
Vitamin C 24.4mg30%
Calcium 29mg3%
Iron 0.9mg5%
* Percent Daily Values are based on a 2000 calorie diet.