This parmesan asparagus pasta recipe is a great warm or cold dish when it's hot outside! Hearty with ground beef and vegetables mixed in with your favorite noodles.
This asparagus pasta recipe is a great side dish or main one pot meal. Using protein packed ground beef, cheese, vegetables and noodles it's something even my kids love. Sponsored by Idaho Beef Council.
Asparagus Pasta Salad
I always like to add meat and protein to every meal.
Then instead of cooking all of my items separately, I can save a bit of time and still get a homemade meal we love.
My busy schedule definitely thanks me AND this is a great choice when you have company over too!
This is all you need: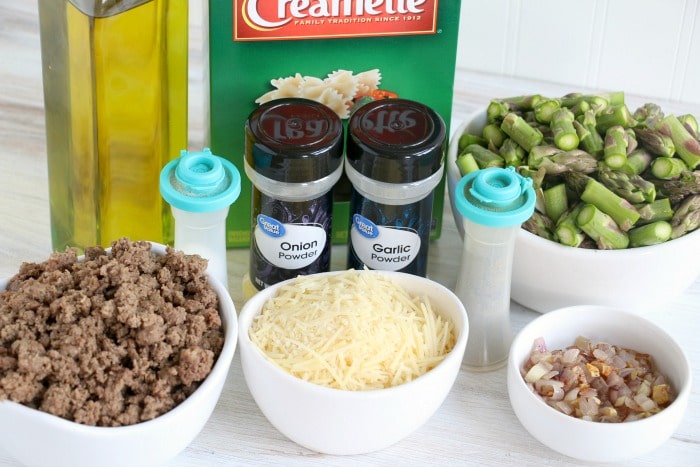 Pasta and Ground Beef
Lean ground beef is needed for this one
Pasta of your choice, smaller sizes are best
Fresh asparagus
Olive oil
Shallots
Garlic
Parmesan cheese
Seasonings of your choice
I don't know about you but we make a lot of easy ground beef recipes here on The Typical Mom blog. Yes this state is known for it's potatoes, but they produce some amazing Idaho beef on the farms around here too.
Of course we use other cuts and have made things like beef and noodles Instant Pot style often. Our slow cooker beef tips are pretty amazing over mashed potatoes too.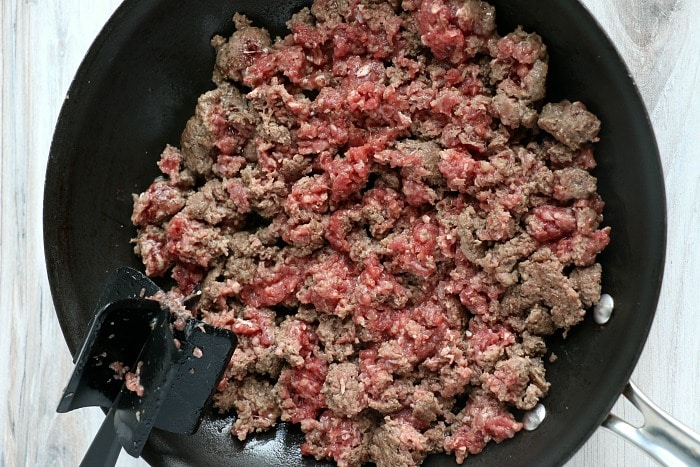 What can ground beef be used for?
OH let me count the ways!! Idaho Beef Council shares how to freeze ground beef here which is handy if you buy it in bulk. I show you here how to defrost frozen ground beef in an Instant Pot.
From there the possibilities are endless I tell you!
If you love quick and easy casseroles there are many options in that category. We love any and all of our Instant Pot ground beef recipes too because it's a throw it all in and go type of meal for busy families.
And let's talk about cost also shall we. If you're on a budget, this type of beef is just the way to go. You get all the protein you'd want in easy bite size pieces which will make the kiddos happy too.
We love cheap recipes too y'all.
Pasta with Asparagus
We make a lot of recipes using ground beef around here but you may have a few questions before starting to make this one like:
What is the best pasta for pasta salad?
Ideally you want short pasta shapes with plenty of nooks and crannies like small shells, fusilli, farfalle, rotini, or penne. This will trap more flavor for every bite.
Do you rinse pasta for a cold pasta salad?
Yes. If you don't want it to remain warm you want to drain in a colander and then run cold water over it for a few minutes. This will stop the cooking process and bring the temp. down quickly.
Should I make pasta salad the night before?
Ideally I like making it in the morning, putting plastic wrap over the bowl and into the fridge it goes. This will make it nice and cold without risking soggy noodles if you make it a day before your event.
How do I cook asparagus?
There are several methods. In an oven at 425 degrees F you'll want to coat with olive oil, salt and pepper and parmesan. Bake for about 12 minutes until tender. Here we boil once cut into large chunks. If you love asparagus you're going to love this pasta asparagus dish with beef.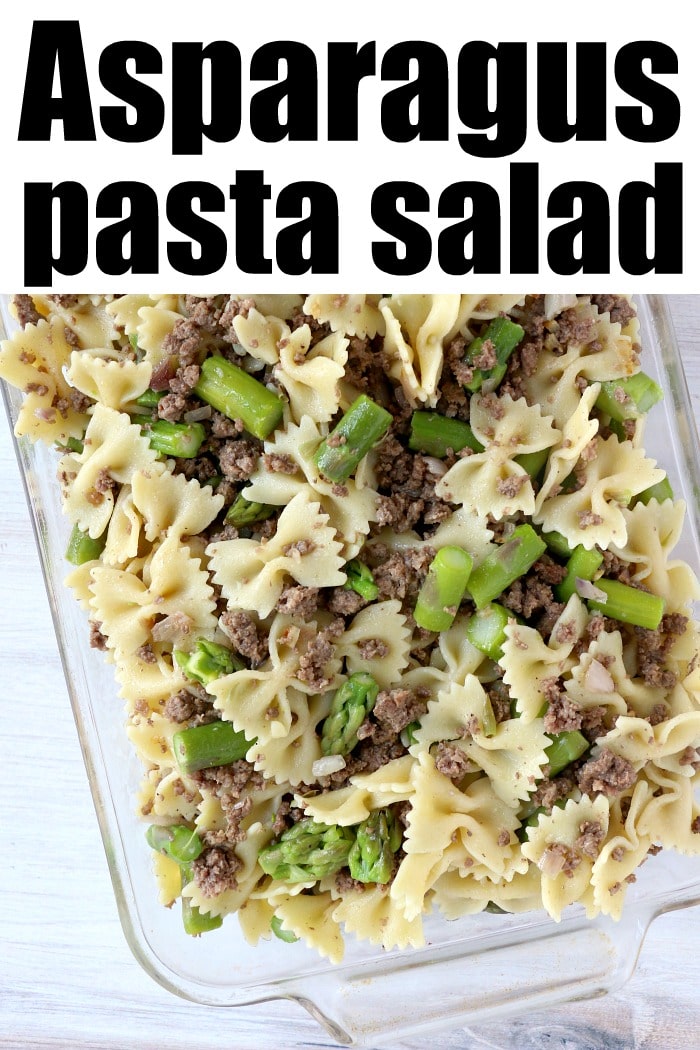 Here's a quick step by step but there's a printable recipe card at the bottom of the post too.
Time needed: 10 minutes
Ground beef and pasta casserole
Brown

In a large skillet over medium high heat brown your meat, add some red pepper flakes if you want heat. Sprinkle in black pepper, pinch of salt and any other seasonings. Pour into a bowl to cool.

Saute

Add shallots and garlic into pan with a bit of the grease from the meat. Saute until softened. Turn heat off.

Boil

Bring a large pot of water to a boil. Add the pasta and cook until it is al dente. After about 5 minutes add the asparagus pieces. Or cook asparagus in the air fryer.

Drain when noodles are mostly tender and veggies are too.

Cool

Drain in a colander and pour cold water on top. Completely drain and add to a bowl. Add meat and sprinkle with at least 1/2 cup parmesan on top, or toss within.
When it's asparagus season and you can grab a bunch at next to nothing, you've gotta' try this!
If you get a ton you can then bake some with just some olive oil and lemon zest on top in a few minutes.
For another layer of flavors, spoon some on a plate with a little squeeze of fresh lemon juice. Oh wowie!
How do you store unused ground beef?
If you find a great sale, I love to buy meat in bulk to save some money. The trick is to know how to store it and how long it will last right? Stored in airtight containers or storage bags refrigerated, at 40 °F it will stay good for 1 or 2 days.
Is it better to cook ground beef before freezing?
If you love batch cooking this is key to saving a lot of time! Store in marked bags with 1 pounds in each one. Then take out to make a quick batch of spaghetti or ground beef casserole.
Want to see a few of my favorite things that I am totally obsessed with?? Take a peek and see how many you might already have…twinsies!
Looking for more easy family recipes and tips? LIKE The Typical Mom Facebook page?
Then sign up for my free newsletter, and follow me on Pinterest! 😉
***** If you LOVED this recipe give it 5 Stars below and let everyone know what you thought about it. 😉
Asparagus pasta salad
Asparagus Pasta Salad
This parmesan asparagus pasta recipe is a great cold dish when it's hot outside! Hearty with ground beef and vegetables mixed in with your favorite noodles.
Instructions
In a large greased skillet, brown hamburger with salt, pepper, garlic powder, and onion powder.

While beef is browning, cook pasta in boiling water for 10 minutes. Then add chopped asparagus to boiling water. Continue boiling until pasta and asparagus are tender.

Drain well when done. When beef is thoroughly cooked, spoon it out of the skillet and drain off any excess grease. Add shallots and garlic to the same skillet and cook over medium heat until they become transparent.

Add beef back into the skillet and mix well. Combine pasta, asparagus, and beef mixture in a large mixing bowl. Pour into a casserole baking dish. Top with parmesan cheese and enjoy!
Nutrition Facts
Asparagus Pasta Salad
Amount Per Serving (2 oz)
Calories 380
Calories from Fat 153
% Daily Value*
Fat 17g26%
Cholesterol 50mg17%
Sodium 510mg22%
Potassium 420mg12%
Carbohydrates 36g12%
Protein 20g40%
Vitamin A 525IU11%
Vitamin C 4mg5%
Calcium 102mg10%
Iron 3mg17%
* Percent Daily Values are based on a 2000 calorie diet.