Our potato tater tot casserole with ground beef and cream of mushroom soup will knock your socks off! Add vegetables for a cheesy meal your kids will ask you to make over and over again. This is what to cook with ground beef that will be a huge hit with everyone.
Love these crunchy little bite size taters? Us too! Throw them in with veggies and meat and you can try this hamburger tater tot casserole with ground beef too. One of many easy ground beef recipes we love on The Typical Mom blog. Sponsored by Idaho Beef Council. (affiliate links present)
Tater Tot Casserole
If you too love quick and easy casseroles, this will become your new favorite too! With just a few ingredients, it is an inexpensive feel good meal you can throw together in no time at all. Even the picky eaters in your house will give it a thumbs up.
We chose to use Idaho ground beef in our dish because well, we live here and always have a ton of it in our fridge and freezer. Of course you can omit the cheddar cheese but that would be a no go for us. 😉 You see, we buy from local farmers at the beginning of each year so we have a bunch in our deep freezer.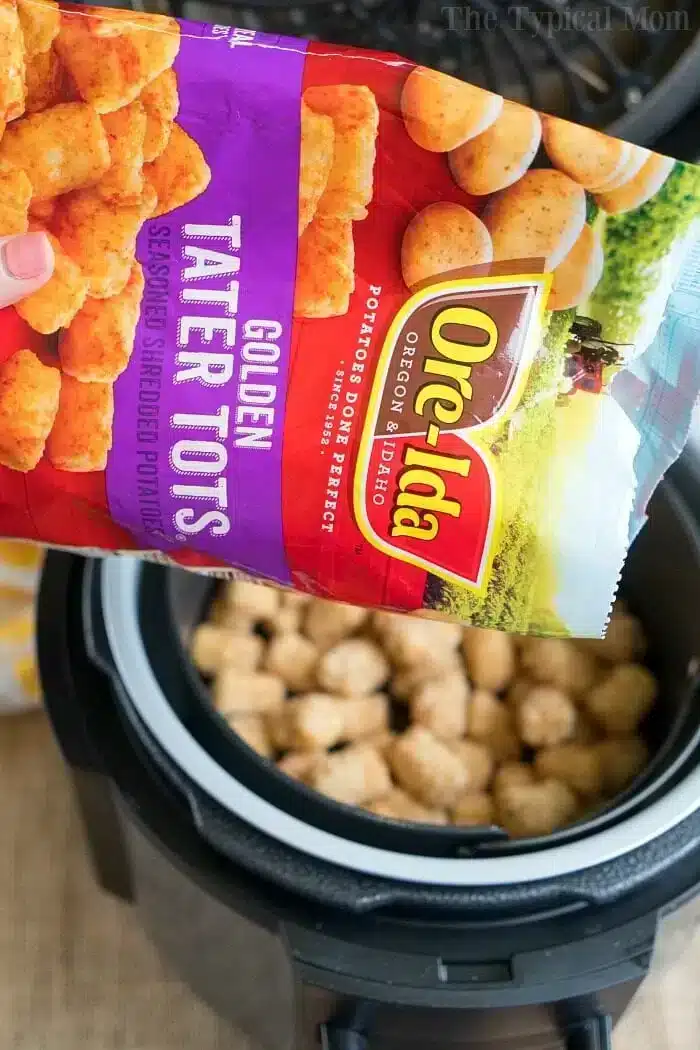 Tater Tot Casserole with Cream of Chicken Soup
I create a lot of different dishes with it throughout the year and share the ones that get thumbs up from everyone.
I mean if you ever ate at the school cafeteria, you had these for lunch. If you were lucky enough to have a "cool mom" you may have had them with meatloaf for dinnertime too every once and a while. Great as a cheap side dish they also make a casserole over the top as well.
There are TONS of different family recipes for this. If you asked a hundred people how they make TTC as we call it you would get 100 different answers. Large families usually pass it down to their kids and on from there since it's a frugal meal even the smallest child will eat and love.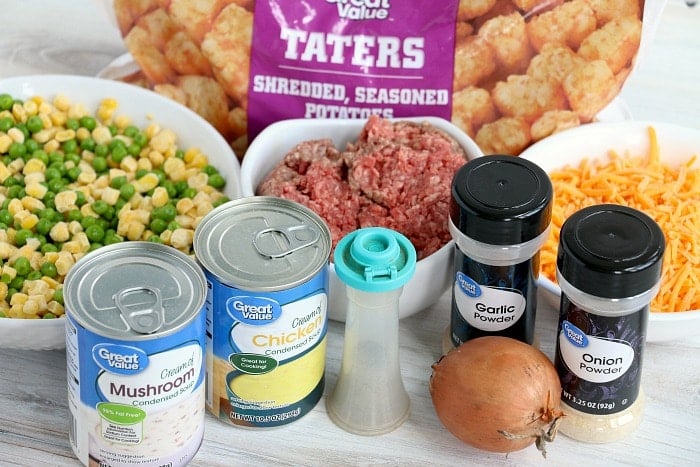 Hamburger Tater Tot Casserole
I'll bet even if you have a non veggie lover in the house they will love the other components enough to ignore that there are peas and corn in this one. You could change that up slightly too, frozen green beans work well too. Here are a few questions you might have:
What is the best casserole meat?
If you ask me it is ground beef or hamburger, hands down. I have used stew meat as well from time to time because it's inexpensive and comes out tender.
How do you bake ground beef?
In this case you cook it on the stovetop before adding in other ingredients.

If you wanted to just cook it by itself in the oven just: Preheat oven to 425 F, break meat up into pieces in a baking dish and cook for 15 minutes until browned.
Best Ground Beef Casserole
This is what we used. Of course there are tweaks you can make along the way to add or omit items that you may want to change. Frozen mixed veggies work well, canned can become mushy FYI. Seasonings are up to you for sure. You could use other ground meats that are leaner if you preferred.
Ground beef and onions – meat should be defrosted, if yours is frozen you can thaw ground beef in microwave first
Cream of chicken and cream of mushroom condensed soup
Garlic powder
Onion powder
Frozen corn and peas
Salt and pepper to taste
Cheese

my family loves sharp cheddar

Tater tots – frozen
You could incorporate a bit of sour cream too if you wanted it creamier. Your can of cream of mushroom soup would accomplish this as well.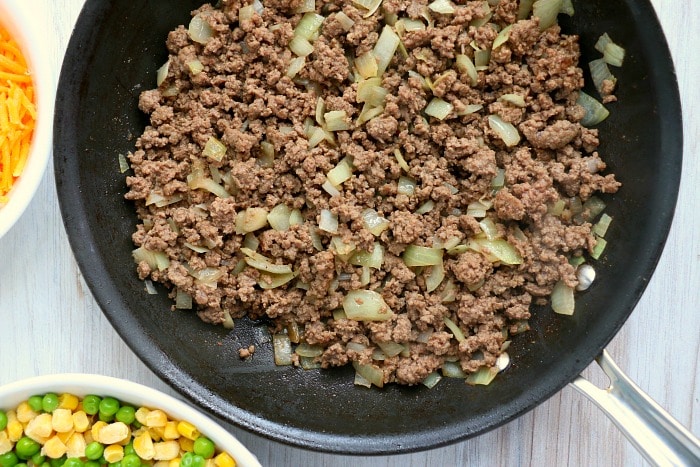 Tater Tot Casserole with Beef
Like I said, you'll need to precook your hamburger first. This is the only real "prep work" required, it may take you a whopping 10 minutes once your skillet is hot.
I rarely ever have to drain any grease because the meat we have is very very lean. If you do have a decent amount in your pan I would drain in a strainer.
As far as your potato tots go, keep them frozen right out of the freezer. This way they won't come apart when you mix everything together.
It is always best to add these without defrosting first. Whether you make them my themselves in the oven just to get crispy or you make this casserole with tater tots you don't want them to break apart and get mushy. To prevent that keep them hard and frozen. They will soften up nicely along with the other ingredients listed.
As for the vegetables you could use your favorites but those should be frozen too. I wouldn't choose soft varieties like broccoli but green beans and/or cauliflower florets would work too.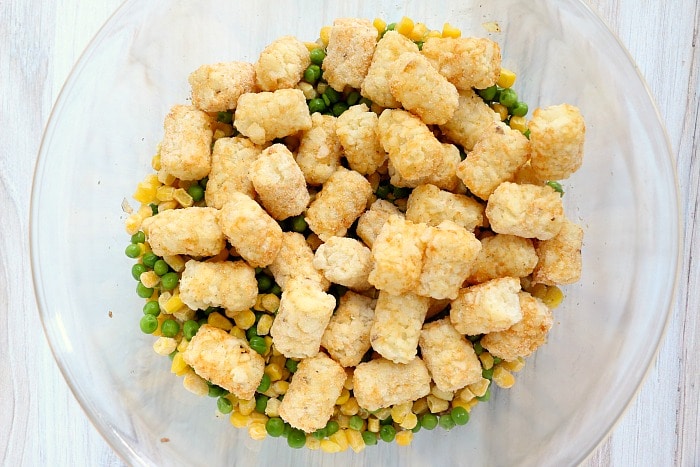 Easy Tater Tot Casserole with Cream of Mushroom Soup
Now you could use other things on the top, don't know why you would but definitely an option. Other ideas might be frozen french fries or pirogies that are filled with fluffy taters as well. Timing would vary with those depending on the thickness etc…
A brief step by step is here but there is a printable recipe card at the bottom of the post as well. In a skillet over medium high heat brown the ground beef and onions, garlic and onion powder. Add salt and pepper too if you like. Break apart and cook until no longer pink.
Drain any excess grease and allow browned beef to cool. Preheat oven now to 350 degrees F. Add meat mixture, 1/2 tater tots, condensed soups, 1 c. of your cheese and frozen vegetables together in a bow. Fold together.
Pour soup mixture into a 9×13″ baking dish and top with remaining taters in one layer so they aren't overlapping. Cover with foil. Bake for 45 minutes.
Uncover, sprinkle remaining cheese on top. Bake for 15 more minutes until melted and lightly browned on top.
This last step of adding cheese is of course optional and could be skipped. If you need a dairy free option there are shredded options by Daya that are quite good, I use those for my husband often. Super easy and cheesy right??!! It will become a new family favorite dish I tell you!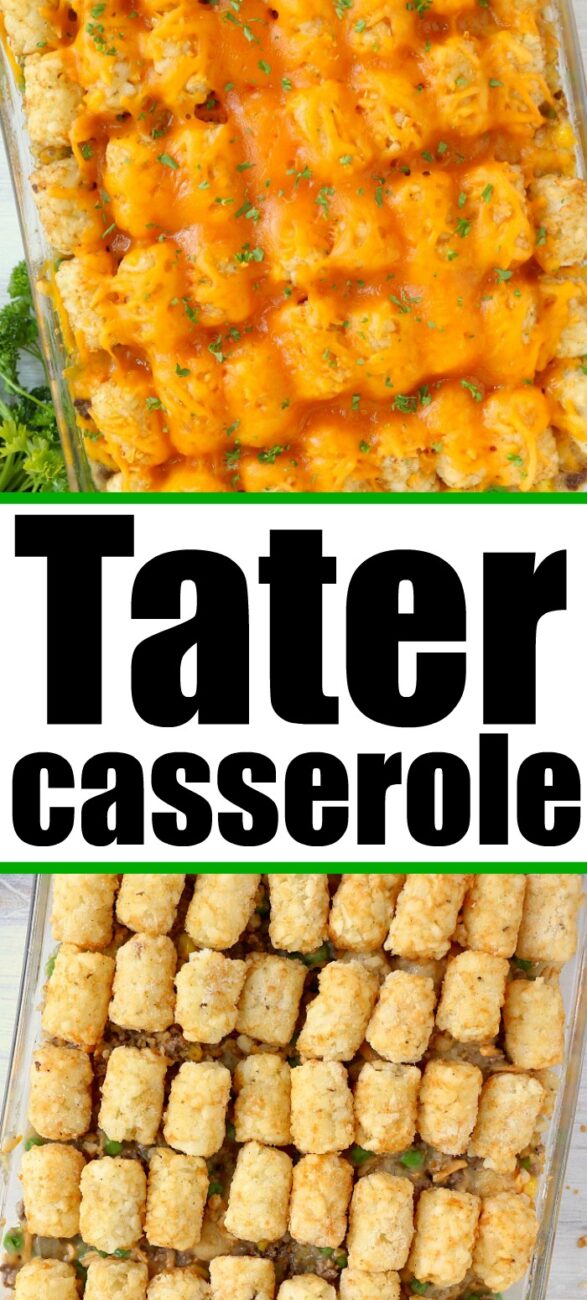 Tater Tot Casserole with Ground Beef
Of course timing at the end is subjective. If you want the tots to be browned then remove foil, bake for maybe 10 minutes, then add cheese to melt that. Use cheddar, pepper jack is great or a mixture of two that you love. If you need dairy free you can use a lactose free variety or leave it off entirely.
If y'all prefer frozen carrots instead of peas, by all means swap those out! What I love about this is that I can find all the ingredients at my local grocery store year round.
Idaho beef is always right there in the meat department. Often times if I am running out I will grab several pounds and freeze it so I have it on hand.
It is an easy dinner recipe everyone in our house loves so I don't have to hear moans and groans at all. All "Yeahhhhhs" with this easy ground beef casserole.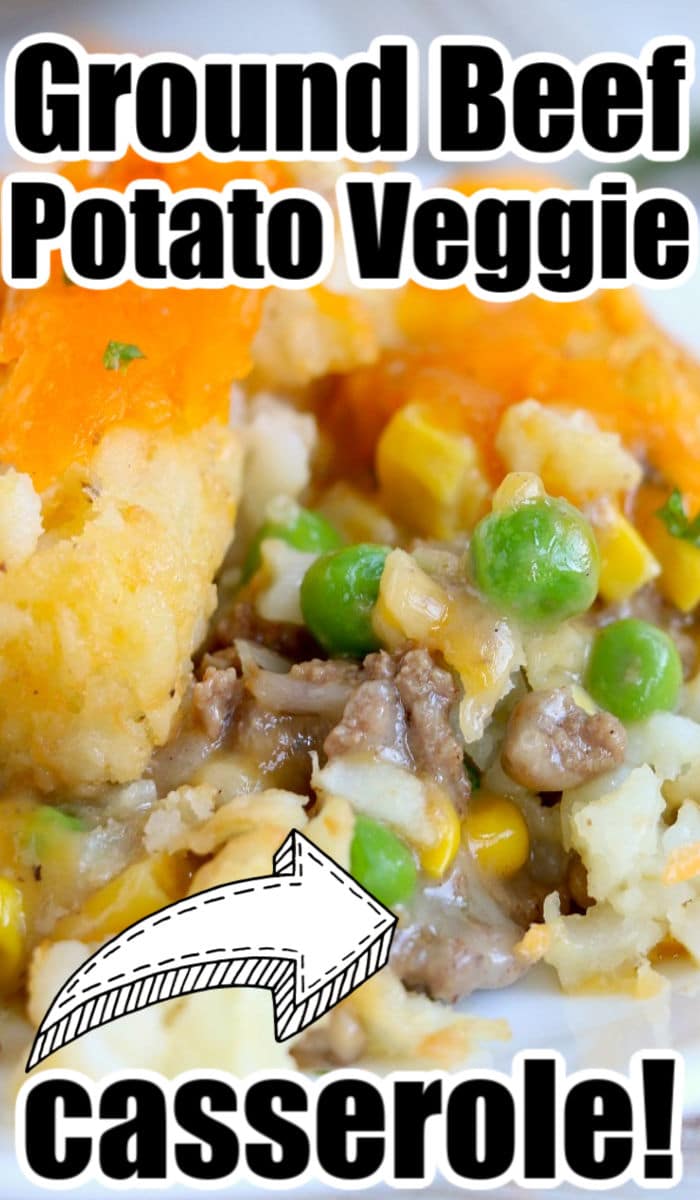 Cowboy Tater Tot Casserole
Looking for other great ideas using the same meat? Try our air fryer stuffed bell peppers some night. Then, try this asparagus pasta salad with hamburger. There are so many ways to make this type of beef and taters.
We love making this Crockpot tater tot casserole too. The texture is different when you make this one. Since it cooks for much longer and in this device it won't get crispy.
You could of course take the pot out at the end and put into the oven. In a few minutes on broil or 400 F the top would get a bit of a crunch.
You don't even have to transfer it into a different dish. Just pull the inner pot right out and into the oven it goes. That's right, the ceramic pot is oven safe and handy to do just that. No need to dirty a second dish y'all.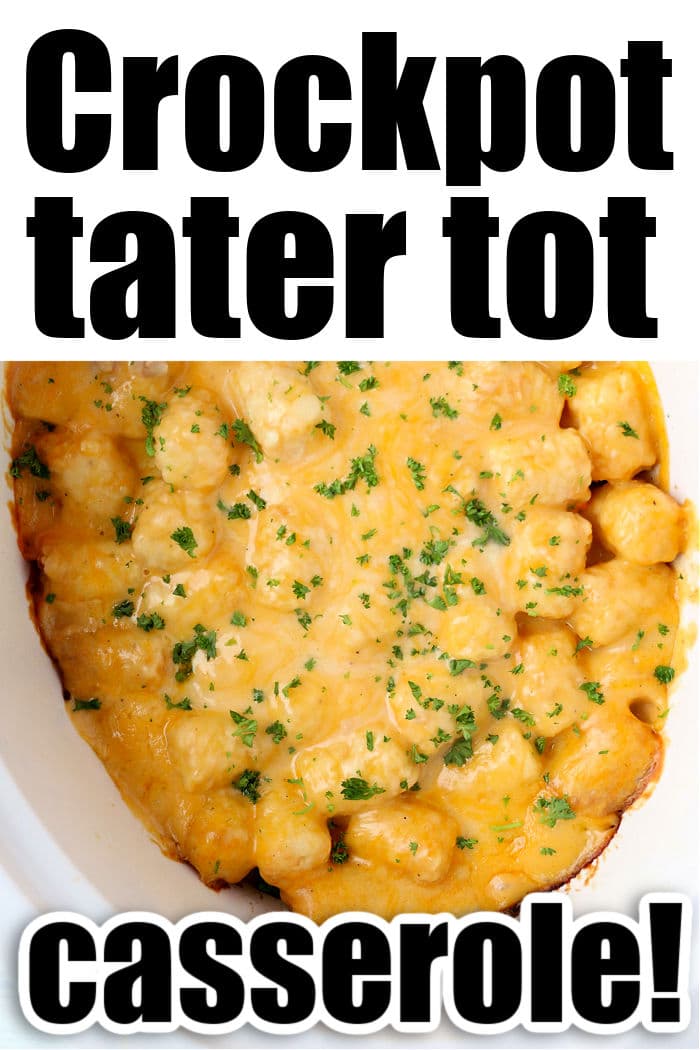 Tater tot casserole recipe ground beef
What if you have leftovers? How do you save them? I have to be honest, this doesn't save well in the fridge. You can store it in a container for the next day and then transfer into a metal dish. Rewarming in the air fryer works a bit better so you can get the edges crispy again.
I mean you can throw it into the microwave for about a minute and it will be edible but it will be even softer than the first day when it was fresh. I like a bit of texture and not super soft.
Below is the printable recipe card complete with nutritional information like calories and saturated fat content. Of course amounts will vary depending on what type of cheese you use etc…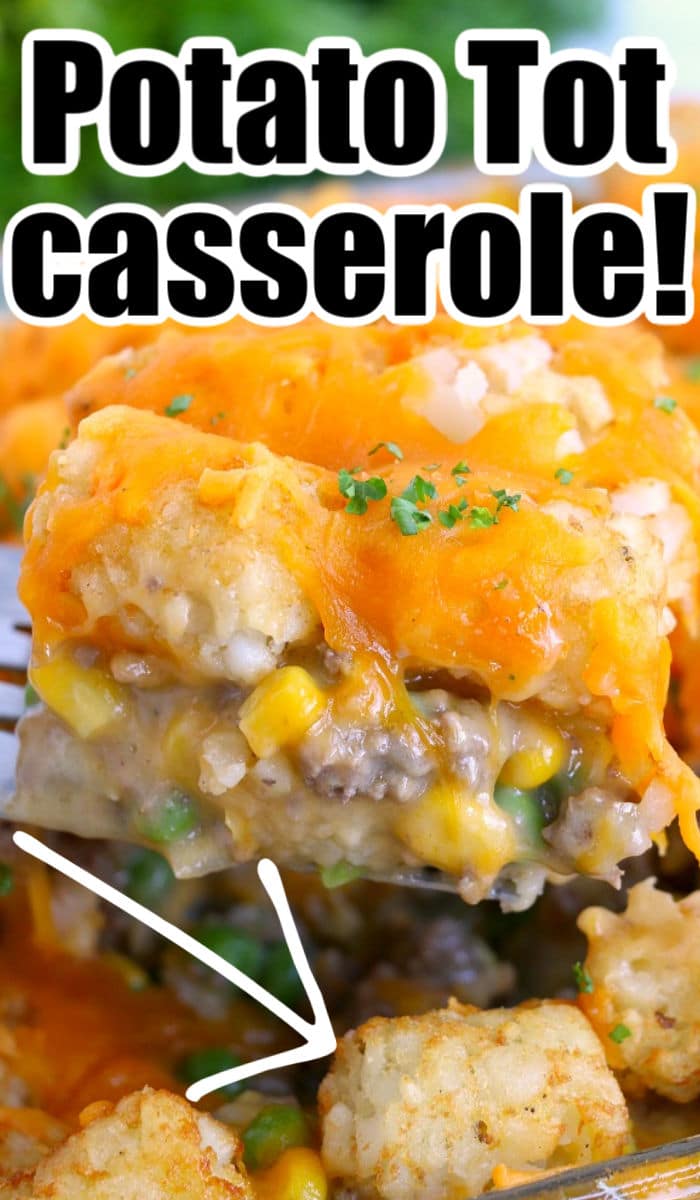 Want to see a few of my favorite things that I am totally obsessed with?? Take a peek and see how many you might already have…twinsies!
Looking for more easy family recipes and tips? LIKE The Typical Mom Facebook page?
Then sign up for my free newsletter, and follow me on Pinterest! 😉
***** If you LOVED this recipe give it 5 Stars below and let everyone know what you thought about it. 😉
Potato Tot Casserole with Ground Beef
Our potato tot casserole with ground beef will knock your socks off! Add vegetables for a cheesy meal your kids will ask you to make over and over again.
Instructions
Preheat oven to 350 degrees F.

Brown ground beef with onion, garlic powder, onion powder and pepper.

Pour this into a mixing bowl. Add frozen corn and peas with half of frozen tater tots, 1 cup of cheese and condensed soups. Stir together.

Pour mixture into a 2 quart baking dish and top with remaining tater tots. Cover with foil.

Bake for 45 minutes, then open and sprinkle with remaining cheese on top. Bake uncovered for another 15 minutes until it is melted. Serve.
Nutrition Facts
Potato Tot Casserole with Ground Beef
Amount Per Serving (3 oz)
Calories 383
Calories from Fat 207
% Daily Value*
Fat 23g35%
Cholesterol 50mg17%
Sodium 826mg36%
Potassium 469mg13%
Carbohydrates 30g10%
Protein 16g32%
Vitamin A 429IU9%
Vitamin C 15mg18%
Calcium 164mg16%
Iron 2mg11%
* Percent Daily Values are based on a 2000 calorie diet.