How to cook frozen asparagus in the air fryer, Instant Pot, in the oven, roasted or boiled on the stovetop. Best vegetable side dish cooked frozen to tender quickly.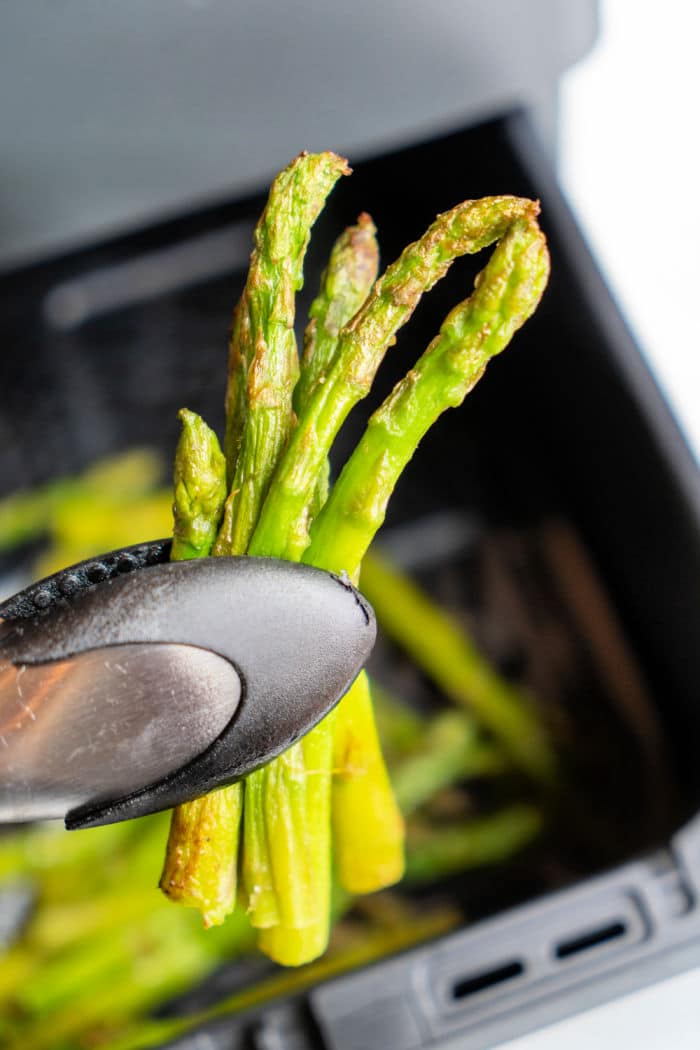 We will explain how to cook frozen asparagus all different ways, and which is our favorite below. If you live in a small town or want to enjoy this green vegetable year round this tip will come in handy for sure. Cooking frozen vegetables is a game changer so veggies can always be on your dinner plate. (affiliate links present)
Can Asparagus be Frozen
Yep! If you have never noticed it in your local grocery store, it is there. Right next to the frozen cauliflower usually. A bit more expensive than other produce whether fresh or bagged like this, it is always a favorite for us. I've never bought this fresh and frozen it myself, because it would never last that long in my house.
I will say that honestly it is better fresh, but when you are in a pinch or just craving it on the off season it's a good alternative. The biggest difference is the texture. Once heated, cooked, or defrosted it will not be as firm. If you air fry it though you can get a bit of that back, our favorite method of all.
Frozen Asparagus
You can find name brand and store brand as you see here. This one does have the option of microwaving frozen asparagus right in the bag. That would be the first option. I am not a huge fan of cooking inside of plastic, but if it doesn't bother you then you could give that a whirl and see what you think.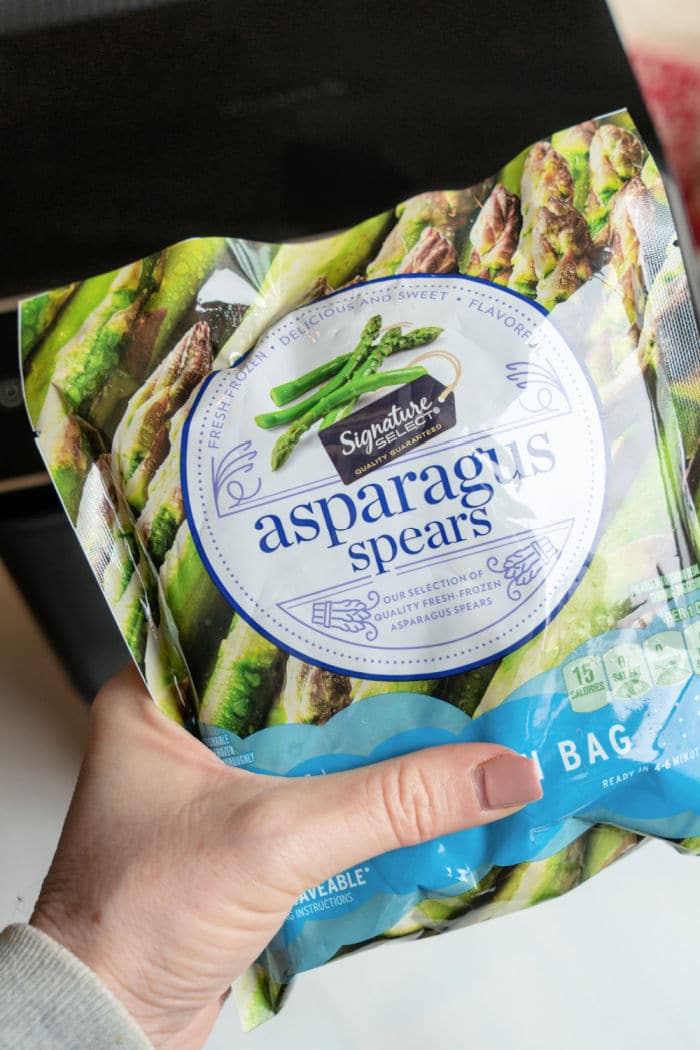 Can Asparagus Tips be Frozen?
Yes, you can find smaller versions of frozen veggies like this next to the full stalks in almost every grocery store. They will be more expensive since that part is the most popular and they are discarding the rest of it.
How long do you cook frozen asparagus on the stove?
On the stovetop you can either boil or cook it in a skillet, the latter is better. Boiling vegetables leaches out the vitamins and will make it mushy so I don't recommend that. With a little butter and seasonings inside a pan with a lid you can defrost and cook it in about 10 minutes.
Let's go over the specifics of this one if you want to go the cast iron skillet route. I mean a regular pan is fine too, I just love dutch oven recipes or anything with cast iron. You will need a little something so it doesn't stick and provides a bit of "liquid" to steam it for a bit.
Add 1 tbsp (or 2) of butter or olive oil
Lay frozen pieces in one layer into your pan
Cover and cook over medium heat for about 4 minutes
Lift lid and turn over, add seasonings now
Put lid back on and cook another 5-8 minutes or until they are nice and tender
Cook time will vary depending on whether you have thick or thin stalks, or if you have asparagus tips the time would be cut in half. Sprinkle with garlic and butter melted when serving or throw into a stir fry.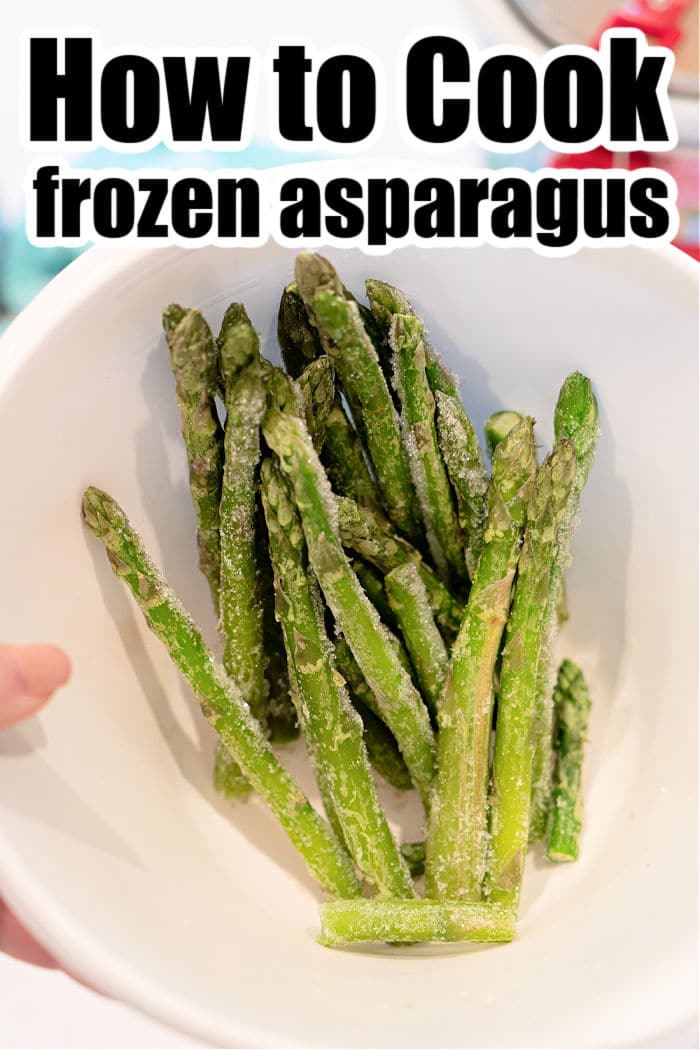 Can you cook frozen asparagus on the grill?
Yep, if you are having a barbecue and want to cook all the things on the bbq then toss with some olive oil to moisten the outsides, season, and lay them on the grill. Wait until the coals are white or flames or no longer rising ideally. When you see light grill marks on the outside, turn over and do the same on the other side.
This will cook them well with a little sear on the outside so they aren't as limp as if you were to boil or use a skillet.
Can you Roast Frozen Asparagus
If you are referring to cooking frozen asparagus in the oven, yes you can. Preheat oven to 450 degrees F. Line baking sheet with foil or parchment paper. Toss with olive oil and sprinkle with salt and pepper. Lay in one layer on the tray and bake for about 15 – 20 minutes or until they are as tender as you'd like.
You can get the edges crispy when you make air fryer frozen asparagus, so that is the way we think of. Roasted frozen asparagus is an easy side dish that really doesn't need much on it other than olive oil and a bit of seasonings. You want to keep it moist so the oil does it well, and helps crisp a bit too.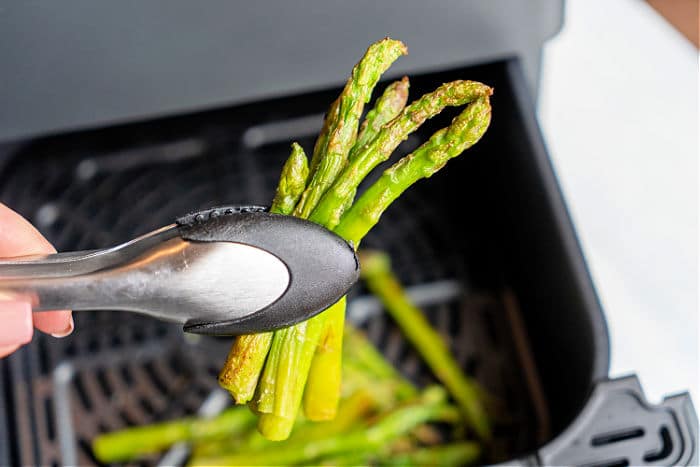 When freezing asparagus from fresh you want to pack tightly in an air tight baggie. Prep it beforehand if you just want the tips. Write the date on the outside and it will keep well for up to 3 months until you're ready to use it.
Frozen Asparagus Recipes
If you buy frozen and need fresh asparagus, just leave them on the countertop for about 1 hour, in a bowl of cool water, or in the fridge overnight. Then use as you normally would. Like I said before the texture will be different so if you ask me I only would use it this way inside a casserole or quiche baked good of sorts. Here are a few ideas;
Looking for other ideas that will save you time? This is how to cook frozen brussel sprouts all different ways too. With a drizzle of olive oil and balsamic those are our faves too.
Want to see a few of my favorite things that I am totally obsessed with?? Take a peek and see how many you might already have…twinsies!
Looking for more easy family recipes and tips? LIKE The Typical Mom Facebook page?
Then sign up for my free newsletter, and follow me on Pinterest! 😉
***** If you LOVED this recipe give it 5 Stars below and let everyone know what you thought about it. 😉
How to Cook Frozen Asparagus
How to cook frozen asparagus spears or tips on the stove, in the oven, or air fryer is here.
Instructions
Add 1 tbsp (or 2) of butter or olive oil into your pan over medium heat. Lay frozen pieces in one layer into your pan.

Cover and cook for about 4 minutes. Lift lid and turn over, add seasonings now. Put lid back on and cook another 5-8 minutes or until they are nice and tender.
Nutrition Facts
How to Cook Frozen Asparagus
Amount Per Serving (1 oz)
Calories 31
Calories from Fat 36
% Daily Value*
Fat 4g6%
Sodium 0.1mg0%
Potassium 0.04mg0%
Calcium 0.04mg0%
Iron 0.02mg0%
* Percent Daily Values are based on a 2000 calorie diet.