Homemade raisin bread pudding is delicious and easy to make at home. Homemade bread pudding is easier than you think and might become a new family favorite dessert.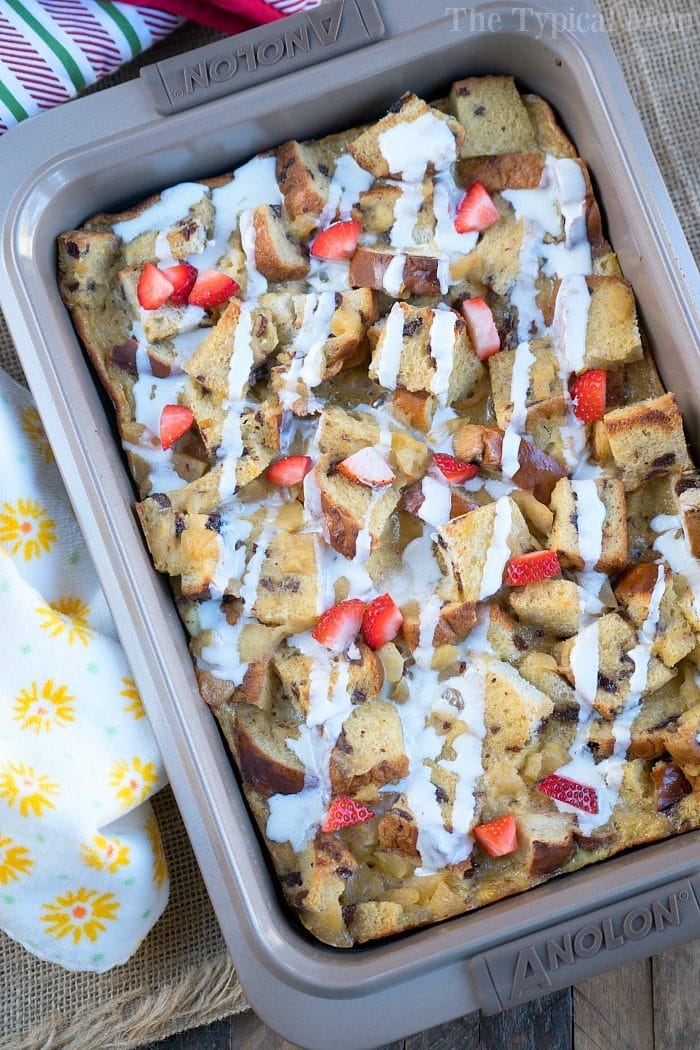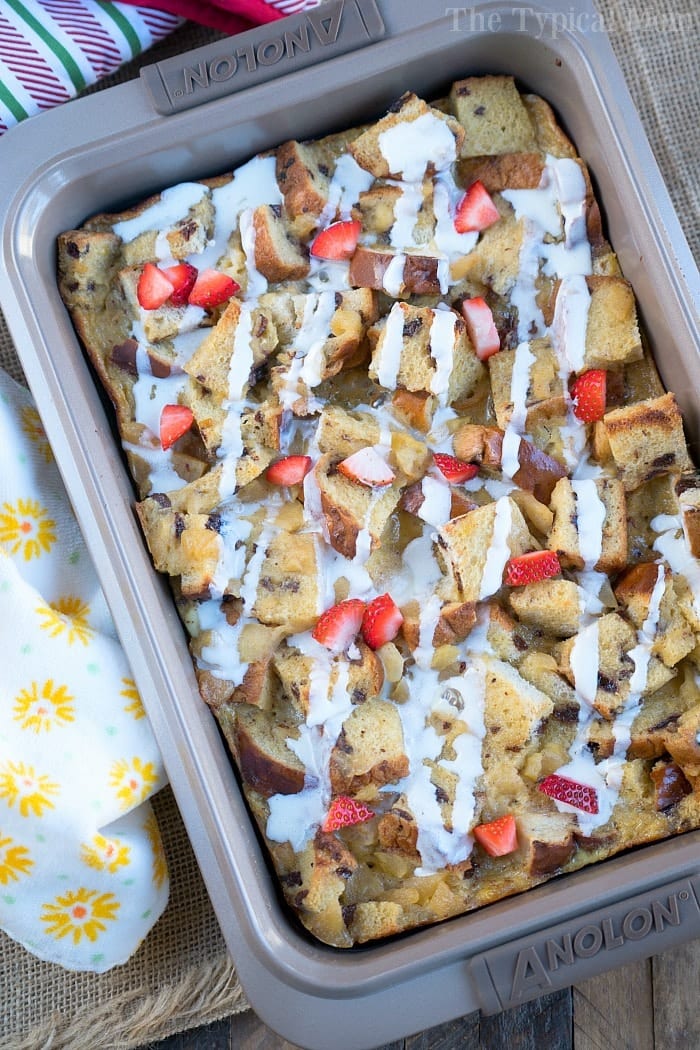 Ok so I've loved bread pudding most of my life but hasn't made any homemade raisin bread pudding until recently! I'm all about easy recipes so of course this one is no different. (originally published 6/19, affiliate links present)
Easy Bread Pudding
I even made an Instant Pot bread pudding version using basically this same method you will see here too! This is by far my favorite old fashioned dessert that I just had to make homemade myself. Once I got the hang of the best ingredients to use and method I tweaked it a number of other ways beyond this one. Have you tried making a batch for yourself yet??
I have used day old loaves of french bread in the past when I've made apple pie bread pudding and others but this time I took it a step further and used a loaf of raisin bread which made it even easier.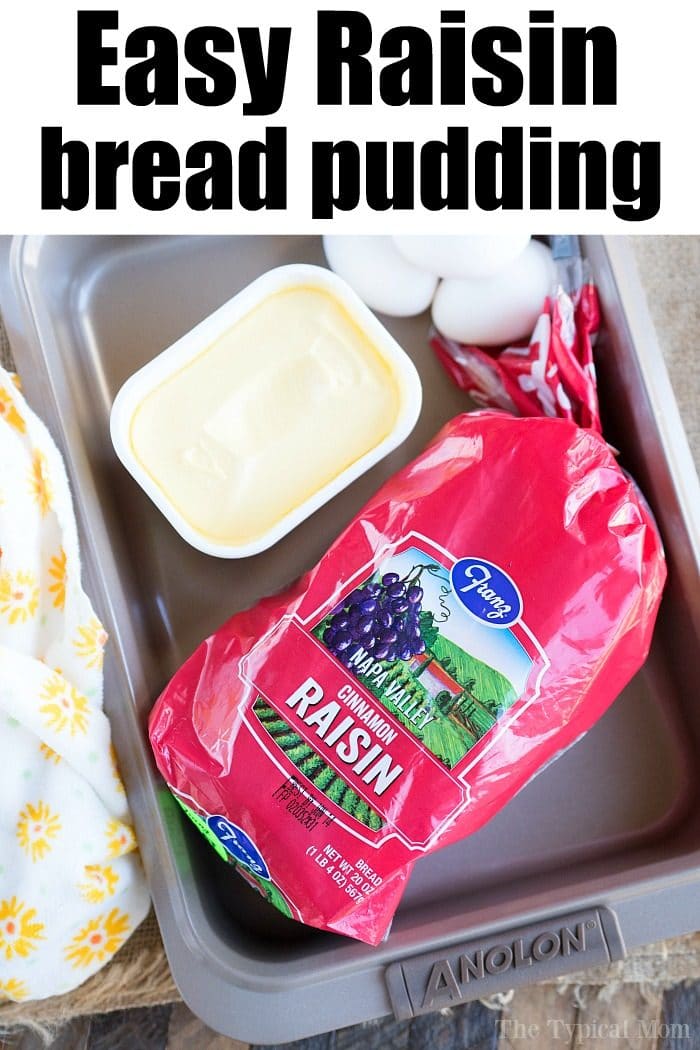 Homemade Cinnamon Raisin Bread Pudding
You may be the same as myself years ago, thinking it would take a long time to make this. Not true. You don't have to use day old bread as you may have heard in the past rather using a loaf of bread off the shelf with thick slices or raisin bread for this one works great.
Cinnamon Raisin Bread Pudding
You can serve it up plain and it's just sweet enough, or top it with:
Diced berries
A drizzle of vanilla or cream cheese frosting over each piece served
Serve it with a simple rum sauce for bread pudding
Powdered sugar
A combination of a few toppings
How do you make bread pudding?
Well it is way easier than you might think!
You just need a plain, French, or raisin loaf of bread.
Eggs and milk will make it moist.
The rest is up to you, raisins are a great add in. We've even put a layer of pie filling on the top too!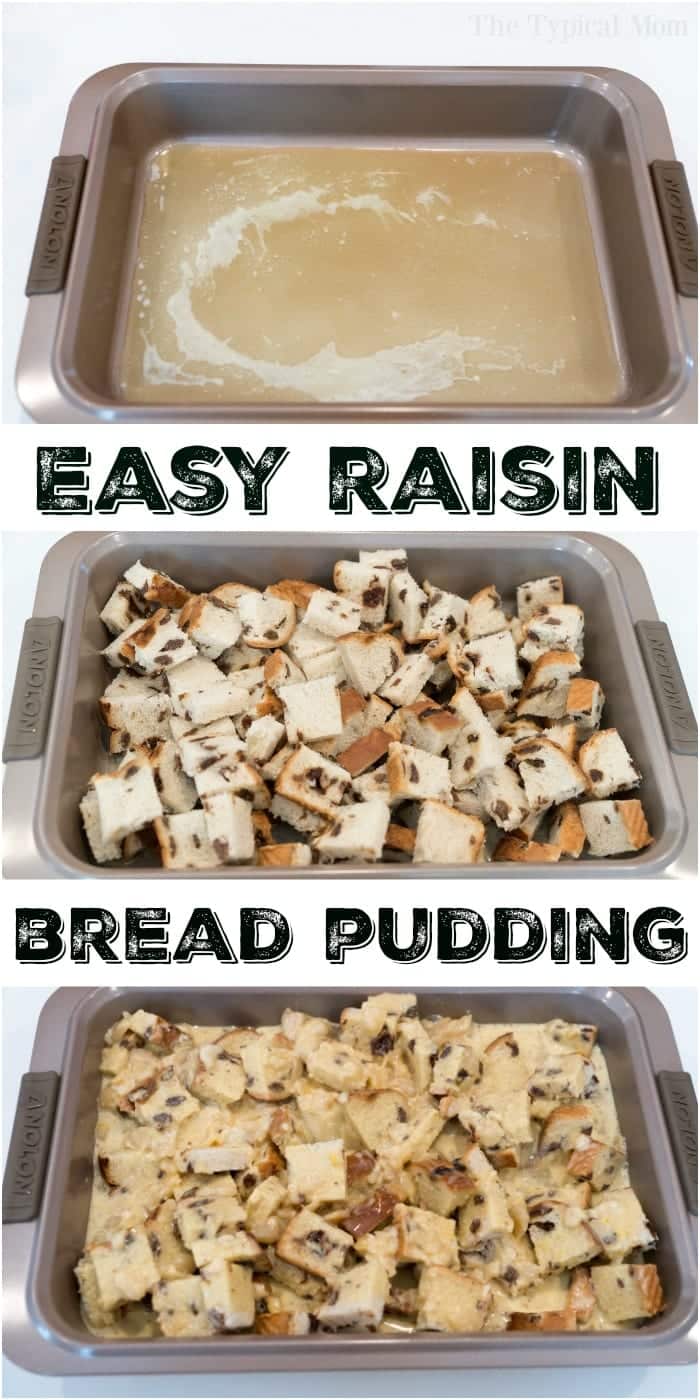 How to Make Bread Pudding with Cinnamon Raisin Bread
You can totally do this, no joke. At the store usually on the top shelf with the other bread are a few brands of sweet bread with raisins already baked inside. Grab one of those. Cinnabon and Sun Maid make their own version and sometimes Franz bakery you can find which is thicker.
Buy a loaf of raisin bread at the store – in the bread aisle
If it is really fresh and slices are really soft – leave on the counter, still tied, for a few days/a week until slices are a bit firmer
Cut each slice into 6 equal pieces
Sprinkle cinnamon raisin bread pieces over your melted butter
Pour egg mixture on top of bread
Bake as directed below
Allow to cool at least until the edges start to pull away from the sides of the pan – allows it to be sliced and served easier.
If you want to make something else that is in the same category, give our oatmeal raisin muffins a whirl.
Can I use any kind of milk for bread pudding?
You can use any type of milk for bread pudding, but whole milk will give you the richest flavor. You can also use soy milk, almond milk, or coconut milk for a dairy-free version.
How do I know when bread pudding is done baking?
Bread pudding is done baking when the top is golden brown and a toothpick inserted into the center comes out mostly clean with wet crumbs attached. You do NOT want to over-bake and dry it out.
How do I reheat bread pudding?
You can store leftover bread pudding in an airtight container in the refrigerator for up to 3 days. To reheat, simply slice, drizzle some frosting or maple syrup on top to add moisture and warm it in the microwave or oven.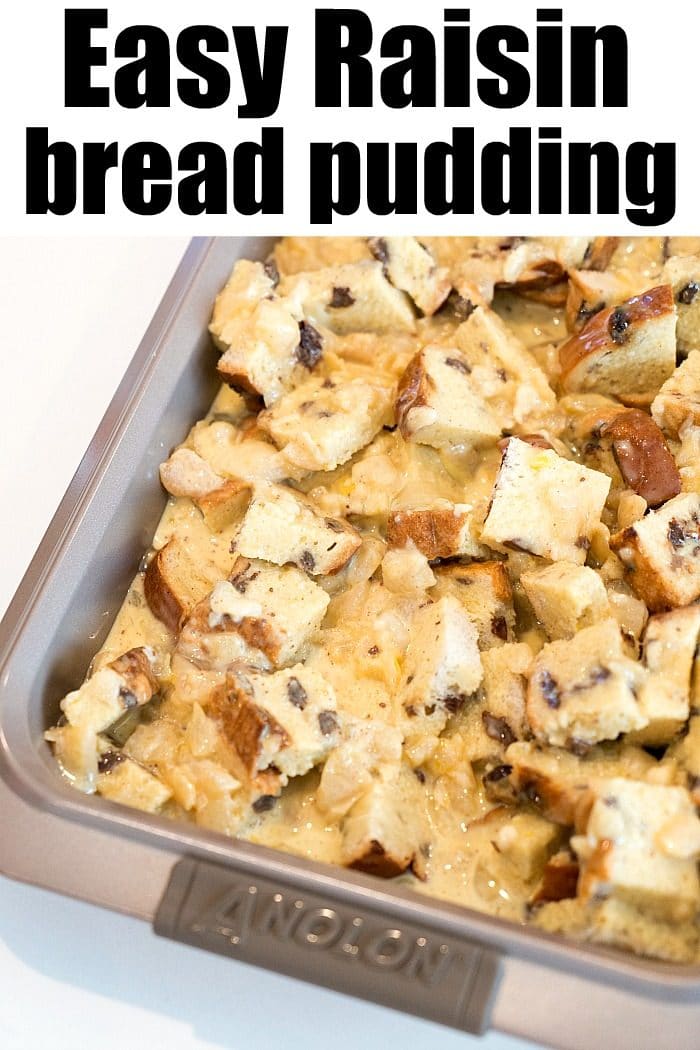 Raisin Bread Pudding Recipe
I suggest drizzling ready made cream cheese frosting over the top of each piece when you serve it. I also love fruit on all desserts so depending on what is in season I will dice something up and add that too.
Cinnamon Raisin Bread Pudding Recipe
This is my favorite 9×13″ baking dish I use a lot
Large bowl
Loaf of raisin bread

Heels removed, bread cubed

Heavy whipping cream
Eggs
Butter or margarine
Maple syrup – I recommend real maple syrup
Vanilla
Cinnamon
Apple sauce – here's a recipe for homemade apple sauce
Could add a few tbsp of brown sugar to make it extra sweet
You could warm a tub of cream cheese frosting in the microwave and pour it on top if you like, or enjoy as is.
Bread Pudding with Raisins
In a bowl whisk the egg, heavy cream, vanilla and cinnamon together. Then you'll want to cut or cube your pieces of raisin bread. It helps if your loaf is a bit on the firmer side, day old type or leave bag open overnight.
Spray the inside of your pan. Pour your melted butter inside your prepared baking dish. Then add your cubed bread pieces and spread out evenly.
Pour over bread your whisked egg milk mixture so each piece is wet. Cover pan with foil.
I generally preheat oven to 350 degrees F at the beginning so it's ready when I have everything prepared.
Bake for 30 minutes. Then uncover for an additional 10 – 15 minutes or until the top is golden brown and knife inserted comes out rather clean.
Keep in mind it will be very moist and egg will solidify a bit more as it cools.
It is best served warm but I do allow it to sit for at least 15 minutes after I take it out so it can solidify a bit more and it's easier to slice. Pour vanilla sauce or melted cream cheese frosting on top and enjoy. Total time is about 50 minutes from start to finish.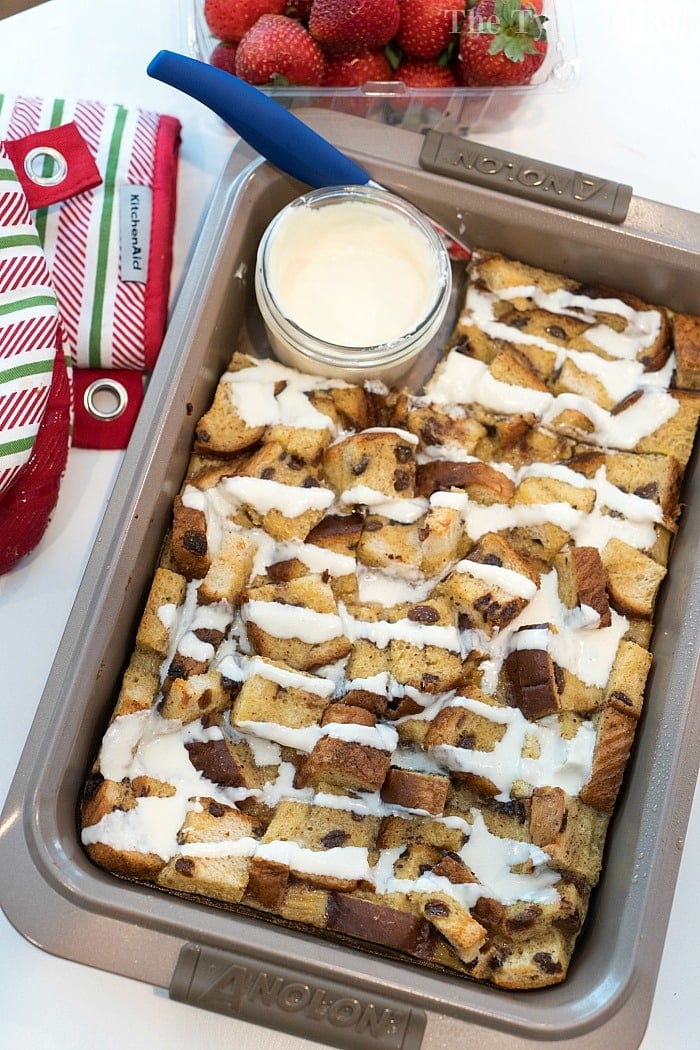 Sun Maid Raisin Bread Pudding
Other homemade bread pudding recipes you will love:
Using this one plus spooning pie filling over the top is an easy way to add sweetness and fruit. I use canned pie filling like apple or blueberry so it's super easy with the flavors y'all love.
Strawberry bread pudding uses the same method with canned fruit, great summertime treat.
But our favorite is probably this banana bread pudding with fresh fruit in it.
Can you freeze bread pudding?
There's never much left in our house so I just refrigerate the piece or two to eat the next day.
I wouldn't recommend freezing it as it won't be as good when thawed out but it's totally up to you.
Total this takes about 45 minutes to bake and cool before serving. Just to keep in mind if you're preparing this for Christmas brunch or another occasion with guests.
Our no bake cake is simple to create as well for a large get together.
Want to see a few of my favorite things that I am totally obsessed with?? Take a peek and see how many you might already have…twinsies!
Looking for more easy family recipes and tips? LIKE The Typical Mom Facebook page?
Then sign up for my free newsletter, and follow me on Pinterest! 😉
***** If you LOVED this recipe give it 5 Stars below and let everyone know what you thought about it. 😉
Raisin Bread Pudding
Raisin bread pudding is delicious and easy to make at home. Homemade bread pudding is easier than you think and might become a new family favorite dessert.
Ingredients
1

loaf

raisin bread

omit the heels, better to use a loaf that isn't REALLY fresh so pieces are a little bit firmer

8

eggs

1

c

whipping cream

1

c

maple syrup

3/4

c

apple sauce

1.5

tsp

cinnamon

1

tsp

vanilla

1/2

c

butter

or margarine, melted
Instructions
Whisk together your eggs, whipping cream, maple syrup, apple sauce, cinnamon and vanilla in a bowl.

Remove heels from your raisin bread and slice pcs into cubes, about 6 pcs. per slice.

Melt your butter and pour it into your 9×13 pan

Sprinkle your cubed raisin bread pcs. on top of your butter.

Pour your egg mixture on top of that.

Cover with foil and put into a preheated oven at 350 degrees for 30 minutes. Remove foil, bake for additional 10 minutes or until the top is golden brown.

Take out and put on a cooling rack.

Allow to cool at least enough for the edges to pull away from the pan, about 15 minutes. Slice and drizzle some melted vanilla icing on top of each piece.
Video
Nutrition Facts
Raisin Bread Pudding
Amount Per Serving (3 oz)
Calories 259
Calories from Fat 153
% Daily Value*
Fat 17g26%
Cholesterol 156mg52%
Sodium 119mg5%
Potassium 127mg4%
Carbohydrates 20g7%
Protein 4g8%
Vitamin A 690IU14%
Vitamin C 0.2mg0%
Calcium 64mg6%
Iron 0.6mg3%
* Percent Daily Values are based on a 2000 calorie diet.