Crockpot Hawaiian chicken has only 5 ingredients! Some call this slow cooker pineapple chicken because it's sweet with a bit of a barbecue kick to it!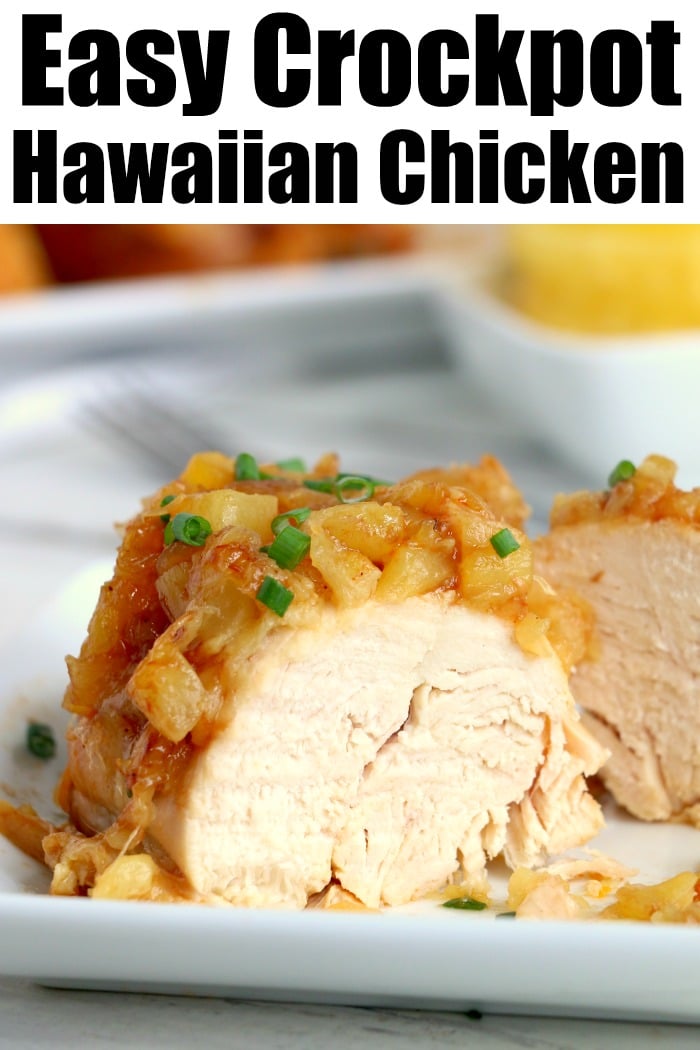 Crockpot Hawaiian chicken is sweet chicken breast that can be shredded for even more fun dinnertime ideas. If you love healthy, easy, Crockpot recipes too I bet this will be a hit in your home.
Once you find a great sauce you've gotta' use it on all the things I say, so using whole chicken breasts were next. You can plan to make these chicken breasts a few different ways. Serve them whole once done, or shred the meat once it's fall apart tender and slap some inside tortillas for tacos!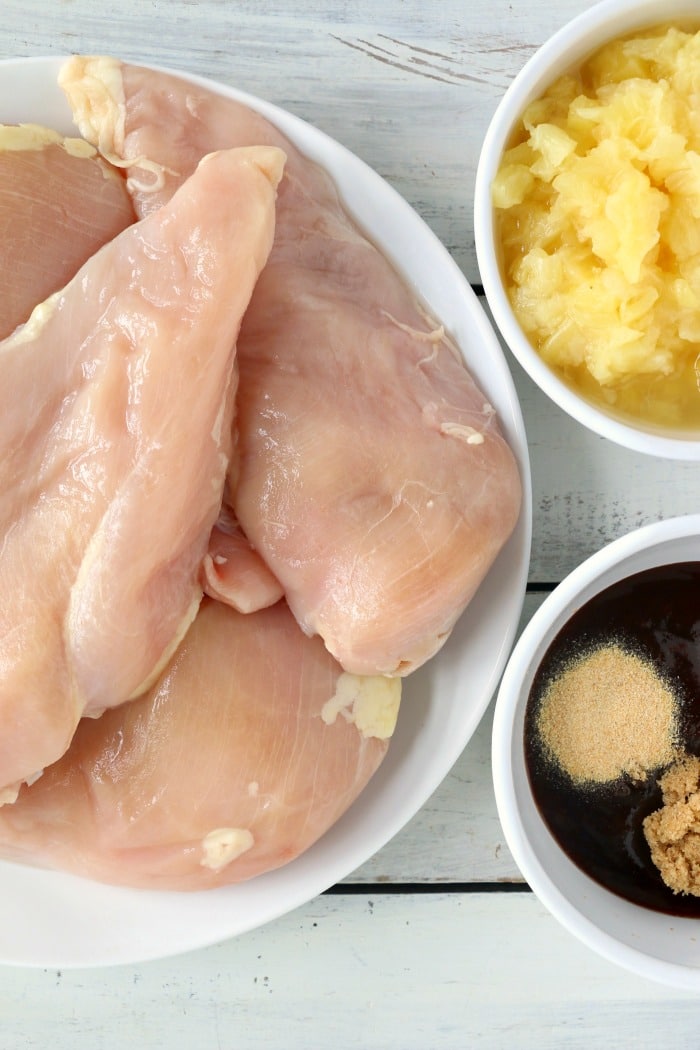 Crockpot chicken recipes are just the best. Setting it to low is the best way to go. Hurrying things up isn't the best idea for this method of cooking. SLOW cooker it's called remember. 😉
This is what you will need to make Crockpot Hawaiian chicken:
Chicken breasts

boneless, skinless

Barbecue sauce

if you like sweet heat this is our favorite

Brown sugar
Garlic powder
Salt
Soy sauce is optional but I usually add it in
Could add large chunks of bell pepper
Ok so this is a bit like our Crockpot bbq chicken recipe except we left the breasts whole this time and added more than 3 ingredients. That is a good one too if you want another throw together recipe.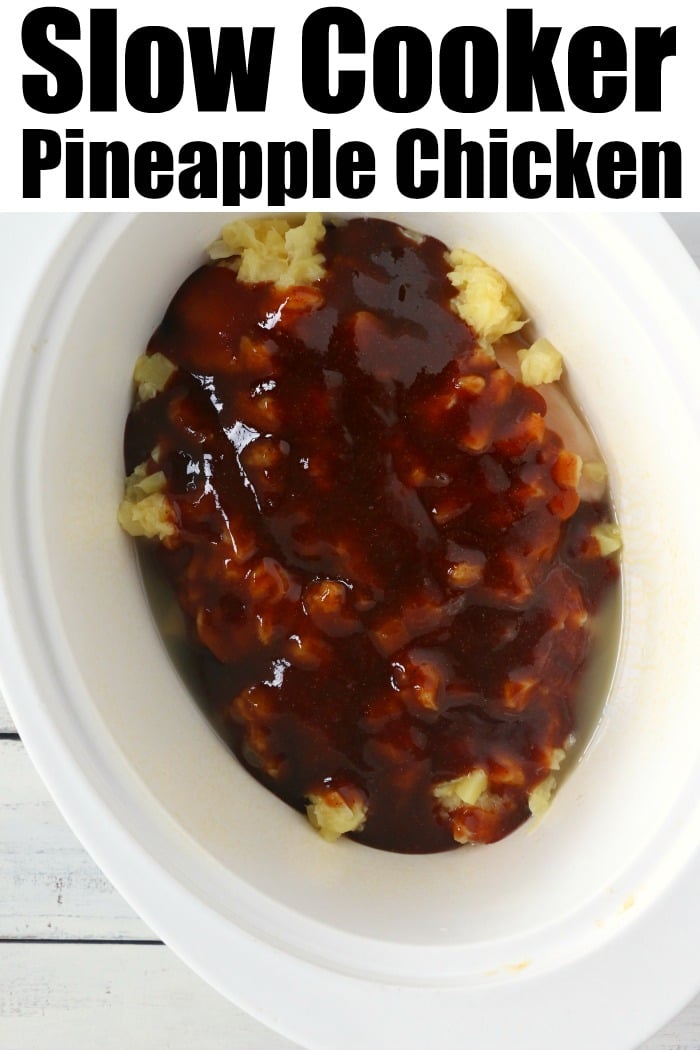 What does pineapple do to chicken?
Pineapple is a fruit that pairs well with beef, pork, chicken and some types of fish. While giving your meat a great deal of flavor, pineapple juice helps tenderize your meat as well.
Whether you use it in your Instant Pot or slow cooker it does the same thing.
The enzyme in pineapple, digests protein which softens the tissues before cooking it.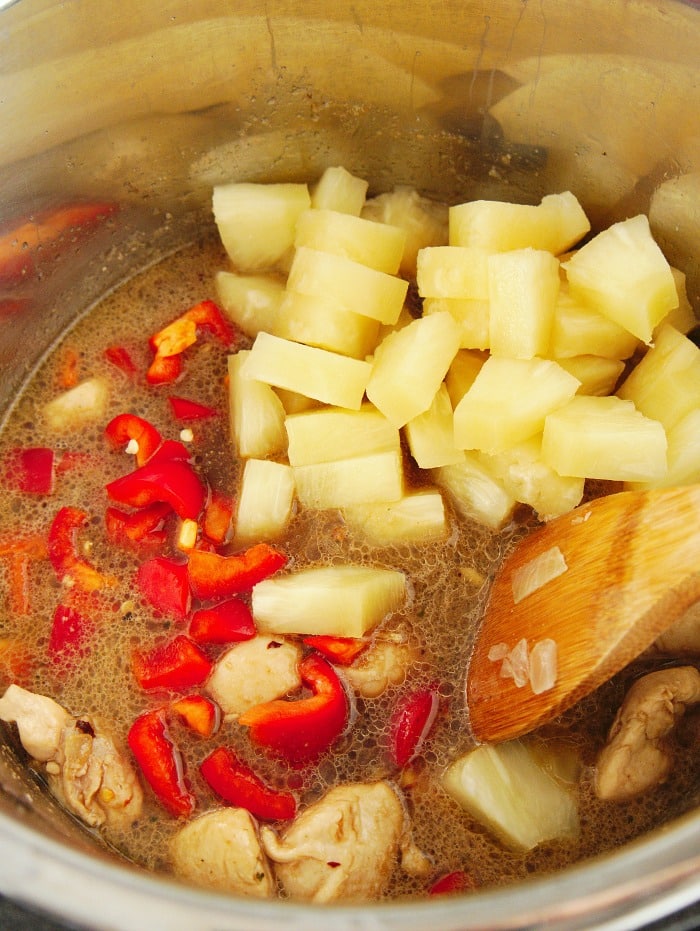 Steps to take when making this slow cooker Hawaiian chicken recipe with bbq sauce.
Spray the inside of your pot with non stick spray. It will help your cleanup later.
Lay chicken breasts at the bottom and add the pineapple over the top.

chicken thighs could be used instead if you preferred, just make sure they're on the larger size.
you can use crushed or pineapple chunks with the juice included

In a small bowl stir together your brown sugar, barbecue sauce, garlic powder and salt.
Pour this over the top. You could add a few tbsp of soy sauce too if you want a little more of a salty sweet taste. Omit if you desire.
Close the lid and set to low for 6-8 hours. I don't recommend using high heat, I feel slow and low is much better to get that fall apart tenderness.
Serve topped with green onions as is, or shred in the pot and allow it to soak up the juices for 20 more minutes before serving as tacos.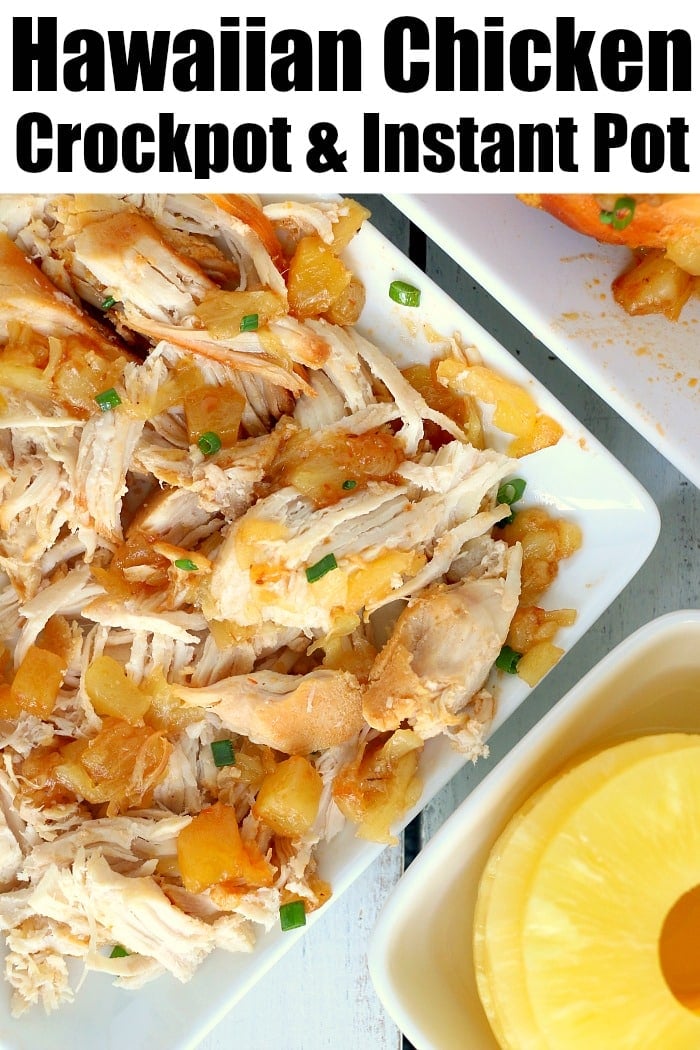 What to serve with Crockpot Hawaiian chicken:
If you're looking for a low carb dish you can serve it as is or with a side of quinoa.
I usually serve it with a side of white rice or mixed vegetables.
A side of crispy brussel sprouts with bacon is great too.
If I shred it and serve it as soft tacos I load up on avocado and sour cream on top. It's an easy recipe to throw together in the morning and serve for taco Tuesdays in our house.
Looking for more easy chicken recipes?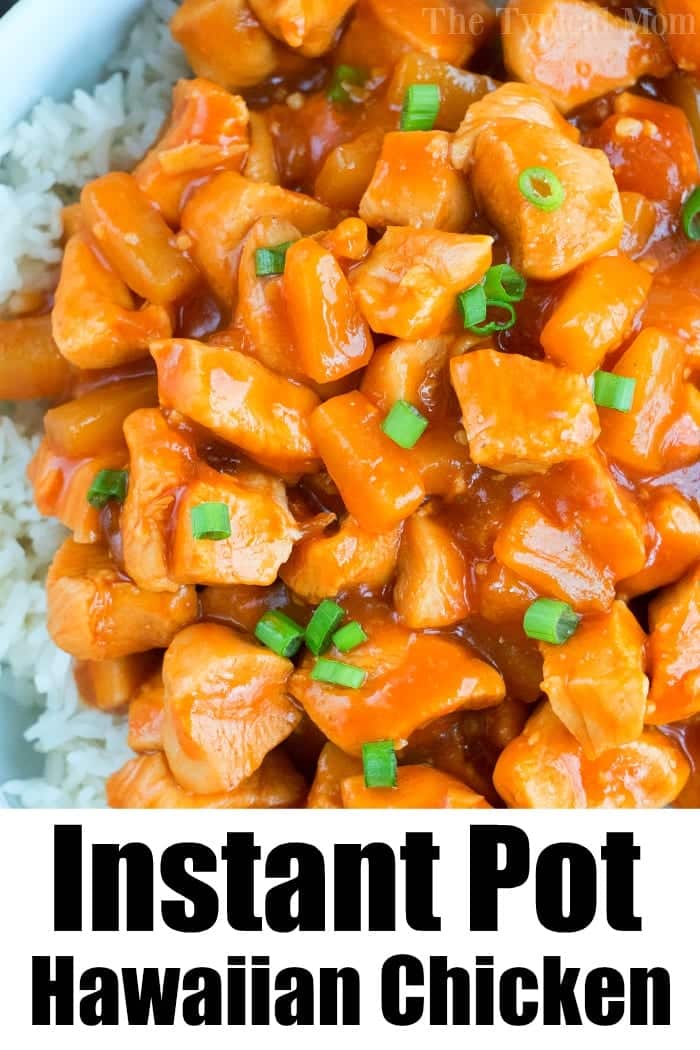 Have leftover chicken? Use it in this easy chicken pot pie recipe!
You can print recipe below. Enjoy friends!
Crockpot Hawaiian Chicken
Instructions
Lay chicken breasts into your pot. Pour pineapple over the top.

In a bowl mix together bbq sauce, brown sugar, garlic powder, soy sauce and salt. Pour this over the chicken as well.

Put lid on and cook on high for 4-5 hours or 6-8 hours until chicken is done to correct temperature in the middle to 165 degrees.

Slice or shred and serve over rice or inside tortillas for tacos. If shredding I would shred meat, submerge in liquid, and cover for an additional 20 minutes or so to soak up more of the juices.
Nutrition Facts
Crockpot Hawaiian Chicken
Amount Per Serving (3 oz)
Calories 391
Calories from Fat 36
% Daily Value*
Fat 4g6%
Cholesterol 96mg32%
Sodium 2076mg90%
Potassium 869mg25%
Carbohydrates 54g18%
Protein 33g66%
Vitamin A 253IU5%
Vitamin C 11mg13%
Calcium 54mg5%
Iron 1mg6%
* Percent Daily Values are based on a 2000 calorie diet.