Tons of the best Crockpot chicken recipes are here for you to try! All family friendly, easy, cheap, and step by step directions are included for each one.
We're here to share the best Crock pot chicken recipes today because it's a busy time of year but we all need to eat right??!! When you work, have kids, and are trying to squeeze in a bit of time for yourself you need all the help you can get. I get it. Here are our easy Crockpot recipes for the week. (affiliate links present, originally published 10/19)
Slow Cooker Chicken Recipes
Love easy slow cooker recipes? Us too! I mean there are two of us whom work full time and I love having dinner done and fork tender when we all get home. Especially when it comes to frozen meat in a slow cooker you just can't get them great any other way.
I whip my favorite one out at least once a week and throw everything in. Dinner is done when everyone's done with work and their activities!
FIRST – You should sign up for my free newsletter so you get new posts emailed to you twice a week and never miss out on anything! Let's talk a little bit about slow cooking shall we?? First off I have a few different varieties and I love them all. Each one has an occasion to be used like….
This is my favorite 6 quart programmable one with a locking lid so it's great for bringing to a potluck too.
If you just want to serve a few appetizers you should get this one that sit side by side one another.
I prefer not to use liners, but rather just spray olive oil inside before adding my food for easier cleanups.
Let me give you a peek of my pretty thang I bought recently. It goes with my kitchen so I can just leave it out on the countertop all the time. 😉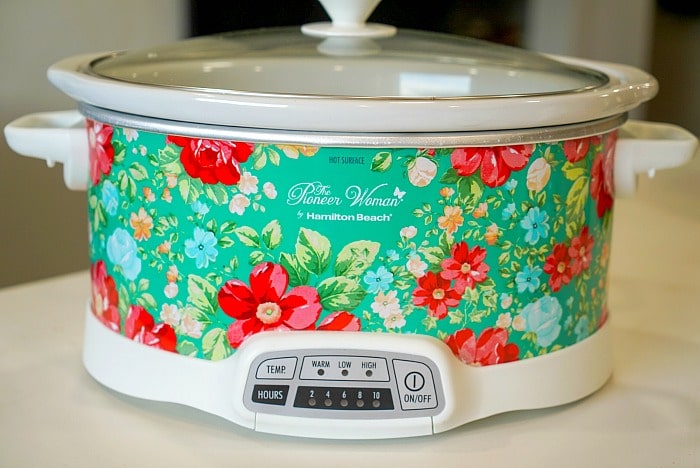 Crockpot Frozen Chicken Recipes
Surprisingly enough it doesn't really take any longer to cook fresh or defrosted poultry vs. right out of the freezer! Hard to believe but it is true with our slow cooker chicken leg quarters, the whole bird on and on.
Let me guess, you need family friendly meals your picky eaters will enjoy with as little prep as possible. Me too! Start with something super easy with just 2 ingredients like our Crockpot chicken with Italian dressing and you will see what a hit it is with everyone.
You literally can cook anything in this and if you want to crisp skin at the end, just throw it into your air fryer.
First I am going to share one of our favorite chicken in the Crockpot recipes.
And show you here how to cook Crockpot frozen chicken. THIS is great for batch cooking! Just cook, shred, package, freeze and use whenever you want.
We call it Crockpot sesame chicken and it is just fabulous served over white rice!! For a lower carb side, try Crockpot carrots!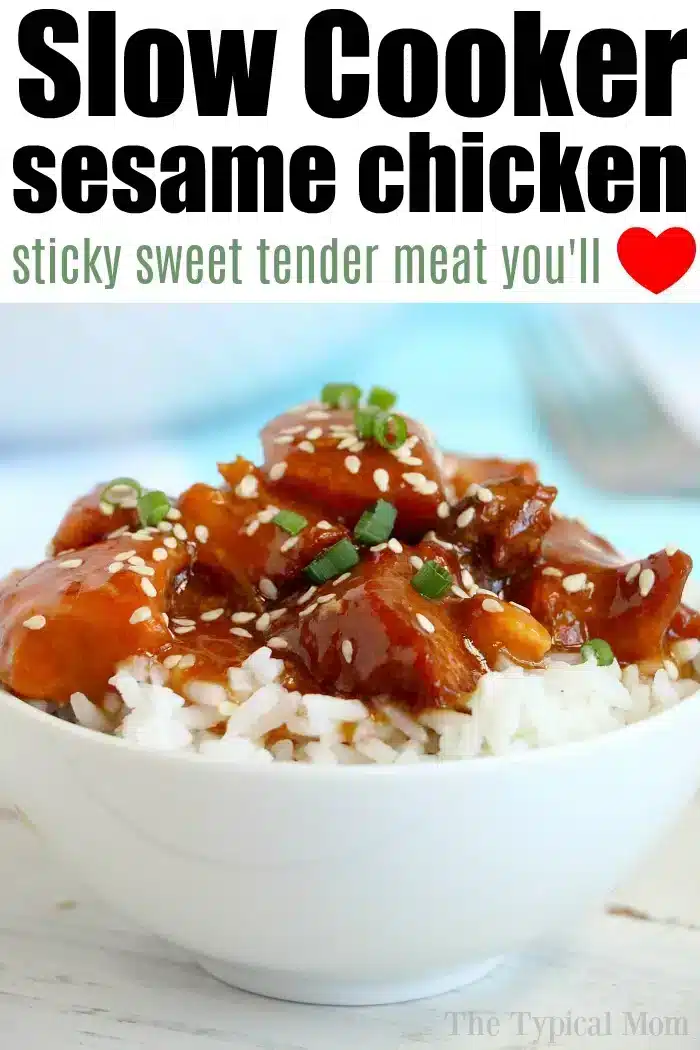 Best Chicken Recipes for Crock Pot
Oh, I like inexpensive too. I forgot about that part. We do have a roundup of easy cheap Crockpot meals you can take a peek at too but if chicken recipes are what you're looking for, this will help.
With just 2 ingredients I would start with our slow cooker bbq chicken thighs recipe and go from there. Add a third with a small can of pineapple for some sweetness.
Best Crock Pot Chicken Recipes
Next is VERY popular on our site. It's this Crock pot cheesy chicken and rice recipe. Using cream of chicken soup and chicken thighs, or chicken breasts, you too can make this easy recipe tonight.
If you have both and want to try some other great Instant Pot chicken recipes have at it!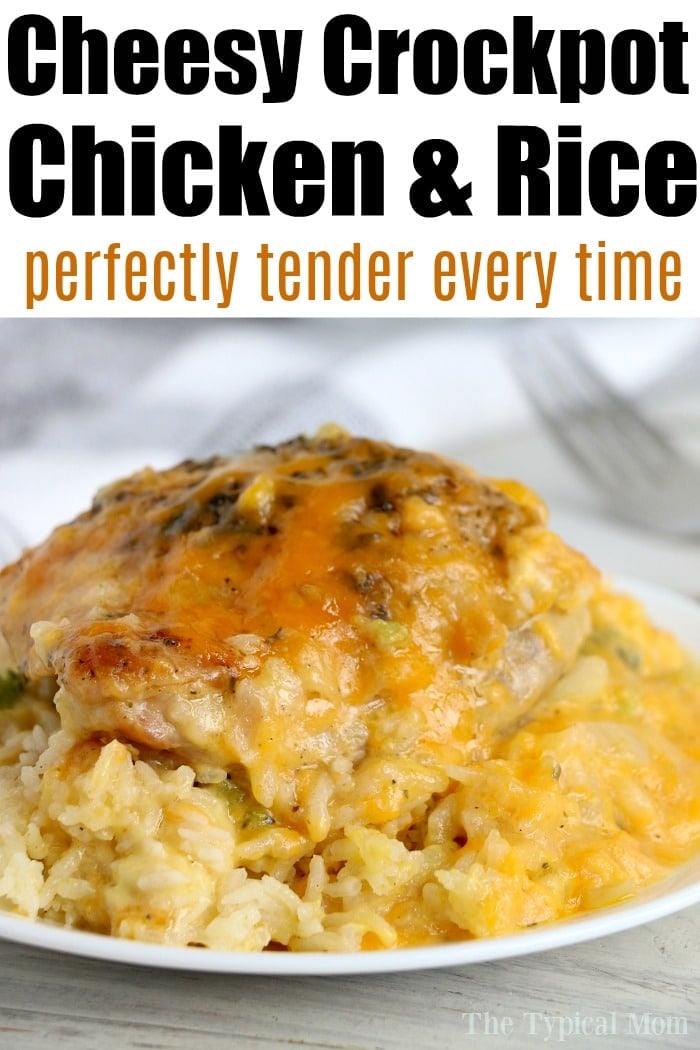 Recipes for Chicken in the Crockpot
If comfort food is on your list tonight, try this slow cooker chicken and dumplings recipe. I bet you ate this as a child right?? Especially if you lived in the South, but this one is way easier and cooks by itself all day long.
Crock pot chicken noodles soup is another favorite, and totally gluten free using chicken broth and vegetables. All I can say is slow cooking this is WAY better than popping open a can of it.
You can make another version with heat like our spicy chicken noodle soup.
Our Guisado de Pollo can be made this way, low and slow with Puerto Rican flavors you love.
Need a healthy meal with just a few ingredients, try our Crockpot chicken cacciatore recipe or pepperoncini chicken here!
We used boneless skinless breasts with a bottle of spaghetti sauce and bunches of onions and bell peppers. Super simple right?? Served inside Crockpot baked potatoes, small flour tortillas with a bit of cheese or on top of rice, it's super yummy for sure.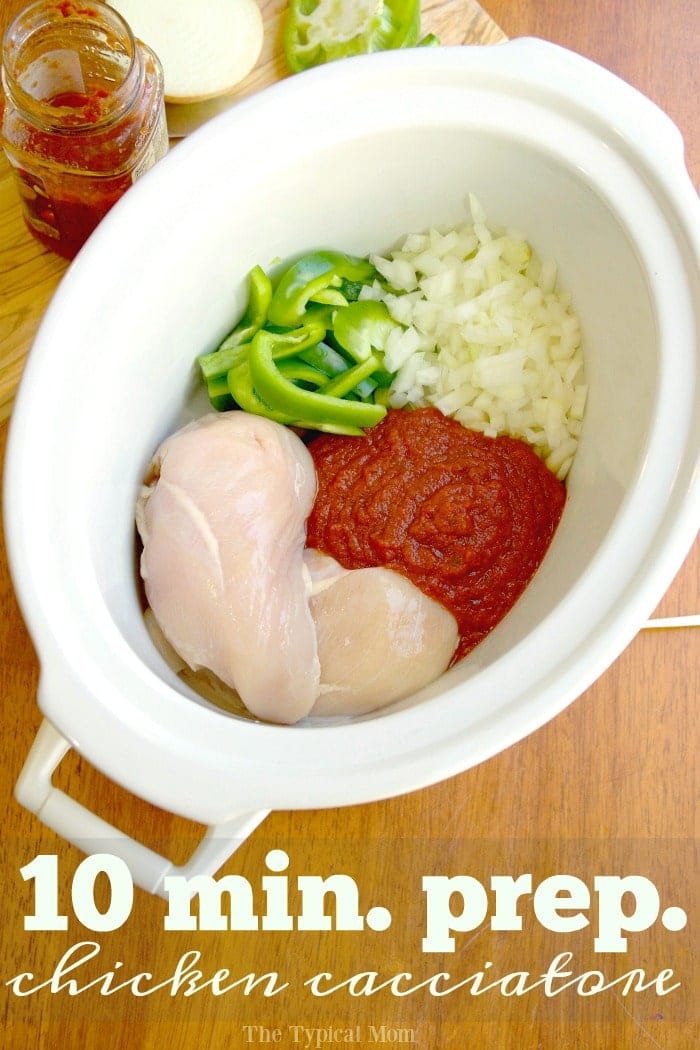 Healthy Chicken Recipes in Crockpot
Love creamy fall apart meat you can throw on a bun and make sliders or sandwiches?? We have a few to choose from here. You can make Crockpot chicken tenderloins with just sauce and your meat which is the easiest ever.
Our Crockpot buffalo chicken sliders are great as a meal or appetizer. Serve on buns or low carb lettuce wraps too. Tender cooked chicken with a short cook time, you can make chicken tacos with tortillas or lettuce wraps like you see here.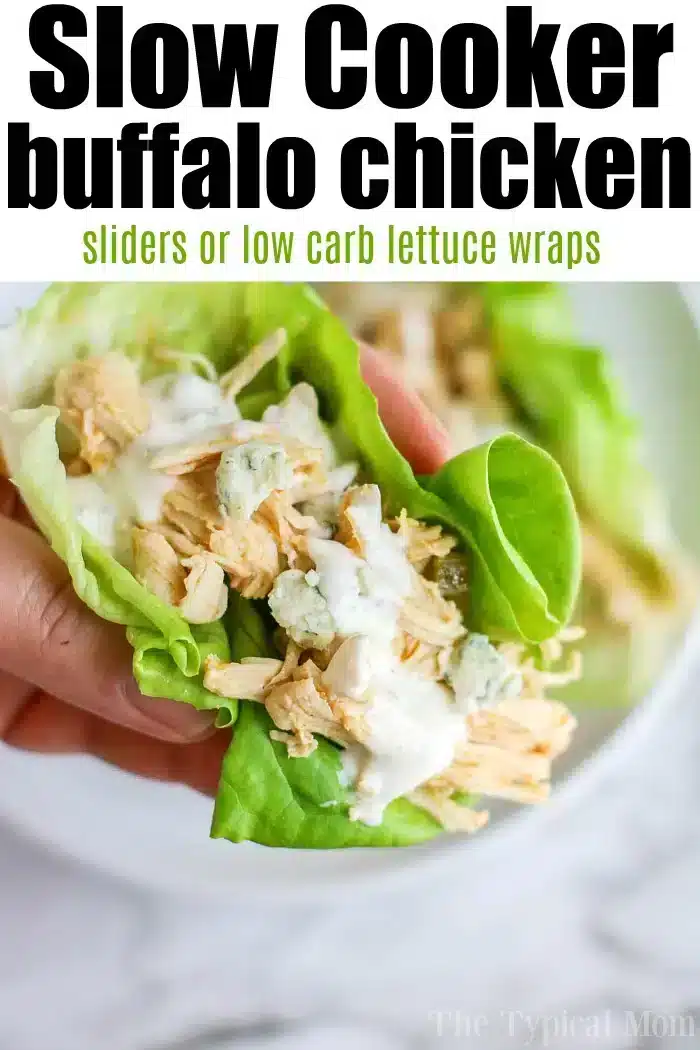 Crockpot Chicken Breast Recipes
But we're not done yet!! We've got more slow cooker chicken recipes for you. Crockpot chicken and gravy looks awesome and is on our list of dinners to try this month.
If you want spicy you can go for our slow cooker Mexican chicken thighs too. Load them into some small tortillas with cheese and avocado for a great lunch.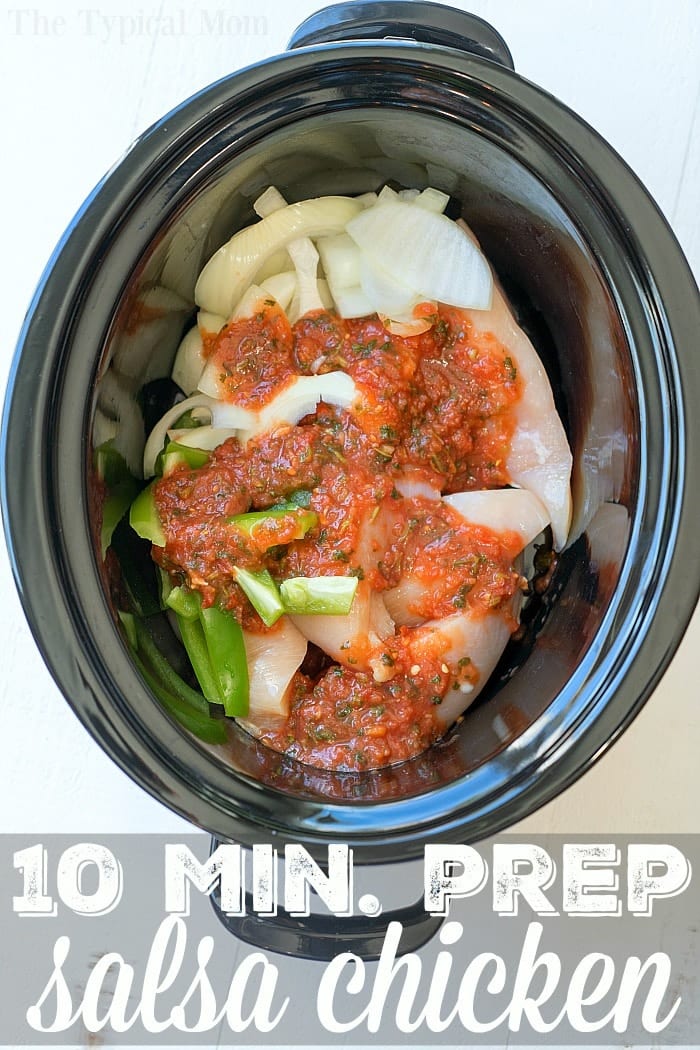 Leftover Chicken Crockpot Recipes
Did you know you could make a whole chicken in a crockpot? It's really just so easy, and comes out fall off the bone tender too. I use a few potatoes instead of a trivet so those can be part of the meal and you WILL fight over them. They have so much flavor with the chicken drippings that they come out incredibly yummy.
You can use the leftovers for a second meal the next day too!! We typically shred what is left on day two to make our chicken Slow Cooker enchiladas, and nobody knows it was served to them another way the day before.
How do I keep chicken from drying out in the Crockpot?
If you feel like your poultry is always too dry for your tastes, use chicken thighs in your recipe. They have more fat and won't dry out as quickly. Cook thighs for about six hours and breasts for a maximum of five hours on low heat. Beef, depending on the cut, is much more forgiving.
Can you freeze chicken noodle soup or other varieties?? Totally and you should, read this article so you can do it properly and enjoy again later.
Simple Crockpot Chicken Recipes
Let's do a run down on a few other chicken recipes in the Crockpot for you. We're all about easy so no worries, it will be a breeze to prepare these.
Slow cooker chicken legs looks good and would be a favorite for kids who only want drumsticks.

served with white rice and some broccoli and your meal is done

Chicken enchiladas in the slow cooker seems like an amazing meal. We haven't tried this one yet but have it on the list for this month!

serve it with some Mexican rice on the side and I think you'd be set.

General Tsos chicken is my favorite choice when we go out to eat. You can now make it at home with that same sweet and a bit of spice to it.

I love copycat recipes. It is cheaper and you can always make it a bit healthier at home. Especially if you need gluten free recipes, it's a great way to take the basics and tweak it to your needs.
Here's a tip when making the most tender chicken in a slow cooker; cut it into bite size pieces first. Of course if you want it shredded you'll want to keep them whole but in smaller pieces they absorb more of the sauces and are fall apart delicious.
You can pretty much exchange chicken thighs for breasts too if you prefer, want a cheaper cut, and/or want really tender meat. I've done this many times without issues.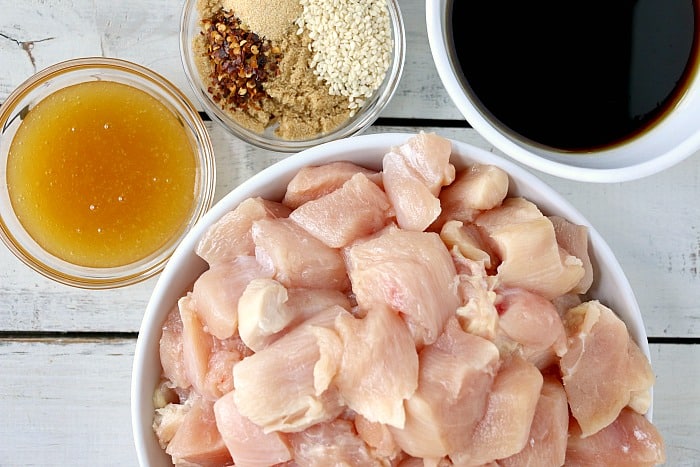 Want to see a few of my favorite things that I am totally obsessed with?? Take a peek and see how many you might already have…twinsies!
Looking for more easy family recipes and tips? LIKE The Typical Mom Facebook page?
Then sign up for my free newsletter, and follow me on Pinterest! 😉
***** If you LOVED this recipe give it 5 Stars below and let everyone know what you thought about it. 😉
Crockpot Chicken Recipes
Best Crockpot chicken recipes that are easy to throw together and prep. Cheap one pot meals, low fat with chicken, beef or pork.
Instructions
Place chicken, onion and peppers into pot. Sprinkle taco seasoning over the top and then all of your salsa.

Close lid and cook ideally on low heat for 6-8 hours or until the meat shreds easily with 2 forks. If it requires you to pull then it needs more time. Should be easy to shred and very fork tender.

Mix contents after shredded and serve inside tortillas or over rice.
Nutrition Facts
Crockpot Chicken Recipes
Amount Per Serving (2 oz)
Calories 195
Calories from Fat 36
% Daily Value*
Fat 4g6%
Cholesterol 96mg32%
Sodium 648mg28%
Potassium 627mg18%
Carbohydrates 6g2%
Protein 32g64%
Vitamin A 1215IU24%
Vitamin C 31mg38%
Calcium 13mg1%
Iron 1mg6%
* Percent Daily Values are based on a 2000 calorie diet.